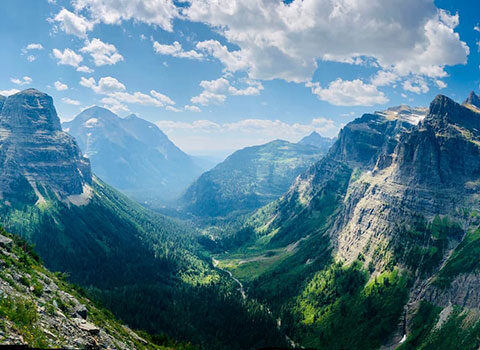 Plan
Plan Your Glacier Park Vacation
After almost 40 years in West Glacier, our website has become a Glacier National Park vacation planner. Here, you'll find exhaustive checklists, FAQs, a resource packed website, and tons of helpful blog posts. We think that planning your Glacier National Park vacation should be almost as much as fun as the trip itself!
Our team of guides and support staff has hundreds of years of collective experiences in and around Glacier National Park. What we like most is sharing our knowledge with our guests.
Why Choose Us to Help Plan Your Glacier National Park Adventures?
In 1983, Glacier Guides and Montana Raft was founded with a mission of providing exceptional active travel vacations and experiences in and around Glacier National Park, while preserving and protecting Glacier's unique ecosystem using the best available ecologically sound practices.
Glacier Guides, Inc., is authorized to provide guided hiking within Glacier National Park. We also love to take our guests whitewater rafting on the park's southern border rivers. Overnight trips are our favorites, especially for families! If whitewater is too much adrenaline for your style, scenic floating is what you're looking for. Want to go fishing? We do that, too. If you're here in the spring – Glacier's secret season – we are authorized by the park service to take you on a guided biking tour of the Going to the Sun Road, when it is closed to vehicle traffic.
If you'd rather do a self-guided tour in the park, we rent biking, camping, and river equipment.
As a highly eco-conscious company, we are also proud to offer green lodging just outside of Glacier National Park, too.
Pro Tip
See that magnifying glass in the upper right hand corner? That's a super helpful search feature. Wanting information about best hikes for kids in Glacier? Wondering about great places for photography? Click on the magnifying glass, enter your search terms, and see what we've got for you! Then, if you don't find what you're looking for, get in touch with us! If we can help you, we'll be happy to do so. Just give us a call at 406-387-5555 or shoot us an email to info@glacierguides.com.
As we like to say, you won't know if you don't go!
Helpful Links
Helpful Lists
Helpful Biking Info
Helpful Rafting Info
Helpful Itineraries
Helpful Hiking Info
More on Hiking
Need a Glacier Guides and Montana Raft Brochure? Free Download Here.