It's almost the last weekend in May. And you know what that means. Time to load up the gear and the rig, and get yourself to the Crown of the Continent. Then what? We've got you covered in Glacier National Park on Memorial Day Weekend.
5 Things to Do in Glacier National Park on Memorial Day Weekend
#1 Bike the Going to the Sun Road
Up high, the Going to the Sun Road is closed to vehicle traffic. Perfect. Because the quintessential Glacier-on-Memorial Day Weekend experience is bicycling. Pedaling a bike up the nearly empty, quiet, Going-to-the-Sun Road is nothing short of spectacular. As you breathe in the fresh alpine air and watch waterfalls cascade off the mountains, you might catch a glimpse of a new moose or elk calf crossing a greening meadow. You might see harlequin ducks, mergansers, eagles, mountain goats, and even bears. Please give all of these critters their space, and remember to carry bear spray on your bike.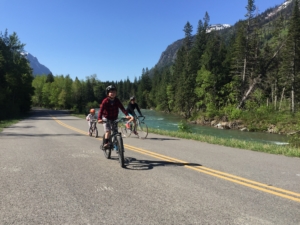 Going? Here's our FAQ for Biking the Going to the Sun Road in the Spring. Our suggested Biking packing list is here. Info about our interpretive, guided bike tours on Going-to-the-Sun Road is here. Bike and e-bike rental info is here. And Glacier's official biking regs are here.
#2 Raft the Middle Fork of the Flathead River
The whitewater section of the Middle Fork of the Wild and Scenic Flathead River is incredible right this time of year! For Memorial Day Weekend, we recommend booking our exclusive Sport half day Glacier National Park whitewater rafting trip. This tour is for up to 9 people per boat. The small number of rafters allows for a lighter boat – and lighter boats equal bigger thrills! In addition, anyone who wants a "window seat" can have one. You'll become part of the crew that maneuvers the raft through the rapids — following the simple commands of the guide — with your paddle. This is the typically the time of year that the Middle Fork Flathead, which forms Glacier's border, offers up her biggest thrills. Want to make it an all day adventure? You can bike with us in the afternoon, after you raft. Or you can Nature Walk with us in the morning, and then join a whitewater trip or a mellow scenic float.
#3 Drive to Polebridge and Eat Pastries
You haven't lived until you've rolled down the dusty North Fork Road in search of a huckleberry bear claw, chocolate chip cookies, and savory scones. As every local knows, if you hang a right off the North Fork Road into Polebridge, you come across a few random buildings, backed up to an amazing view of the wild, secluded North Fork area of Glacier National Park. One of those buildings — all of which are off the grid — is home to the most amazing bakery you've ever set sweet tooth in. Load up on the goods, and then check out #4.
#4 Go Hiking
While many of the park's most famous trails don't typically fully open until mid-July — like Grinnell Glacier and Ptarmigan Tunnel — the upside is that there are far less people on the ones that are open, whether fully or partially.
West Side Options
On the west side of the park, we love making a day out of stringing together several shorter hikes like Rocky Point on Lake McDonald, the McDonald Creek trails, and Johns Lake off the Going to the Sun Road. For maximum solace, hike in the morning, then jump on a bike in West Glacier and ride down to the Glacier Grille for a burger and to the Stonefly Lounge or Glacier Distilling for a celebratory no-work-on-Monday cold one.
St. Mary Valley
If you're in the St. Mary area, the Beaver Lakes Loop is often the first hike to melt out, and it's a beauty. The views are tremendous, the wildlife viewing opportunities excellent, and if you time it right, you can eat at Johnson's of St. Mary on the way home. Do you like fried chicken, homemade bread, and mashed potatoes with gravy? Well, we do. They serve it up family style every Sunday.
A few short hikes will get your brain ticking towards all that you want to accomplish this summer. Get smarter. Be kinder. Oh, and maybe hike the Highline Trail.
Two Medicine
If you're in the Two Medicine area, the Scenic Point trail might not be fully open, but it should be calling your name. We hike there every summer Saturday for a reason. It's the iconic where-the-mountains-meet-the-plains hike, and it's challenging. Get off the trail around 5pm and head into East Glacier for chile rellenos and margaritas at Serrano's. Two Medicine Campground's opening date fluctuates in the spring, so be sure to check campground status if you're planning on staying there.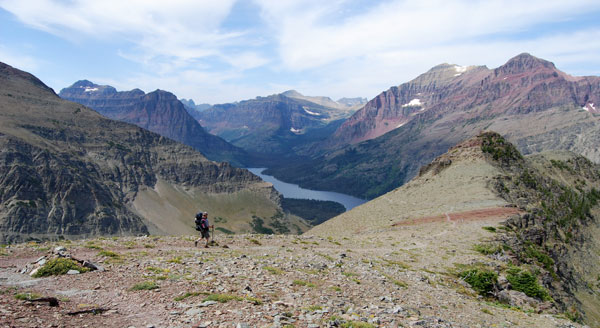 Other questions about what to do in Glacier National Park on Memorial Day Weekend? We're always here for you. Call, email, smoke signals – whatever works for you.
We wish you a wonderful kickoff to summer! And we hope you'll take a moment during your adventures to remember all the men and women who died in active military service to our country – that's what this weekend is really all about.
Planning a May or June trip to Glacier? Read this post about Early Season in Glacier for more ideas, check out our general planning page, and be sure to download our Insider's Guide to Glacier National Park!
[contact-form][contact-field label="Name" type="name" required="true" /][contact-field label="Email" type="email" required="true" /][contact-field label="Website" type="url" /][contact-field label="Message" type="textarea" /][/contact-form]