West Glacier Hotel: Glacier Guides Lodge
Planning Ahead?
2024 Lodging Reservations Now Available Online!
2023 Lodge Rates
*No more than 2 guests per room. Party of 3+ or more requires 2 or more rooms. Yes, this applies to families with children. If you're looking for family accommodations, please check out our charming Guest House!*
Rates include a delicious continental breakfast.
Spring 2023: May 5th – May 26 : $188.00 per room ($203.04 including Montana's 8% lodging tax)
Early Summer 2023: May 27 – June 30: $285.00 per room ($307.80 including Montana's 8% lodging tax)
Summer 2023: July 1 – September 5: $325.00 per room ($351.00 including Montana's 8% lodging tax)
Fall 2023: September 6 – September 30: $285.00 per room ($307.80 including Montana's 8% lodging tax)
Late Fall 2023: October 1st – October 15th: $188.00 per room ($203.04 including Montana's 8% lodging tax)
Winter Season: Closed, but entire Lodge can be rented for special events upon request. Advanced reservations only. Not available for individual room reservations. Call for details. 406-387-5555
---
The More You Know
Relax after a great day of adventure in Glacier National Park at Glacier Guides Lodge! Walk or bike from the Lodge only half a mile into "downtown" West Glacier and Glacier National Park. Our Lodge is tucked into a quiet, forested canyon. It is a great base for rafting, hiking, biking, and fishing with Glacier Guides and Montana Raft. Daily complimentary continental breakfast is largely organic and locally sourced
Reservation and cancellation policies are here.
Check In is from 4 pm to 8 pm. Breakfast is from 6:30am-9am. Check Out is at or before 10 am. If you are running late for check-in, please call our office at 406-387-5555 by 5pm. If you are unable to reach us, call 406-888-9009.
We do not offer an airport shuttle, but you can learn about local transportation companies here.
We're open May 1 – October 15 each year. Wondering what there is to do in the early and late seasons in and around Glacier National Park? Check out this blog post!
Trip Advisor awarded Glacier Guides Lodge, our West Glacier Hotel, its Certificate of Excellence from 2011 to date!
---
Amenities
Two queen beds & full bath in each room.
Continental breakfast included – largely locally and organically sourced. Changes daily but typically includes fresh fruit, baked goods, granola, cereals, and various proteins, such as hard boiled eggs or quiche.
No pets allowed.
Daily maid service.
Non-smoking.
Free Wi-Fi and DishTV.
Small refrigerator in each room.
Air Conditioning.
Hair dryer in each room.
Microwave available to use in the Dining Room.
In room coffee maker. Complimentary coffee and tea also available in the Dining Room.
Would you like a trail lunch for your adventures in Glacier? We are happy to provide them with advanced notice. Call 406-387-5555 for pricing and options.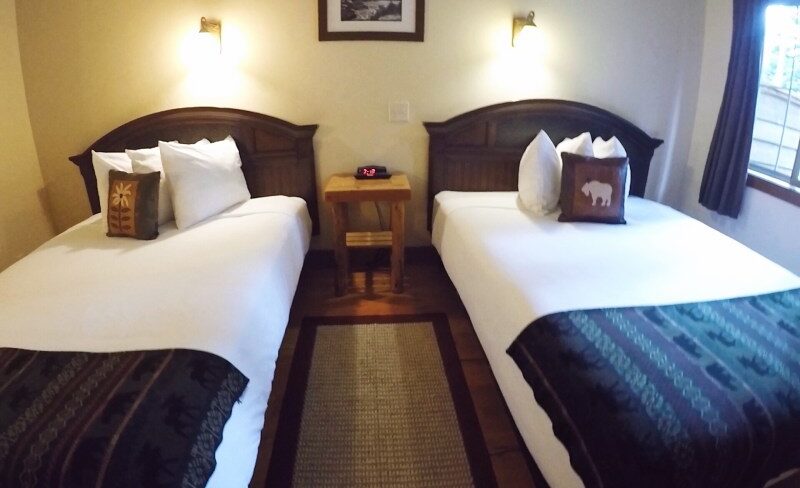 ---
We Strive to Leave Only Footsteps
Rooms
Pine Writing Tables + Nightstands: locally handcrafted for the Lodge by Amy Nadeau in Whitefish, Montana.
Dressers: handcrafted by Mark Holmes, Rustic Furniture Ranch, Bitterroot Valley, Montana.
Mattresses: built in Bozeman, Montana at the Mattress Mill.
Headboards: made in the USA – we think in Wisconsin.
Linens
Sheets + Towels: if your towel is hanging up, we assume you are comfortable using it again. We will change your sheets every third day unless you request otherwise. Linens all sewn in the USA.
Laundry: we have an energy and water efficient in-house laundry. No transportation footprint!
Bathrooms
Concrete Vanities: Rob of Town Ocean Concrete created each vanity in an old school house in Olney, Montana. Each vanity was polished to expose local rock on the edging. The vanities also each boast their own unique artistic feature, such as an imprint of a dragonfly, colored glass, etc.
Toilets + Shower Heads: low flow for water reduction.
Soap + Shampoo: we decided not to use individually wrapped and packaged soaps and shampoos. Instead, we use dispensers and refill them with high quality shampoo, conditioner, body wash, and hand soap. It is estimated that half a million of those little shampoo bottles end up in landfills every day.
Kitchen
Dishes + Cutlery: we use washable and reusable plates, cups, mugs, and flatware for our breakfast service. No plastics or styrofoam.
Coffee: we serve Montana Coffee Traders shade grown, fair trade coffee, roasted in Whitefish, Montana.
Recycling: is limited in Montana, but we recycle everything that we are able to.
Dining Tables: specially crafted for the Lodge from recycled steel by Flower Bartholomew and Hannah Plumb of Elements of Design, Whitefish, Montana.
Chairs: the wooden chairs throughout the Lodge, along with the buffets in the dining area, were sourced from local estate sales.
Wagon Wheel Chandelier: once hung in Wayne Newton's barn. Danke Schoen, Wayne!
Lodge
Built to many LEED certified specifications. We take pride in leading the way, environmentally speaking. TripAdvisor recognizes us as a Green Leader, too!
Lighting: florescent and LED.
Insulation: high R-value insulation to reduce heating & cooling loss.
Carpet: low VOC levels. Volatile Organic Compounds are what you don't want to breathe, but help things dry faster.
Paints + Stains: also low VOC.
Doors: handcrafted from local timber, 15 miles from here, at RBM Lumber.
Timber + Windows: largely sourced from the Pacific Northwest.
Computer Desk in Lounge (handcrafted by Mark)
Landscaping: mostly consists of native plants that don't require daily watering.
---
Directions
Glacier Guides Lodge is located in West Glacier, just across the street from the intersection of U.S. Highway 2 and the Going-to-the-Sun Road. Turn onto Highline Boulevard and continue up 400 feet up the hill. Highline Boulevard is across the street from the Amtrak Depot, just off Hwy 2 East, east of Glacier National Park's entrance. There is a Glacier Guides Lodge sign marking Highline Boulevard, too.
Click here for Google Maps directions to the Lodge. We do not offer an airport shuttle, but you can learn about local transportation companies here.
---