5 Best Strenuous Hikes in Glacier
This post about the 5 best strenuous hikes in Glacier was updated on July 21, 2017. Click to read!
Glacier National Park is known for its fabulous views, and the best way to see them is to get out there and go for a hike. Side note: I have been a hiking guide here for over 15 years, so I am obviously biased about hiking in Glacier!
There are tons of wonderful trails (734 miles of them to be exact), but I can't list them all.  In previous blogs I have listed the best moderate hikes and the best easy hikes in Glacier National Park, so here is my list of more strenuous hikes.  There are much harder hikes (be on the lookout for that list in a future post), but for many visitors to Glacier, the hikes listed here are considered strenuous.  They are all over 10 miles and roughly 2,000 feet elevation gain and/or loss.  Here are my picks for 5 of the best strenuous hikes in Glacier National Park.
#1 of the 5 Best Strenuous Hikes in Glacier – Highline Trail: Logan Pass to the Loop
West-side, Going-to-the-Sun Road
11.4 miles total, 1950 ft elevation gain, 2300 ft elevation loss.
Restrooms are at Logan Pass, Granite Park Chalet, and the Loop.
Potable water is at Logan Pass (for purchase) and at Granite Park Chalet.  There are very few places to filter water (it is not recommended that you drink unfiltered water) along the trail, especially the last 4 miles down to the Loop.
Trailhead begins along the Going-to-the-Sun road (Logan Pass or the Loop).
The Highline Trail is one of the most popular trails in the park.  People love this trail because it has amazing alpine views, wildlife, wildflowers and a historic backcountry chalet along its route.  That being said, if you are looking for that undiscovered gem to get away from the crowds, this is not your trail.  Most people start at Logan Pass and end at the Loop to avoid major uphill climbs.  If you want more of a work out, start at the Loop.  There is a side hike for those who are really motivated (and in good shape) up to the Grinnell Glacier Overlook.  It is an amazing view, but very strenuous.  Do allow time to look around Granite Park Chalet.  I'm always taken back in time when I go there, thinking about what it took to build such a place during that time period (1915).
NOTE:
The forest from Granite Chalet to the Loop burned in 2003, which makes it a very hot hike in the heat of the day.  It is a fairly constant downhill for 4 miles and can be hard on even the best of knees. This section of trail is also not recommended to hike during or after dusk due to bear activity.  The park has a free shuttle from July to the beginning of September, which makes it easy to get back to your car.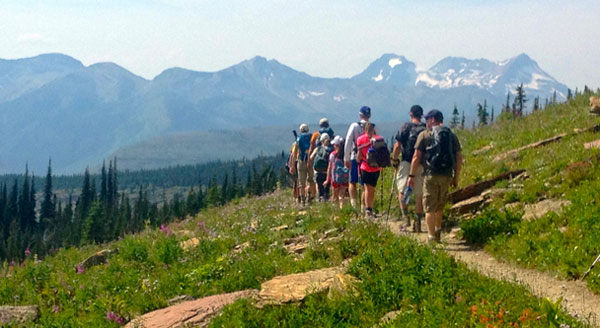 #2 Ptarmigan Tunnel
Many Glacier Valley
10.7 miles roundtrip, 2300 ft elevation gain and loss.
Bathrooms are at either of the hotels in the valley or at the auto campground.  There is a pit toilet located 2 miles up the trail, just before Ptarmigan Falls.
Potable water can be filled at either lodge in the valley (or purchased) or at the auto campground.  Sources for filtering water can be found at Ptarmigan Falls or Lake.
The trailhead is located just behind the Swiftcurrent Motor Inn (by the cabins).  This is also the Iceberg Lake trailhead.  Just make sure that you take a right at this trailhead and not a left (or you will end up at Granite Park Chalet).
Hikers share the first 2 miles of this trail with those headed to Iceberg Lake, so it tends to be very busy.  Once you turn right off the main trail, just past Ptarmigan Falls, the traffic dies down quite a bit.  If you are looking for great views, this is your trail.  There are sweeping views of the Many Glacier Valley for the first few miles and then the trail winds through a beautiful subalpine fir and spruce forest.  Once you get to Ptarmigan Lake the trail switchbacks up to the tunnel.  Amazing views of the Belly River Valley await you on the other side.
"Is it really a tunnel?"  Yes it is.  It is about 150 feet long and was built back in the 1930's by the CCC for horses and mountain tours.  It is officially closes (it actually has doors) in October and re-opens when the snow melts in summer (usually mid-July).
NOTE:
All of Glacier is considered bear country, but this area is prime habitat for them.  In fact, in 1998 as I was nearing the top of the last switch back, a black bear emerged out of the tunnel (Yikes! I am glad that I am a slow hiker or I'd have been in there with him!).  I think this was a pretty rare experience, but it always reminds me to make some noise as I approach the tunnel.
#3 Siyeh Pass Loop
St. Mary Valley
10.3 miles total from Siyeh Bend to Sunrift Gorge, 2240 ft elevation gain, 3440 ft elevation loss.
There are no bathrooms along this trail.  The nearest bathroom facilities are at Logan Pass and at stops along the Going-to-the-Sun road.
Potable water is not found along this trail.  There are several opportunities to filter water on both sides of Siyeh Pass.
The trailhead is found at either Siyeh Bend Sunrift Gorge, or Jackson Overlook.
Siyeh Pass is a local favorite.  Most people hike from Siyeh Bend to Sunrift Gorge for a mellower hike up to the pass.  This hike starts out winding through a spruce and fir forest then meanders through wildflower laden meadows ending up above treelike with amazing views of Blackfoot, Jackson, Piegan, and Sexton glaciers.
NOTE:
Glacier park's free GTTSR shuttle is a great way to get back to your car at the end of the day.  Do note that it only runs July through early September.
#4 Quartz Lake Loop
North Fork Valley
12.8 miles total, 2350 (total) ft elevation gain and loss.
Bathrooms are pit toilets at the Bowman Lake picnic area and car campground as well as at the two backcountry campsites along that route.
Potable water can be found at the Bowman Lake car campground.  There are several good places to filter water near Quartz Lakes.
Trailhead is found to the right of the Bowman Lake picnic area.
This is a beautiful hike that is out-of-the-way of the main stream of visitors.  It has stunning views of Numa and Rainbow peaks.  Hikers walk up and over one of two forested ridges (depending on which direction you go; Cerulean or Quartz ridge) then down into a basin that holds both Upper and Lower Quartz Lakes.  Both these lakes have a backcountry camp and make wonderful places to sit and enjoy lunch.  They are also good lakes to fish.
NOTE: This area can be very buggy in the spring.  We recommend hiking this trail later in the summer (or bring lots of bug repellent).  If you would like to make a backcountry trip out of this loop, you must obtain a permit through Glacier's backcountry permit office in advance.
#5 Firebrand Pass
East-side Marias Pass area
10.2 miles roundtrip, 1950 ft elevation gain and loss.
There are no bathrooms along this trail or at the trailhead.  The nearest facilities are at Marias Pass or the Firebrand Restaurant (not always open).
There is no potable water along this trail and sources to filter water are scarce.  I recommend bringing plenty of water (2 quarts minimum).
The trailhead for this trail is one of the hardest to find in the park.  It is called the Lubec Trailhead and it is at mile marker # 203 along hwy 2 on the southern border of Glacier Park.  You will have to park in a dirt pullout and cross the train tracks.  You will see a fence with a gate and trailhead sign.  There is a small hill on your right and a couple of ponds on your left.
This is my hidden gem of a hike.  It's a lovely trail that winds through wildflower filled meadows and aspen groves up into a stark and rocky landscape.  It is a beautiful mix of aspen parklands, distant prairie and mountains (somewhat similar to Scenic Point, another one of my favorite hikes).
NOTE:
I warn folks that this trail is often very windy, mainly as you crest the top of the pass.  I have hunkered down among the subalpine fir at the pass many times.  I know, you are thinking, "hard to find and super windy?  Why are you recommending this hike?"  I say,  "I've already told you more than I should.  Now you will just have to go and find out for yourself."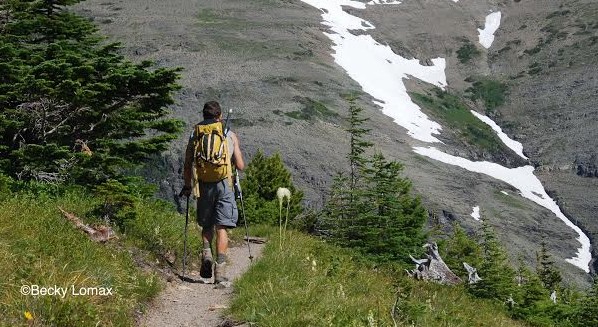 Well, that's my two cents on the 5 best strenuous hikes in Glacier.  There are lots of trails to explore in Glacier National Park, and these are just a few.  The views are amazing, but remember to let the journey be your goal.  No time on the trail is wasted time.
Sources: Enjoyyourparks.com,  https://www.hikinginglacier.com, Google Earth