Who are we?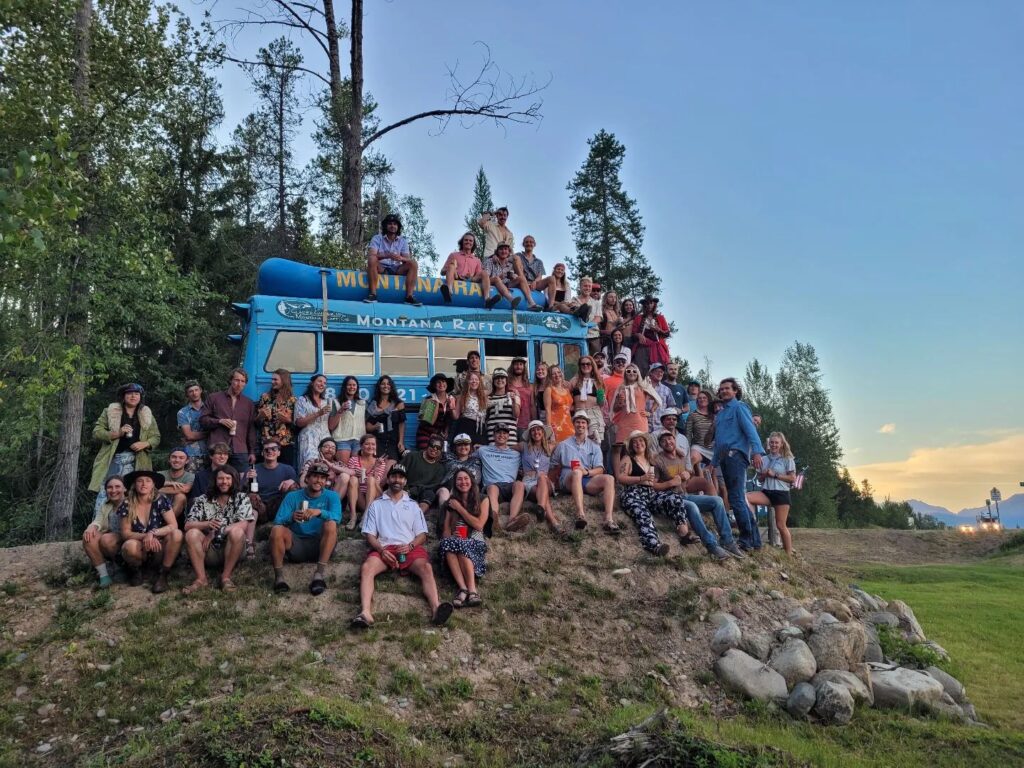 We are your Glacier National Park rafting, hiking, fishing, and biking guides.
We founded Glacier Guides in 1983 to provide ecologically sensitive backcountry guiding and interpretation in Glacier National Park. Back then, there were just three of us! Four years later we added rafting on our Wild and Scenic rivers. Hence: Glacier Guides and Montana Raft.
Rafting led us into fishing, and then we obtained a permit to guide on the Smith River, too. In 2010 we built Glacier Guides Lodge to give our guests an eco-friendly lodging option in West Glacier. Glacier Guides Guest House came along a few years later. Our newest move is guiding bike and e-bike tours of Glacier when the roads are closed to vehicle traffic. We thrive on change!
Hola! Bonjour! Hallo!
Today, with more than ninety guides and support workers on staff, we provide Glacier's most comprehensive, ecologically sensitive rafting, hiking, fishing, and biking services. Some of us speak Spanish, French, and German! We also excel at having a great time together, and sharing that with others.

Mission Statement
Glacier Guides and Montana Raft's mission is to provide exceptional active travel vacations and experiences in and around Glacier National Park, while preserving and protecting Glacier's unique ecosystem using the best available, ecologically-sound practices.
Meet Our Guides
At Glacier Guides and Montana Raft, we owe our success to our amazing staff. We're not just a company, we're friends. Many of our guides are students or teachers in the off-season, balancing their schedules with the summer season here in West Glacier. Others ski, hike, fish, raft or bike professionally in other parts of the country. All are dedicated outdoors people who hone their skills constantly, sharing hard won insights with our guests and teaching them how to #ProtectGlacier.
Interested in Joining the Guides' Team?
We hire outgoing, energetic, fun-loving folks who love the outdoors and like to work hard. Want to work with us? Use the "Apply for a Job" link at the bottom of our website. You'll upload a cover letter, resume and several references. Let us know about your experience, why you want to join our team, and what you love about Glacier National Park.
Not sure you have the experience to be a guide? Ask about our support positions! They're a great way to get started.
We love what we do, and we do it for you. Experience Glacier National Park's rivers, roads, and trails with us.
Family owned and operated by Denny Gignoux of Whitefish and Mark O'Keefe of Helena.
Additional Information
---
Service Animals Policy
For all of our operations, in and out of Glacier National Park, we follow Glacier's Service Animals Policy: Service animals are allowed in national parks. For a definition of a service animal, please see the Americans with Disabilities Act (ADA) definition.The 2010 revision to Title II of the ADA defines a service animal as a dog that has been individually trained to do work or perform tasks for the benefit of an individual with a disability, including a physical, sensory, psychiatric, intellectual, or other mental disability. Animals that are not trained to perform tasks that mitigate the effects of a disability, including dogs that are used purely to provide comfort or emotional support (also known as therapy animals) are considered pets.For more information on four-footed friends that do not qualify as service animals, see the Pets page.We are prohibited by the National Park Service from bringing pets on our trips."A service animal shall be under the control of its handler. A service animal shall have a harness, leash, or other tether, unless either the handler is unable because of a disability to use a harness, leash, or other tether, or the use of a harness, leash, or other tether would interfere with the service animal's safe, effective performance of work or tasks, in which case the service animal must be otherwise under the handler's control (e.g., voice control, signals, or other effective means).""Before hiking with your service animal on backcountry trails, Glacier National Park strongly recommends registering your service animal at a visitor center or ranger station. Glacier National Park does not recommend the use of service animals in the backcountry. Having a service animal in the backcountry puts you and the animal at increased risk for wildlife confrontations. Your safety and the safety of your animal are not guaranteed. Furthermore where domestic animals and wildlife overlap there is a possibility of exchanging diseases between the two groups."Wildlife Encounters and Your Service AnimalPlease remember, wildlife can be encountered anywhere in the park, even near developed and busy areas like visitor centers. Mountain lions, bears, and moose are of obvious concern, but smaller animals like foxes, coyotes, and even squirrels could cause issues for service animals unused to encountering wildlife. Eagles may also be a concern for particularly small service animals who may be viewed as prey.
Firearms Policy
Glacier Guides, Inc., does not permit firearms, concealed or unconcealed, to be carried onto our campus, into our Lodge or Guest House, in any of our vehicles, or on any of our guided trips.
National Park Service Relationship
This service is operated by Glacier Guides, Inc., a Concessioner under contract with the U.S. Government and administered by the National Park Service. The Concessioner is responsible for conducting these operations in a satisfactory manner. Services and prices are approved by the National Park Service.
Please address comments to:
Superintendent
Glacier National Park
PO Box 128
West Glacier, Montana 59936
Equal Opportunity Employer
Glacier Guides and Montana Raft is an equal opportunity employer. All qualified applicants will receive consideration for employment without regard to race, color, religion, sex, sexual orientation, gender identity, age, national origin, or disabling condition.