Reduce, Reuse, Recycle, And Rethink That Social Media Post – 12 Tips To Be A Responsible Glacier National Park Visitor
---
There is absolutely nothing wrong with wanting a hot shower and an Instagram session at the end of an adventure filled day in Glacier. You're on vacation, after all. We love vacay and hope you're taking all the days you get! But let's talk about how to be a responsible Glacier National Park visitor, so that Montana's many wonders remain intact for future generations.
#1 Before You're A Responsible Glacier National Park Visitor
Before you leave for your vacation, take steps to be a responsible Glacier National Park visitor.
Program your thermostat to reflect your absence.
Clean out your fridge and give perishables to your neighbor, so they don't go to waste.
Bought new gear for the trip? Go ahead and take care of your micro trash, i.e. price tags and stickers – get it into the recycling or the garbage before accidentally littering a campground or parking lot.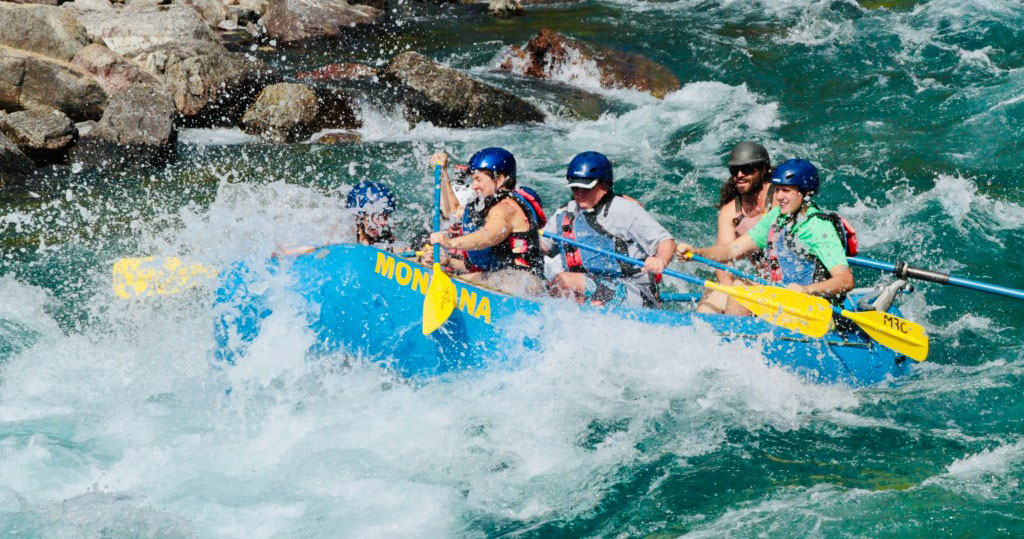 #2 Book Direct!
When looking at lodging and activities, take the time to book direct — avoid middle men like third party booking agencies, i.e. TripAdvisor, Expedia, etc. You might find a fab place to stay or a fun thing to do on one those sites – great! But if you take the time to Google that business' actual website, you'll likely get better cancellation policies and insider information from the locals who work at these places. Plus, you'll support the Glacier National Park area's economy while you're doing it. All wins!
#3 Pack It Up
Next, pack a bag to keep with you throughout your vacation. Yes, you'll need your wallet and cell phone, and a water bottle, reusable cup/mug, and spork. Choose a bag big enough for daily essentials and also with enough room for picking up groceries (we recommend snacks like nuts and dried fruit – they don't spoil quickly), souvenirs, and other items you'll likely purchase on vacation.
Speaking of those souvenirs, we encourage you to stay away from mass produced, plastic, Made-in-China trinkets. How about a jar of locally produced huckleberry jam? Montana made art, jewelry, or pottery? Photos of your rafting trip? Glacier National Park souvenirs should be something you can only get in Montana!
#4 Essential, Intangible Items to Bring With You
Your patience, your kindness, and your good manners.
Glacier might be the most stunning place you'll ever see. The park is a popular place for a reason, and especially in the summer months, don't expect to have it to yourself. Share the experience. Don't let frustration ruin your day, or anyone else's. Plan to arrive early for planned activities like rafting, hiking, fishing, biking, boat tours, and horseback riding.
Be kind. Say thank you to the shuttle driver who delivered you safely to Logan Pass. Ask your raft guide how her day is going. Introduce yourself to your housekeeper. He or she might be from West Glacier or West Africa. Find out the names of people helping you on your vacation, and use them.
If you love the service, say so! The front lines of the hospitality industry hear plenty of complaints. Often, these negative comments are about issues completely beyond our control. We want you to have an amazing experience in our backyard national park, but we can't magically produce a grizzly bear for you to photograph. We're sorry you find it too hot, too cold, too windy, too quiet, and too loud on the shores of stunning, rainbow-rock-filled Lake McDonald. We also apologize that you will have to hike if you want to get up close and personal with a glacier. But most of us in the hospitality biz can and will help you in any way possible – just ask us nicely.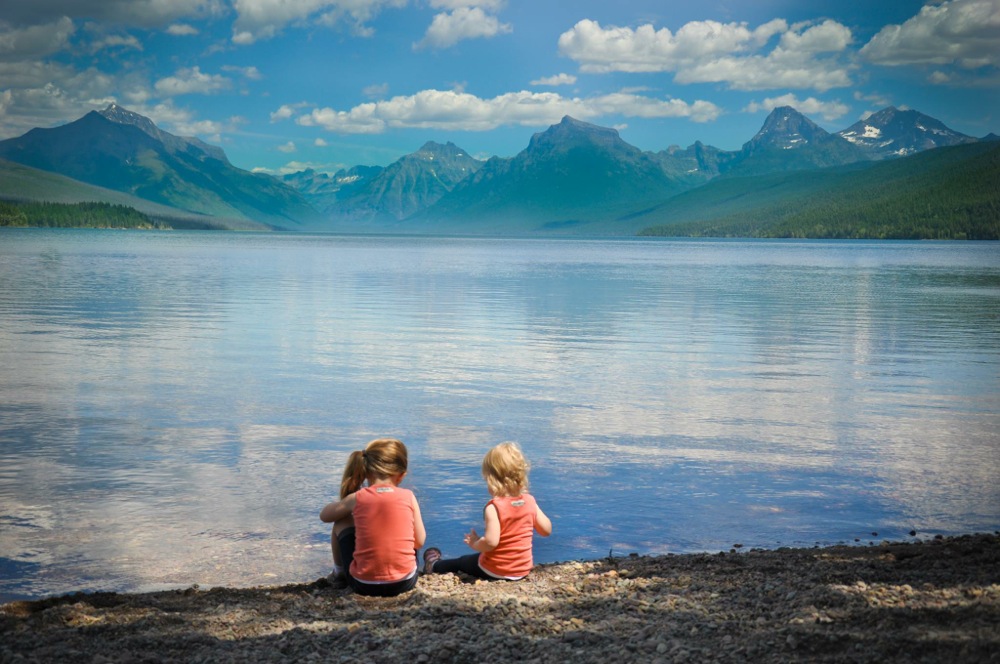 #5 Let's Eat, Drink, and Be Merry
You are a responsible Glacier National Park visitor, and you are also on vacation. Eat well, drink deeply, have fun! Choose locally roasted coffee, locally fermented kombucha, locally made wine, locally brewed beer, and locally distilled liquor – and bring your own cup, of course.
And then there's breakfast, lunch, and dinner. Why choose a chain you could find anywhere? Seek out locally owned restaurants serving locally sourced produce and proteins. Montanans will amaze you with what we offer to eat, especially in the summer months. Think elk steaks, artisanal cheeses, juicy Flathead cherries from the local farmers' markets, and much more. Check out a few of our recommendations in our Insider's Guide to Glacier National Park.
#6 Your Home Away From Home – Green It Up
We built Glacier Guides Lodge to LEED standards to give our guests an environmentally friendly lodging option at the park's west entrance. Our Guest House is also designed with sustainability in mind.
But whether you stay with us or elsewhere, we encourage you to treat your home away from home with respect.
Turn off lights.
Adjust AC and heat settings when sleeping and when leaving for the day.
Pass on daily housekeeping service for towels and linens.
Take your breakfast coffee to-go with your own cup.
Ask about recycling options.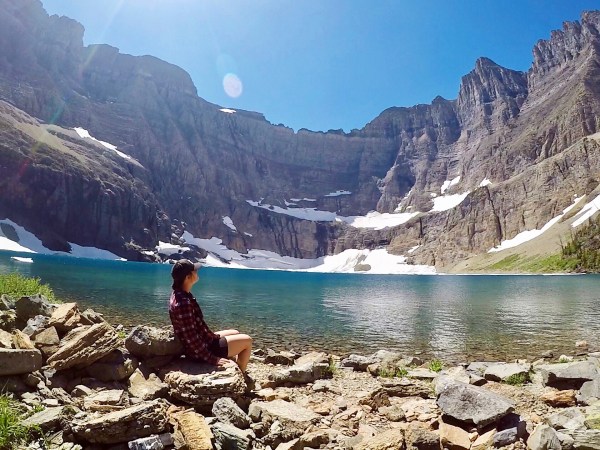 #7 Be a Social Media Lover AND a Responsible Glacier National Park Visitor
These two states are not mutually exclusive. Social media can be both useful and fun, when used responsibly. We log in to Facebook, Instagram, Twitter, YouTube, and Pinterest most days.
We don't tire of scrolling through images of Iceberg Lake captioned with thoughts about stewardship – as long as the image actually promotes stewardship! Checking out gorgeous photos of Running Eagle Falls posted by people who have fallen in love with the park and want to #ProtectGlacier makes us happy. Snaps of dawn breaking over the mountains, posted with public lands advocacy messaging, are OK by us.
We're striving towards those ideals in our own social media posts. And we're not perfect. But unfortunately, we can all agree that there's a lot of downright irresponsible social media use out there.
Harassing wildlife, trampling fragile alpine tundra by walking off-trail, stacking rocks, promoting dangerous or negative behavior, geotagging sensitive ecosystems – please, no. As a responsible Glacier National Park visitor, be purposeful and thoughtful as you share your experiences on social media. Thank you.
p.s. The Center for Leave No Trace Ethics offers good pointers for responsible social media use – read more about their thoughts here. So does Glacier National Park itself – here's the link.
#8 Transportation Thoughts
Instead of adding to the traffic on the Going to the Sun Road, hop a shuttle, book a tour with Blackfeet Indian owned Sun Tours, or reserve a spot on an iconic Red Bus Tour.
Going hiking with us? You'll likely be in a 15 passenger van, which averages 180 passenger miles per gallon – if your Prius gets 55 miles per gallon, and it's just you, then you're getting 55 miles per passenger. See the difference? Group transportation is a great way to be a responsible Glacier National Park visitor! Plus, soaking in the amazing views instead of having to keep your eyes on the road while driving is just more fun. We're all about fun.
When you do drive, help us create an idle-free park. Along with the Park Service, we turn off our cars at pullouts, construction delays, and anytime we're pausing for more than 20 seconds. Idling for just 20 seconds expends more gas than turning your car off and then back on! Also when driving, remember that Glacier is often a windy place – remind your companions not to let gum wrappers, bags of chips, and other packaging blow away when you open the door on a windy day.
And keep in mind that much of Glacier, and its gateway communities, is bike friendly. If you're driving, bring your bike. If not, rent one!
#9 Recycling in Glacier National Park
Recycle, where you can. We have limited recycling in Montana, but that doesn't mean we throw everything in the garbage. Take a moment to find a bin for your aluminum, paper, and cardboard waste. If you can't, can you re-use the item in question?
FYI: you can recycle bear spray by turning it into the Glacier Guides and Montana Raft office or to the park at the end of your trip. Bear spray canisters are collected from employees, volunteers, and visitors and transported to Yellowstone National Park where they empty and crush them for recycling.
P.S. Got bear spray? We rent it.
#10 Hydrate, Hydrate, Hydrate
Instead of buying plastic bottled beverages that can't be recycled, or even canned ones that can be, why not refill your water bottle at our place, or one of the park's 15 water filling stations? Filling stations are found in each of Glacier's visitor centers, the Swiftcurrent picnic area, the Two Medicine comfort station, and also at each of Xanterra's lodging options within the park.
There might be a day that you forget your water bottle. We get it. We're humans, too. Consider purchasing canned water if you forget! We're proud to sell Montana-canned water, and even prouder to see many local businesses offering that choice to responsible Glacier National Park visitors. Being well hydrated makes you a better hiker and typically a nicer member of the universe, too. Drink up!
#11 Leave No Trace
It's a way of thinking, and a way of life for us. It's not a set of rules, and it's shouldn't induce guilt or anxiety. Before your trip to Glacier, read up on the 7 principles, and think about ways you can incorporate them into your life, not just your vacation.
#12 Support Eco-conscious Businesses
Our environmental ethos is at the heart of everything we do. We are committed to being an environmentally responsible business and are continually looking for new ways to improve our environmental efforts and practices. We look forward to sharing Glacier National Park with guests for generations to come. Read more about our Environmental Efforts here and check out the Glacier National Park Sustainability page, too.
Remember, at the end of the day, it all comes down to the Organic Act, which established the National Park System:
…to promote and regulate the use of the…national parks…which purpose is to conserve the scenery and the natural and historic objects and the wild life therein and to provide for the enjoyment of the same in such manner and by such means as will leave them unimpaired for the enjoyment of future generations.
– Organic Act, National Park Service Mission Statement, 1916
See you this summer! Oh, and as always, if you have questions, don't hesitate to reach out to us, below.

INSERT FORM