2021 Glacier Itinerary: What To Do, Eat, and Drink While the Many Glacier Road Is Under Construction
Because of the Many Glacier Road construction planned for 2021, we promised to create a dream Glacier National Park vacation itinerary for all you planners out there. We're planners, too. We get you.
Hey, construction happens, and we're all for preserving and protecting our park! Many of us at Glacier Guides and Montana Raft have spent our lives exploring Glacier National Park, and we haven't run out of new trips to plan, so we promise you that this construction won't ruin your trip if you don't let it.
So, here's what we would see, eat, and drink if we were on our dream Glacier National Park vacation and not guiding you on rafting, hiking, fishing, and biking adventures!
Note: This particular dream Glacier National Park vacation proposal is based out of West Glacier. It does not include the Many Glacier valley, which will see significant road construction and delays in summer 2021. This itinerary is geared to July and August visitors. Those are the busiest months of the year in Glacier, and definitely benefit from advance planning and preparation, Plan Bs, and good attitudes! Read more about How to be a Responsible Visitor to Glacier here.
Day 1: Dream Glacier National Park Vacation – Introduction to Glacier National Park
Wake up in West Glacier, Montana. If you're staying with us at Glacier Guides Lodge, a delicious, healthy breakfast is included. Otherwise, don't miss the tasty fare and steaming coffee at the Sunflower Cafe! (Here's a handy list of our picks for other local accommodations, too.)
Depending on what day of the week you arrive, join us for a guided hike or a Nature Walk. Learn about glaciation, flora and fauna, cultural concerns, and more. Our interpretive guides have led hikes in Glacier National Park park since 1983. Whether you're a first time visitor or a repeat offender, we bet you'll learn something new from them.
If you choose the Nature Walk option, you'll be finished up around lunchtime. What to eat? We love the authentic Mexican fare at La Casita, located just across the street from us in the Crown of the Continent Discovery Center, which also serves up cocktails, espresso, and fabulous ice cream.
After lunch, explore historic Lake McDonald Lodge, originally built as a hunting lodge. We especially love the quiet peace of the Reading Room near the creek. Next, enjoy a boat tour of Lake McDonald, the park's largest lake, with the great people at Glacier Park Boat Co. Advance reservations are highly recommended. As in, make them now!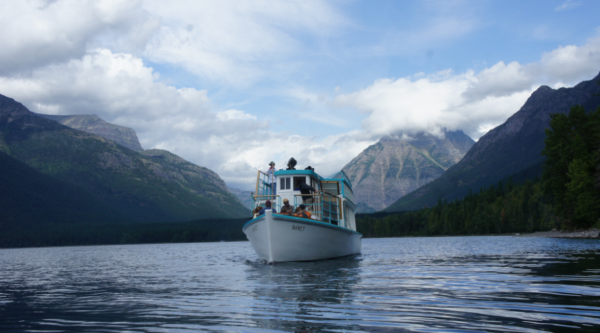 The DeSmet on Lake McDonald. Tours leave from Lake McDonald Lodge.
Finish up your Intro to Glacier day in one of our area's historic dining rooms, such as the Russell Fireside Dining Room at Lake McDonald Lodge or the Belton Chalet. The Flathead Cherry margaritas at the Belton are pretty special!
Day 2: Dream Glacier National Park Vacation – Good Medicine in Two Medicine
If you've never heard of the Two Medicine valley in Glacier, let's change that. This red hued valley is an easy day trip from West Glacier to the East Glacier area of the park. Drive time is a little over an hour, plus you get to travel through Glacier's under appreciated south side. Get started early and don't waste a moment of your dream vacation.
The Two Medicine valley offers multiple moderate day hikes with staggering views of the mountains and the plains. Depending on your interest and ability levels, there's a hike for almost everyone in the Two Medicine area, so be sure to pack a tasty lunch.
Best Hiking In Two Medicine – Picks
Advanced hikers will be blown away by the multiple passes on the famed Dawson-Pitamakan Loop. If you can catch the boat on the way down, even better!
Intermediates will feel the same way about Scenic Point, which gives sweeping views of both the valley and the plains.
Beginners will enjoy the many strolls available at Two Medicine Lake, including those to Running Eagle Falls and Aster Falls.
Pro Tip: The east side of Glacier National Park shares a border with the Blackfeet Nation, and the Two Medicine area in particular teems with Blackfeet history and culture. You definitely won't regret reading up on this area before heading out. It will give you a different sense of place. 
Two Medicine Campstore
The Two Medicine Campstore is also a must-see in this valley. One of the last intact pieces of Glacier's historic backcountry chalet system, the former Two Medicine Chalet now offers gifts, lunch, and drinks, too.
President Franklin Delano Roosevelt addressed the nation via radio from the Chalet-now-Campstore in August 1934. He effused:
Today, for the first time in my life, I have seen Glacier Park. Perhaps I can best express to you my thrill and delight by saying that I wish every American, old and young, could have been with me today. The great mountains, the glaciers, the lakes and the trees make me long to stay here for all the rest of the summer.
We couldn't agree more, FDR.
For dinner, head through East Glacier on your way back to West Glacier, and check out Serranos, the Two Medicine Grill, and the Whistlestop. The pie at the Two Medicine Grill is the best in East Glacier, and has its roots in the former, famed Park Cafe of St. Mary. If you're in the mood for upscale dining, check out Summit Mountain Lodge's acclaimed steakhouse on Marias Pass.
Day 3: Dream Glacier National Park Vacation – North Fork Magic
After breakfast in West Glacier, let's spend the day exploring the North Fork area of Glacier National Park! From West Glacier, you can drive up the dirt road to Polebridge and check out Bowman and Kintla lakes. We recommend packing a lunch and renting a paddle board or inflatable kayak to bring along with you!
Also from West Glacier, if you're an experienced biker, you can bike the Inside North Fork Road to Polebridge. Remember to prepare for a biking adventure just as you would for a hiking one – layers, rain gear, extra food, first aid kit, bear spray, and all your essentials.
While in Polebridge, don't miss the world famous pastries at the Polebridge Merc and the fantastic dinner entrees at the neighboring Northern Lights Saloon! There's a fun nature walk in Polebridge, too.
Day 4: Dream Glacier National Park Vacation – Choices!
Day 4 brings options. If you're curious about the famous Going to the Sun Road, we recommend booking a tour via the Red Buses or Blackfeet Sun Tours. This is the best way to enjoy the stunning Going to the Sun Road without having to worry about parking – and driving! Just sit back and drink in the incredible views that make this historic road both a National Historical Civil Engineering Landmark and a National Historic Landmark. It's a ride you'll never forget.
If driving tours aren't your thing, we'd recommend fly fishing or heading out on another hike. There's a reason Glacier is known as the hiker's park, after all! Why not explore a few of the less crowded trails in the West Glacier area?
Best Hiking In The Lake McDonald Valley – Picks
For advanced hikers, the views from Huckleberry and Apgar lookouts are simply second to none, but typically less crowded than other trails in this area.
More moderate hikers shouldn't miss Avalanche Lake, which is typically crowded – but for a reason.
For beginners, the famous Trail of the Cedars off the Going to the Sun Road, or the Forest and Fire Nature Trail on the Camas Road, are perpetual winners.
For dinner tonight, consider exploring the neighboring towns of Columbia Falls, Whitefish, and Kalispell. All three host wonderful breweries, upscale choices, and great diners, too. We've listed some of our favorite eats and drinks in our Insider's Guide to Glacier National Park.
Day 5: Dream Glacier National Park Vacation – Wild, Scenic, and Wonderful
Let's go rafting! Top off your dream Glacier National Park vacation with an unusual perspective into the park from the turquoise waters of her border river, the Wild and Scenic Middle Fork of the Flathead. Enjoy an all day adventure, with exciting whitewater but also plenty of time for relaxing and lingering over a delicious, house prepared lunch. We like to eat well, and it shows.
After your day on the river, celebrate your amazing week in Glacier National Park with a casual dinner at the family friendly Glacier Grill or over handcrafted cocktails, mocktails, apps, and entrees at Josephine's. Both restaurants are located in nearby Coram.
FYI: Our favorite dinner conversations revolve around planning our next adventure in Glacier … see you next summer for a deep dive into backpacking and overnight rafting?
How Can We Help?
Planning your dream Glacier National Park vacation is a big undertaking, we know. That's why we've been around since 1983 – we can't seem to see it all. But we really do love to help with planning. And sometimes getting to go with you, too.
From rafting, hiking, fishing, biking, lodging, equipment rentals, shuttles, and more – we can help. Check out our website or use the form below to ask us for help planning your adventures.
And – we've written lots of Glacier itineraries over the years — so many ideas for you here! You can subscribe to our blog here.
Don't miss all the information on our website designed to help you – especially the options under the Plan Your Trip tab on our home page. We love what we do, and sharing it with you. Send us your questions and we'll see you this summer!