August Glacier National Park Itinerary
The phone rings all year round at our place. And more often that not, after a friendly conversation, we hear: "Will you just plan my trip to Glacier for me?"
And the answer is: of course we will! We love planning Glacier National Park vacations. Of course, everyone's dream trip will be a bit different, based on what you want to see and how active you are. We've written up a number of itineraries over the years on our blog – be sure to explore it. This particular Glacier Park trip is a specific plan that incorporates one of our absolute favorite experiences in the park. Check it out!
Plan My Trip to Glacier: Day One
Whether you're flying into Glacier Park International with your best friends and renting a car or road tripping with the fam, start your adventures in West Glacier, the park's main entrance. Where to stay? Our recommendations:
On your first afternoon, settle in and get acquainted with the West Glacier area. You've got options – explore on foot or rent a bike! It's especially fun to ride the Gateway to Glacier Bike Path into the park, hop on the paved bike path, and head over to Apgar for an ice cream cone and a look at stunning Lake McDonald.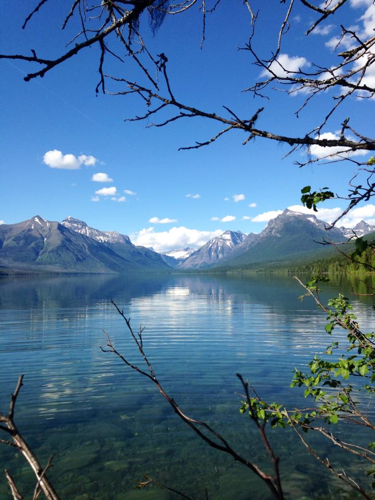 Day Two: Going to the Sun Road
Whether you're planning to take a hike off the Sun Road, or just revel in driving its full length, today's the day to go! If you'd like to hike to Hidden Lake overlook, get up early to grab a parking spot at Logan Pass. But wait to hike the Highline Trail – that's later in this August itinerary.
If Hidden Lake/Logan Pass isn't on your must do list, you won't need to get up quite so early. There are so many great hikes in the Sun Road corridor – we especially like exploring Virginia Falls, Otokomi Lake, and Piegan Pass. You can read more about easy, moderate, and challenging hikes in the park here.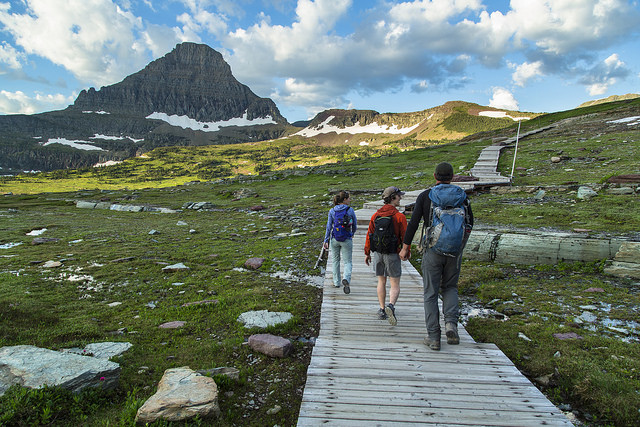 Also, there are also good Visitors Centers along the Going to the Sun Road, at Logan Pass, Apgar and St. Mary. There are pit toilets at those centers and at the Avalanche, Logan Creek, and Jackson Glacier pullouts, too.
Day Three: Granite Park Chalet
If you're coming to Glacier in August, definitely consider combining the best of both Glacier National Park worlds: the backcountry and the front country. Your August options are almost endless, as typically all of the trails in the park are melted out by now. Plan a backpacking trip, join a Glacier Challenge adventure, visit the "new" Sperry Chalet, or join us for one of our 3 day tours of Granite Park Chalet.
You'll experience Glacier National Park's stunning interior in the comfort of the historic walls of Granite Park Chalet. Savor delicious meals, miles from a grocery store, in the charming chalet dining room. Let your eyes widen as they try to take in the amount of stars studding Glacier's internationally recognized dark night skies. Do all of this without having to carry a heavy pack!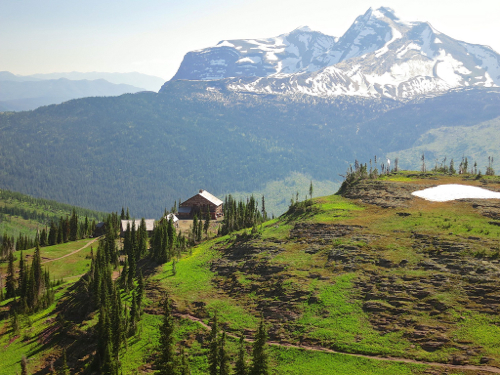 Depending on trail conditions, you and your day pack will hike to the Chalet via the Loop Trail (3.8 miles, 2000′ elevation gain) or the Highline Trail (7.5 mostly level miles). The Chalet features a fully equipped kitchen and beds with linens. In addition to getting to experience Glacier's backcountry with many of the comforts of civilization, this 3 day hut hike to Granite Park Chalet offers guests an excellent chance to observe Glacier's abundant flora and fauna.
Flora and Fauna
We often see Glacier's iconic mountain goats and Bighorn sheep on our way to Granite Park Chalet. At times, we also spot grizzly bears, wolverines, marmots, bald eagles, and more! The summer bloom of wildflowers create carpets of beargrass, sticky geranium, and Indian paintbrush along the trail. The views from the Highline Trail, and Granite Park Chalet, are largely unobstructed. You may feel the need to sing songs from The Sound of Music as you hike. That's okay with us.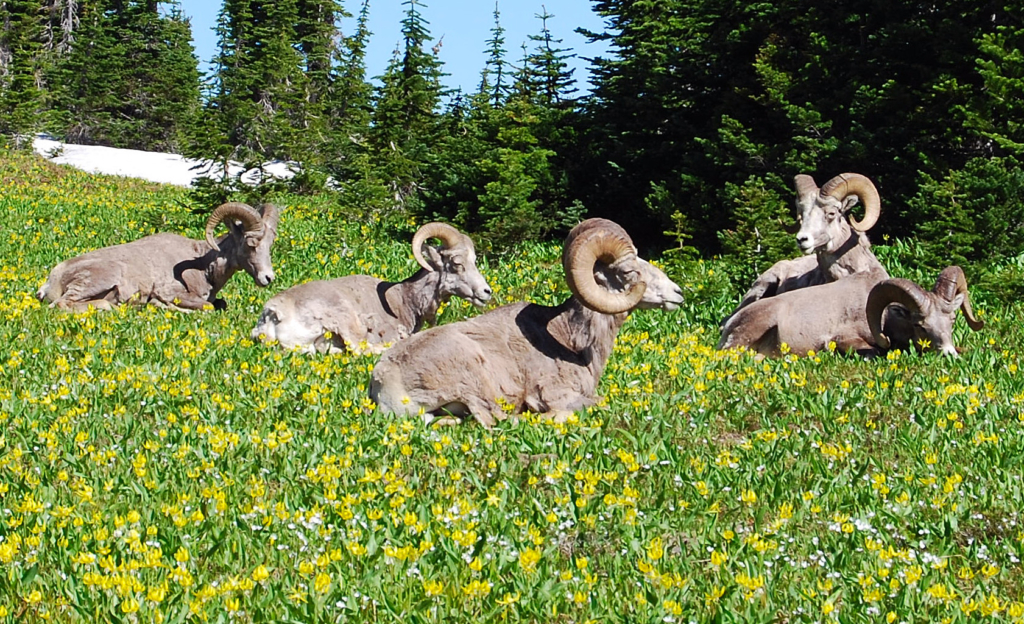 This is a moderate hike. The trail undulates, gaining and losing a couple hundred vertical feet of elevation over its course. The alpine environment offers wide open views of the majestic peaks all around us. In late afternoon, we'll arrive at Granite Park Chalet. Time to settle in, enjoy the amazing scenery, and watch for wildlife before dinner. And dinner will be yum! After dinner, set yourself up for star gazing under the Milky Way, or turn in early, secure in the comfort of the Chalet's stone walls. The adventure is yours.
Day Four: Hiking On the Continental Divide!
After breakfast in the Chalet, choose from a couple of hiking options. One favorite is the hike to Swiftcurrent Lookout, which sits on the Continental Divide and offers one of the best views in Glacier. From Granite Park Chalet, this is a rigorous 2 mile hike with an elevation gain of about 1,800 feet. Total distance is 4 miles round trip.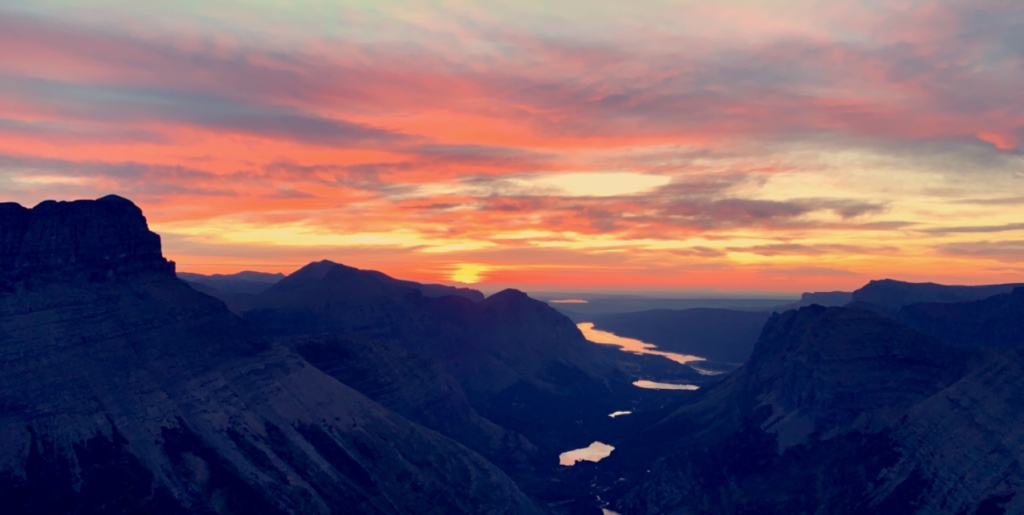 Guests who want more mileage, but not so much elevation gain, may choose to hike from Granite Park Chalet to Ahern Pass. At Ahern Pass we will get a glimpse into the remote Belly River area of Glacier. We'll look down on turquoise Helen Lake. The hike to Ahern Pass from the Chalet is 4.5 miles one way, or 9 miles round trip. There is not a significant amount of elevation gain or loss. After another delicious dinner, we'll spend a second night at Granite Park Chalet.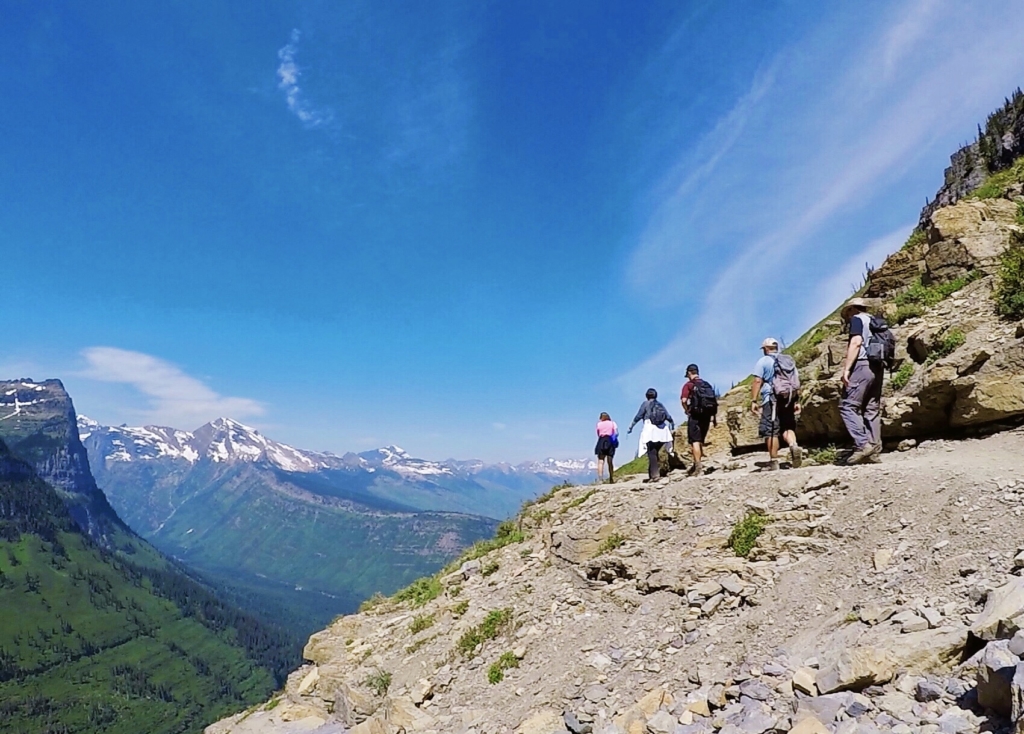 Day Five: Goodbye to the Chalet
Watch dawn light up Heaven's Peak, which you're now intimately familiar with. Following breakfast,guests may hike to Grinnell Glacier Overlook. This is a 1.5 mile hike with an elevation gain of 900 feet — steep, but worth it! From the Overlook, we'll enjoy staggering views of Grinnell Glacier, one of the largest remaining glaciers in the park. Total mileage is 3 miles round trip.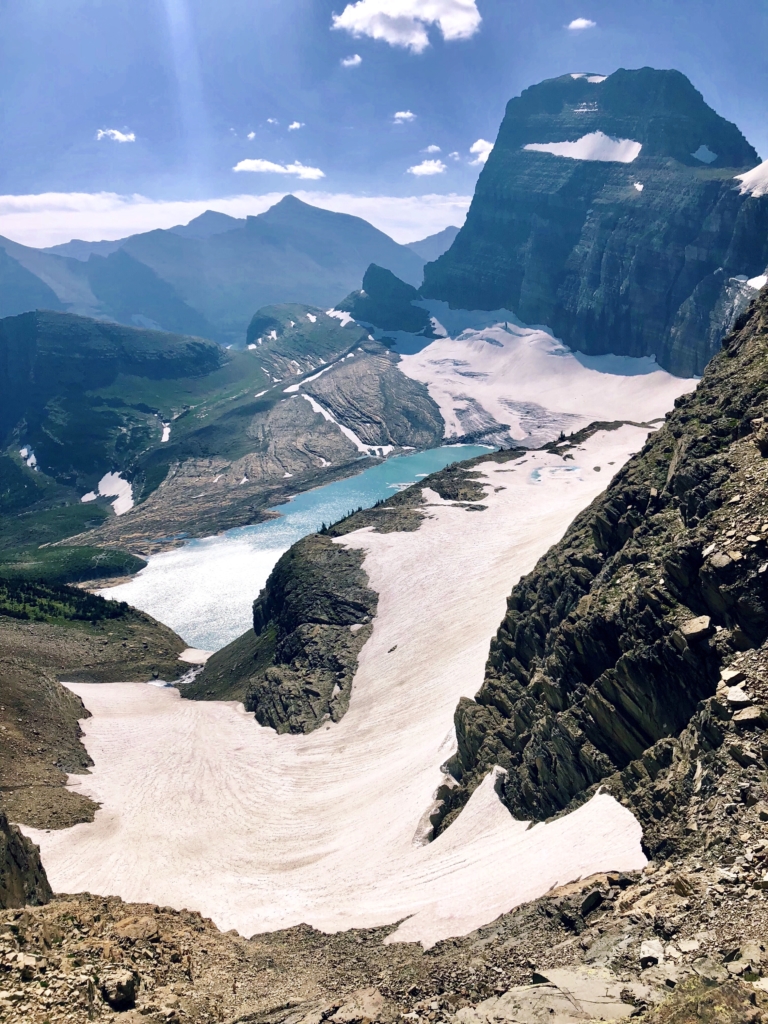 Guests that prefer a more easy going day are welcome to pass on this hike. Instead, relax and enjoy the views from Granite Park Chalet. Our group will reunite at the Chalet for lunch. Then, we'll hike down the Loop Trail — 4.5 miles with 2,200 feet elevation loss — to the Going to the Sun Road. Check back in to your West Glacier lodging for a hot shower and a cold bevvie.
Day Six: River Time
There's no time like river time – especially after you've put in a few trail miles. Time to relax on Glacier's stunning border river, the Middle Fork Flathead. If you like fun, splashy, not-scary whitewater (ours is typically class II in August), we offer full day and half day trips.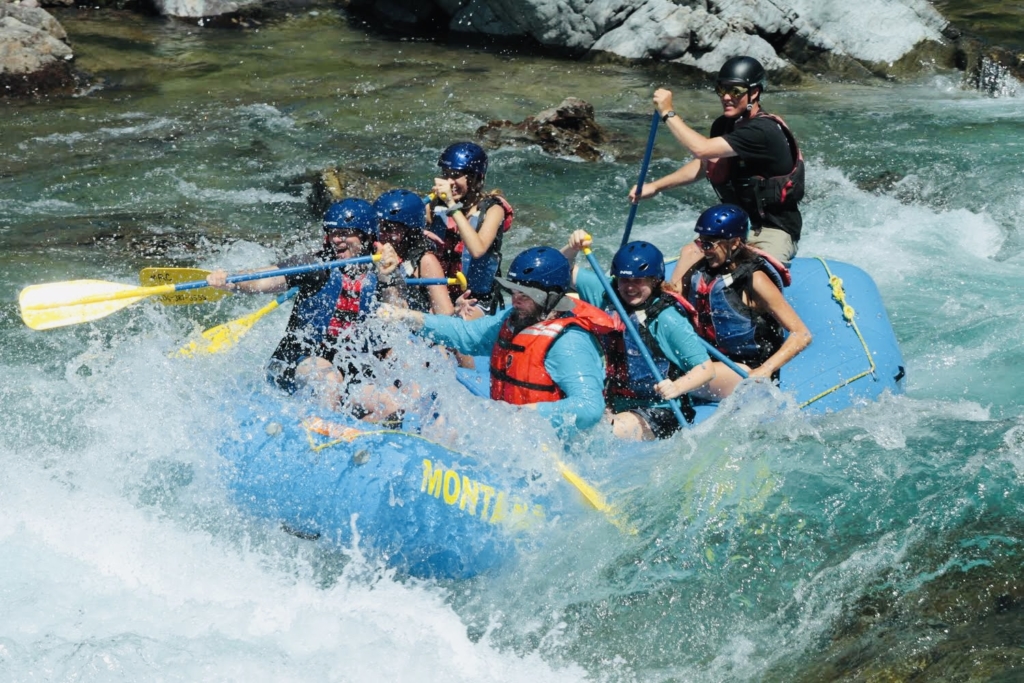 Or, if you'd prefer a fairly flat float, where you can simply relax in the summer sunshine, check out our half day scenic options. A rafting trip is the best end to your perfect August Glacier National Park vacation!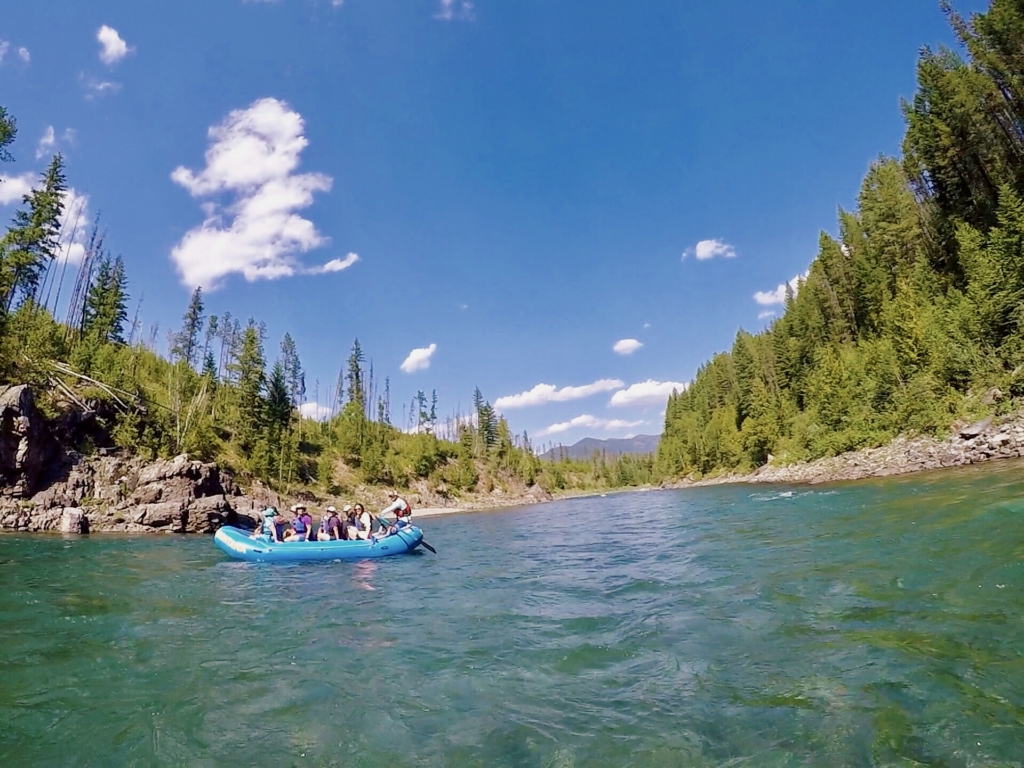 Tomorrow, it'll be time to head for the airport, post your Granite Park snaps on Insta, and start planning your next trip to Montana. We'll be here to help!
Learn more about our 3 Day Granite Park trip here.
Questions about planning your Glacier National Park vacation? From rafting, hiking, fishing, biking, lodging, equipment rentals, shuttles, and more – we can help. Check out our website or use the form below to ask us for help planning your adventures.
p.s. we've written lots of Glacier itineraries over the years — so many ideas for you! You can subscribe to our blog here.