Glacier Park Vacation For Kids
Here's a word of warning: if you plan a Glacier Park vacation for kids, they might never leave Montana. Oh sure, they'll go back home with you, and they'll graduate from kindergarten and 5th grade and high school and more.
But one day, they might be guides. River guides, hiking guides, biking guides, fishing guides. Channelling all the wonder from that trip they took as kids to Glacier National Park into every guest they introduce to the park. And then you'll have to come back to visit them in Glacier every summer. Could be worse, right?
Day 1: Welcome to Montana, Kids
Whether you're on the Great American Road Trip with your kids, or flying into charming Glacier Park International Airport, welcome to your first day under the Big Sky.
Glacier Park Vacation For Kids: Where To Stay
Once you're in Glacier Country, get checked in. For families, our own Glacier Guides Guest House offers room to run outside, a foosball table, and Wi-Fi. Several seating areas and multiple bedrooms give everyone in the family space to relax and unwind.
Are we booked up? Look across the street to the 2018 KOA Campground of The Year – pretty much kiddo paradise. Playground, pool, ice cream shop, campsites and camping cabins. You can't go wrong staying with our friendly neighbors! And if you're going on a rafting, hiking, fishing, or biking adventure with us, we can pick you up from the KOA – just ask in advance, please.
There's so much to do here that you don't "need" a pool. But, for those that do, here's a few worth mentioning:
Day 2: To Glacier We Go
Let's start the day off with a trip to a Glacier National Park Visitor Center at Apgar or Logan Pass. Here, your kids can get involved with the Junior Ranger program. You'll find that Glacier's magic is even sparklier when you've got kids to bring you down to their level.
Glacier Junior Rangers have to complete these tasks to earn their badge:
Take A Hike!
Now that your kids are officially official, let's go hiking. With the right preparations, you might be surprised how far your kids are willing to walk. And by preparations, we mean snacks. Check out blogs we've written over the years on kid friendly hikes, what to pack, and where to snap exceptionally gorgeous photos. Need gear like a baby backpack carrier, bear spray, or trekking poles? We've got it for rent.
Speaking of guides – want to go hiking with one of ours? Guided hikes are a great way to get an introduction to the park, bear safety, Leave No Trace ethics, and more. If it's Monday, our Introduction To Glacier hike might be right for you. Nature Walks on Tuesdays and Thursdays are also fantastic starter activities in the park. You can read more about Family Friendly Hikes here.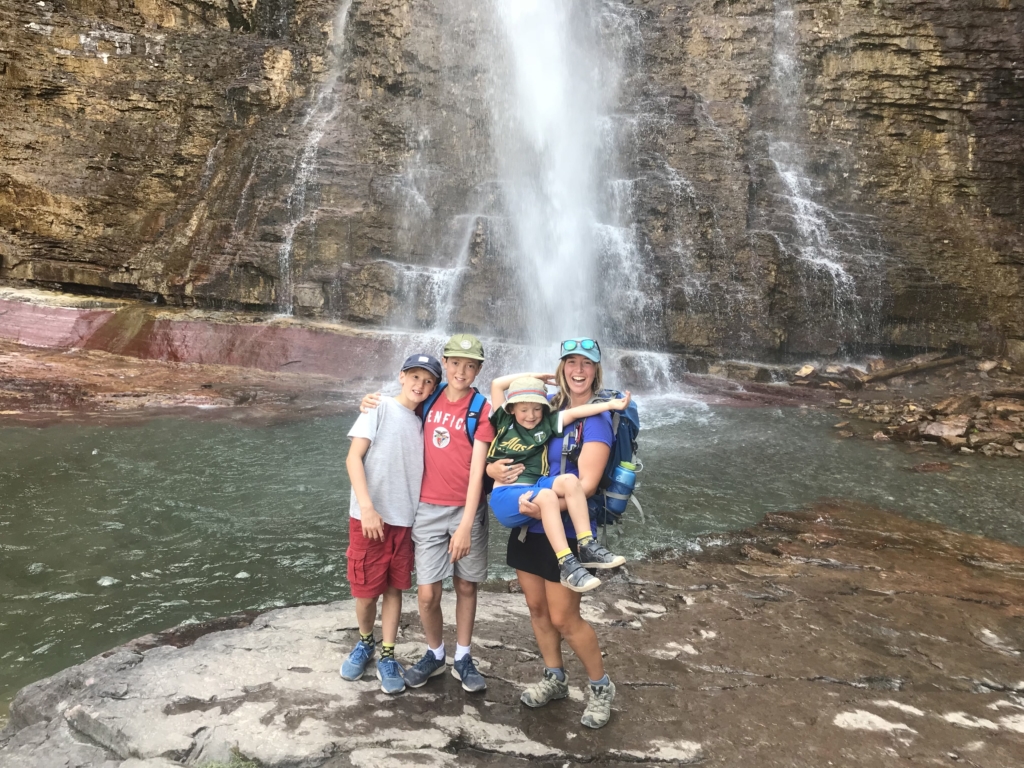 What's For Dinner?
A fun end to Day 2 could involve a picnic dinner on the shore of one of Glacier's many lakes, such as Lake McDonald. Every kid we know could spend hours just chunking rainbow colored rocks into the pristine waters while parents relax.
Day 3: Let's Go Rafting!
The stunning Middle Fork of the Flathead River, which forms Glacier's southwestern border, is the perfect family introduction to rafting. You've got options.
Scenic Floating
If your kids are ages 3 and up, definitely check out our Scenic Float rafting trip. You'll relax on this peaceful stretch of river with our kid loving, interpretive river guides. These scenic floats in Glacier are typically on a relaxed current with little to no splash, and no paddling. You'll be amazed at how even the most jaded teenagers can get into looking for eagles, deer, and moose. On hot days, you and your kids can jump in the river to take a swim, and your guide will pull you back in the boat. Way better than any pool, and memories your kids will keep forever!
Whitewater Rafting
Whitewater rafting on the Middle Fork Flathead offers super fun — NOT super scary — rapids. Usually, these are class II and III. Our river is not dammed, so its levels will fluctuate with spring runoff. Usually by mid-July, the river levels are falling. A minimum age of 5 and a minimum weight of 50 pounds is the norm for our whitewater trips. Helmets and lifejackets are always required, and wetsuits and splash gear is always available at no charge.
Overnight Rafting
Pro tip: we offer 2 day overnight rafting adventures that are perfect for families. What kid doesn't love sitting by a campfire, picking out the constellations in Montana's star studded skies? What adult doesn't, for that matter? Overnight rafting is our favorite family bonding adventure.
Safety First
Whether you choose scenic or whitewater rafting, feel free to call us anytime to discuss river safety and your kids! We welcome your questions, and we know that anxious parents aren't happy parents. Knowledge is power, and we want you to have fun! Our mantra: safety first, always — and then fun.
Day 4: A Trip To The East Side –
A Glacier Park vacation for kids isn't complete without a trip to the east side of the park.
If the Going to the Sun Road is fully open — typically by late June, but not always — you'll want to drive from the West Glacier entrance, up and over Logan Pass, and down to St. Mary. If you stop at Logan Pass, don't miss the opportunity for a family snowball fight or sledding!
If the Sun Road isn't quite all the way open yet, drive U.S. Highway 2 from West Glacier to East Glacier. On this route, you drive through the southern tip of Glacier National Park, along the Middle Fork Flathead River, and over Marias Pass.
Scavenger Hunt
Whichever way you drive, be sure to make a scavenger hunt for the car! Make a list of animals to look for, like grizzly and black bears, eagles, turtles – see the full GNP inventory here. Add items like flowers, railroads, interpretive displays, historic lodges, and huckleberry stands, too.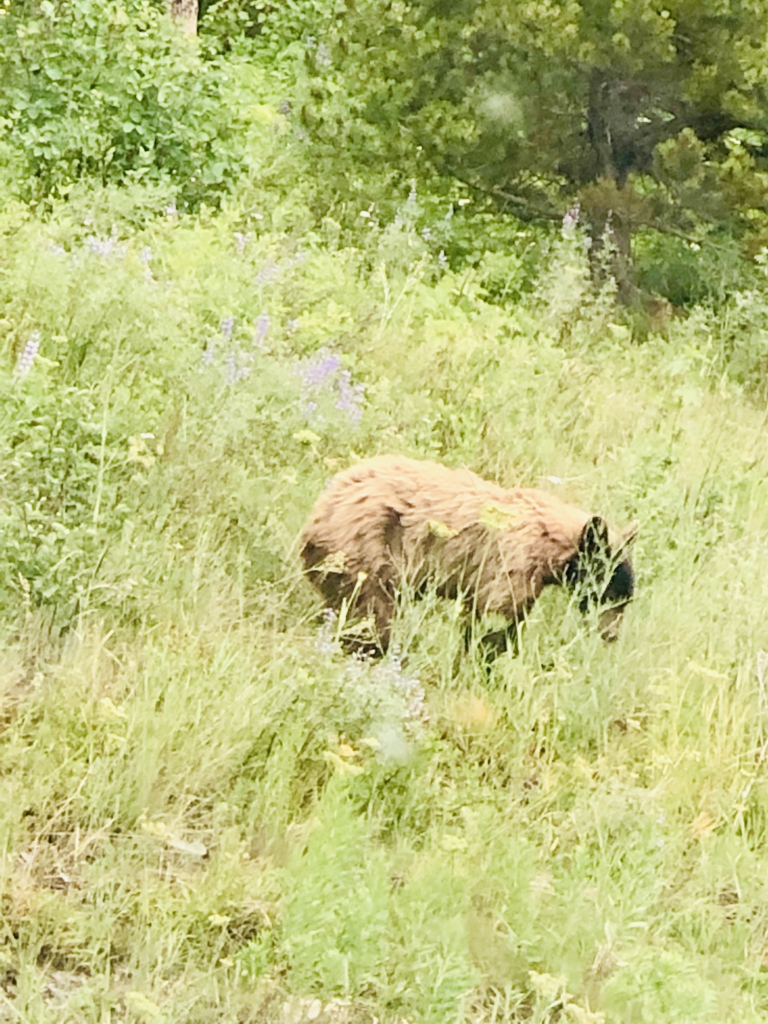 Once you're on the east side, when you're not snapping pix of the gorgeous, glaciated mountains soaring up from the prairies, you've got lots of kid friendly choices. Choose an area to explore for today, and have all the fun.
Glacier Park Vacation for Kids: East Side Choices
In St. Mary
In Many Glacier, north of St. Mary
In East Glacier/Two Medicine
In Browning, the capital of the Blackfeet Indian Reservation, which borders Glacier:
Day 5: Just Outside of Glacier National Park
You've learned – from Glacier National Park Rangers and our guides. Gone hiking. Rafted. In short, you've made Glacier National Park memories to last a lifetime.
It's time to play! Today, explore the west side, just outside of Glacier National Park.
Flathead Valley Fun For Kids: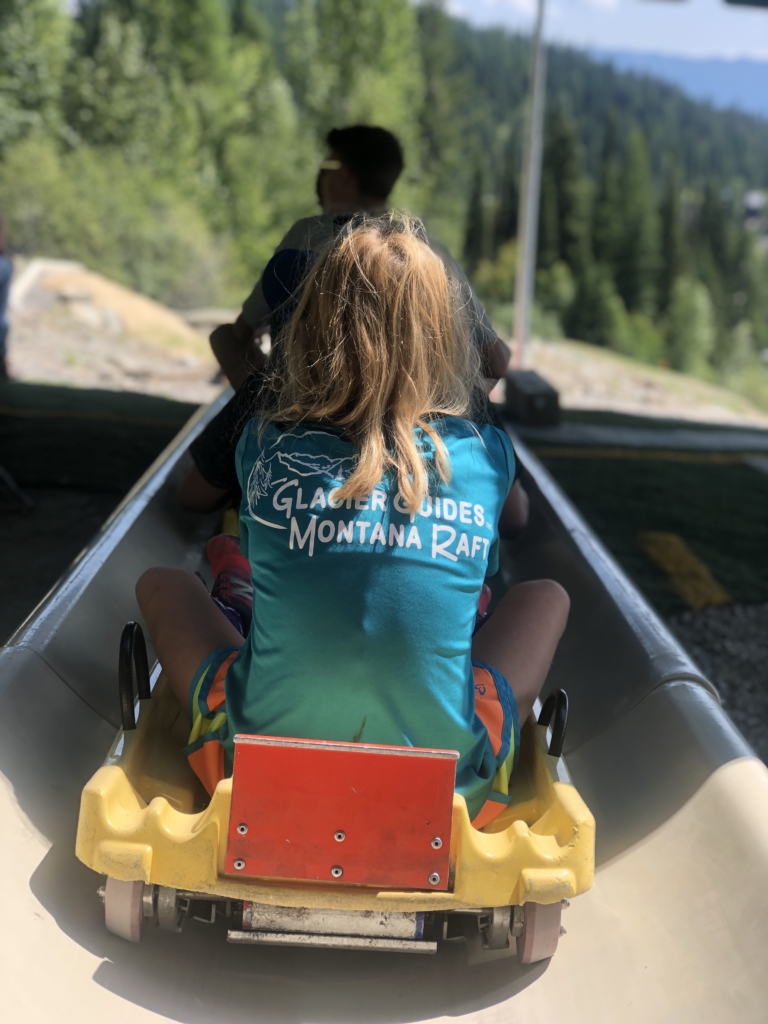 Glacier Park Vacation For Kids: Once Is Not Enough
Take it from all of us raising kids in Glacier National Park – one trip to this incredible place with your children will not be enough. As your kids get bigger and stronger, the opportunities to spend quality time with them in Glacier National Park grow, too.
The baby that you carried to Iceberg Lake in a pack will be a toddler who delights in throwing rainbow rocks into Lake McDonald.
That toddler will be able to walk himself to Avalanche Lake before you know it.
And then he'll be biking up the Going to the Sun Road with you on Mother's Day.
Or she'll be catching her first fish on the Middle Fork Flathead River.
Hiking to Grinnell Glacier with you and her friends in grade school.
And ready for a backpacking trip before you can blink.
These are the days.
Don't miss them.
Questions? You can use the form below to ask them. Or just give us a call at 406-387-5555. See you out there!