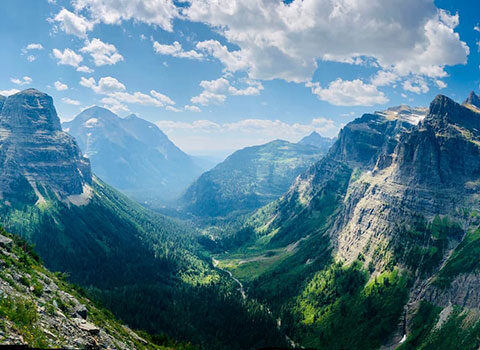 Biking FAQ
What if the Going-to-the-Sun Road is closed to hiker/biker traffic?
Keep in mind that around here, we joke that we have two seasons, winter and road construction.  When roads are closed or are in rough shape for guided biking, we may reroute our trip to another area of Glacier National Park.  This may be an area which is open to vehicle traffic, such as the Camas Road. Alternatively, it may involve involve a van shuttle to a road on Glacier's stunning east side, which will be several hours long. We'll always keep you aware of your options.
How far is spring biking in Glacier National Park on the Going-to-the-Sun Road?
What are the restrictions on biking in Glacier National Park?
Starting June 15, first 8 miles of the Going to the Sun Road are restricted to bicycles between 11am and 4pm, i.e. from Apgar to Sprague. As summer unfolds and the Going to the Sun Road opens fully to vehicle traffic, other restrictions go into effect. From June 15th until Labor Day, east-bound/uphill bike traffic is prohibited from Logan Creek to Logan Pass between 11am and 4pm. Check the park's biking page for the latest rules and regulations here.
Do I need bear spray for biking in Glacier National Park?
If you're on a guided biking tour with us, your guide will have bear spray. If you're not with us, we recommend carrying a can in one of the water bottle carriers on your bike — it's always best practice to keep it handy!
You should also bring water, food, and layers — just like you would if you were hiking. Click here for our Glacier National Park Day Trips Packing List – Biking. And speaking of hiking, there will likely be hikers on the road – share the road, please.
Can my dog go, too?
Sorry, no. During the spring, pets are not permitted past the road closure gates, which are typically at Lake McDonald Lodge or Avalanche on the West Side, and at Rising Sun on the east.
Are electric bikes permitted on the Going to the Sun Road?
Yes, Electric bicycles (e-bikes) are allowed if the motor is less than 750 watts (1 hp) and engaged only while pedaling. Read more here.
Does renting a bike get me into the park without a vehicle reservation?
No! In order to get into the park WITHOUT a vehicle reservation, you need to be traveling into the park WITH us. For example, if you take our bike shuttle, you do not need a vehicle reservation. Another way to avoid a vehicle reservation is if you plan to ride a bike INTO the park. If you plan to drive yourself into the park, you MUST have a vehicle reservation for Going-To-The-Sun Road corridor (West Glacier, Camas, North Fork area) May 27th-September 10th between 6am-3pm and St. Mary at Rising Sun, Two Medicine and Many Glacier July 1st-September 10th, 6am-3pm. You will always need a park pass, this is not the same thing as a vehicle reservation.
STILL HAVE QUESTIONS?
We'd love to answer them.