Day Trip Packing List
---
The weather is always unpredictable on the Continental Divide, which bisects Glacier National Park. Synthetic layers are always appropriate, as huge swings in temperature in one day are not uncommon in Montana!
2 quart sized water bottles or Camelback
Lightweight hiking boots or a sturdy pair of hiking shoes
Wool or synthetic hiking socks- no cotton, please
Synthetic wicking t-shirt
Hiking shorts (quick-dry, lightweight)
Rain Jacket (hooded, lightweight, waterproof, breathable)
Hiking pants (convertible, quick-dry, lightweight)
Midweight fleece or wool jacket or sweater
Sunglasses and straps
Sunscreen and lip balm
Insect repellant
Sun Hat or Ball cap
Daypack to carry items above – can be rented, if needed.
Park entrance pass and ID or money to purchase one  – learn more here.
Gratuity for guide (18-20% is the standard for our industry)
Camera (optional)
Binoculars (optional)
Trekking poles (optional and can be rented with advanced reservation)
Please leave room in your pack for the yummy trail lunch that you will be given!
Additional Items for Day Hikes in June or September:
Fleece or insulated jacket
Long underwear top and bottom (midweight, synthetic)
Warm hat
Gloves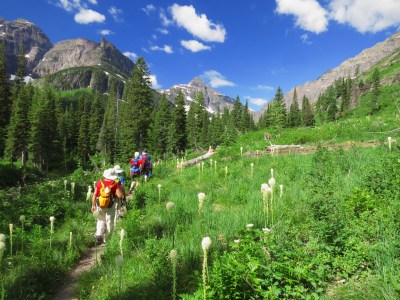 Overnight Packing List
---
BACKPACKERS*, CHALET HIKERS AND GLACIER CHALLENGE HIKERS
* Items on the packing list marked with an asterisk are additional items that Backpackers are responsible for. Those items are included on Glacier Challenge trip or not needed on Chalet trips.
Equipment
---
Sleeping Bag (rated 20 to 30 degrees)*
Sleeping Pad*
Tent*
Backpack (70 to 80L for Backpacking Trips, 30L for Chalet or Glacier Challenge Trips)
Rain Cover for Backpack (or line inside of pack with garbage bag.)
Trekking Poles
(Equipment Rental Package includes all of the above – reservations required)
Clothing
---
Long Underwear Top and Bottom (Midweight, Synthetic)
Midweight Fleece/Wool Jacket or Sweater
Polar Fleece or Insulated Jacket (needed in June and September)*
Rain Jacket (Hooded, Lightweight, Waterproof, Breathable)
Rain Pants
Pair of Hiking Pants (Convertible, Quick-Dry, Lightweight)
Fleece/Wool Hat
Fleece/Wool Gloves
Synthetic Wicking T-Shirt (1 for hiking, 1 for camp)
Pair of Hiking Shorts (Quick-Dry Lightweight)
Lightweight Hiking Boots
2 pairs of wool or synthetic hiking socks – no cotton please
Sandals for Camp/Water Crossing (Teva/Chaco type)
Miscellaneous Essentials
---
Valid Passport to cross US-Canadian border.  (Backpackers and Glacier Challenge, not Chalet Hikers)
Park entrance pass and ID or money to purchase one  – learn more here.
Gratuity for Guide (18 to 20% is the standard for our industry)
Water Bottles (Two 1-Quart) or Hydration System Plus One 1-Quart Water Bottle
Ziploc Bags (larger size; to organize, keep items clean and dry)
Toiletries (toothbrush, toothpaste, personal wipes, wash cloth.)
Sunscreen and Lip Balm
Sun Hat or Ball Cap
Bug Spray
Headlamp with Fresh Batteries
Optional Items
---
Camera
Binoculars
1 Pair of Synthetic Liner Socks (help prevent blisters)
Fleece Pants (for trips in June and September)*
Lightweight Gaiters (recommended in June and September)*
Camp Towel
Camp Pillow (lightweight, packable)(there are full size pillows at the Chalets)
Bandana
Swimsuit
Sunglasses and Straps
Ear Plugs
Small Multi Tool
Reading and Writing Materials
Fishing Gear – if you want to fish
Your Favorite Snack!
Alcoholic Beverages (no glass, consider weight for trip), or arrange for something to be left in your shuttle vehicle for when you get out.
Provided (no additional cost on guided trips)
---
All Group Cooking Gear and Food
Stove and Fuel
Group First Aid Kit
Water Filter
Bear Spray
Toilet Paper
Trowel
Hand Sanitizer
Multi Tool
Map