Hugging the western slope of the continental divide, the Highline Trail winds through alpine meadows from Logan Pass to Goat Haunt. Essentially, you can walk through from the center of Glacier Park, all the way to the Canadian border!
This trail is a visitor and local favorite, and for good reason. The views from over 90% of this trail are laden with mountain peaks and wildflowers.  This area is home to mountain goats, bighorn sheep, pika, marmots, grizzly, black bear, and the rare wolverine.  The Highline Trail is an amazing place and can be explored in many different ways.
Logan Pass to Granite Park Chalet via the Highline Trail
Most people have one day in which to hike along the Highline Trail.  Logan Pass to Haystack Butte (3.5 miles) or out to Granite Park Chalet (7.6 miles) are the most popular destinations for day hikers.  Most people who hike out to the Chalet make this a loop trip instead of out and back.  You can either hike down to the Loop area (4 miles) where you can catch the free Park Service shuttle back to Logan Pass, or down to Many Glacier (9 miles).  Although the trail down into Many Glacier is a great scenic option, you will need to figure out your own shuttle from there.
Spur trails from this section:  Swiftcurrent Lookout and Grinnell Glacier Overlook.
Ways to access this section:  Swiftcurrent Trail (Many Glacier), The Loop, Logan Pass.
Local Tip:  You can stay the night at historic Granite Park Chalet, but don't just show up expecting to get a bed. This place can book up to a year in advance! Granite Park Chalet does not have running water so bring plenty of your own.  They sell snacks and drinks, so bring cash if you even think you might want something. There is a pit toilet for public use. We offer 3 and 6 days guided tours of Granite Park Chalet, too.
Granite Park Chalet to Goat Haunt via the Highline Trail
The lesser seen section of the Highline Trail is from Granite, north to Fifty Mountain camp, and on to Goat Haunt.  Some people hike out to Ahern Pass as a day hike from Granite Park Chalet (9 miles roundtrip).  This is an amazing section of trail and is a backpacker favorite.  It is an extremely coveted backcountry permit to get (especially since it is part of the Continental Divide Trail).
Spur trails from this section: Ahern Pass, Sue Lake Overlook, Porcupine Lookout,  and Kootenai Lakes.
Ways to access this section:  Flattop Mountain (Packers Roost), Stoney Mountain Pass Trail (Belly River), Brown's or Boulder Pass, Waterton.
Local Tip: We recommend putting in for an advanced permit to attempt to obtain backpacking sites along this section.
Backpacking the Highline Trail
For those that are looking for an extended stay, here are a few great itineraries that incorporate the Highline Trail:
Belly River over Stoney Indian Pass to Logan Pass (recommended 6-7 days)
Logan Pass over Brown Pass to Bowman Lake (recommended 6-7 days)
Flattop Mountain to Goat Haunt (recommended 3 days)
Goat Haunt to Many Glacier (recommended 2-3 days)
Local Tip: We recommend incorporating a stay at Granite Park Chalet or the Prince of Wales Hotel at the end of one of these extended trips.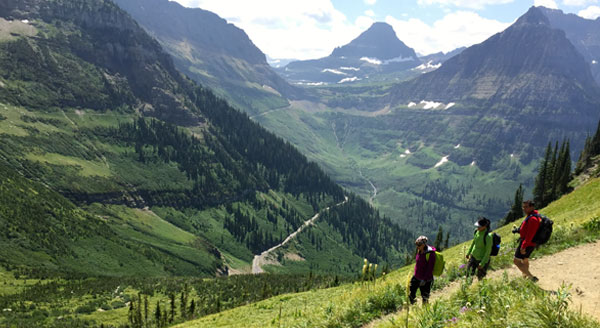 The "Mad Dash" on the Highline Trail
For those that are in fantastic shape (and a maybe glutton for punishment), you can hike/dash the entire 30 plus miles of the trail in one day.  This is called the "Mad Dash."   Since this "day hike" requires a long shuttle, some people like to camp in Waterton. If you want to splurge, go for a night at the Prince of Wales Hotel!
Local Tip: We recommend doing The Dash earlier in the season to take advantage of the longer daylight.
Day Hiking the Highline Trail
Weather can change quickly on the Continental Divide. Most of the Highline Trail is at or above treeline, so you are exposed to the elements. We recommend being prepared for anything, always! Here is a basic list of things we recommend bringing – a more detailed list is here.
Water
Rain gear
Sun protection
Food
Bear spray (and the knowledge to use it)
Sturdy hiking boots
Optional: camera, binoculars, hiking poles
So get out on the Highline and see what all the fuss is about! Trust us, it's worth it.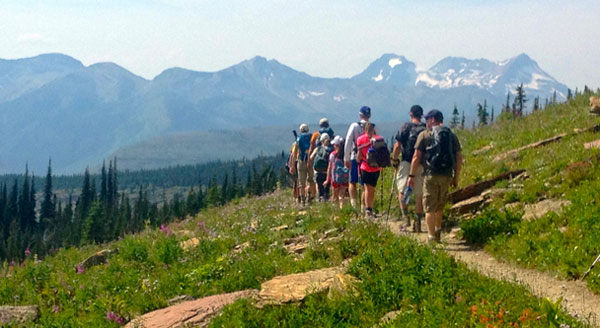 Go Guided On the Highline Trail
Here's a list of our guided Glacier National Park experiences that incorporate the Highline Trail: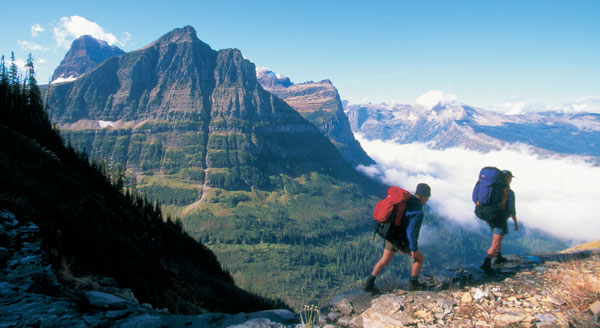 Questions? That's what we're here for! Don't hesitate to reach out.
[contact-form][contact-field label="Name" type="name" required="true" /][contact-field label="Email" type="email" required="true" /][contact-field label="Website" type="url" /][contact-field label="Message" type="textarea" /][/contact-form]