4 Best Challenging Glacier National Park Hikes
Are you ready to graduate from easy and intermediate hikes in Glacier National Park? You've gotten familiar with bear spray, blister prevention and treatment, and how to treat water? Awesome. You may be ready for what we like to call challenging Glacier National Park hikes! These are strenuous hikes for advanced hikers — all are over 10 miles and incur at least 2,000 feet of elevation gain/loss. And every step is worth it.
#1 Highline Trail: Logan Pass to the Loop
Catch the first shuttle up to Logan Pass from the east or west sides of Glacier National Park and get ready for the iconic alpine experience of your life. Don't be surprised if you spontaneously burst out into The Hills Are Alive, from The Sound of Music.
Everything You Always Wanted to Know But Were Afraid to Ask about the Highline Trail
You'll be walking 11.4 total miles, losing 2300 feet in elevation, and gaining another 1950. You can do it. Although you can start from the Loop, on the west side, or at Logan Pass itself, we recommend starting at the Pass, because it's easier.
There are no bathrooms on the trail, and not too many private spots to visit the Green Latrine either. There are restrooms/pit toilets at Logan Pass, Granite Park Chalet, and the Loop. You should carry plenty of water, as good spots to filter are scarce.
The Highline Trail is one of the most popular trails in the park for a reason. Amazing alpine views, frequent wildlife sightings — remember that goats, sheep, bears, and all critters have the right of way of the trail, and if possible, you should always step down off the trail, not up — abundant wildflowers, and a historic backcountry chalet. Make time to explore Granite Park Chalet. It is an incredible structure in the heart of the wilderness, and what it took to build it back in 1914 is worth contemplation. What it takes now to maintain and operate this grand old lady is pretty mind boggling, too. Pssst: if you tuck a few dollars in your pocket, you can buy a chilly Coca-Cola and a Snickers bar at the Chalet.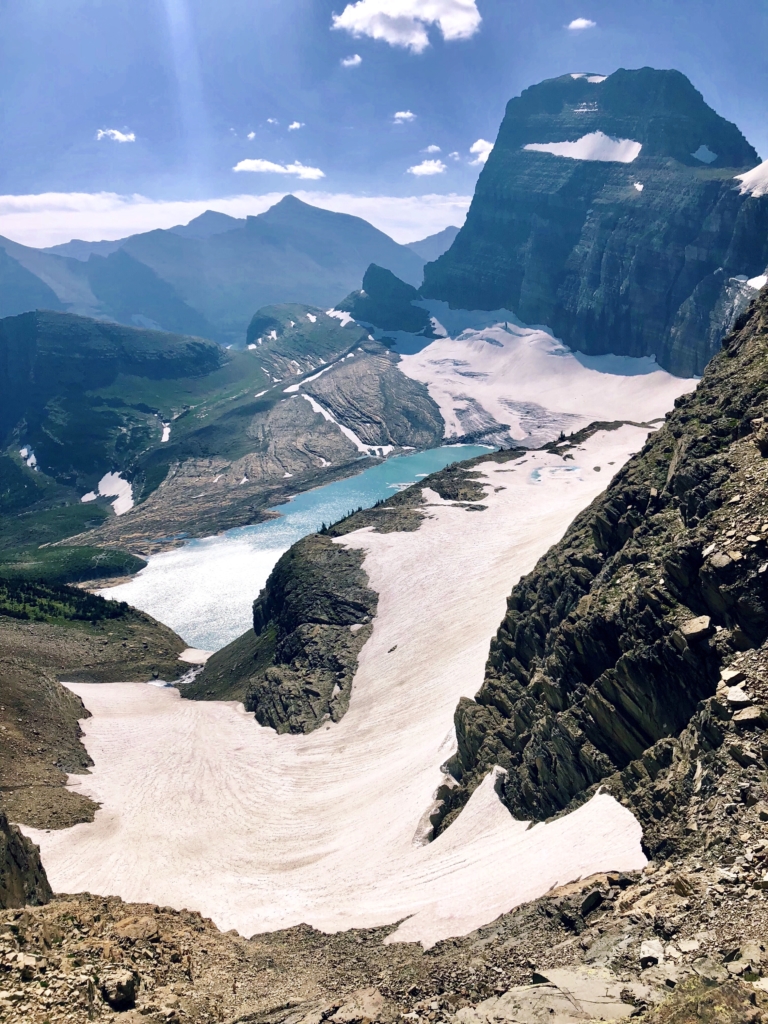 Pro Tip: The Highline Trail is extremely busy in the summer months, and is not the best choice if your goal is solitude.
If you are in extra fabulous, super-duper-stupendous good shape, there is a thrilling side hike that will take you to the Grinnell Glacier Overlook, where you will look down from the Garden Wall onto Grinnell Glacier, in the Many Glacier valley.
If it's a hot day, be sure to put on your favorite sun hat as you descend from the Chalet to the Loop — this section of trail burned in 2003, which makes it very beautiful, but also largely shadeless. We also recommend hiking poles for the descent, as it is a fairly constant downhill for 4 miles and can be hard on even the best of knees. When you arrive at the Loop, you can hop back on the shuttle — it will operate through September 4 this year, and you can read more about times and routes here.
Pro Tip: We Can Take You There
Think you're in shape for challenging Glacier National Park hikes, but not ready to be self-guided? We can take you halfway down the Highline Trail, every Tuesday! Our guided hike on the Highline begins at Logan Pass and travels a little over three miles to Haystack Butte, where we enjoy a delicious, largely organic and locally sourced lunch before retracing our steps to the pass. It's perfect if you're looking for an alpine experience, but prefer the company of a guide.
#2 Ptarmigan Tunnel – Many Glacier Valley
If you're ready for challenging Glacier National Park hikes and you'd like to visit the stunning Many Glacier area of the park, Ptarmigan Tunnel is an excellent choice. Like Granite Park Chalet, the Ptarmigan Tunnel is a unique man-made feature in Glacier National Park. Constructed in 1930, it is about 150 feet long and it tunnels through Ptarmigan Wall at 7,200 feet. In addition to the gorgeous views it affords, the tunnel allows horse and hiker traffic to pass from the Many Glacier valley to Belly River.
Everything You Always Wanted to Know But Were Afraid to Ask about Ptarmigan Tunnel
Bathrooms are available at the hotels and campgrounds in the Many Glacier valley. There is also a pit toilet located 2 miles up the trail, just before Ptarmigan Falls. The falls and the lake are both good places to filter water.
You'll be starting at the Iceberg/Ptarmigan trailhead — behind Swiftcurrent Motor Inn — which can be a pretty busy place. Take heart, and know that the trail will split a few miles in and be much less busy than the main Iceberg trail. Expect to walk 10.7 miles roundtrip, with 2,300 feet of elevation gain and loss. Sweeping views accompany a variety of terrain on this hike. You will wind through a beautiful subalpine fir and spruce forest before the trail opens up at Ptarmigan Lake. When you look up at the switchbacks leading to the tunnel, remain calm — they are not nearly as bad as they look!
We like to make the tunnel our lunch goal, so we often refuel with water and snacks at the Lake, before tackling the switchbacks. Once you've walked through the tunnel, you'll be at wide platform overlooking Belly River country and Canada. This is one of our favorite places to eat a sandwich in all of the park! Return to Many Glacier by retracing your steps.
#3 Siyeh Pass Loop – St. Mary Valley
Want to bag a pass and see 4 of the remaining 23 glaciers all on one trail? Join the locals on the Siyeh Pass Loop! One of the features we like best about this hike is that you start and end at different trailheads on the Going-to-the-Sun Road — the free shuttle makes it easy to get back to your car at the end of the day. Read more about the shuttle schedule here.
Everything You Always Wanted to Know But Were Afraid to Ask about Siyeh Pass
Take the shuttle to Siyeh Bend, on the east side of the Going-to-the-Sun Road, and begin the ascent from the Piegan / Siyeh trailhead. As far as challenging Glacier National Park hikes go, Siyeh Pass has it all! You'll walk through a spruce and fir forest before the trail opens up into meadows, and if you're hiking in July or August, likely fields and fields of fabulous wildflowers.
A few miles in, the trail will split right towards Siyeh Pass — if you continue left, you'll end up at Piegan Pass, which is a more moderate pass hike, if you're looking for something easier than Siyeh. In total, it is 10.3 miles from the trailhead, over the pass, and down to Sunrift Gorge. This trail is for strong legs and knees, as it incurs 2,240 feet of elevation gain and 3,440 feet of elevation loss. Bring water or filter it along the way — there are several opportunities on the approach to the pass, and on the descent.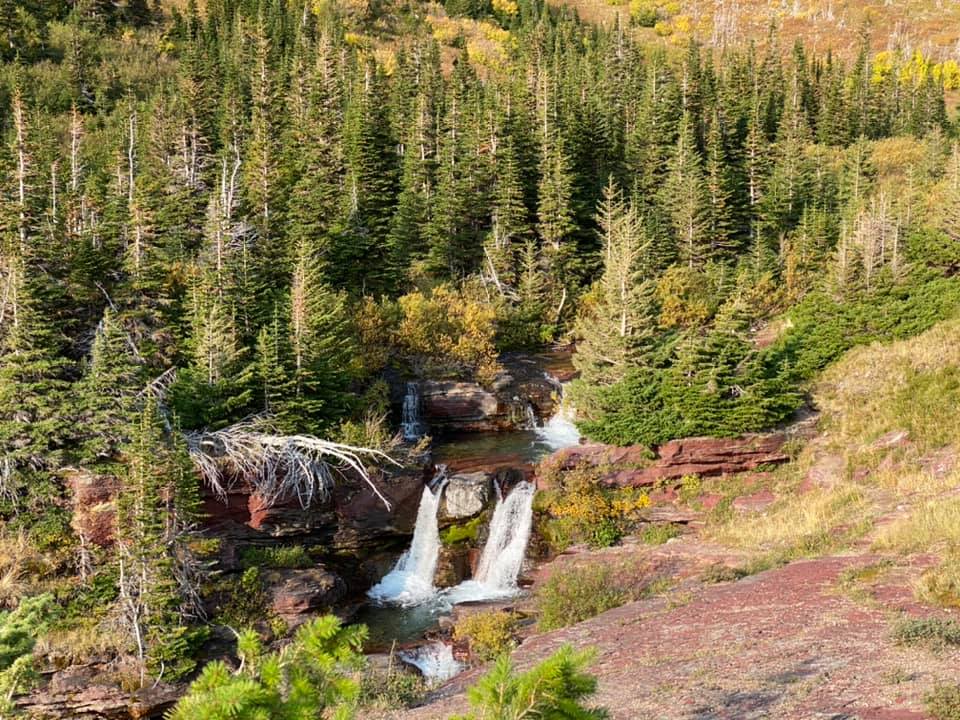 One of the reasons that Siyeh Pass gets our vote for one of the best challenging hikes in Glacier National Park is the opportunity see to four glaciers: Blackfoot, Jackson, Piegan, and Sexton glaciers will all be in view at various points along the trail. Bring your map to help differentiate between permanent snow fields and these glaciers.
P.S. There are no bathrooms along this trail. If you prefer indoor plumbing, try the toilets at Logan Pass or at various points along the Going-to-the-Sun Road.
#4 Firebrand Pass — Marias Pass Area, Highway 2
Firebrand Pass is a well kept secret in Glacier National Park. If you are a solitude seeker, this is one the best challenging Glacier National Park hikes for you! Even the trailhead is little known — or maybe we should say "hard to find." It is called the Lubec Trailhead and is located on Highway 2 — which runs along Glacier National Park's southern border from East Glacier to West Glacier– at mile marker #203. You will park in a dirt pullout and cross the train tracks. Across the tracks, you'll see a fence with a gate and trailhead sign. You're at the right spot!
Everything You Always Wanted to Know But Were Afraid to Ask about Firebrand Pass
The Firebrand Pass trip is 10.2 miles roundtrip with 1,950 ft elevation gain and loss, which is not too bad for challenging Glacier National Park hikes. Part of what pushes this hike from the intermediate to advanced categories is its remoteness, its lack of water — bring at least 2 quarts per person! — and its typical windy weather pattern. Bring a strap for your hat! So, why go? Oh, just the wildflower filled meadows and shimmering aspen groves that give way to a stark and rocky landscape, replete with amazing views of subalpine fir, distant prairie, and mountains. If you like Scenic Point, you'll love Firebrand Pass.
We love Firebrand Pass so much that we recently added it to our list of weekly guided hikes. Let us know if we can show you this hidden Glacier National Park gem.
---
If you tackle any of these challenging Glacier National Park hikes, be sure to let us know! We love seeing your pictures on our social media channels — just tag us or use #glacierguidesMTraft. See you on the trail!
p.s. this post updates an older post by longtime Guide Corrie Holloway.