Glacier Guides and Montana Raft is an authorized concession partner of Glacier National Park, and a proud park steward, too. We guide rafting, hiking, fishing, and biking experiences in and around Glacier National Park. We have the best jobs in the world, and we know it!
Apply to work in Glacier National Park for us as a guide or in a support staff position. Greet guests and give out expert Glacier National Park information as a valued member of our Office team. Clean and repair tents, rafts, bikes, and bathrooms with the Maintenance Team. Prep delicious, largely organic and locally sourced food in our Kitchen. Expertly drive buses up and down the Middle Fork of the Flathead River. Put your extra special sparkle on the 12 rooms at our Lodge. Nurture flowers and our grounds.
Make friendships that will last a lifetime. Explore Glacier National Park's stunning 1.1 million acres of adventure. Work for a company dedicated to making an environmental difference in and around Glacier National Park. Apply today!
---
Manager Positions
---
Assistant River Manager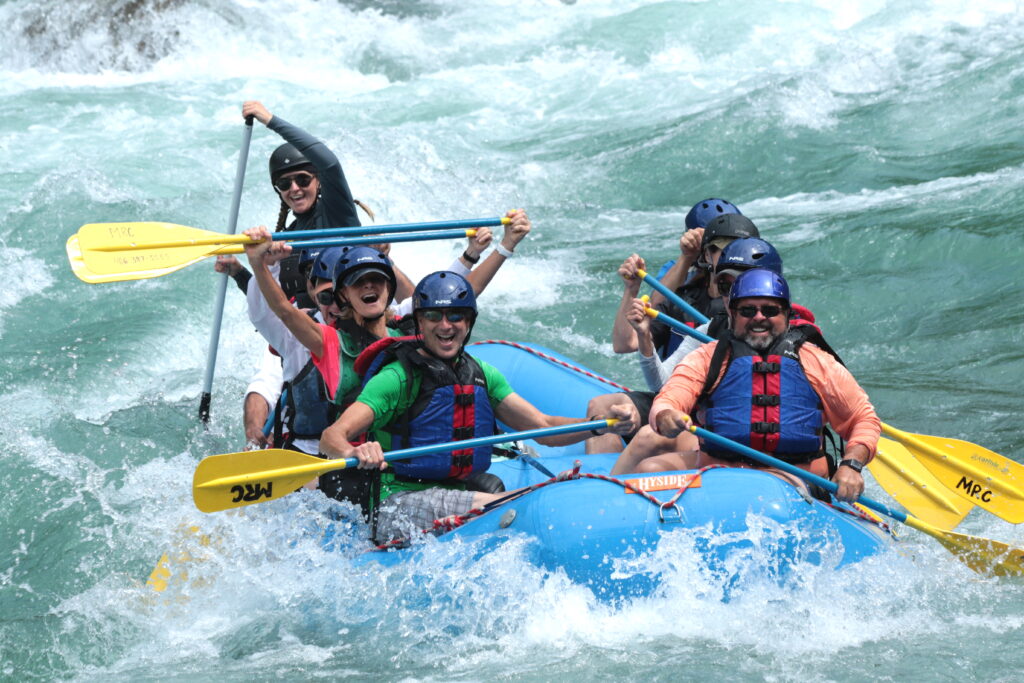 Join our team as an Assistant Raft Manager. If the idea of rafting on the most magical rivers in Montana sounds exciting to you, then you've come to the right place. The Assistant River Manager will be a seasonal job from mid-April through late October. We have a blast introducing our guests to river magic on half day, full day, and multi day trips. Our focus is always on safety, on and off the river. River ecology, cultural and historical concerns, and Leave No Trace principles are just some of the topics you should be passionate about. River knowledge and previous experience is required.
---
Glacier National Park Guide Positions
---
Guide rafting, hiking, fishing, and biking experiences in and around Glacier National Park! The ability to offer passionate, accurate Glacier interpretation, along with a total commitment to safety and guest experience, are the hallmarks of these positions.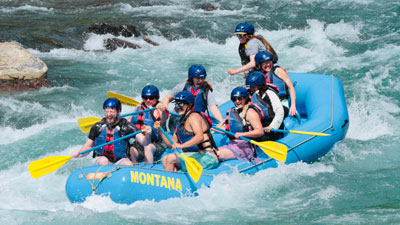 Raft Guides
We raft on the most magical rivers in Montana: the Wild and Scenic Middle and North Forks of the Flathead River AND the Smith River, Montana's only permitted river. From May through mid-October, we have a blast introducing our guests to river magic on half day, full day, and multi day trips. Our focus is always on safety, on and off the river. River ecology, cultural and historical concerns, and Leave No Trace principles are just some of the topics you'll learn to offer interpretation about. Never been a raft guide? No problem! If you've got the physical fitness, the desire, and the nerve, just apply. We run an in house Guide School each spring for rafting guides.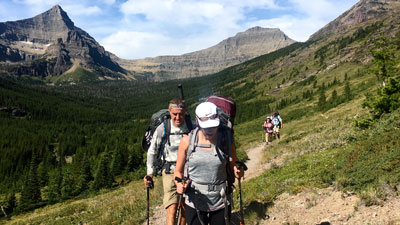 Hiking & Backpacking Guides
Do you love teaching others about Leave No Trace principles, botany, and glaciation in Glacier National Park? Can you read a dietary profile and make a mean gluten free, dairy free sandwich? Then you just might be meant to lead guests down Glacier's 734 miles of trails! We offer day trips and multi day experiences. Never been a hiking guide, but have a deep knowledge of Glacier? Apply! If you're selected, you'll attend our in house Guide School. Never been a hiking guide and still working on your Glacier knowledge? Check out our support staff positions below – they're a great way to get started on your future guiding career.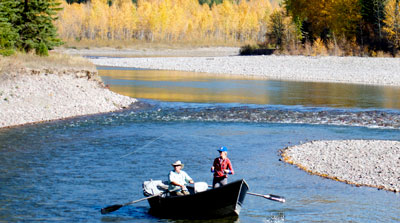 Fishing Guides
Do you enjoy offering casting instructing while simultaneously giving expert Glacier National Park interpretation from your drift boat? Do you love taking out experienced anglers and novices — all in the same boat? Do you have an arsenal of fly rods for sharing? Are you licensed by the State of Montana as a fishing guide? Are you a professional fishing guide, and not someone who just loves to fish? If so, come work with the area's most comprehensive and respected Glacier National Park guides! We love taking our Glacier National Park guests out on the North and Middle Forks of the Flathead, and down the Smith River, too.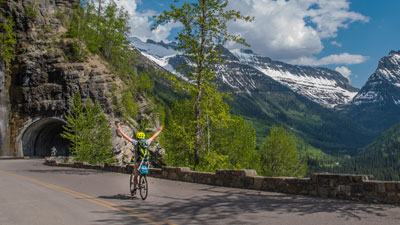 Bike Guides & Mechanics
Do you enjoy fine tuning derailleurs and disc brakes? Do you always have a multi tool on your hip? Do you think biking on Glacier's Going-to-the-Sun Road is a cosmic, out of this world experience that everyone should get to enjoy? Do you approach loading bikes onto a variety of cars and carriers as a fun game of Tetris? If so, working in our bike department might just be for you! In the spring, we guide afternoon bicycle tours of the Going to the Sun Road, and other roads in Glacier, when those roads are closed to vehicle traffic. In mid-June, those tours sometimes go all the way to Logan Pass! We rent bikes and e-bikes all season.
---
Support Staff
---
You make the magic happen, whether you're answering phones, cutting grass, cleaning rooms, prepping dinner, or changing oil. Some of our support staff have been around for years. Others work as support for a summer or two while they become experts on Glacier Park and Glacier Guides + Montana Raft and then become professional guides.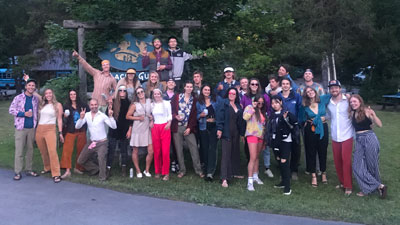 Front Desk Staff
The office is where it all happens! Helping guests plan, experience, and then debrief their bucket list Glacier National Park adventures is what our front desk staff does better than anyone else in the Glacier National Park area. We pride ourselves on having the most accurate, up to the minute information about what's happening in the park. We always know where to go, what to do, and how to do it. But you don't have to know everything about Glacier – we'll teach you along the way! You do need a love of maps, adequate computer skills, and razor sharp attention to reservation details. Working the front desk at Glacier Guides and Montana Raft is how many of our best guides got their start in the park. Oh, and it's a super fun to work with us, too!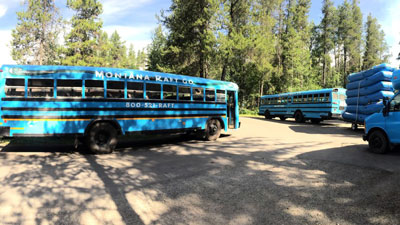 Bus & Shuttle Drivers
Must love driving buses filled with excited guests and backing stacks of rafts into busy river access points. Will keep guests and the general public safe while doing so. May also drive a variety of vehicles — including 15 passenger vans, pickup trucks, and Priuses — in and around Glacier National Park in support of hiking, fishing, and biking operations. Drivers also help to clean and maintain vehicles, including record keeping. CDL required.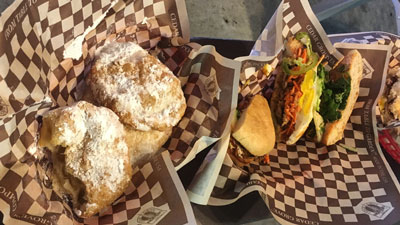 Kitchen Workers
In the Kitchen, we believe in sourcing our food locally and organically whenever possible. We believe that nutritious food should also be delicious food. And we also believe in having fun while we're working together! Whether we're helping guides prep for a 6 day backpacking trip or a full day whitewater adventure, our Kitchen staff is devoted to food safety, creativity, and sustainability. Working in the Glacier Guides and Montana Raft kitchen is also a great way to explore a future guiding career, and see first hand if it might be for you.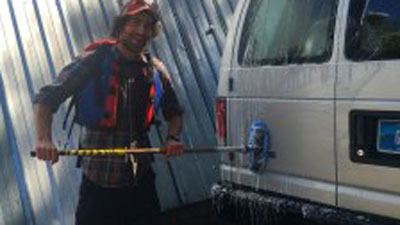 Shop & Maintenance Help
Water flowers, clean bathrooms, run fishing shuttles – your days will fly by in this fast paced, fun position. Bonus: if you'd like to be a guide but don't have the experience, you'll learn about Glacier National Park and Glacier Guides and Montana Raft from the ground up, and have a future foot in the door, too.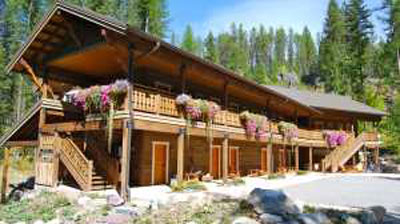 Glacier Guides Lodge & Glacier Guides Guest House Team
Lodge Manager: Our Lodge Manager is the face, eyes, and ears of the Glacier Guides Lodge. This is an upbeat, outgoing, high energy, attention to detail position. Warm, welcoming hospitality and guest service are the key aspects of this job. Works with office reservations, welcomes guests to the Lodge (for their vacation), is responsible for exceptionally clean rooms, prepares breakfast, and helps guests plan their Glacier National Park activities.
Housekeepers: Attention to detail and appreciation for fun are necessary for these fast paced positions. Giving our 12 room lodge and 3 bedroom guest house all the love and care they deserve makes up the bulk of these positions. Bonus: you're typically done by mid afternoon, leaving hours of Montana summer sun still available to light your nearby river and trail adventures!
Work And Play In Glacier National Park With Us!
---