There's a lot to coordinate while planning a trip to Glacier National Park. Between vehicle reservations, hitting The Park during that perfect Goldilocks timeframe, seeing Going-to-the-Sun Road and making sure you don't burn out on day 2. Luckily for you, we here at Glacier Guides and Montana Raft know Glacier National Park like the back of our hand. After all, we have been guiding in this beautiful National Park since 1983, so you can trust us. If you're trying to decide which hike will fit your schedule, crew and capabilities the best, you've come to the right place. Here's 10 of the best hiking in Glacier National Park.
*Protip*
Glacier Guides and Montana Raft has a different day hike every day of the week from early July to end of September. If the hike you're hoping for isn't listed on our regularly scheduled list, reach out and inquire about a custom day hike!
If you want to hike with just your friends and family, a private, custom guided day hike is for you! Let us know when and where you want to go. Don't worry – if you don't know, we can help you choose!
Your guide can meet you at your hotel or campground if you are staying in Glacier National Park. Typically, our guided day hikes cover 8 to 12 miles, but we will personalize your trip to fit the hiking abilities and interests of your group. Sometimes, we'll put together several smaller hikes and tour a larger area of the park over the course of a day – this is an especially great option for children.
West Side
Avalanche Lake
(Easy – Moderate)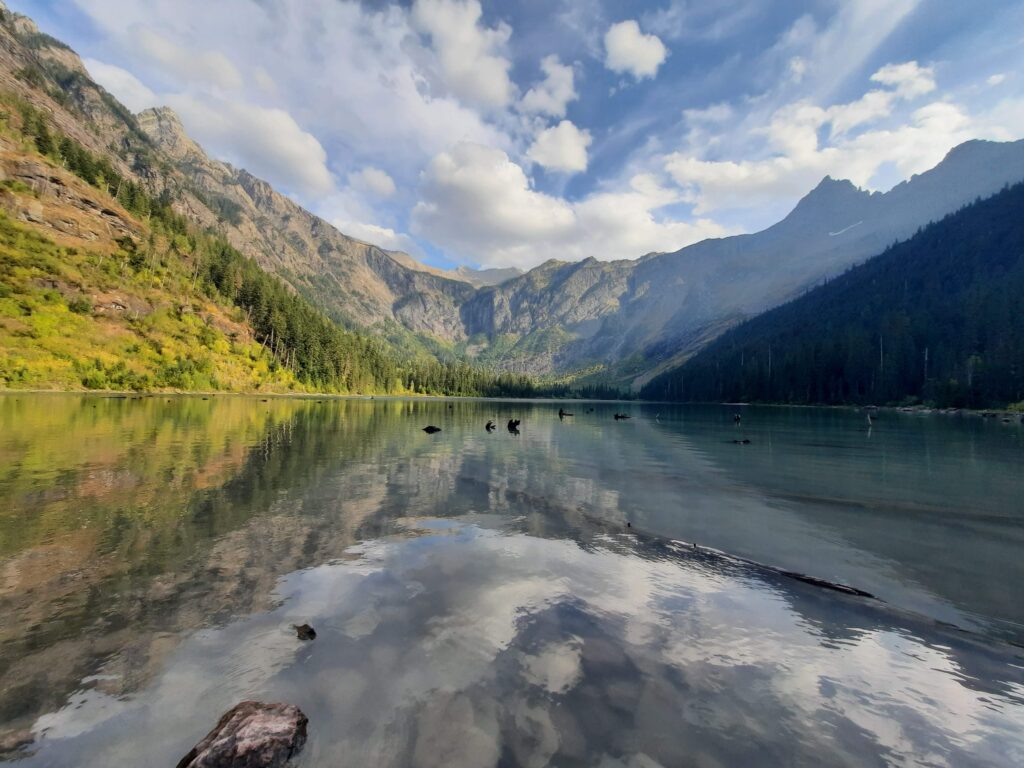 Avalanche Lake the perfect midday hike in Glacier National Park. It's got a lot going for it as far as Glacier hikes are concerned. First of all, it's in a convenient location, close to Lake McDonald Lodge. We suggest hitting up Glacier Park Boats for a boat ride on Lake McDonald before your hike. This is the perfect warm up to a week spent in Glacier National Park, as you get the best of both worlds. A fairly easy 5.9 mile hike and an outstanding view once you reach the lake. You'll get to see waterfalls flowing in the distance as you sit amongst the towering mountains that surround you — these are just a few of many reasons as to why it's a crowd favorite.
Highline Trail
(Moderate)
If you only have one day in Glacier and you're looking for the hike that covers everything, look no further than The Highline Trail. Experience vibrant wildflowers, precipitous peaks and pristine alpine environment. The Highline Trail is an alpine environment with wide open views of Glacier's majestic peaks and the Continental Divide. You'll remember this hike forever. There are often opportunities to watch mountain goats or bighorn sheep on this trip.
Did you forget to grab a vehicle reservation for your desired dates? Fear not, because Glacier Guides and Montana Raft heads to The Highline Trail every week on Tuesdays from early July to the end of September. Our guides are passionate and encyclopedic about Glacier National Park — no matter your level of hiking experience, we promise they'll teach you something new.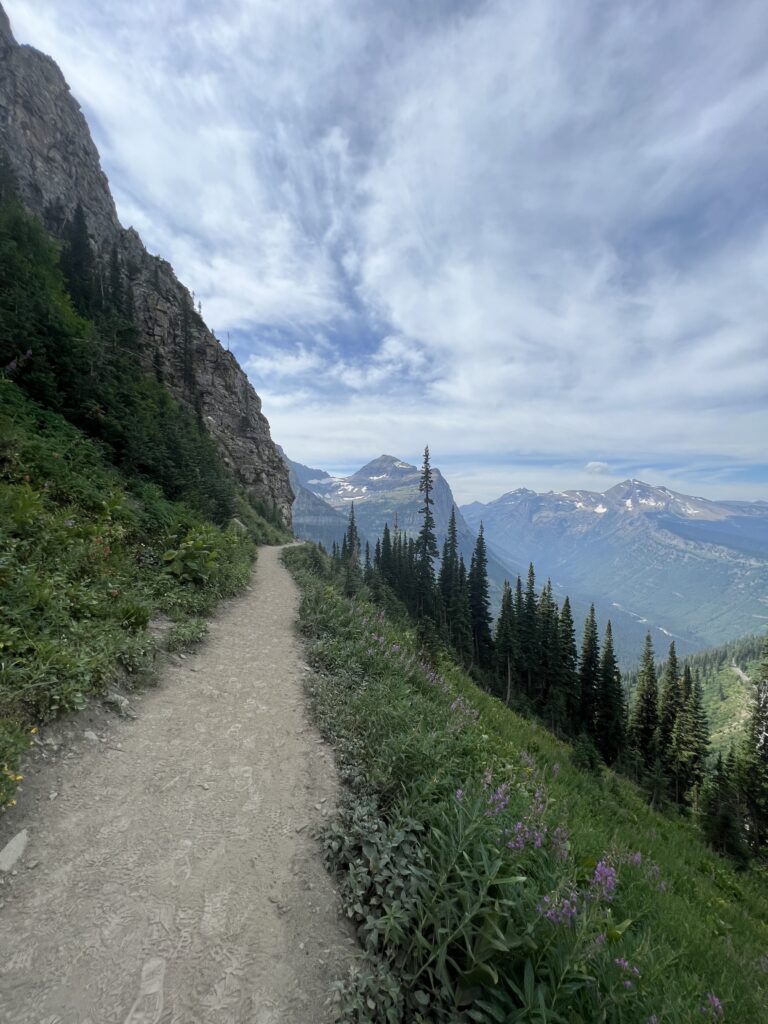 Siyeh Pass
(Advanced)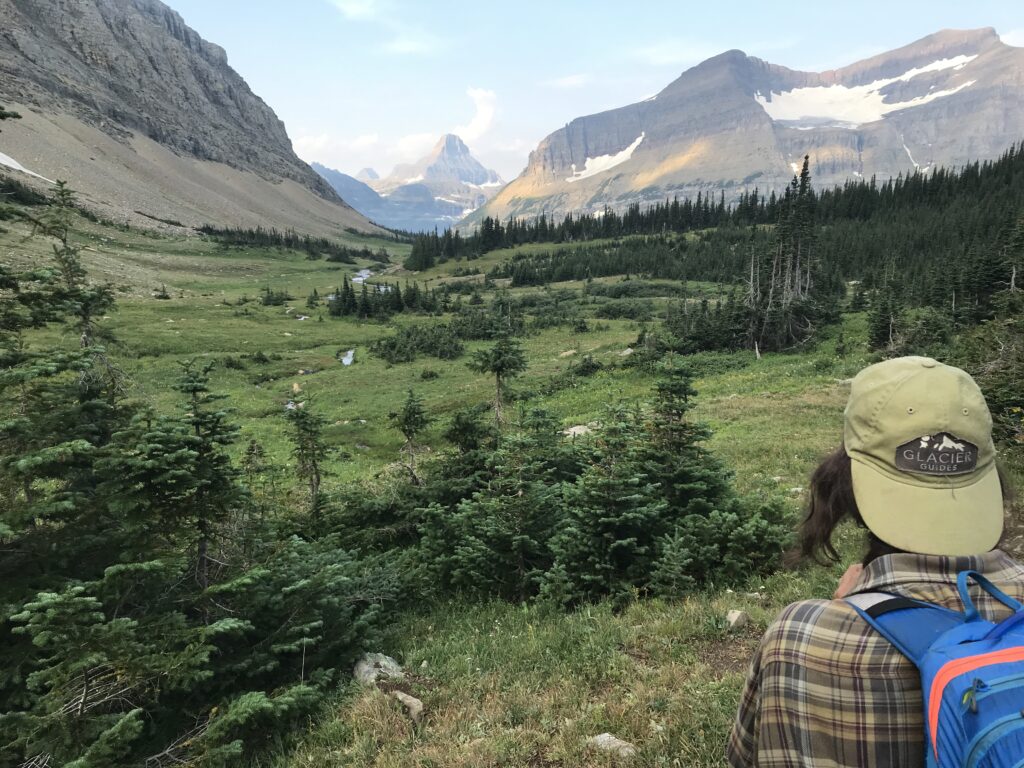 Siyeh is another Glacier National Park hike that has it all. Big alpine meadows, several glaciers, 1.5 billion year old fossils and towering peaks. This trip is about 10 miles in length and gains just over 2,200 feet in elevation. This hike is definitely a full day adventure, is fairly exposed (don't forget that sunscreen) but always worth it for the views in the end. Most people hike from Siyeh Bend to Sunrift Gorge for a mellower hike up to the pass. This hike starts out winding through a spruce and fir forest before meandering through wildflower laden meadows. You'll get amazing views of Blackfoot, Jackson, Piegan, and Sexton glaciers.
Gunsight Lake
(Advanced)
For Gunsight Lake, you're looking at about 12 miles of trail and 1,500 feet of elevation gain. This hike is specifically known for it's up close and personal views of both Blackfoot and Jackson Glaciers. This is definitely a challenging hike, but worth the hard work in the end. (In our opinion, it's one of the prettiest lakes in The Park!) When you reach your destination, you get to experience an amazing alpine lake surrounded by peaks looming above such as Mt Logan and Mt Jackson. Keep an eye out for sheep, goats and other critters scaling and navigating the cliffs leading to Gunsight Pass.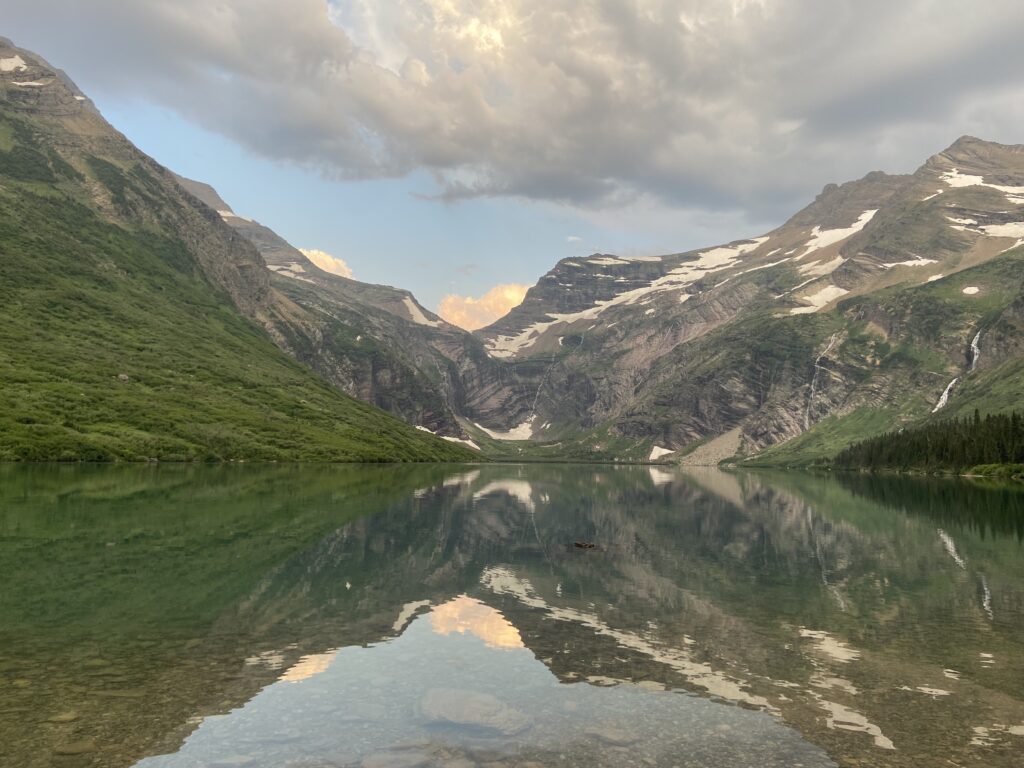 Nork Fork Area
Hidden Meadow
(Easy – Kid Friendly)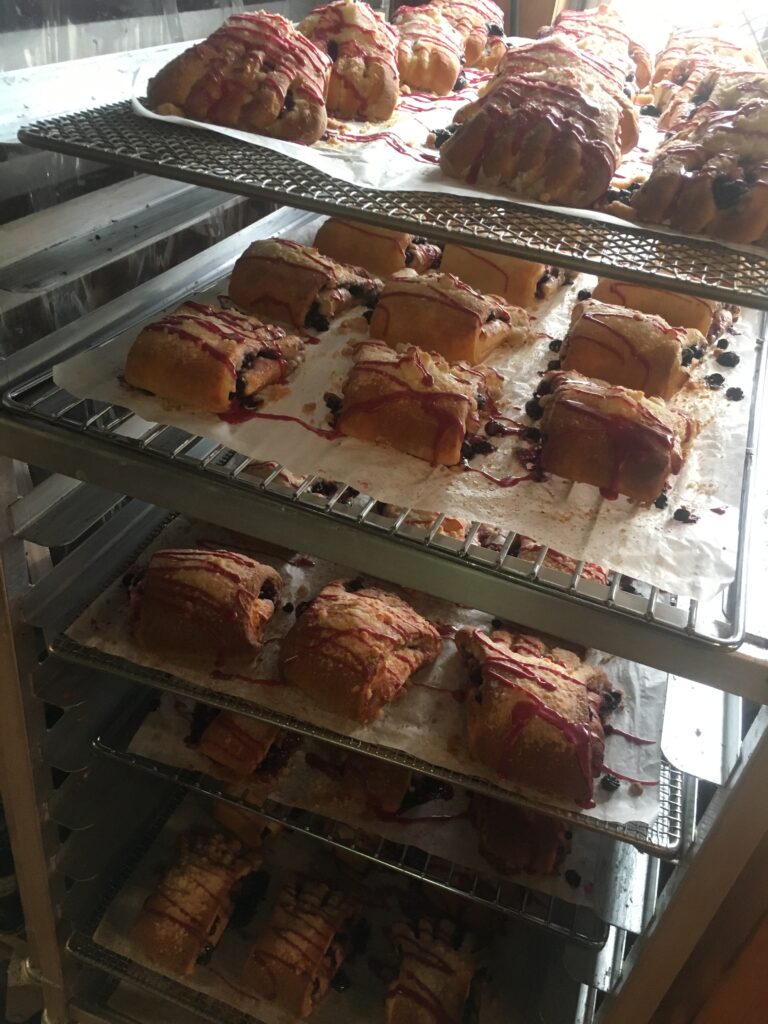 If you're looking for an easy and short hike that is kid friendly and still beautiful, Hidden Meadow is the perfect spot. This spot is just a few miles out of Polebridge, Montana — which is another must stop in The North Fork Area — and meanders through a forest before ending up in a large meadow with expansive views. You'll get to see a large burn area and one of the largest Douglas Firs out there! There are no bathrooms along this trail, so plan wisely with the little ones!
When you're done with the hike, it's definitely time to pay a visit to Polebridge Mercantile for a huckleberry bearclaw and that classic Montana feel. If you're hungry for more, visit the neighboring Northern Lights Saloon for some grub and a brew.
Numa Ridge Lookout
(Advanced)
This strenuous trail is a heck of a climb with an elevation gain of about 3,000 feet. It's an 11.6 mile out and back trail that begins right at Bowman Lake. Once at the top, you'll discover that your legs are sore, but it was all worth it, as you take in some of the most amazing North Fork views. This is a great hike to conquer in the fall, as you'll have the opportunity to look across the valley and see bright orange and yellow larches covering every inch of the landscape.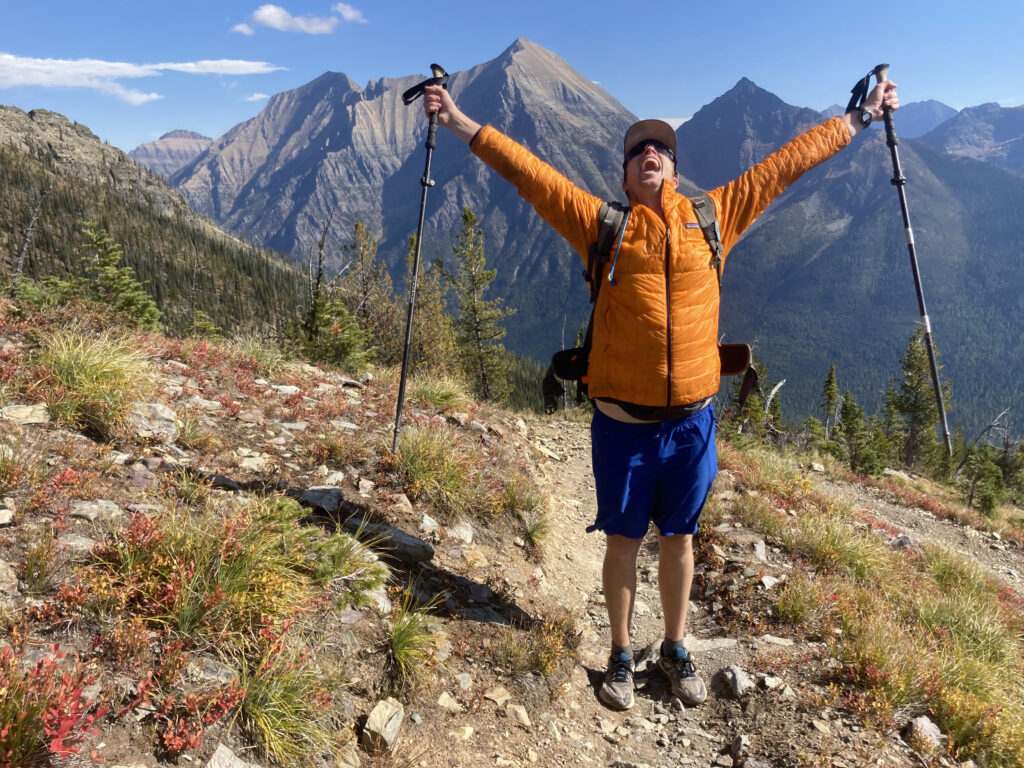 Upper Kintla Lake
(Advanced)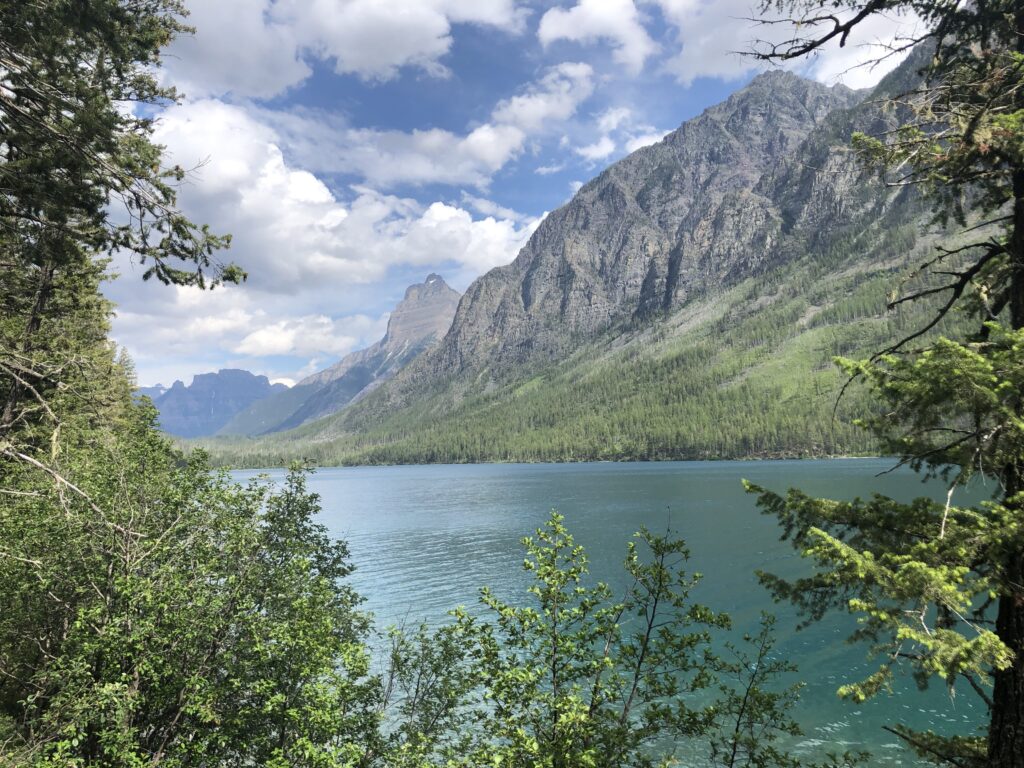 This hike is about 23 miles, out and back, round trip, butt kicker with an elevation gain of 1,807 feet. If you decide to tackle it all in a day, it'll be a long trip so plan accordingly with your start time. However, the campground at Upper Kintla Lake is sure to take your breath away, and if you've got the time, we recommend camping out for one night and breaking the trip up into 2 days. Don't forget your wilderness permit should you decide to camp. Glacier National Park releases some permits ahead of time on Recreation.gov. If those are sold out, you can still head to the permiting office the day before your trip at the crack of dawn – just like the good old days! For more info on those advanced reservations and vehicle reservations in general, visit this page on our site!
East Side
St. Mary & Virginia Falls
(Easy – Moderate. Family Friendly)
St. Mary & Virginia Falls is a hike we head out on every Wednesday from early July to the end of September. We think it's perfect for those kids ages 10 and up – it's the perfect middle ground for your tweens and teens. Besides, what's more fun than getting to see 2 different, bright blue and beautiful water falls in one go? Not much, in our opinion.
When you join in on our hike, we take care of everything for you – all you need to do is show up. Transportation, a delicious trail lunch and all vehicle reservation logistics are covered.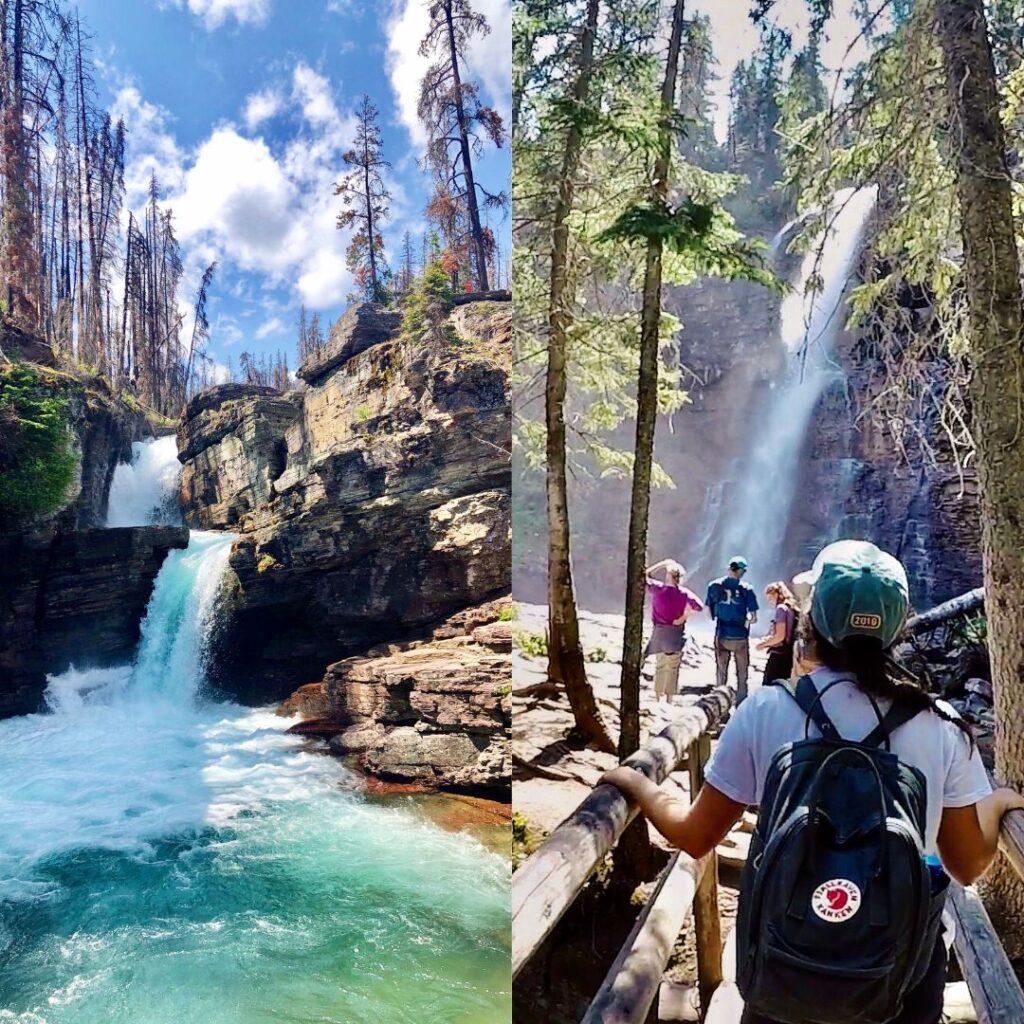 Grinnell Glacier
(Moderate)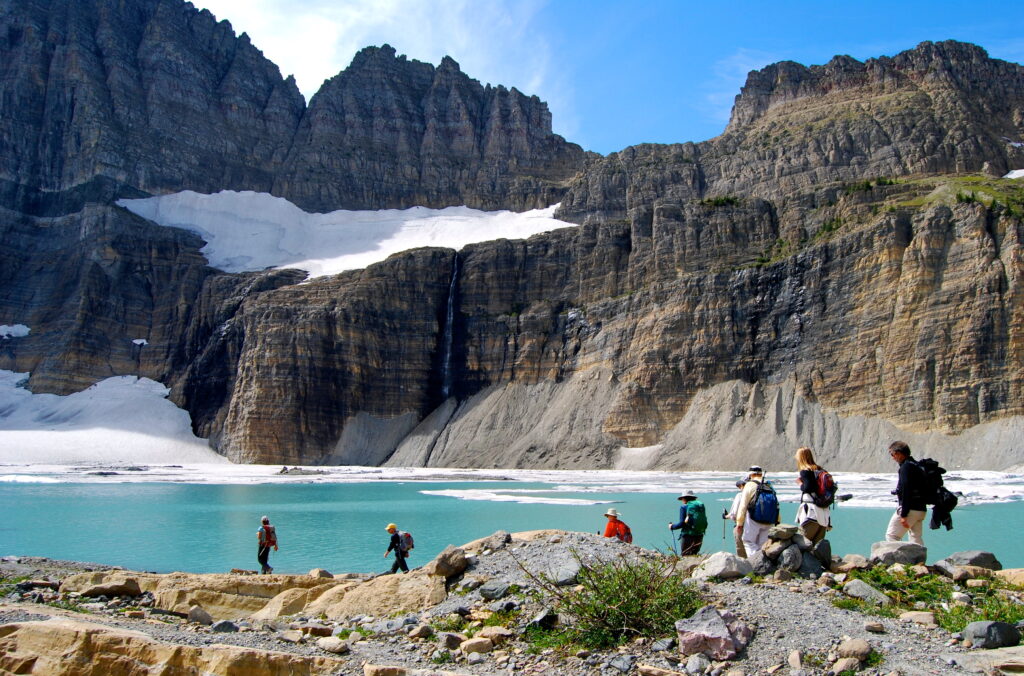 If you haven't visited Glacier National Park before, we're willing to bet you've heard about this hike. Grinnell Glacier is named after George "Bird" Grinnell, an early American explorer who was an advocate and strong part in the creation of Glacier National Park.
It's popular for many more reasons, though. The bright blue waters, the looming peaks and the non-stop views seen throughout the entire hike. While this is not part of our day hikes throughout the week, you can always inquire about a private, custom hike and request this route. Email us or call us for more info on custom hikes!
Piegan Pass
(Advanced)
We'll end the list with a fan favorite and a Glacier Guides favorite – Piegan Pass. This hike has fantastic views of peaks, glaciers, and wildflower filled meadows. This is our "Every Thursday" hike and we start at the Siyeh Pass trail, an advanced hike of just over 9 miles, with 1,850 feet of elevation gain and loss. When we stop to eat trail lunches on this hike, we'll look out over the east side of the Garden Wall and down towards the Many Glacier Valley. The views here are unforgettable!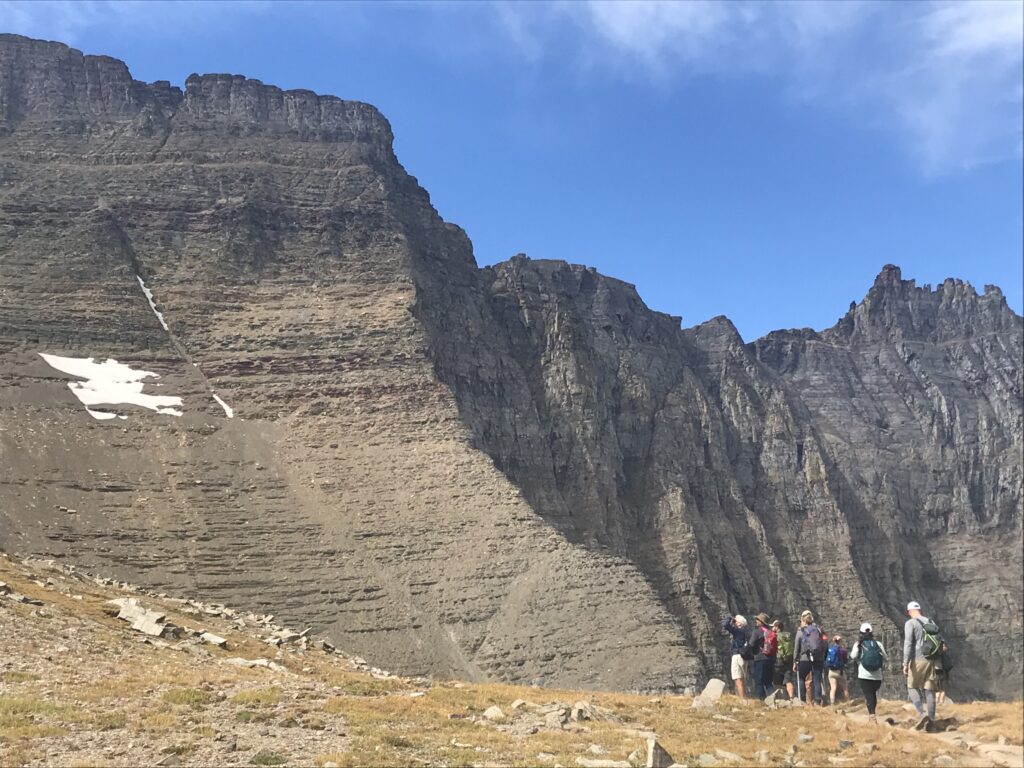 If you're planning your Glacier National Park trip all on your own, take a look at our Insider's Guide. This thing is chock full of ideas in and around Glacier National Park and throughout the rest of The Flathead Valley.
Questions? Since 1983, we've had answers. Send us a note!