Glacier Park In September
Ah, Glacier Park in the early fall. As the sun's angle shifts, the mood here does, too. Everything goes golden and slows down. It's an amazing and relaxing time of the year to visit. Let's plan a trip to Glacier National Park: September Edition!
Note: this is a general itinerary for September. Specific September 2023 info, i.e. closing dates for visits centers, concession services, etc is found in this press release from Glacier National Park. Glacier Guides and Montana Raft is open through October 15 each year.
Day 1: Welcome To Montana In The Fall
Autumn road trips in Montana are extra special, as driving through the changing trees is often on the same wow level as New England's famous leaves! But whether you're on the Great American Road Trip, or flying into charming Glacier Park International Airport, welcome to your first day of vacay.
Where To Stay In West Glacier
Sometimes we joke about September being the month of the newlywed and the nearly dead, visitor wise. We say this with love! But if you're traveling as a couple, why not check out our romantic Glacier Guides Lodge? Or any number of fantastic nearby cabins hosted by our friends, like the ones at the Reclusive Moose.
Larger group? We've got two Glacier Guides Guest Houses, the Aspen House and The Cedar House. Both offer several seating areas and multiple bedrooms to give everyone space to relax and unwind. There's also wi-fi, outdoor living space, and a beautiful sunroom that offers the perfect place to sit quietly with your morning coffee.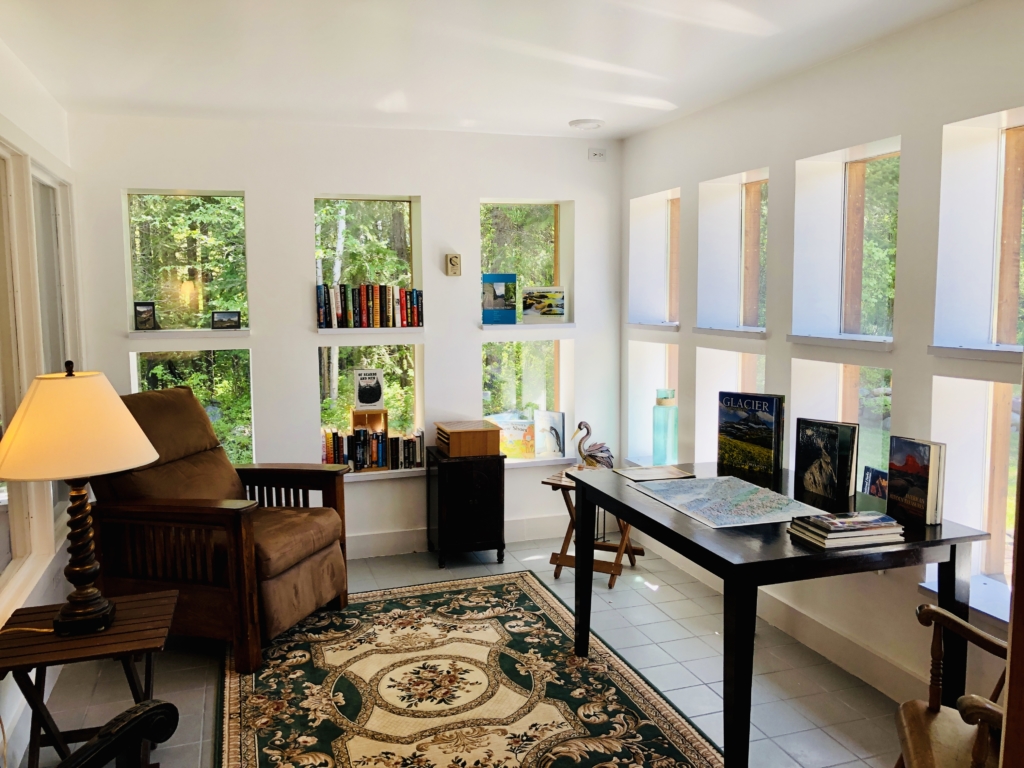 The sunroom at Glacier Guides Guest House.
Day 2: Hiking In Glacier National Park
In September, Glacier's famous blue lakes can seem even bluer as they reflect the changing golden trees. In the West Glacier area, the trees typically begin changing color in early to mid September. Whether you go for a short walk down to Rocky Point on Lake McDonald, or on a more ambitious hike up to Huckleberry, Brown, or Apgar Lookouts, you'll be happy. There are lots of hiking options in the immediate West Glacier area.
On the east side of the park, fall color appears more towards the end of September and beginning of October. We recommend checking out Otokomi Lake and St. Mary and Virginia Falls for stunning views of the east side.
Go Guided
If you're interested in going with a guide, expect an introduction to the park, bear safety, Leave No Trace ethics, and more. If it's Monday, our Introduction To Glacier hike might be right for you. Nature Walks on Tuesdays and Thursdays are also fantastic starter activities in the park. Private tours are available, too – more info here.
Day 3: A Trip To The East Side
If the famous Going to the Sun Road is open over Logan Pass — which it normally is in September — you'll definitely want to drive from the West Glacier entrance, up and over the Pass, and down into the St. Mary Valley.
Pack a picnic lunch, snacks, water, layers, rain gear, and bear spray so you can make a day out of it. There are lots of short hikes and interesting interpretive stops along the Sun Road's 52 miles. Keep in mind that the Logan Pass Visitors Center typically closes for the year in mid September. You can keep up with what's open in the Park here.

Day 4: River Time
The stunning Middle Fork of the Flathead River, which forms Glacier's southwestern border, offers several options in September — scenic floats, whitewater adventures, private tours, and more! Rafting Glacier National Park is a must do while you're here.
Scenic Floats
Relax and watch the leaves reflect off the pristine waters of the Flathead River on our Scenic Float rafting trip. These experiences are typically on a quiet current with little to no splash. No paddling necessary. Look for eagles, deer, and moose from the comfort of the raft, while your guide teaches you more about Glacier Park.
Whitewater Adventures
Whitewater rafting on the Middle Fork Flathead in September offers fun, splashy, milder whitewater. Our glacially fed river is not dammed, so its levels will fluctuate, but typically by September we're riding on Class I-II rapids. Guests find the turquoise water, red and green rocks, and leaves turning a brilliant yellow a stunning combination. The whitewater is still challenging — and fun! — as everyone in the raft works together as a team to navigate the 8 miles of rapids.
p.s. if it's a rainy day, whitewater rafting is the perfect activity — you're gonna get wet either way! We've got all the gear you'll need to stay warm and comfy.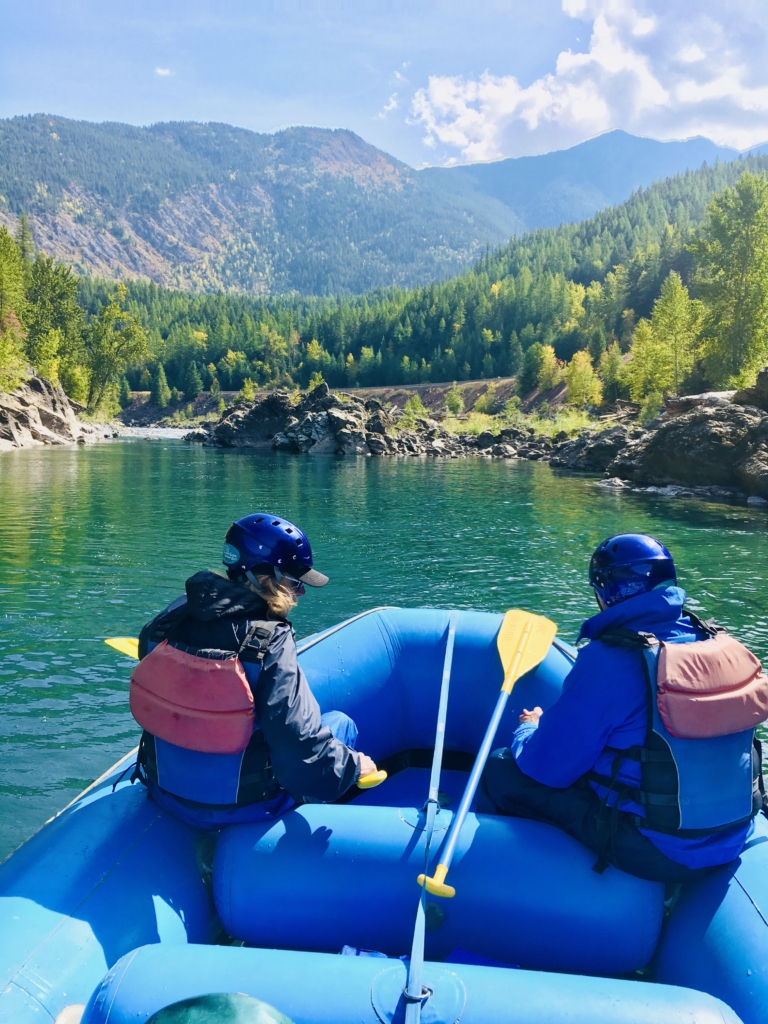 Fly Fishing
There's less water in this undammed river in the fall, meaning there's fewer places for the fish to hide! Fly fishing Glacier National Park tends to be amazing in September. Temperate weather, crystal clear water visibility, and hungry trout generally combine to make for happy anglers. Whether you're a novice or a pro, if you're ready to head down the river and would like a professional guide and gear, we can set up a trip for you.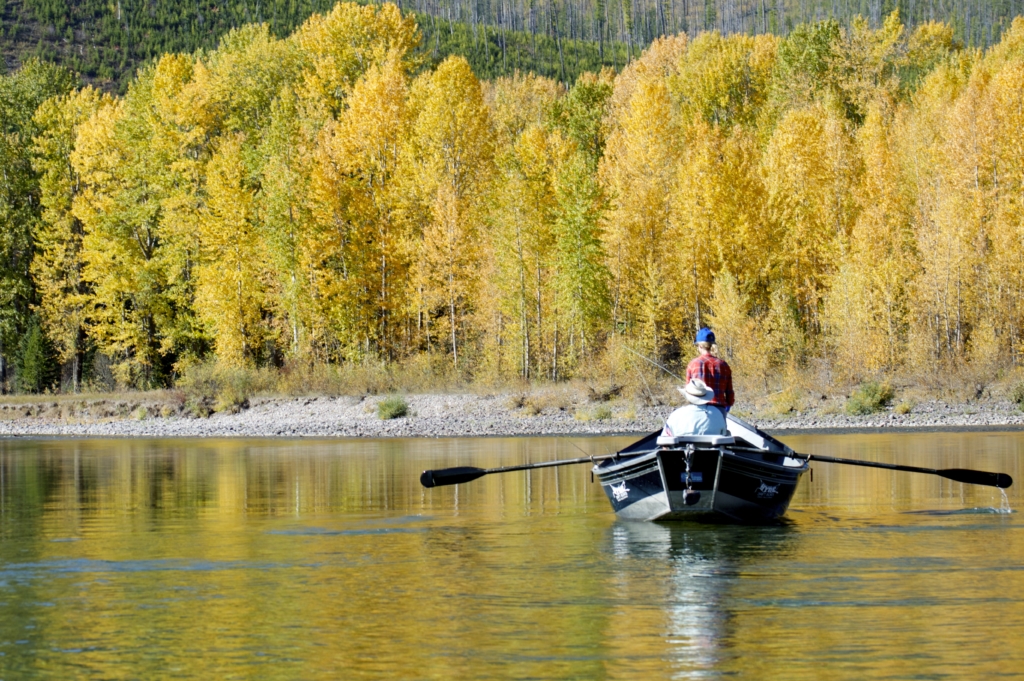 Day 5: September Just Outside of Glacier
Glacier Park isn't alone in a sweet shift in mood in the fall. After many summer months of welcoming visitors, in September, Montanans relax in our gorgeous state. We finally take the time to go on our own adventures, like kayaking trips on Flathead Lake, paddleboard excursions on Whitefish Lake, and mountain biking at Whitefish Mountain Resort. You should check out those amazing experiences while you're here, too.
Glacier Park In September
p.s. we've also written about fall here:
October in Glacier National Park