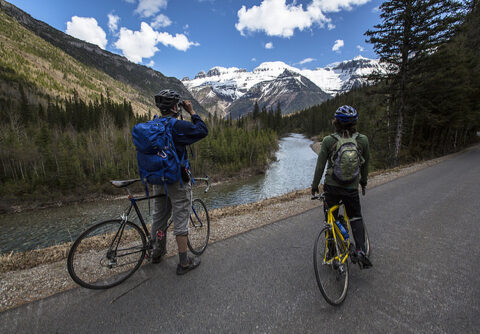 Guided Biking
Biking in Glacier National Park
Biking the Going-to-the-Sun Road is definitely a bucket list activity, especially in the spring, before the road opens to cars. We guide this incredible adventure in May and June because we love it! It's an experience we would wish for everyone.
But there's a lot of great biking in the park — it's not just on the Sun Road. If Going-To-The-Sun Road is closed to hiker/biker traffic, our guided trips head to Camas Road which still explores Glacier National Park and offers jaw dropping views.
Check out our general FAQ for info on biking other roads. Almost every major area of Glacier has something that you should go check out on your bike. Let us know how your ride was when you get back! And don't forget to prepare for your adventure by checking weather, road status, and more here.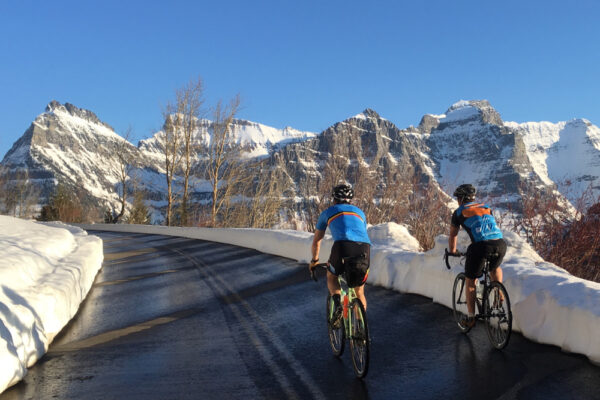 Guided Biking In Glacier National Park
Moderate
Typically 4-5 hours
$199 Regular Bike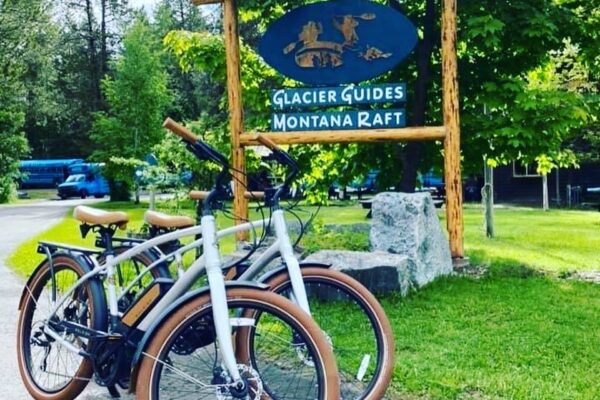 Guided E-Biking In Glacier National Park
Moderate
Typically 4-5 hours
$290 E-Bike
Mileages: From the West Side of the Park
Mile –2 –Glacier Guides and Montana Raft
Mile 0 – West Glacier, Montana (3,215' elevation)
Mile 1 – West Glacier Entrance Station
Mile 11 – Lake McDonald Lodge (3,153')
Mile 12 – McDonald Falls, McDonald Creek
Mile 16 – Avalanche Trailhead/Trail of the Cedars (3,301')
Mile 17 – Red Rock Point
Mile 23 – West Side Tunnel
Mile 24 – The Loop (4,400')
Mile 27 – Bird Woman Falls Overlook
Mile 28 – Haystack Falls
Mile 29 – Weeping Wall
Mile 30 – Big Bend
Mile 31 – Triple Arches (6,181')
Mile 32 – Logan Pass (6,646')
Mileages: From the East Side of the Park
Mile 0 – St. Mary Visitor Center (4,484' elevation)
Mile 6 – Rising Sun (4,537')
Mile 7 – Wild Goose Island Overlook
Mile 9 – Sun Point (4,690')
Mile 10 – Sunrift Gorge
Mile 13 – Jackson Glacier Overlook (5,351')
Mile 15 – Siyeh Bend (5,820')
Mile 16 – East Side Tunnel
Mile 17 – The Big Drift
Mile 18 – Logan Pass (6,646')
*All guided trips require that you use one of our provided bikes and gear. Bike rental included in guided trip price
The more, the merrier.