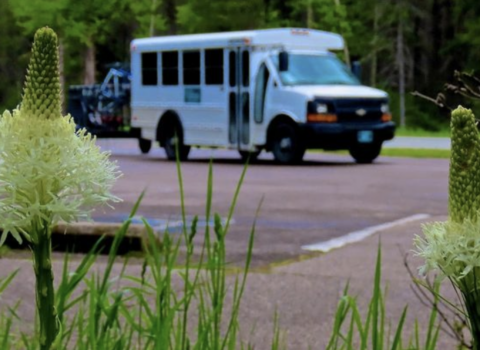 Glacier Park Bike Shuttle
2023 Glacier National Park Bike Shuttle
Trip Details
Until the Going-to-the-Sun Road opens to vehicles, use our Bike Shuttle!
Opening Weekend & Early Season – Our shuttle will run from our office in West Glacier to Lake McDonald Lodge. Call or email for details.
Mid to Late May – We will run our regularly scheduled shuttle from our West Glacier office to Avalanche Lake.
Drive to our office, located on Highway 2, approxpimately 1.5 miles outside of Glacier's main West Entrance. Arrive 30 minutes prior to departure time. Rent a bike from us and hop into our shuttle rig, or load your bike onto our trailer and leave your car in our parking lot. Either way, we'll drive you and your bike into the park, where you can enjoy a self-guided biking adventure on Glacier's iconic Going-to-the-Sun Road. No details, no logistics, no entry tickets, no fighting over parking spaces, and no stress!
Don't forget your Park Pass! This is not the same as a vehicle reservation. Click here to learn why
You'll have about 4 hours to explore the road — think 3 hours up, and 1 hour down — before meeting us for the trip back to West Glacier.
West Glacier to Avalanche Time Slots
Mid to Late May until the Going-to-the-Sun Road opens to vehicles over Logan Pass
Drop off at 10am, Pickup at 2:45pm
Drop off at 12pm, Pickup at 4:45pm
These time frames are very firm. Please arrive 30 minutes prior to drop off and to pick up to allow for adequate time to safely load bikes and passengers for an on-time departure/arrival.
What to bring:
Pack your bear spray, lunch, and layers and have fun!
View Packing List
Safety First
Dress for change. Elevation gains mean temperatures and weather can change quickly. Avoid hypothermia by packing multiple layers of clothing suitable for wet, cold, and windy conditions.
Be avalanche aware. Late-season avalanches can occur at higher elevations. If you see evidence of a recent avalanche like fresh snow piles on the road, do not cross avalanche debris. Turn around. More snow could slide. Hike or bike with a friend and have a plan for getting help. If you cannot avoid crossing an avalanche chute, move across one person at a time while another acts as lookout.
Bike and hike defensively. Treat the road like a trail and watch out for paving cracks, black ice, and falling rocks. Use extreme caution when traveling downhill. While biking, wear a helmet, stay in your lane, and pull to the side of the road when stopping. Keep young riders close. Carry a repair kit and a bicycle light. Don't forget bear spray.
Know where plows and construction crews are working. Be aware that administrative vehicles and snow plows may be on the road preparing the area for public vehicle access. Know where you can hike and bike before you go to the park by checking the park's road status webpage. It will tell you where the hiker-biker closure is during weekdays while plow and construction crews are working.
Additional Details
Advanced reservations and payment in full required to reserve shuttle. Any cancellations received more than 48 hours in advance are fully refundable. No change fees, depending on availability.
Please arrive 30 minutes prior to drop off/pick up in order to load bikes and be ready to leave at the stated time.
Shuttle will begin running May 6th, 2023 from West Glacier to Lake McDonald Lodge.
Beginning Monday, May 15, 2023 until the Going-to-the-Sun Road opens to vehicles, shuttle will run from West Glacier to Avalanche Lake.
Additional Fees: Glacier National Park entrance fee. Purchase your pass in advance here.
Gratuities are shared amongst staff and are always appreciated.
Minimum Age: None, but please be advised that we do not have car seats/boosters to accommodate younger children.
Destination: to Lake McDonald Lodge or the Avalanche Trailhead, i.e. wherever the western road closure is on the Going-to-the-Sun Road. Check Road Status here.
Glacier National Park Biking – More Info