Glacier National Park Area Shuttles, Taxis, Ubers + More
---
Local Tip: Consider booking a tour where Glacier National Park transportation is included, or renting a car. While the beauty in the park is endless, the Glacier National Park transportation public options are far from plentiful. These are especially limited before July 1 and after Labor Day. Know before you go!
Getting Around Glacier National Park
---
Glacier National Park Driving Tours:
The famous Red Buses serve as an ideal way to see and learn more about Glacier National Park. In fact, the vintage 1930s buses are part of the human history and heritage of the park. As much of the park's scenery is vertically oriented, the roll-back tops are perfect for providing full views of the stunning mountains, and the area's signature Big Sky. The guides are seasoned park veterans, who are here because they love the park and enjoy sharing the park with visitors. 855-733-4522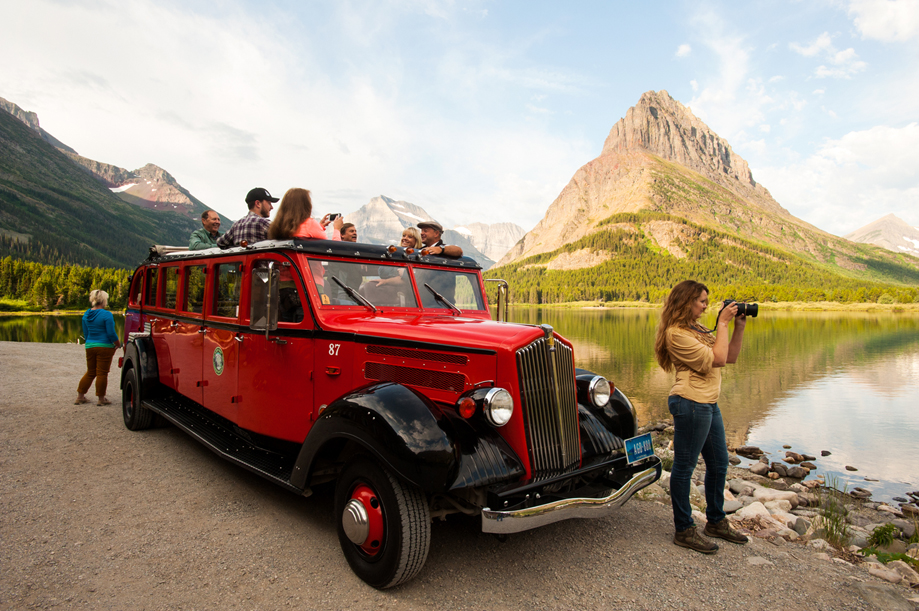 Sun Tours operates from the Blackfeet Indian Reservation, which borders the eastern half of Glacier National Park. Sun Tours offers daily interpretive tours through Glacier National Park over the Going-to-the-Sun Road in Blackfeet Country. Guides offer valuable insights on natural features and the cultural relevance — past and present — of this incredibly beautiful land known to the Blackfeet as "The Backbone of the World." 1-800-786-9220
Hiking Shuttles
Glacier National Park offers a shuttle on the Going to the Sun Road from July 1 through Labor Day.
Pursuit operates a hiker shuttle on the East Side, servicing the East Glacier, Two Medicine, and St. Mary areas.
Xanterra/Glacier National Park Lodges offers a similar service, aimed at Many Glacier hikers.
Otherwise, there are no authorized shuttles within the park, and due to NPS regulations, we are not able to assist you with hiking shuttles. That being said, transportation is included with all of our Glacier National Park hiking, backpacking, and biking tours.
Other Shuttles and Taxis:
Airport Shuttle Express, (Alberta) 403-509-4799, www.airportshuttleexpress.com – seasonal daily service between the Calgary International Airport (YCC) and Waterton National Park, as well as East Glacier. Year round charter van/sedan service offers service between Calgary, Canmore, and Banff, to any location in Montana including West Glacier, Kalispell, Whitefish, and more.
Big Mountain Transportation, (Lakeside)- service the valley and all of northwest Montana. bigmtntransportation.com
Eureka Airport Shuttle, (To and from Eureka), 406-250-0137
Kalispell Taxi Co, 406-407-2738
Montana Adventure Shuttle, (serving Glacier, Yellowstone, Missoula, and Whitefish.) 406-493-2345, www.mtshuttle.com
Mountain Shuttle, 406-212-2149 www.mountainshuttlemt.com
North Star Transport, 406-882-4101 office, 406-291-5952 cell
Wild Horse Limousine, Montana's premiere luxury transportation service, at 406-756-2290
www.wildhorselimo.com for Rates and terms | info@wildhorselimo.com
What About Uber And Lyft?
In our corner of Montana, Uber are Lyft are available, but not particularly consistent outside of the Airport-Whitefish-Kalispell-Columbia Falls "town" areas — and even there, you should expect longer than average wait times, especially at odd hours. In most areas of Glacier National Park you likely won't have enough cell service to order a driver, and even if you do, there's no guarantee one will be willing to drive so far from "town" to pick you up. So, while it's possible to use Uber/Lyft in our area, we definitely recommend using them for airport and town needs, and making shuttle reservations to travel to Glacier.
Glacier National Park Car Rentals – Off Airport
Advice – Call the Local Number Directly!
Dollar
406-892-0009 (local)
1-800-3665 (toll free)
Enterprise
406-755-4848 (local)
1-800-261-7331 (toll free)
Thrifty
406-257-7333 (local)
1-800-847-4389 (toll free)
Glacier National Park Car Rentals – At Airport Terminal
Call the Local Number Directly!
Avis
406-257-2727 (local)
1-800-331-1212 (toll free)
Budget
406-755-7500 (local)
1-800-527-0700 (toll free)
Hertz
National / Alamo
406-257-7144 (local)
1-800-227-7368 (National – toll free)
1-800-227-7368 (National – toll free)
1-800-462-5266 (Alamo – toll free)
Other Modes of Glacier National Park Transportation:
---
Glacier Guides and Montana Raft Rentals: We have e-bikes, bikes, rafts, inflatable kayaks/duckies, stand up paddleboards/SUPs, and more available for daily rental. You can ride from our office into Glacier National Park – we are located on the Gateway to Glacier Bike Path.
Don't Forget About The Train!
Amtrak's Empire Builder The Empire Builder makes stops in Whitefish, West Glacier, Essex, and East Glacier. Visit their website for details.