You've done it. You've decided to put your hard earned money towards experiences, and not things. And you've invested hours on the internets in your quest to craft the perfect family adventure. Glacier National Park, here you come!
You're into hiking, or maybe you'd just like to be, but either way you know Glacier is consistently picked as "the hiker's park." But your kids are little, or maybe just ornery teens. Or maybe Grandma is along, too. So, you're looking for short, easy hikes in Glacier National Park.
You're in the right place!
Top 10 Short, Easy Hikes in Glacier National Park
#1 – Rocky Point – Lake McDonald Area
1.9 miles round trip – 350 feet elevation gain – bathrooms available at Fish Creek Campground
This trail starts on the Inner North Fork Road by the Fish Creek Campground. You'll enjoy a beautiful walk through the woods, passing creeks and the shore of Lake McDonald. The lake is a wonderful place to stop and relax or play with children. This trail loops upwards and has a wonderful view of the lake and back towards the Garden Wall, in the Logan Pass/Going-to-the-Sun Road area. Part of the trail winds through an area that was burned in the 2003 Robert Fire. There are some large rocks to sit on at the top with great views that make a good stop to catch your breath or eat your lunch.
Pro Tip: Locally made huckleberry jam and peanut butter on a tortilla is always a winner.
#2 – Hidden Meadow – Polebridge Area
2 miles round trip – 100 feet elevation gain – no bathrooms
This is a short, sweet hike is for anyone in the Polebridge area. And the Polebridge area should not be missed! Be sure to stop at the Polebridge Mercantile for sweet treats like huckleberry bear claws, chocolate chip cookies, and hot sandwiches. The trailhead is just a few miles south of the Polebridge entrance station on the Inner North Fork Road. This hike may not have the grandeur of some of the other hikes on this list, but there is something to be said for quiet, mellow, AND short, easy hikes in Glacier National Park. You'll walk through a forest, winding up in a large, open meadow. Be sure to look for one of the largest Douglas firs we've ever seen in Glacier National Park!
#3 – Trail of the Cedars and Avalanche Lake – Lake McDonald Area
4.5 miles round trip – 730 feet elevation gain – bathrooms at Trail of the Cedars / Avalanche parking area
Avalanche Lake is one of the most popular trails on Glacier's west side for a reason! This crystal clear, turquoise lake is fed by Sperry Glacier and is simply stunning. For slightly longer legs, this is one of the best short, easy hikes in Glacier National Park. We've known plenty of 5 year olds who've ticked this hike off, along with one crazy friend of ours who celebrated her due date by post holing through hip deep snow at 40 weeks along.
Trail of the Cedars
The trailhead is located a few miles east of Lake McDonald along the Going to the Sun Road. It starts on the wheelchair accessible Trail of the Cedars, which is a great option for the very shortest legs. The Trail of the Cedars is a 1 mile loop with 60 feet of elevation gain, on a wooden boardwalk. This is a mainly shaded hike through a gorgeous cedar and hemlock forest.
Avalanche Lake
After you leave The Trail of the Cedars behind, the path to Avalanche Lake winds along Avalanche Creek for about three-quarters of a mile before veering into a mystical, old growth forest. You can clearly see a 2011 avalanche path about halfway to the lake — a great teachable moment for kids and adults about how Avalanche Lake and Creek got their names. It's worth it to walk down the spur trail to overlook this feature.
The trail ends at Avalanche Lake, where waterfalls pour off the Sperry Glacier, cascading into the back of the Avalanche Basin. The most popular area for photos and contemplation is right at the foot of the lake. Here, the Park Service has built a boardwalk and stairs. There is also a nice beach at the head of the lake, but you will need to ford a small inlet creek to get there. Some hikers do try to travel closer to those sparkling waterfalls, but we do not recommend this due to frequently falling rocks.
Pro Tip: Pack a picnic for a great Avalanche Lake lunch, but keep a constant eye on it! The chipmunks here are fearless, quick, and very wise to the delights of your lunch sack.
p.s. Glacier Guides and Montana Raft often offers a guided hike in this general area every Monday in the summer!
#4 – Hidden Lake Overlook – Logan Pass Area
2.7 miles round trip – 540 feet elevation – bathrooms at Logan Pass Visitor's Center
If you're looking for alpine views and an excellent chance of wildlife sightings, this is the trail for you!
Pro Tip: This is the trail for you if you're not afraid of walking uphill – there are some big, uphill steps that will get your heart pounding in the best possible way.
Drive the Going-to-the-Sun Road — whose beauty we could never tire of — and park at Logan Pass. You may find it difficult to park at the pass, so get an early start. Behind the Visitor Center, follow the pavement to the wide, wooden boardwalk leading to Hidden Lake. Please stay on this boardwalk and help to preserve this fragile alpine ecosystem that is in danger of being over loved. This is one of the best short, easy hikes in Glacier National Park for wildlife watchers. Keep your eyes peeled for mountain goats, bighorn sheep, marmots, and even possibly a grizzly bear or wolverine along this trail. The goats can be especially photogenic, but please remember they are wild and give them their space.
Hidden Lake Overlook has a platform deck with a sweeping view of Hidden Lake and the peaks that surround it. The more adventurous can travel down 1,000 feet of switchbacks to the lakeshore – but remember you have to hike back up!
#5 – Virginia Falls – St. Mary / Rising Sun Area
3.6 miles round trip – 525 feet elevation gain – bathrooms at Virginia Falls
If you like waterfalls, this is definitely one of the best short, easy hikes in Glacier National Park. You'll leave from a trailhead on the Going-to-the-Sun Road, and follow the trail down a widely burned forest area. Here is a great opportunity to discuss fire ecology, and its importance to forest health, with your children!
Just a mile or so in you will see powerful, cerulean St. Mary Falls. Keep going and you'll arrive at Virginia Falls, plummeting off of Little Chief mountain. Virginia Falls has two great areas for photographs and picnics. One view is across the bridge. The other is a spur trail that takes you right up to the base of the waterfall. This allows you to feel the power of all that water coming down the mountain — you may get pretty wet choosing this option!
Pro Tip: Waterfall hikes are the locals' favorite in the spring and early summer, when they are the fullest! We guide this one on Summer Wednesdays.
#6 – Grinnell Lake – Many Glacier Area
3 miles round trip – 220 feet elevation gain – bathrooms at boat dock and Many Glacier Hotel
The Many Glacier area is heaven for hikers. Turquoise waters, wildlife viewing opportunities, huckleberry picking in late summer, and huckleberry ice cream every day! The easy Grinnell Lake hike can start in two ways. The first — which will add a few miles each way to the mileage stated above — is from the Many Glacier Hotel on the Swiftcurrent Nature Trail, part of which is handicapped accessible.
The second, easier way, is to take a tour with Glacier Park Boat Company on a historic boat across Swiftcurrent and Josephine Lakes. Your kids will love the boat, you will love the interpretive talk that comes with your ride. Once you're off the boat, you'll be on a shaded hike to one of the most turquoise lakes in the park. The water from Grinnell Glacier, which sits in an unseen basin above you, falls hundreds of feet into the lake in front of you. It is not uncommon to see bighorn sheep or mountain goats high on the cliffs above. We've even seen a moose swim across Grinnell Lake … on more than one occasion. This is definitely high on list of best short, easy hikes in Glacier National Park!
Pro Tip: The Boat Company's trips sell out almost daily in the summer, but you can reserve tickets as early as January on their website! Do it. Waiting kids are whiny kids.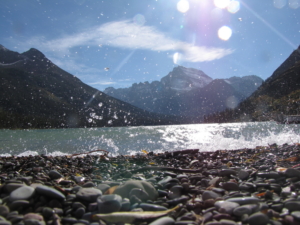 #7 – Red Rock Lake and Falls – Many Glacier Area
4.2 miles round trip – 285 feet elevation gain – bathrooms at Swiftcurrent Motor Inn
Many Glacier just doesn't disappoint, and neither does this hike. The trail is a mix of sun and shade, with frequent views that make you want to look up. The mountaintops are far above you, and you will hike up the valley floor's chain of lakes. The first is Fishercap Lake, which we recommend stopping at on your way in or out. The second lake is Red Rock Lake. There is a nice swimming beach as you first reach the lake, but the Falls are at the head of the lake. Red Rock Falls are beautiful, and many people stop here to have a snack or lunch. If you have extra energy, hike on to Bullhead Lake. And keep in mind that the trail does keep going all the way over Swiftcurrent Pass to Granite Park Chalet and down to the Going to the Sun Road! (That's definitely the advanced option.)
#8 – Running Eagle Falls – Two Medicine Area
1 mile loop – 15 feet elevation gain – wheelchair accessible – bathrooms at trailhead
This may be the easiest hike in Glacier National Park, for kids or anyone else. Don't write it off because it's easy, though! The unique rock formation creating the double waterfall is well worth seeing, and you can make a day of this adventure with kids. It is a great place for a picnic and rock tossing. Every kids likes to throw rocks into water. We know some big kids who do, too.
#9 – Aster Falls / Aster Park – Two Medicine Area
2.8/4 miles round trip – 320/780 feet elevation gain – bathrooms at Two Medicine camp store
If you're looking for maximum views with minimum effort, this hike is a great choice. You'll enjoy both forested and meadow views as you hike through prime moose country – keep your eyes peeled for a great photo opp, but as with all wild creatures, keep your distance. Moose get grumpy like everyone else. After you cross a small bridge, you'll see a trail to Aster Falls on your left. This may be trip enough, but if you've got the energy for a few switchbacks, soaking in the view from Aster Park is well worth the reward. We've enjoyed many a picnic, and a nap, at Aster Park.
#10 – Twin Falls – Two Medicine Area
2.3 miles round trip – 100 feet of elevation gain – bathrooms at boat dock

The Two Medicine Valley is stunning, and this hike is no exception. We think this trail is a particularly good choice for families about to graduate from easy trails to more moderate hikes. There are several options to lengthen this adventure without overcommitting. Start by taking a historic, interpretive — and fun! — ride across lower Two Medicine Lake with the Glacier Park Boat Company. Taking the boat will shave almost 6 miles off this hike. Later, you might decide that your group can handle the easy lakeshore walking on the way home.
After getting off the historic boat, you'll find the trail to Twin Falls well marked. In general, this is a gentle, wooded walk. Twin Falls, as all waterfalls are, is really nice and full in the spring. In the fall, the water is usually low enough to cross the creek and have lunch on the rocky areas around the falls. Disclaimer: be careful.
Pro Tip: The falls are home to American Dippers, or Water Ousels. These amazing little birds literally stand in fast flowing water to get their food. Keep your eyes out for this little gray bird – it's really good at blending in!
For those feeling more adventurous, keep going up to Upper Two Medicine Lake. After the boat ride, you'll walk 4.8 miles round trip and gain only 380 feet in elevation. There are bathrooms at the lake. Do note that this beautiful spot doubles as a backcountry campsite. Therefore, please do not eat in the tent sites. Instead, we recommend the flat rocks before the campsite that look out over the smaller ponds and the Two Medicine Valley.
BONUS! Short, Easy Hikes in Glacier National Park
Beaver Pond Loop – St. Mary Area
3.6 miles round trip – 350 feet elevation gain – pit toilets at trailhead
Hike this loop trail in a clockwise direction, starting off towards the historic St. Mary Ranger Station, built in 1913 and listed on the National Register of Historic Places. After the ranger station, you'll ascend a ridge, and walk through an old growth conifer forest. Upon leveling out, you'll likely be wowed out by the many wildflowers along the ridge top.
About a mile and a half in, you'll reach the beaver pond this trail is named for — keep your eyes open for a moose sighting! At about two miles, you'll reach a trail junction and should turn right to return to the parking area. A three year old we hang out with hiked most of this hike on his own two feet — and ate his weight in ice cream at Rising Sun afterwards!
Pro Tip: This is an exposed trail with little shade, so it is best to hike it in the morning on a hot day. For that same reason, it is also generally one of the first trails to melt out in the spring. In late summer, the thimbleberry patches are incredible. Bring a bucket and your bear spray!
Now that you know about our favorite short, easy hikes in Glacier National Park, and the best hikes for kids in Glacier National Park, check out our expert advice on what to take with you.