Giving Back: Rafting for Refuse
---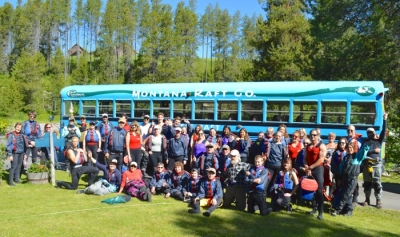 Since 1997, Glacier Guides and Montana Raft has hosted "Rafting For Refuse," an annual river clean up. Every year on a Saturday in June, we clean up trash at the public river access points and along the river corridor on the Wild and Scenic Middle Fork of the Flathead River. Did you know the Three Forks of the Flathead River were part of the inspiration for the Wild and Scenic Rivers Act?
Rafting for Refuse this year will be a $10 donation to Leave No Trace and requires advance registration.
Encourage your friends and family to come along and make Rafting for Refuse another great success!
2024 Date: Saturday, June 15th – Celebrate the 27th Anniversary of R4R with us!
DETAILS:
Volunteers meet at 8:30 am at the Glacier Guides and Montana Raft office located at 11970 US Hwy. 2, 1.5 miles west of West Glacier.
Check in with the office staff to read and sign our Acknowledgement of Risk.
Head to the lifejacket room to get fitted in lifejackets. Wetsuits and booties are available, too, if weather conditions warrant.
Group picture!
Short Leave No Trace presentation – we try to apply Leave No Trace principles in everything that we do.
We will divide into smaller groups and shuttle to various river access points.
We pick up the river put-ins and then float the river, stopping to pick up refuse along the way. At the take-out, we scour the area for more trash!
It's a short shuttle back to the Glacier Guides and Montana Raft office for volleyball and a complimentary barbecue.
The BBQ begins around 12 pm and will last until all of our volunteers return from the river.
There will be a prize given for the coolest piece of trash found!
Let's Go Rafting for Refuse!
To join as a volunteer (ages 12 and up), please contact Glacier Guides and Montana Raft at 406-387-5555 or email info@glacierguides.com. Space is limited. Although you can make requests, we cannot guarantee what section of river that a group will clean. Sections of river are chosen for groups based on several factors. Glacier Guides and Montana Raft provides all of the necessary rafting equipment, expert guides, and staff to coordinate the day.
Provided:
Splash gear
Wetsuits
Booties
Lifejackets
BBQ
Volleyball
Each volunteer should have:
Work gloves (for picking up trash)
Water bottle
Warm hat/gloves
Fleece shirt/jacket
Sunscreen
Extra set of clothes for after the raft trip
Please avoid wearing cotton if you can, quick drying/moisture wicking material is best.
Our Mission
---
Glacier Guides and Montana Raft's mission is to provide exceptional active travel vacations and experiences in and around Glacier National Park while preserving and protecting Glacier's unique ecosystem using the best available ecologically sound practices.
Conservation ethos are are at the heart of everything we do, and Rafting for Refuse allows us to shine a spotlight on Leave No Trace ethics, in particular. During the river clean-up, your guides will also provide information and insight into issues facing our Wild and Scenic Flathead River System and Glacier National Park. Exposure and participation in the Rafting for Refuse is even more important in light of growing river use and development pressure. Come on out and help us to preserve our rivers for generations to come!
Contact our office for this year's information! 406-387-5555