You don't have to be a Spartan Race competitor to experience Glacier's incredible backcountry. In decent shape? Even more importantly, have an upbeat, can-do attitude? Got a daypack and broken in hiking boots? You might be ready to check out the best intermediate hikes in Glacier National Park! This post lays out the best of the best on the east side. We'll post the best intermediate hikes on the west side soon.
5 Best Intermediate Hikes in Glacier National Park: East Side Edition
This list of intermediate, or moderate, day hikes features a range in mileage of about 6 to 12 miles and elevation gains of 400 – 2,000 feet. Intermediate/moderate is tough to define, and very individualized, so please read the descriptions closely, particularly the mileage and elevation numbers, and give some thought as to whether you are ready. If you get halfway down the trail and realize you're not ready, don't despair. You're still out hiking, which means you can't be working. How bad could it be? We believe that the destination is largely in the journey itself.
Best Intermediate Hikes in Glacier National Park: St. Mary Valley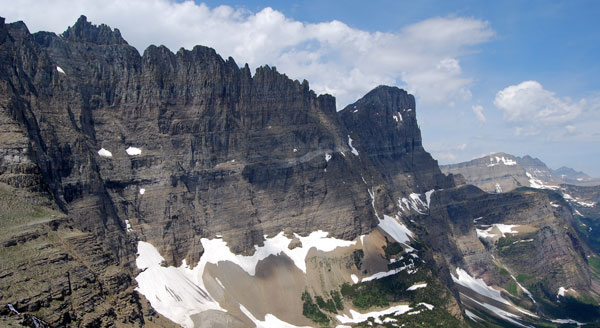 Piegan Pass – 9.2 miles roundtrip. 1,850 elevation gain, no bathrooms along this trail.
Head up the Going-to-the-Sun Road, on the east side of Logan Pass, to Siyeh Bend, to access the Piegan Pass trailhead. The well-traveled trail begins along a splashy, crystal clear creek and then ascends through alternating patches of shaded forest and alpine meadows. I've seen plenty of majestic elk along this trail in high summer. As you get closer to the pass, you'll walk through more of these open areas, with staggering views back towards Logan Pass.
Pro Tip: In middle and later July, the Piegan Pass Trail's famous Preston Park — an alpine meadow — can be the best place in Glacier National Park to experience wildflowers.
The trail splits left at a well-marked intersection, and then it is a mellow hike across a large scree field towards the pass. You will delight in the amazing views of the Jackson Glacier basin, across the valley. Once you get to the pass, you'll be rewarded with an unusual view of the Garden Wall's backside. Put your feet up and enjoy your lunch, the views, and the crisp alpine air. Although you can continue down the trail into Many Glacier, I would not considered that an intermediate hike. It's fun, but it's more of an all day, advanced adventure requiring transportation logistics.
Also, if you'd like to go on a guided, interpretive hike to Piegan Pass, and learn more about its surrounding geology, flora and fauna, anthropological history, and more, we take guests here every Thursday.
Best Intermediate Hikes in Glacier National Park: Many Glacier Valley
Grinnell Glacier – 7 miles roundtrip if you take a historic Many Glacier boat ride, 12 miles if you don't — 1,600 feet elevation gain. Bathrooms located at the Many Glacier Hotel, Lake Josephine Boat Dock, and at the Grinnell Glacier picnic area, about a quarter-mile before the glacier.
Pro Tip: Be aware that the return boat is on a first come, first served basis, so you can end up waiting an hour or more on the way home.
For those who want to see a glacier up close before they're gone, this is the hike for you! If you leave from the Many Glacier Hotel, you'll gradually ascend this trail. If you take the boat to save a few miles, you'll have a short, steep section from the boat dock to reconnect with the main trail. Otherwise, this trail is open with views in every direction every step of the way. It is a classic Glacier National Park hike for a reason! Of course, that means that it can be quite crowded at times, so take that into consideration.
The last quarter-mile is very steep as the trail goes up one of the glacier's moraines. Stop, rest, breathe, keeping going! It's worth it. Once you are in the glacial basin, there are lots of great places to sit and enjoy your lunch as the turquoise waters of Grinnell Glacier's melt water sparkle in the sun.
Best Intermediate Hikes in Glacier National Park: Two Medicine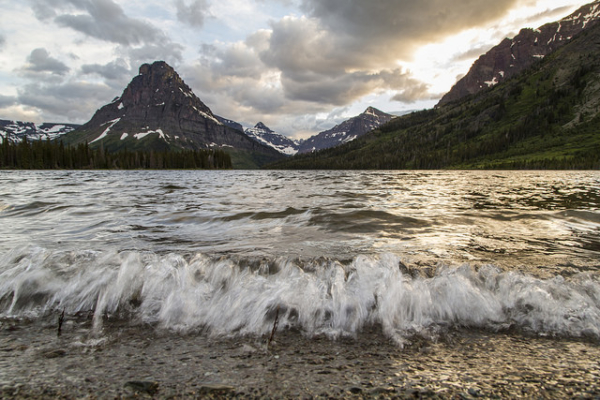 Rockwell Falls – 7 miles roundtrip. 375 feet elevation gain. Bathrooms located at the Two Medicine camp store.
Two Medicine is stunning, and often less crowded than the St. Mary and Many Glacier valleys on the park's east side. Take the South Shore Trailhead, starting down a trail that is wooded with several open meadows. Elevation wise, this trail is mellow, and beautiful Rockwell Falls is a treat for the senses. If you get to the falls and you're still feeling adventurous, you can keep going up towards Cobalt Lake and Two Medicine Pass. Retrace your steps to return to trailhead.
Pro Tip: The east side of Glacier National Park shares a border with the Blackfeet Nation, and the Two Medicine area in particular teems with Blackfeet history and culture. You won't regret reading up on this area before heading out. It will give you a different sense of place.
Best Intermediate Hikes in Glacier National Park: Belly River Country
Belly River Historic Ranger Station — 12.2 miles roundtrip, 870 feet elevation gain, pit toilet at trailhead.
If you want to get off the beaten path, this is one of the best intermediate hikes in Glacier National Park for solitude. Remote, historic, views for days — who could ask for more? You'll need to drive practically to Canada on the east side of the park, and leave your vehicle at the Belly River Trailhead. You can literally see the Chief Mountain Customs border crossing station into Alberta, Canada, from the trailhead!
Pro Tip: Belly River Ranger Station is a great choice in the early season, as it tends to melt out faster than any other area of the park.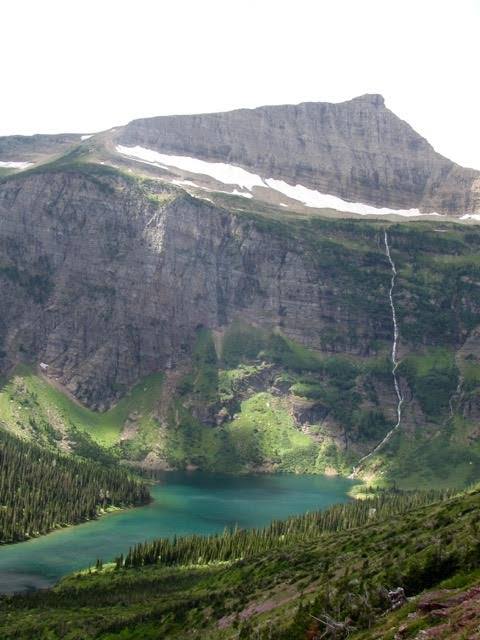 From the trailhead, you'll immediately begin walking downhill, losing 741 feet over the first few miles. The hike along the Belly River to the Historic Ranger Station is fairly level. The views are jaw dropping. Pack a delicious lunch to eat at the Ranger Station and soak in the grandeur of Belly River Country before returning the way you came.
Best Intermediate Hikes in Glacier National Park: Cut Bank Drainage
Medicine Grizzly Lake – 12.4 miles roundtrip. 625 feet elevation gain. Bathrooms located at the Cut Bank car campground and the Atlantic Creek backcountry campsite. For reasons we're not sure of, the Cut Bank area is seldom traveled, and it can be the perfect place to get away from the summer crowds. The Cut Bank drainage is located between Two Medicine and the St. Mary valley, on Glacier National Park's east side. You'll leave Highway 89 and drive about five miles down a gravel road. It dead ends and you'll see the sign for Pitamakan trailhead — this is where the hike to Medicine Grizzly Lake begins. The meadows along this mostly flat trail are filled with wildflowers in June and early July. As you begin, Mad Wolf and Bad Marriage mountains tower above you. Always bring a map for safety, but also so you can learn the mountains' names — Bad Marriage is among our favorites! Because the Cut Bank area is excellent habitat for grizzly bears, this trail is often closed later in the summer due to bear activity. Always check trail statuses before you go! About four miles in, you'll come to the intersection with the Triple Divide trail, and continue right towards Medicine Grizzly Lake, passing Atlantic Creek Campground. When you arrive at this turquoise sub-alpine lake, look up to enjoy Mt. James, Triple Divide Peak, and Razoredge high above you.
5 Best Intermediate Hikes in Glacier National Park – Do You Agree?
And there you have it. My favorite intermediate hikes in the Belly River, Many Glacier, St. Mary, Cut Bank, and Two Medicine areas of the east side of Glacier National Park. What are yours? Which ones did I miss? Do you agree that these are intermediate hikes in Glacier National Park? Cheers,Courtney p.s. Always be prepared when hiking in Glacier National Park. You can check out our packing lists for day trips — this list is for our guided hiking clients, so make sure you add bear spray (that you know how to use), water, food, and a basic first aid kit into your pack if you're not going with a guide. p.p.s. This post updates and expands on an older post by Super Guide Corrie Holloway.