November In Glacier National Park
You can often see, and hear, your breath in November in Glacier National Park. Flaming trees and frosty meadows abound. The cold silence is thrilling to prepared visitors – but preparation is the key to success! Read on for our advice on Glacier National Park trips in November.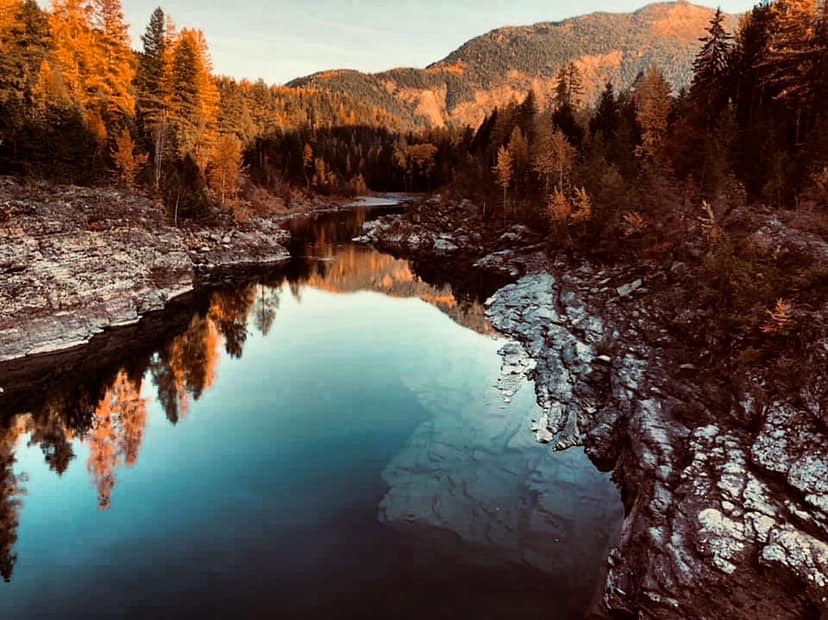 What's Open In November In Glacier National Park
All in-park lodging and services are closed in November. Guided activities are finished until spring. Glacier's border rivers are low, waiting for winter snow to fall, melt, and refill them. Rafting and fly fishing are done, although you might see the occasional hardy local braving conditions.
However, Glacier National Park doesn't close, and you can still explore some of Glacier's roads and trails by bike and by foot – and typically have them all to yourself! There are plenty of gorgeous lower elevation trails that generally remain passable in November, like Rocky Point, Avalanche Lake, and the Apgar bike path. You can read about some of those trails here. View Glacier National Park trail maps here.
Visitors Centers
Visitors Centers are closed for fall 2021, although bathrooms at the Apgar VC remain open all year. Park Headquarters, located just outside the gates in West Glacier, is open year round, Monday-Friday. You can check hours of operation here. The park's website is always the place to get your information.
Our recommendation is to research ahead of time and spend every moment of waning, late autumn daylight exploring! Light is in short supply, especially by late November and the approach of the Winter Solstice.
Campgrounds
In the off season, all camping is first come, first serve. In November in Glacier National Park, Apgar and St. Mary Campgrounds are the only auto campgrounds open – in primitive status only. No fees are charged. For more info on campgrounds, please visit the park's Campground Status page.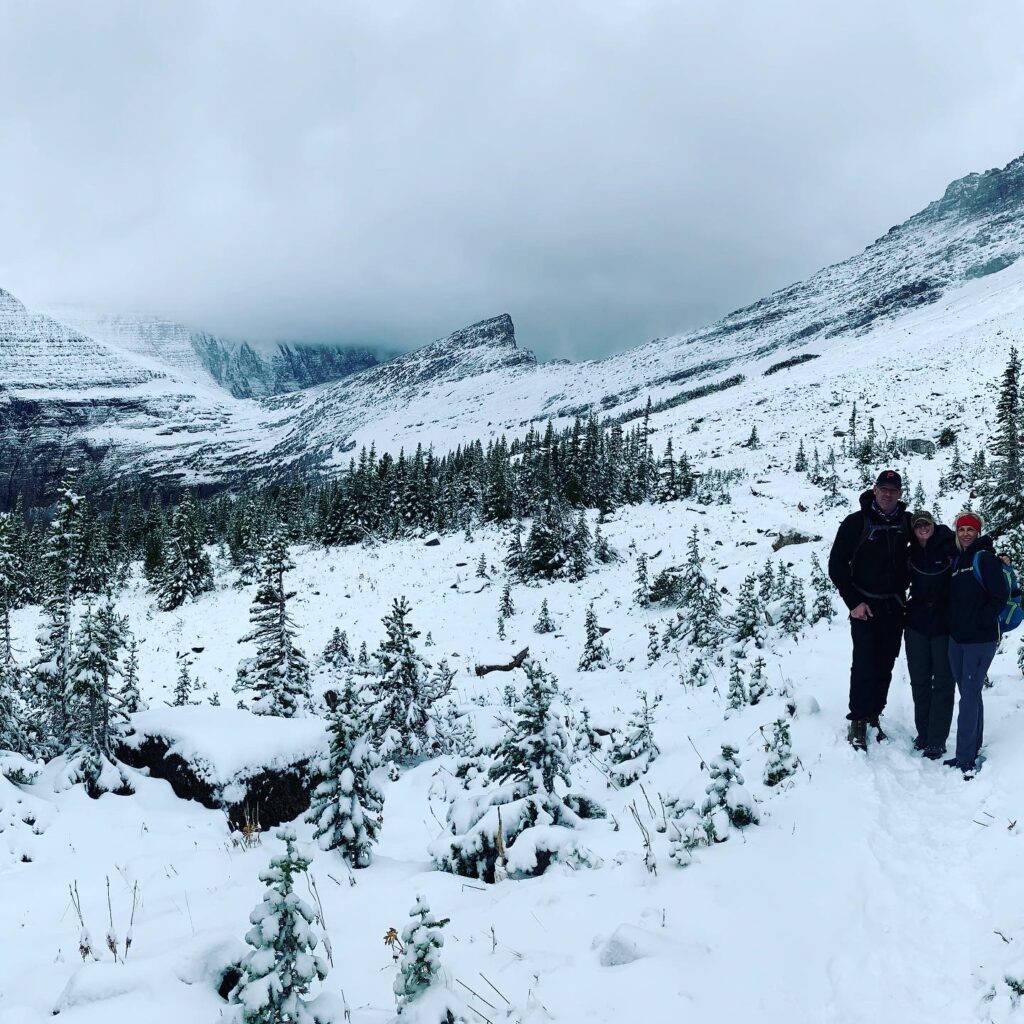 Wildlife
Late fall can be a great time to look — and listen — for wildlife! You might hear elk bugling – one of the more unusual sounds you'll ever experience. Listen to an elk bugle here. Wildlife take advantage of November's uncrowded quiet as they prepare to survive the winter ahead. Especially bears, who are trying to fatten up as much as possible!
Therefore, this is a sensitive time of year for wildlife – please respect them. Never approach or feed wildlife, whether you're observing a grizzly bear or a tiny Columbian ground squirrel. Give them lots of room – use zoom lenses, spotting scopes, or binoculars. If you're hiking or biking, make lots of noise, carry bear spray, and know how to use it.
Weather
November temperatures in West Glacier are typically quite cool. We also usually see a fair amount of rain in the lower elevations, and snow in the high country. Of course, it can and does snow every month of the year at all elevations in our area, so be prepared!
If enough snow falls, roads will need to be plowed, and will close until that can happen. Always check Glacier National Park road conditions before setting out. Also, know that our valley's weather can vary wildly in late fall – it might be a cool, sunny day in Whitefish but snowing steadily in West Glacier. If you're thinking of traveling to the east side, that advice applies all the more. Weather on Glacier's east side can be extreme.
Wherever you're exploring, be prepared and be responsible for yourself. Read up on the West Glacier forecast and East Glacier forecast here. Check current conditions via Glacier's webcams here.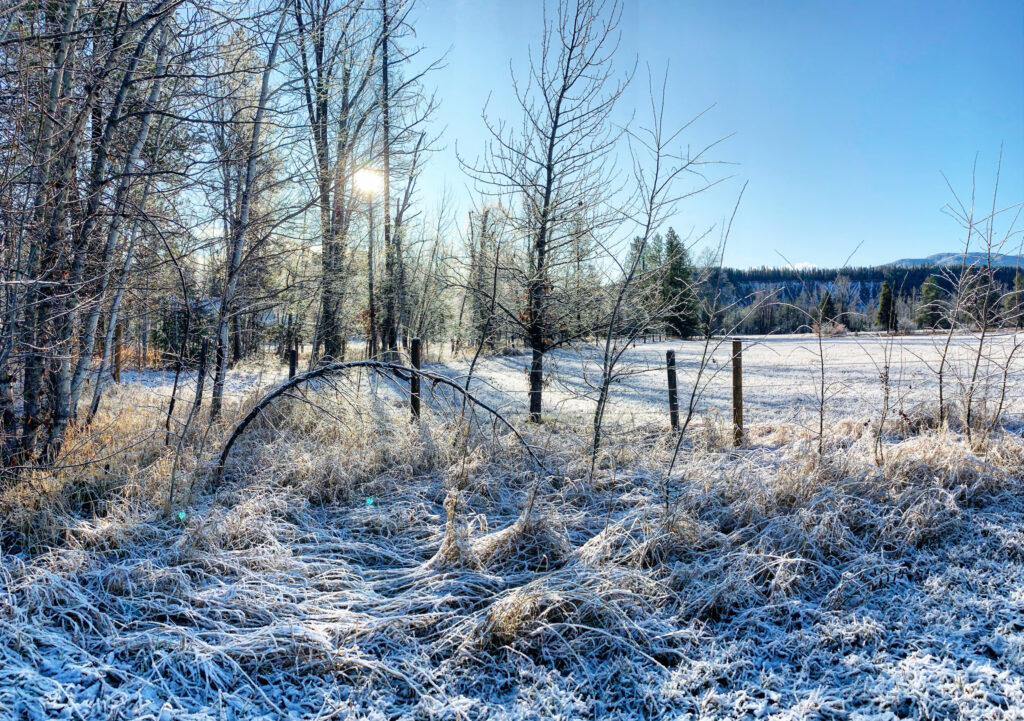 Roads
The famous alpine section of the Going to the Sun road generally closes for the season by the third weekend of October, regardless of weather. However, on the west side of the park, the Sun Road typically remains open to the Avalanche trailhead in November. Hiker-biker access is commonly available past this point.
The east side of the Sun road's accessibility varies more, due to weather. Again, Glacier's east side often experiences extreme weather.
Other park roads, such as the Many Glacier and Two Medicine roads, usually remain open until the 3rd week of November. *Note for 2021 that the Many Glacier Road is closed until spring.*
If you are planning on traveling to Canada, the Chief Mountain Port of Entry is closed in November. The Port of Piegan/Carway, on Hwy 89, is open year round, 7am to 11pm.
Always check the weather forecast and Glacier's road conditions map before starting out on late fall adventures.
Let's Manage November in Glacier National Park Expectations
As we wrote in our post about October in Glacier, November visitors to the park should be the flexible kind. They plan and prepare for the lack of available services in November in Glacier National Park. These people keep themselves fed, warm, and safe while traveling. They pack their lunches. They top off their gas tanks.
These visitors are likely to experience all of the weather in a single autumn morning — sun, wind, rain, hail, sleet, snow, thunder, back to sun. Such people own sensible footwear, rain jackets, and layers. They wait five minutes when they don't like the weather.
If you friends wouldn't describe you in these terms, then November in Glacier is probably not for you. And that's okay. November is a great time to plan summer trips to Glacier! And we'd love to help you, of course.
What's Open In November Just Outside of Glacier National Park?
A lot! Although the park very quiet in November, Glacier's surrounding communities are largely open for business all year. November and April can be exceptions to this, as they are the true "shoulder season" months in Northwest Montana, so we suggest always calling ahead to confirm business hours, particularly at restaurants and bars. Here are a few of our favorite places in the Flathead Valley.
Columbia Falls
Columbia Falls is the Gateway to Glacier and offers access to endless recreation opportunities. However, on a blustery day in November, you might consider an eating tour of town. There are truly tasty restaurants and cafes all over C Falls!
For lunch, head over to Backslope Brewing and consider options like a delicious, healthy black rice bowl and the valley's best fried chicken sandwich. Columbia Falls also boasts more great coffee, quiches, and sandwiches at Montana Coffee Traders; savory slices at North Fork Pizza; an eclectic menu and fun atmosphere at the Gunsight Saloon; and thoughtfully prepared, more upscale entrees at Three Forks.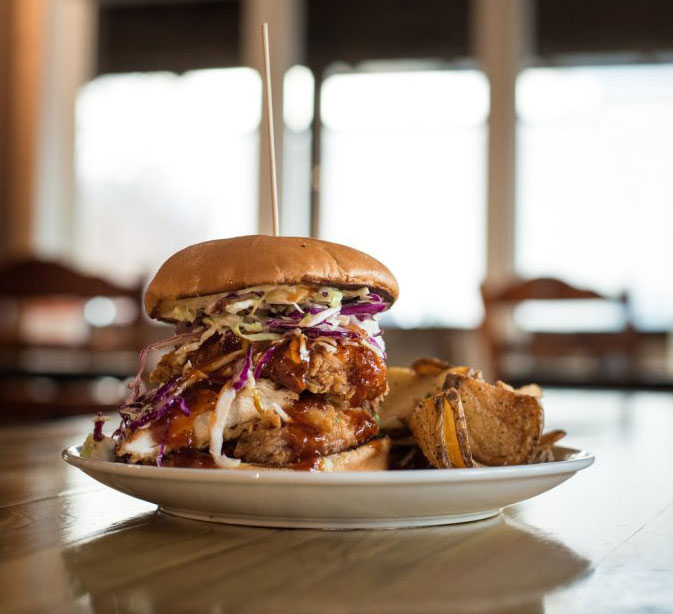 Whitefish
November is for hiking and biking the stunning Whitefish Trail, much of which sits at a low enough elevation to remain snow free into early winter. After getting your leaf peep on, stroll Central Ave, the main downtown area in Whitefish, for fabulous boutiques, craft cocktails, and yummy eats. We love the pie at Lula's, the hot veggie salad at the Buffalo, and the famous french fries at the Bulldog. Whitefish also hosts a number of parks, bike paths, and other great places to breathe in the clean, crisp November air.
Kalispell
In Kalispell, the county seat, a number of museums and historical attractions await you. We love touring the historic Conrad Mansion – be sure to look for the ghost in the second floor ballroom! You can also take a great hike at Lone Pine Park, or hop on the bike path that goes from Kalispell all the way down to Somers, on Flathead Lake. Pick up beautiful baubles at Honey, the Toggery, and other charming small businesses on the main drag downtown. Grab a beer at Kalispell Brewing, Sacred Waters Brewing, Bias Brewing, or Sunrift. Enjoy creative ice cream cones at Sweet Peaks and classic milkshakes at Norm's News. Kalispell has something fun for everyone.
Our Favorite Thing To Do In Glacier National Park In November
Is to plan summer trips to Glacier, of course.
We wish you safe and happy travels in November in Glacier National Park! We do not offer guide services in the park from October 16 through April 30, but we are in the office most days and are happy to help you with any questions you may not be able to answer via the park's website. Shoot us a message or give us a call – we'll see you out there!
Questions about planning your Glacier National Park summer vacation?
Be sure to reach out to us if we can help you plan your trip! 406-387-5555 or info@glacierguides.com From rafting, hiking, fishing, biking, lodging, equipment rentals, shuttles, and more – we can help. You can also use the form below to ask us for help planning your adventures.
p.s. we've written lots of Glacier itineraries over the years — so many ideas for you! You can subscribe to our blog here. And definitely start your planning on our Plan page.