3 Perfect Days in West Glacier, Montana
If you're coming to Glacier National Park, we recommend a lifetime to explore it. But if you don't have quite that much time, here's what we suggest for 3 Perfect Days in West Glacier.
Day 1: Drive the Going-to-the-Sun Road
6am
On Day 1 of your 3 Perfect Days in West Glacier, wake up to the heady scent of organic Montana Coffee Traders brew wafting into your room. It's 6am, and your long-planned adventure in Glacier National Park awaits. Jump out of your queen sized bed, take a steamy shower, and head downstairs to chat with our Lodge Keeper. She can answer your Glacier questions while you eat a largely organic, locally sourced breakfast. After breakfast, she'll bring you the trail lunch you pre-ordered (just give us 48 hours notice), and you're off!
Pro Tip
The Going-to-the-Sun Road typically opens in mid to late June. You can check its status here. If it's fully open, get going early! Drive the length of stunning Lake McDonald, the largest lake in the park. Head up into the alpine section, taking time to utilize the many pullouts and to marvel over the architectural wonder that is the Going-to-the-Sun Road. Arrive at Logan Pass 33.5 miles later. Parking spots can be hard to get — that's why we recommend getting going early.
Behind the Logan Pass Visitor's Center, take the well marked trail to Hidden Lake Overlook. The first part of the trail is paved before giving way to a sturdy boardwalk, in order to best protect this fragile, alpine environment from overuse. Later on, the boardwalk turns to dirt. Please stay on the trail in order preserve this gorgeous environment. We want everyone to get the chance to commit this view to memory:
Need gear? You can rent an Osprey daypack and Black Diamond trekking poles.
1pm
Continue down the Going-to-the-Sun Road. Sun Point is a great place to get a nearly bird's eye view of St. Mary Lake. A number of trails leading to Virginia Falls, St. Mary Falls, and Sunrift Gorge also leave from Sun Point. This is a fantastic area to learn about fire ecology, as the Reynolds Fire roared through here in 2015 and opened up incredible views of the head of the lake.
4pm
Arrive in St. Mary (51.5 miles from West Glacier) for a pit stop — there are bathrooms, gas, shopping, and refreshments here.  Then head down Hwy 89 South to East Glacier. Get on the porch at Serrano's — it opens at 5 and doesn't take reservations, so you'll want to be the first in line. Fresh, delicious "Montana Mexican" fare. Margaritas, too!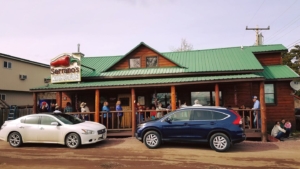 6:30pm
Time to head back to Glacier Guides Lodge. Put your feet up, surf the free WiFi, and relax on one of our many outdoor patios and porches.
Day 2: Whitewater Rafting
7am
Breakfast at the Lodge. Walk on the Gateway to Glacier Bike Path. Or — sleep in! Welcome to Day 2 of your 3 perfect days in West Glacier.
9:45am
Adventure awaits you! Head west about a mile and take a right at the big blue school bus for the Glacier Guides and Montana Raft campus. Today, we're going to get our views of Glacier National Park from its Wild and Scenic River, the Middle Fork of the Flathead, on a full day whitewater rafting trip!  Take your seat on a comfy blue raft and learn basic paddle commands from your fun-loving, safety focused guide.  You'll be floating a relatively remote stretch of the river in the morning. Around mid-day your guide will select a secluded spot for setting up a delicious, riverside lunch. After lunch, head through the John Stevens Canyon for the classic Glacier National Park whitewater experience. Typically, these rapids are rated class II and III — the perfect level of sheer fun, not scary.
5pm
You'll be off the river and back to West Glacier by suppertime. We recommend setting up a reservation (well in advance) at the amazing Belton Chalet, for a fresh, delicious dinner you won't soon forget. Bonus: you can walk from the Glacier Guides Lodge to the Chalet's beautiful porch, bar, and dining room.
Day 3: Biking and Horseback Riding
8am
It's the last day of your 3 perfect days in West Glacier! And yes, you can easily do multiple activities in one day from here. We suggest focusing on beautiful Lake McDonald and the charming village of Apgar. If you like, you can ride your bike from the Glacier Guides Lodge to Apgar or up the Camas Road. You can get a great lunch at iconic Eddie's in Apgar, or turn back towards West Glacier, where lunch is available at the West Glacier Restaurant or the Glacier Highland.
Traveling without your bike? We can rent you one.
3pm
End the day with an iconic Montana adventure — go horseback riding with Swan Mountain Outfitters! We think the Cowboy Cookout trip, from their West Glacier Corral, is especially fun. Plus, after dinner you'll have a chance to explore their Crown of the Continent Discovery Center.
P.S. They have big rocking chairs on a shaded porch, ice cream, beer, wine, and cocktails, too!
9pm
In bed, researching. It's time to start planning a longer Glacier National Park vacation for next year! Can we help? 406-387-5555 or info@glacierguides.com. See you soon!