When Is The Best Time To Visit Glacier National Park?
---
If we had a dollar for every time we've answered this question … well, we'd still be here, doing what we love. And we know that the best time to visit Glacier National Park depends on what you most want to do! After all, we've guided Glacier National Park adventures since 1983 – rafting, hiking, fishing, and biking. So here's our take on the best time visit Glacier: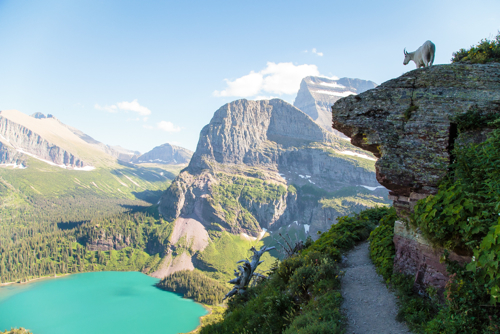 Summer Is For Most Glacier Lovers
For most people, late June through mid-September is the best time to visit Glacier, because they want to drive the Going to the Sun Road, raft and fish the rivers, hike the trails, visit the backcountry Chalets, and explore several areas of the park, on both sides of the Continental Divide. And especially if you're a first time visitor, we encourage you to do all of those amazing things!
But maybe that's not you. Maybe you really don't like crowds, or you've already done all of those things. (Although, we have floated the rivers and hiked the trails every summer since 1983 and they're still to new to us, each and every time. Just for the record.) Read on to discover other time frames that might best fit YOUR best time to visit Glacier!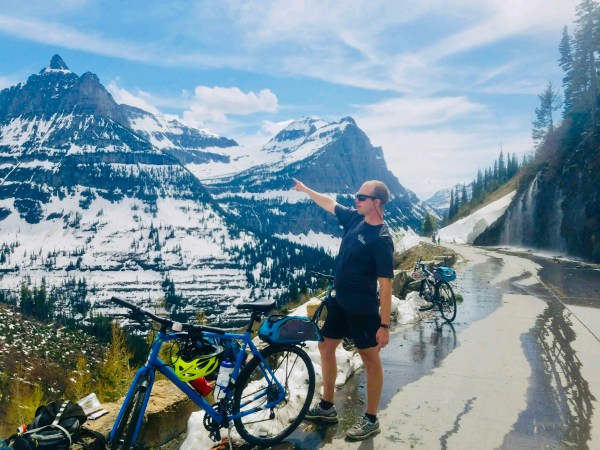 Bike Lovers: Spring Is the Best Time to Visit Glacier
If you're into biking on the Going to the Sun Road before it opens to vehicle traffic, then May through mid-June is the best time to visit Glacier National Park! The Sun Road typically opens in mid-to-late-June (although not always – in 2011, it opened on July 13, due to a big snowpack!). There's a fairly short window to ride a bike all the way from West Glacier to Logan Pass, and that is typically in mid-June. However, lower sections of the road become rideable in early May.
While the West Glacier to Logan Pass route on the Going to the Sun Road is the most famous, there are other areas of the park that are under appreciated for biking, and perhaps even more fun to ride, for those properly prepared. In some years, the roads to the Many Glacier and Two Medicine valleys make for great biking. The eastern side of the Going to the Sun typically is under wintry conditions longer than the west side, but not always, and definitely worth a look. And we love biking the Camas Road, connecting Apgar to Glacier's remote North Fork area, in the spring and fall. Need a bike? We rent traditional bicycles and e-bikes here. We offer guided biking on the Going-to-the-Sun Road, before it opens to cars, too. Find out more about that here.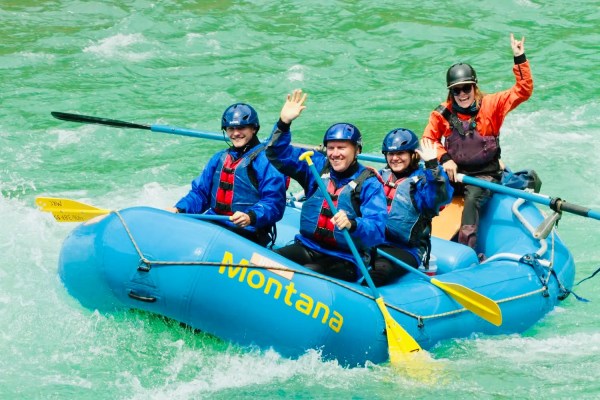 Spring Is Also for Big Whitewater Rafting in Glacier National Park!
The gorgeous Middle Fork of the Flathead River forms Glacier National Park's southwestern border. This undammed river provides for fun, splashy whitewater trips all summer long, and typically runs at Class II and III, making it family friendly in July, August, and September. But in May through mid-June, the river is typically at its height, fed by spring runoff from the mountains. If you're looking for big water in Northwestern Montana, the Middle Fork Flathead is the place to be in the early-mid spring! Explore rafting trips here.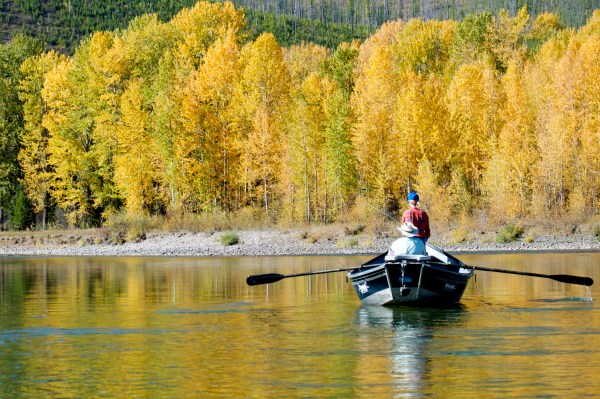 Leaf Lovers and Solitude Seekers: Fall Is The Best Time To Visit Glacier
As the kids go back to school, September arrives with a golden glow, courtesy of Montana's many forests. In a typical year, the west side trees begin changing color in mid-September. The east side trees usually wait until early October to go golden. Larch, or tamarack, put on an incredible show beginning in mid-October. In addition to being gorgeous, larch are unusual in that they are deciduous conifers that lose their needles.
The leaves are a treat, but the quieter nature of the park in the fall is what some visitors really crave. By mid-late September, all lodging within park boundaries, and most services, are closed for the coming winter. Solitude abounds. For visitors who love uncrowded, lower elevation rivers and hiking trails, fall is the best time to visit Glacier.
From September through mid-October, trails empty out for avid day hikers. Uncrowded rivers cool off, making fly fishing that much more fun in the fall! We usually guide fishing trips through October 15. And for those who seek a quiet, peaceful afternoon just floating down our Wild and Scenic Rivers without a care in the world, we definitely recommend Scenic Float trips. Be sure to make fall reservations ahead of time. As the pace in the park slows down, the pace of guiding services, slows, too, and we have limited launches in the mid-late fall.
Learn more about October in Glacier National Park.
Snow and Ice Aficionados: Winter Is The Best Time To Visit Glacier
Love snowshoeing and cross country skiing? The West Glacier area is very, very quiet in the wintertime, but the Apgar Visitor Center does remain open on the weekends. When the weather is good, and you are properly prepared, exploring the Going to the Sun and Camas Roads via snowshoe or cross country ski can be absolutely magical.
Even if you're not a big adventurer, simply driving into the park (the roads to Apgar and Lake McDonald Lodge are typically plowed after winter storms, but exercise caution on Montana's winter roads, always) for a look at sparkly Lake McDonald in her winter white coat can be a thrill. Most people who visit Glacier in the winter are locals, but there are guests who visit Montana in the winter that plan day trips to the park, too.
Know You Before You Go – Best Time to Visit Glacier
---
Regardless of what time you decide is the best to visit Glacier, be sure to check in on conditions in the park before you go. Glacier National Park's weather changes constantly. After all, it is bisected by the Continental Divide. Weather on the two sides of the Divide can differ wildly! West Glacier weather, as compared to the neighboring towns of Columbia Falls, Whitefish, Kalispell, and Bigfork can differ wildly, too, as West Glacier is the mountains and the other towns are in the Flathead Valley.
We strive to practice Leave No Trace principles in all that we do, in and around Glacier. So, before we head out on adventure in the park, we always Plan Ahead and Prepare by checking conditions via the links below. There can be rapid weather changes and trail or road closures in the park. River levels can rise and fall very quickly. Web cams are a great way to see the current conditions in the different parts of the park.
It is always good to be prepared when adventuring in Glacier National Park. No matter what the weather is like when you leave, you should bring rain gear, fleece, sun protection, extra food and water, and bear spray. Tell someone your plans. Set a turnaround time, so you're not out after dark. And have fun!
Questions? Reach out anytime. And get all of your GNP Current Conditions Info here.
Current Conditions In Glacier National Park
---