June Glacier National Park Itinerary
June is an overlooked time to visit the park — and it's become one of our favorite months. You can avoid the crowds that July and August bring, and have all of the fun on the rivers, roads, and trails of Glacier National Park! Definitely consider rafting, hiking, and biking in June. And come prepared for all of the weather – June is likely to give you a taste of a little everything, weather speaking. Here's a packing list that can help you prepare, too.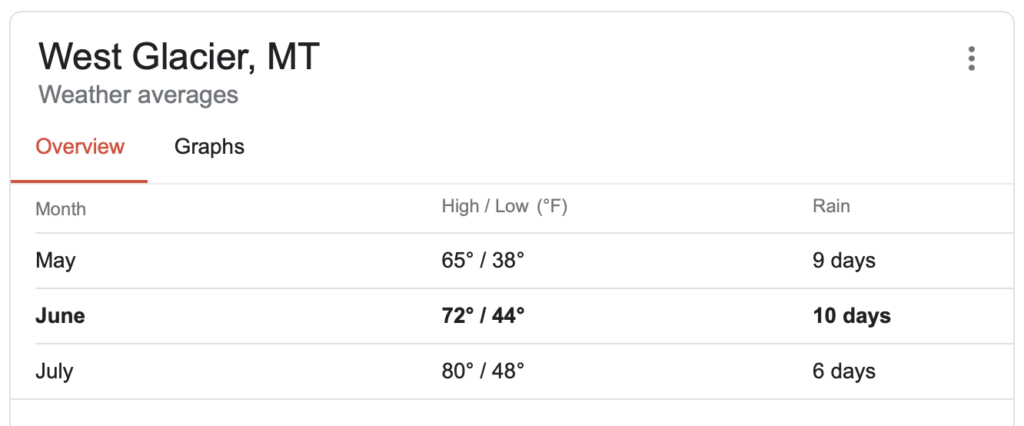 Day 1: Welcome to Montana!
Fly into charming Glacier Park International Airport. Pick up your rental car. Here's a pro tip – reserve your car when you book your flights. Montana gets all the gold stars for allowing you to fully unplug and to experience the most incredible flora, fauna, and fabulous mountains you've ever dreamed of, but Montana does not get gold stars for public transit or massive amounts of available rental cars. The more you know, right?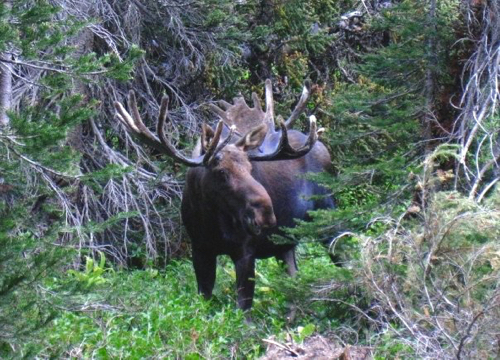 Next, drive Highway 2 East about 10 miles into Columbia Falls. Stop to get supplies at Super One or Smith's. Enjoy choosing between lunch or dinner at several fantastic Columbia Falls eateries: Backslope Brewing, Three Forks, Gunsight Saloon, North Fork Pizza, Montana Coffee Traders, and Vaqueros. If it's a Thursday night, be sure to check out Community Market! Finally, drive about 15 miles to West Glacier.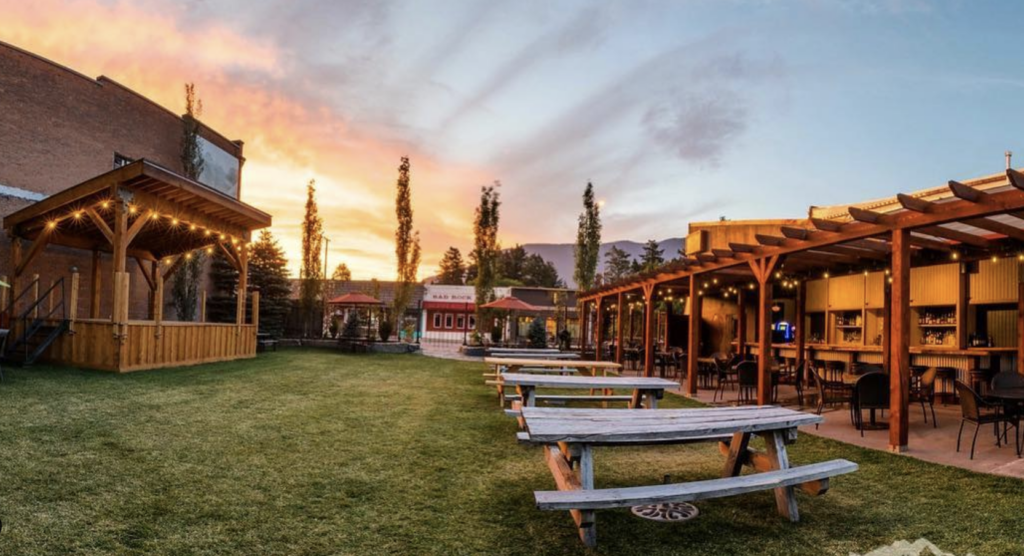 June Glacier National Park Itinerary: Where Do We Stay in West Glacier?
For couples and solo travelers, we like our very own Glacier Guides Lodge. For families, larger options such as Glacier Guides Guest House, the cabins at Reclusive Moose, and the 2018 KOA Campground of The Year are all good choices. On a tight budget? Definitely check out The Vista, located just outside of West Glacier. There's a longer list of our Glacier Park lodging recommendations here.
Day 2: West Side of Glacier National Park
Ah, the first real morning of vacation. Let's get you off on the right foot with an orientation to the glaciated Lake McDonald valley. If it's Monday, our Introduction To Glacier hike might be right for you. Nature Walks on Tuesdays and Thursdays are also fantastic starter activities in the park.
If you prefer to guide yourself, there is an interactive geotourism display at the Crown of the Continent Discovery Center, located just across the street from Glacier Guides and Montana Raft in West Glacier. There are also a number of good interpretive displays at the Apgar Visitor Center. Walking the Trail of the Cedars, located at the Avalanche Trailhead, is also a highly recommended Day 1 activity. As is simply strolling around the villages of West Glacier, Apgar, and the Lake McDonald Lodge.
Speaking of the famed Lodge – another must-do introductory activity in June is an interpretive boat tour with the Glacier Park Boat Co. Their Lake McDonald tours are both fun and informative – not to mention beautiful. You can get more information about booking a boat ride here.
Day 3: East Side of Glacier National Park
In most years – not always! – the Going to the Sun Road opens fully to cars around the 3rd week of June. If you're here when the Sun Road is open, today is the day to drive its length, stopping frequently to take in interpretive turnouts and jaw dropping views. Grab lunch in St. Mary (Johnson's is highly recommended) before continuing south on Highway 89 to explore the Two Medicine Valley. Even in June, there are typically lots of trails open in this gorgeous red valley.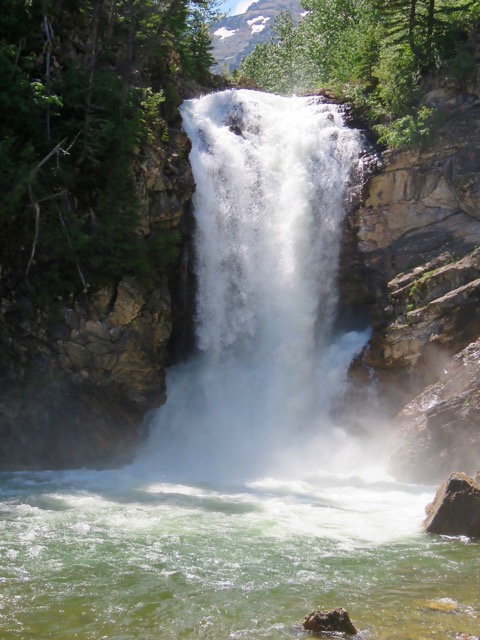 But whether you can drive the full length of the road, over Logan Pass, or not, exploring the East Side of Glacier is a must do! If the road isn't yet fully open to cars, no big deal. Just continue east on US Highway 2 out of West Glacier towards East Glacier. Along the way, you'll travel through the southern tip of the park. Once you're in East Glacier, follow the signs to the Two Medicine Valley.
Day 4: Best June Adventures in Glacier National Park
Bottom line: you haven't seen Glacier till you've seen her from the river, and today's the perfect day for a half day whitewater trip – even if it's raining! After all, you're going to get wet anyways if you're going whitewater rafting. Don't worry, we'll outfit you with everything you need to be warm and comfortable.
If June, you can double your day by signing up for our Paddle and Pedal trip! In the morning, you'll explore the whitewater section of the Middle Fork of the Flathead River, checking rafting Glacier National Park off your bucket list. Arrive back at our office around lunchtime – which we provide – and change into dry biking clothes.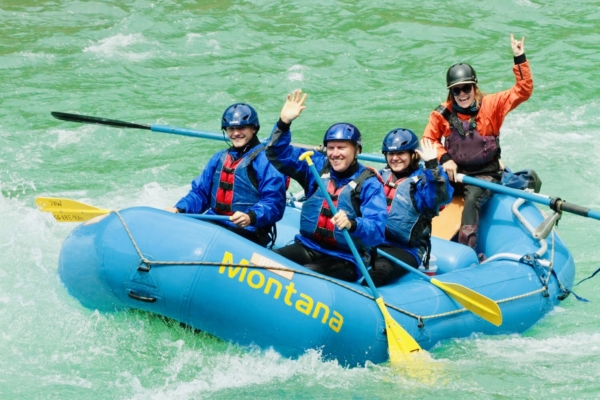 Let's Ride Bikes
This afternoon, the gorgeous, car free Going to the Sun Road awaits you. We guide bike — on e-bikes or regular bikes — tours in the spring because the alpine section of the Road is closed to vehicles but open to hiker-biker traffic. It's so relaxing to ride bikes without any cars on the Road. We take advantage of the afternoon warmth and the beautiful light with a 1:30pm departure. This timing also typically ensures that the plow crew is finished up, too. That way, we can bike as far as possible up the Sun Road, into the stunning alpine. We'll enjoy dinner along the way, and return to the office around 7:30pm.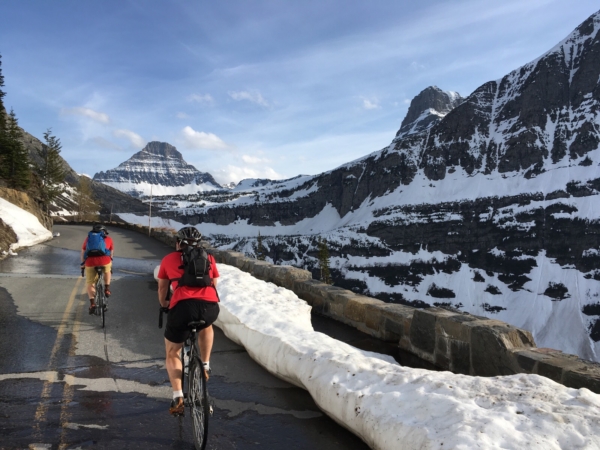 Day 5: Just Outside of Glacier National Park
Glacier's waterfalls and rivers drain eventually drain into Flathead Lake, which just happens to be the largest freshwater lake this side of the Mississippi. While you're here, exploring this crystal clear, azure lake is a must do!
In the morning, check out of your West Glacier lodging and head west on Highway 2, and then south on Highway 40 to Bigfork. It's a beautiful, 45 minute drive.We always have tons of fun at Wayfarers State Park on the lake! Afterwards, think about lunch at the Raven, just south of Bigfork, until it's time to head north again for your flight.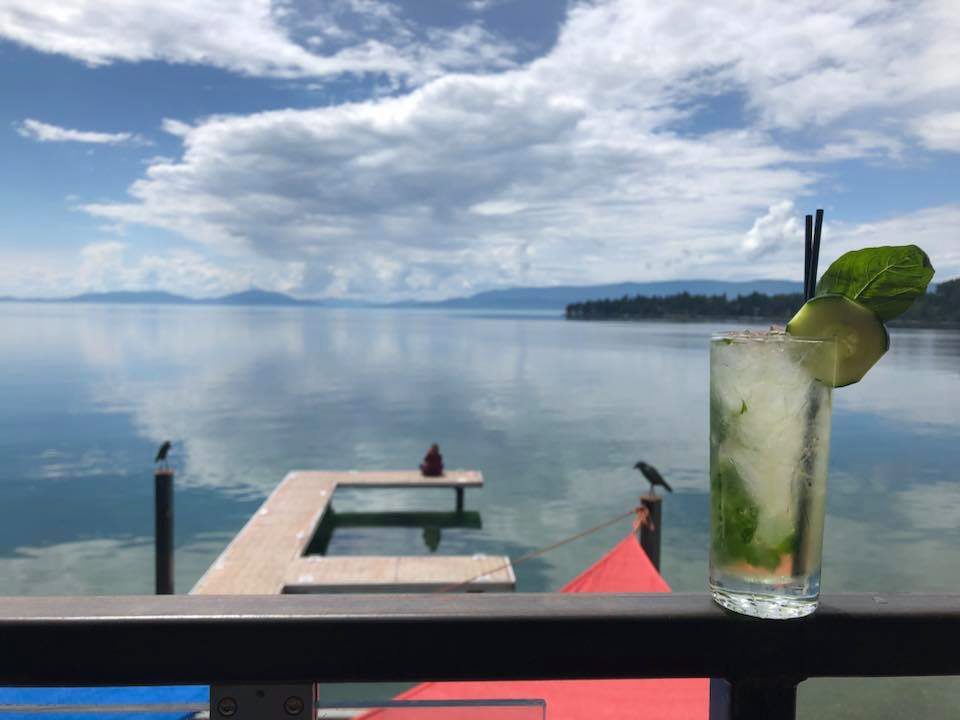 Montana: Once Is Never Enough
While you're waiting to board, post your Glacier snaps on Insta, and start planning your next trip to Montana. Many of our guests are repeat visitors to Glacier National Park, and plenty of them use their flights home as the time to start planning another trip to the park! That's an idea we can get behind, for sure. After all, every month in the park offers something different.
Need Help With Your June Glacier National Park Itinerary?
Questions about planning your June Glacier National Park vacation? From rafting, hiking, fishing, biking, lodging, equipment rentals, shuttles, and more – we can help. Check out our website or use the form below to ask us for help planning your adventures.
p.s. we've written lots of Glacier itineraries over the years — so many ideas for you here! You can subscribe to our blog here.