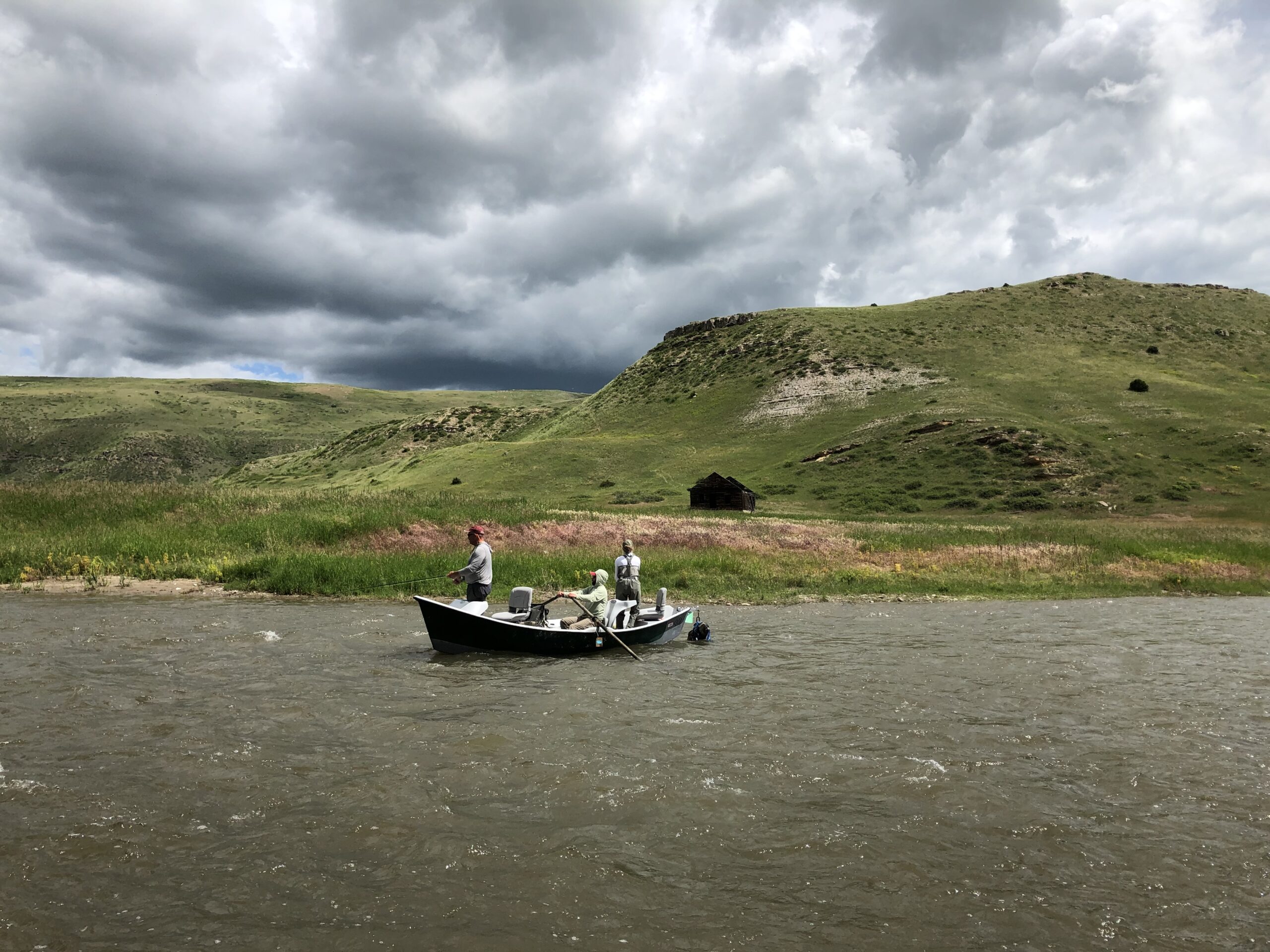 Smith River, Montana
Smith River, Montana Fly Fishing – 5 Day Experience
Fulfill your Montana fly fishing dreams on this classic Smith River experience. One of the American West's legendary fishing trips, the Smith River is Montana's only permitted river. The Smith flows through largely private lands. The only public access points are at the Camp Baker put in and the Eden Bridge take out. This combination of factors means the Smith is Montana's least crowded and least pressured river. This stretch winds 60 miles through a stunning limestone canyon in Montana's Big and Little Belt mountains. The healthy fishery supports Brown, Rainbow Trout, and the occasional Whitefish. Most fish are in the 10 – 20″ range, and most trips haul in at least one of those big, beautiful Browns. In short, the Smith is fly fishing paradise.
If your adventure companions aren't fishing, they will still be thrilled by sharing the Smith River experience with you. The scenery, birding, archeology, geology, and history in this canyon are arguably some of the most interesting in the lower 48. Our guides offer accurate and fascinating interpretation throughout the trip. In between catching Browns and tucking into fabulous meals, we'll also discuss Lewis and Clark's expedition and the history of local indigenous people, all travelers in the Smith River ecosystem.
Book Now
Pricing
Adult & Child Price: $4,400 per angler
Supplement for 1:1 angler/guide ratio: $260/day
Guide Tip: Industry rate is 18-20% (not included in price)
Specials
Plan Your Trip
Trip Details
Difficulty: Easy, Family Friendly
Trip Date: One launch per year
July 2nd, 2023
June 12th, 2024
July 2nd, 2025
Trip Duration: 5 Days
What's Included, What to Bring
Transportation to and from Great Falls is included; gourmet meals from our lunch on Day 1 through our lunch on Day 5; deluxe camping (including tents, air mattresses, sleeping bags, and camp lounge chairs); and of course, our expert fly fishing guides and their dories. Questions about what you need to bring? View the complete packing list for additional information.
View Packing List
Smith River, Montana, Fishing
The stunning Smith River is one of the American West's premiere rainbow and brown trout fisheries. It's unique in that it is only floatable by permit. Smith River State Park has one put-in point (Camp Baker) and one take-out point (Eden Bridge) for the entire 59-mile stretch. Montana Fish, Wildlife, and Parks closely guards the Smith's resources and beauty. As a result, the Smith is pristine, uncrowded, and a fly fishing paradise. The permitting process ensures that the Smith experiences much less pressure than other Montana rivers. Browns and Rainbows are present in good numbers, and fish over 20″ are taken on most trips. You might catch the occasional Whitefish, too.
The Smith is accessible only by non-motorized watercraft, such as rafts, canoes, kayaks, and drift boats. We'll take drift boats to fish from, with 1-2 anglers per guide. Whenever angling new waters, experienced guides are important, and ours are some of the best in the West! All supplies, equipment, and tackle are provided for guests. You'll just need a Montana fishing license, although you're welcome to bring your own gear if you'd prefer. Speaking of gear, it will not encumber us in the drift boats, but will float down the river on rafts with our support staff.
Smith River Wildlife and Bird Watching
Whether you're an angler or not, this Smith River adventure is the experience of a lifetime! Birders and photographers will be on the figurative edge of the raft, as this area is known for wildlife and fowl watching. We often see mountain lion, black bear, bobcat, wolverine, flying squirrel, otter, beaver, mergansers, osprey, belted kingfishers, dippers, killdeer, American redstarts, yellow warblers, ruffed grouse, hawks, owls, common raven, swifts, hummingbirds, pileated woodpeckers, chickadees, Swainson's thrush, varied thrush … the list goes on and on.
Smith River Hiking
We usually arrive at the campsite around 4:00pm each day, so you will have an opportunity to explore around camp or do a short hike while your guides are setting up camp and preparing delicious meals. You can look for wildlife, head up to the canyon rim for a view from above, or respectfully explore some of the Native American archeological sites along the way.
Smith River Itinerary
Day One
We meet in Great Falls, Montana, at 7:00 a.m. and then shuttle to the Camp Baker put-in where our river adventure begins! We'll fish hard every day that we're on the river. Each day while we're fishing, we'll talk a little bit about the Smith, and what it makes it so special. Today's topics might include river safety, general fishing, wilderness preservation, Montana State Parks, and the United States Forest Service.
Days Two, Three, and Four
Anglers will love the 10 – 20 inch rainbow and brown trout in this spectacular fishery. We will keep our binoculars at hand while checking off the bird species that frequent this migration path. Aquatic ecology and fish species might be part of our conversations as our float continues.
Day Five
More fishing, of course! Today's conversations include the future of habitat preservation and public lands use. We will have our final lunch on the river, say our goodbyes, and return to Great Falls by 5:00 pm.
Smith River Trip Notes
Airport: You will want to fly in and out of Great Falls, Montana — airport code GTF. If you have extra time, check out the excellent Lewis and Clark Interpretive Center and Giant Springs State Park while you're there!
Montana Fishing License
All trips require the purchase of a Montana fishing license prior to your arrival at our office. We recommend printing one online — you can click HERE to access the Montana Fish Wildlife and Parks website. Most fly shops and sporting goods stores in Montana sell them as well.
Montana Outfitter Information
Glacier Guides Inc.
Durand Beougher, Licensed Outfitter (#28096) (beginning June 16, 2021)
PO Box 330, West Glacier, MT 59936
406-387-5555
This trip is a result of our partnership with the Helena-Lewis and Clark National Forest, United States Forest Service.
Glacier Guides and Montana Raft is an equal opportunity provider.