There are 734 fabulous miles of trails in Glacier National Park, often referred to as the Hiker's National Park. Glacier holds over a million acres of wonder, and you really can't pick a "bad" trail. After all, hiking is always what you make of it. But today I'm going to play favorites, and talk about the best intermediate hikes in Glacier National Park, specifically on its stunning west side. These are just my personal favorites, and they're listed in no particular order. All of these will make your heart sing. If you're looking for the best intermediate hikes on the east side, check out this post.
Best Intermediate Hikes in Glacier
Lake McDonald Valley: Apgar Lookout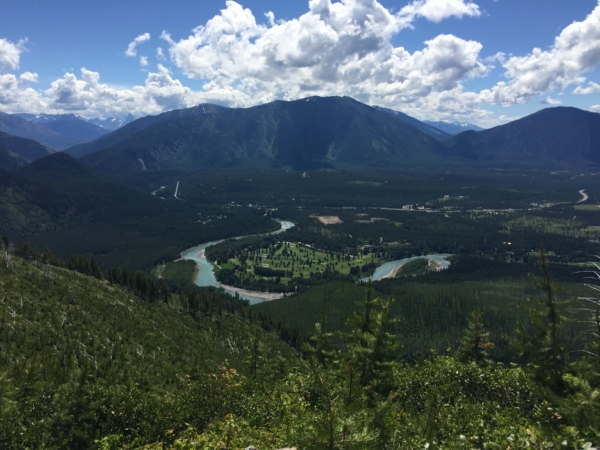 6.6 miles roundtrip. 1,850 feet elevation gain. Pit toilet located before lookout.
This trailhead is located past the Quarter Circle Bridge, just beyond the park's west entrance — follow the signs for horseback riding and then keep going. The trail winds through the valley bottom and then switchbacks uphill to the lookout, offering stunning views in every direction. Apgar Lookout is not staffed, but you can climb up onto the upper deck for even better views of the Lake McDonald Valley. Look due east, up the lake, for a peek at Glacier's alpine areas, including the Garden Wall. This open trail is often among the first hikes to melt out on the west side, and the last to get snowed in.
Pro Tip: Start early, or pick a cool day — there's not much shadde on this trail!
Logan Pass Area: The Highline Trail to Haystack Butte
7.4 miles roundtrip. 825 feet elevation gain. Bathrooms located at Logan Pass Visitor Center.
"The Highline" starts at Logan Pass and ends 30 miles north in Goat Haunt, at the United States / Canada border. So, you can make this hike as easy or hard as you would like. For best intermediate hikes in Glacier purposes, I think that making Haystack Butte your destination — just over 3 miles from Logan Pass — is the right itinerary.
Pro Tip: if you have a fear of heights, this may not be the trail for you. If you enjoy hearing others sing "The Hills Are Alive" — Sound of Music — this is definitely the trail for you, as you'll often hear happy hikers warbling this tune on this alpine trail.
From Logan Pass, cross the Going-to-the-Sun-Road to the clearly marked trailhead. You'll gently gain and lose elevation for about 3 miles, following along the Continental Divide. At about the 3 mile mark, you'll look up to Haystack Butte. Don't let the looks of the long switchback deter you – it's really not so bad, and the views of the Livingston Range to the west will keep you going to the top!
Haystack Butte is a great place to sit and eat lunch. We guide this hike every Tuesday from July through September, and we often see mountain goats and Bighorn sheep. This trail can be very busy in the summertime, and as a result, the sheep and goats are fairly used to people. Please give them as much room as possible, and remember that they have the right of way on the trail. And no matter how close they may come to you, never touch them. Thanks!
The North Fork: Numa Ridge Lookout
11.2 miles, 2,930 feet elevation gain, pit toilet at Bowman Campground and at Numa Ridge Lookout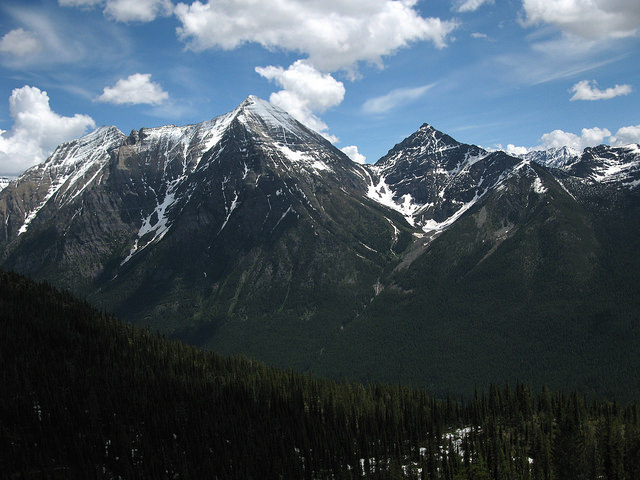 Ah, the North Fork. If you're looking to get away from it all, the North Fork can be a good bet. It is managed as wilderness by the Park Service, and as a result, there are no guided services offered in the North Fork. But that doesn't mean we don't go there on our days off! I especially like Numa Ridge Lookout, because it is one of the easier lookouts in the park, elevation wise. The nearly 3,000 feet of elevation you gain is nicely stretched out over about 5 miles. You'll be hiking in the forest for most of the way, but the trail will open up with about a quarter mile to go, and then you'll realize it was worth it. At the top, you'll look out and over Bowman Lake at spectacular views of Mt. Carter, Rainbow Park, and Square Peak.
The South Side: Scalplock Lookout
9.4 miles, 3,079 feet in elevation gain. Pit toilets at the Izaak Walton Ranger Station and Scalplock Lookout. This hike could easily be categorized as advanced, not intermediate, depending on your perspective.
This one is my personal favorite for shoulder season fitness sessions – I call it Switchback Lookout. It is uphill all the way, although nothing too extreme, and a fantastic workout! The trail takes you through a pine forest until just below the summit, when it opens up into beautiful alpine meadows. From the lookout, you'll delight in gorgeous views in every direction — including from the pit toilet! The peaks of the Bob Marshall Wilderness are to your south, while Mt. St. Nicholas commands the northern skies. Another factor that puts this hike on the best intermediate hikes in Glacier list? This mostly south facing hike tends to still be accessible late into the fall, and often is among the first to melt out into the spring — plus, the trailhead is located just off of U.S. Hwy 2, open year round.
Don't forget, if you're wondering about the best intermediate hikes in Glacier's gorgeous east side, you can read about them here. Have fun out there!