Day Trip Packing List
---
Prepare for a Glacier bike tour just as you would for a hike. On a nice day, shorts will work just fine! On a cold day, bring warm, breathable layers. Keep in mind that rain and snow are always possible in the mountains.
Breathable layers, like long underwear, tights, or yoga pants.
Rain pants and a rain jacket – the road may be wet from melting snow.
Warm layer, like a puffy or fleece jacket.
Gloves, for biking or just simple fleece.
Baseball cap if it's hot, stocking cap if it's cool – or maybe both! The weather is always subject to change in the mountains.
Sunglasses and straps.
Spare corrective eye wear, glasses, or contact.
Sunscreen and lip balm.
Insect repellant.
Hiking shoes or tennis shoes are advised.
Daypack with hydration system or 2 water bottles. You can purchase water bottles in our retail store.
Camera (optional)
Compact binoculars (optional)
Park entrance pass and ID or money to purchase one  –  (You will not need to get an additional vehicle reservation ticket- learn more here.)
Gratuity for guide (18-20% is the standard for our industry)
Most of these items are available for sale in our West Glacier office if you forget something. Hiking, backpacking, camping, and river gear is available to rent – reservations are recommended.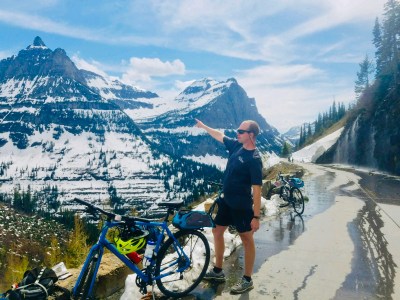 6-Day Glacier Bike Adventure Packing List
---
EQUIPMENT
---
Duffel bag for overnight clothing/gear
Daypack (30L)
Rain Cover for Daypack (or line inside of pack with garbage bag.)
CLOTHING
---
Long Underwear Top and Bottom (Midweight, Synthetic)
Midweight Fleece/Wool Jacket or Sweater
Polar Fleece or Insulated Jacket (needed in June and September)*
Rain Jacket (Hooded, Lightweight, Waterproof, Breathable)
Rain Pants
Pair of Hiking Pants (Convertible, Quick-Dry, Lightweight)
Fleece/Wool Hat
Fleece/Wool Gloves
Synthetic Wicking T-Shirt (1 for hiking, 1 for camp)
Pair of Biking Shorts (Quick-Dry Lightweight)
Lightweight Hiking Boots or shoes
2 pairs of wool or synthetic socks – no cotton please
Sandals for Camp (Teva/Chaco type)
MISCELLANEOUS ESSENTIALS
---
Valid Passport to cross US-Canadian border.
Park entrance pass and ID or money to purchase one  –  (You will not need to get an additional vehicle reservation ticket- learn more here.)
Gratuity for Guide (18 to 20% is the standard for our industry)
Water Bottles that fit into a bike water bottle cage. (Two 1-Liter)
Ziploc Bags (larger size; to organize, keep items clean and dry)
Toiletries (toothbrush, toothpaste, personal wipes, wash cloth.)
Sunscreen and Lip Balm
Sun Hat or Ball Cap
Bug Spray
Headlamp with Fresh Batteries
OPTIONAL ITEMS
---
Camera
Binoculars
Bike shoes and bike pedals (if you want to bring your own)
Fleece Pants (for trips in June and September)*
Camp Towel
Camp Pillow (lightweight, packable)(there are full size pillows at the Chalets)
Bandana
Swimsuit
Sunglasses and Straps
Ear Plugs
Small Multi Tool
Reading and Writing Materials
Fishing Gear – if you want to fish
Your Favorite Snack!
Alcoholic Beverages (no glass, consider weight for trip)
PROVIDED (NO ADDITIONAL COST ON GUIDED TRIPS)
---
Vehicle Reservation Ticket for Glacier National Park
Bicycles and helmets. (E-bikes available at an additional cost)
Bike Repair Kit
All camping gear (tent, sleeping pad, sleeping bag)
All Group Cooking Gear and Food
Stove and Fuel
Group First Aid Kit
Water Filter
Bear Spray
Toilet Paper
Trowel
Hand Sanitizer
Multi Tool
Map