Huckleberry Lookout in Glacier National Park
Huckleberry Lookout definitely lives up to its name. In the late summer months, this trail is lined with juicy huckleberries, a delightful snack for the hungry hiker. Humans are not the only species who enjoy this sweet fruit, however. Huckleberry Mountain (6,593 ft.) is known as a bear paradise due to its plethora of berries. Be sure to bring your bear spray and make noise on this hike!
A challenging day hike, the Huckleberry Lookout trail gains the majority of its elevation in the first four miles. The last two miles of trail traverse a ridgeline all the way to the lookout. Located off the Camas Road, this trail provides stunning views of the Livingston Range and is generally not as crowded as other hikes in the Lake McDonald area.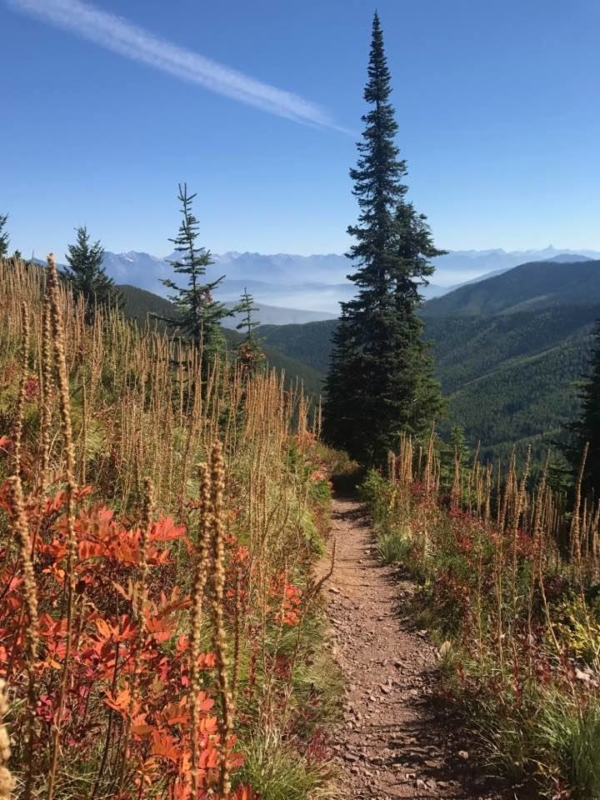 Hike Profile:
Glacier Guide Difficulty Rating: Difficult.
Elevation Gain: 2,725 ft. (830 km).
Mileage: 6 miles (9.7 km) round trip.
Hiking Time (estimate): Allow 3½ – 4 hours to the lookout, plus 1 hour for lunch. Allow at least 3 hours for the return.
Other: In early summer snow lingers on the latter part of this trail. In late summer, huckleberries attract bears to this trail. Bring your bear spray.
Logistics:
Trailhead: Huckleberry Mountain Trailhead (3,878 ft.).
Bathrooms: The closest bathrooms are at Apgar Village.
Water: The closest potable water is in West Glacier or Apgar Village.
Parking: There is a small parking area on the left after driving 5.8 miles along the Camas Road.
Travel Time: 20 minutes/8 miles from GNP West Entrance; 2 hours/54 miles from East Entrance.
Huckleberry Lookout in Glacier – Where to Start
After parking at the Huckleberry Mountain Trailhead on the Camas Road, begin hiking west along the trail. The first section is flat — a nice warm up for what is to come. After a fourth of a mile, cross over McGee Creek. This is the only significant water source you will find during your hike. Almost a half mile later the trail begins to climb at a steady pace. Kinnikinnick, bear grass, and fireweed line the trail.
Unlike much of the park, this section of forest has not been burned in the last 100 years. Because of this lack of distribution, the canopy is fairly thick for this first section of trail. Every now and then, avalanche chutes provide glimpses of surrounding mountains and valleys. Just over three miles into the hike, the forest begins to thin as you approach higher elevations. Grouse are commonly seen, and heard, in this environment. Listen for the sound of their beating wings. Their drumming sequence lasts for about ten seconds and serves to announce a male's territory or attract females.
At just under four miles and 2,000 ft. of elevation gain, you will reach a small pass. Surrounding mountains decorate the skyline, and the Huckleberry Lookout may be spotted in the far distance to the northwest. This pass is a great place to stop and rest. In early summer you may need to turn around at this point due to snow. If the path is clear, the lookout is about two miles further.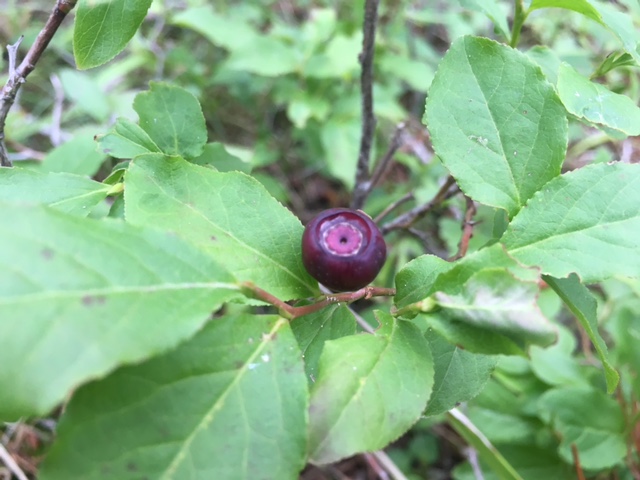 Arriving at Huckleberry Lookout in Glacier
The last section of trail is absolutely stunning, with vistas as far as the eye can see on a clear day. Notable peaks include Longfellow Peak (8,904 ft.) and Paul Bunyan's Cabin to the north, and Mount St. Nick (9,377 ft.) and the Great Northern (8,705 ft.) to the southeast. The traverse to the Huckleberry Mountain Lookout provides a bit of a break, as the elevation is fairly steady until a final 400 ft. gain near the end. Upon arriving at the lookout, climb the stairs to a wrap around porch that provides the greatest viewpoint. The lookout was built in 1933, replacing a previous structure built in 1923. Huckleberry Mountain Lookout is still manned by the National Park Service to watch for fires.
If you'd like to go to Huckleberry Lookout with an interpretive guide, we'd love to take you on a custom day hike! Do be aware that availability is very limited on custom day hikes, and they are typically booked up by the end of March each year. Be sure to check out our regularly scheduled hikes, which typically have more availability.
Headed up to Huckleberry Lookout yourself? Be sure to check Glacier National Park's Postings and Closures and Trail Status Reports before you go. Here's a handy packing list and a link to West Glacier weather, too. Be prepared and have fun out there!
–Compiled by Guide Sara Edwards
–Photos by Nancy Stone