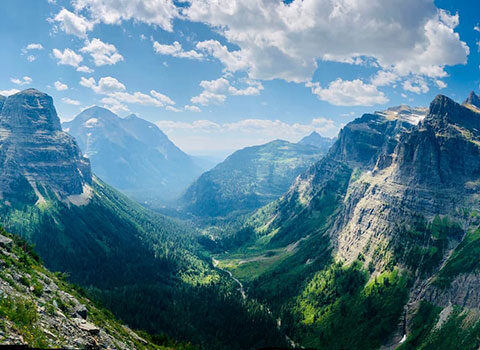 Hiking FAQ
What should we wear hiking?
Please refer to our detailed packing lists for overnight trips and day trips to properly prepare.
How fit do we need to be for backpacking trips?
Reasonably fit. Daily mileage averages six to eight miles per day, but can be much shorter or much longer. A short day is 3.5 miles and a long day is 12 miles. The weight of an average pack is 35 to 40 pounds. If you are worried about the weight or have youngsters who need help, ask about our Porter Service. The highest elevation you can expect to attain is about 8,000 feet with the valley floors at about 4,000-5,000 feet.
What's provided?
All food, cooking gear, water filter and first aid supplies necessary for your trip will be provided. We have tents, sleeping bags, thermarests and backpacks available for rent. View our packing lists for day trips and overnight trips.
What about the bears?
There are bears (black and grizzlies) in Glacier and we occasionally see them, but we've never had a problem in our 35+ years in business. Guides carry pepper spray just in case and go through NPS Bear Management training.
Where in Glacier National Park do you guide trips?
All of our backpacking trips visit remote parts of the Park, but for several reasons we cannot guarantee a particular hike ahead of time. We must take into account the interest and abilities of our guests, snow conditions, trail crew work, trail closures and availability of backcountry camping sites. We ask guests when making a reservation about special interests and abilities and always try to find an appropriate itinerary based on their requests.
Can we bring alcohol?
We do not recommend bringing too much alcohol on our trips (weight is the main factor). You are certainly allowed to bring it though. Many people like bringing a celebratory beer for the trailhead at the end of the trip. Let us know if you want to do this, and we can arrange for it to be put in your shuttle vehicle.
STILL HAVE QUESTIONS?
We'd love to answer them.