Glacier Park In October
There's a reason that Montana is filled with visitors every July and August – you have to see our alpine landscapes to believe they're real, and that high country is only open for so long. But there's another must-see time of year. It's October in Glacier National Park.
Let's Manage October in Glacier National Park Expectations
First: a reality check. People who love October in Glacier National Park are flexible. They understand that the thrill of seeing more animals than people is tempered by the fact that there is very little lodging and dining available in Glacier's off season. These people are prepared to drive big distances. They can keep themselves fed, warm, and safe while traveling. These fall visitors are likely to experience all of the weather in a single autumn morning — sun, wind, rain, hail, sleet, snow, thunder, back to sun. Such people own sensible footwear, rain jackets, and layers. They wait five minutes when they don't like the weather.
If your friends wouldn't describe you and your companions as flexible and self-sufficient, October in Glacier National Park is probably not for you. But if you possess a pliant personality and understand how to read a map, October in Glacier National Park may be your dream vacation.
When Do The Trees Turn?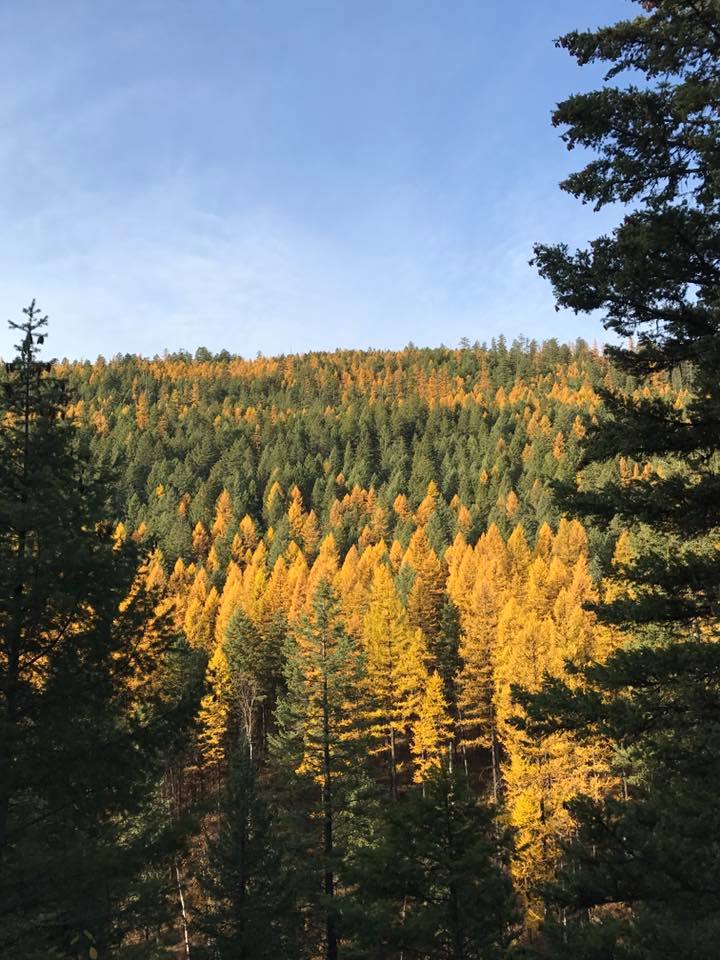 In a typical year, the west side trees begin changing color in mid-September. Larch, or tamarack, put on an incredible show beginning in mid-October. In addition to being gorgeous, larch are unusual in that they are deciduous conifers that lose their needles. The east side trees usually wait until early October to go golden.
What's Open in October in Glacier National Park?
By mid-September, Glacier begins to shut down. By October 1, all of the lodging (and most other concession services) inside the park is closed for the season. We are proud to be a concession partner since 1983, and we typically operate our rafting, hiking, fishing, biking, lodging services, and equipment rentals, through October 15. But we are a little unusual in that regard. You should be prepared to see lots of closed signs. And to drive vast distances between gas stations, stores, restaurants, and lodging. A car is an absolute must this time of year!
Next, if you decide to visit Glacier National Park in October, you should know that Headquarters is open Monday through Friday year round, and is a good place to get information. Even when the Going to the Sun Road remains fully open, the Logan Pass Visitor Center typically closes in mid-September. By mid-October, the Apgar Visitor Center is only open on weekends. Be sure to check the park's Operating Hours page for specifics. And of course, we always recommend looking at the Current Conditions page and park webcams before all trips, regardless of what time of year.
Specific GNP October 2021 info, i.e. closing dates for visits centers, concession services, etc is found in this press release from Glacier National Park.
What To Do In October In Glacier National Park
In addition to driving around, soaking up solitude, photographing wildlife from a respectful distance, enjoying empty hiking trails, and eating picnic lunches, there are a few other activities in October in Glacier National Park that you shouldn't miss. Glacier's southwestern border is formed by the turquoise North and Middle Forks of the Wild and Scenic Flathead River. By October, these stunning un-dammed rivers are running low and slow – a perfect combination for a relaxing fall float or fishing trip. If you'd like to go with a guide, be sure to make advance reservations.
As the traffic in Glacier empties out, we love riding our bikes! Check out the Going-to-the-Sun Road and the Camas Road for fun road bike adventures. The Gateway to Glacier Bike Trail, which runs from West Glacier to Hungry Horse, is also a lot of fun in the quiet, cooler fall months. If you need a bike,
we've got bikes and e-bikes available for rent
. Exploring the West Glacier area via bike is one of our favorite October activities.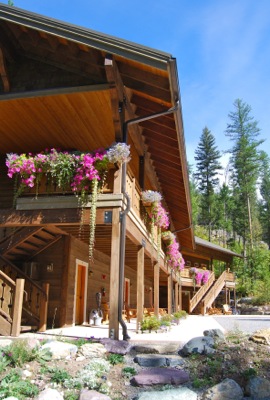 Questions about planning your Glacier National Park vacation?
October in Glacier National Park is a magical time of year. Be sure to reach out to us if we can help you plan your trip! 406-387-5555 or info@glacierguides.com From rafting, hiking, fishing, biking, lodging, equipment rentals, shuttles, and more – we can help. You can also use the form below to ask us for help planning your adventures.
p.s. we've written lots of Glacier itineraries over the years — so many ideas for you! You can subscribe to our blog here.