POV: You want to travel to Glacier National Park and have the most epic vacation. You got the time off work, you've reserved the dog boarding and booked the flights. Now it's time for the nitty gritty details of what to do every day and you're interested in a "one stop shop" kind of place. Well, guess what?! We are that place! Here's the perfect 5-day Glacier Guides Vacation, activities you can book with us and what to make time for each day.
FIRST THINGS FIRST: WHERE TO STAY?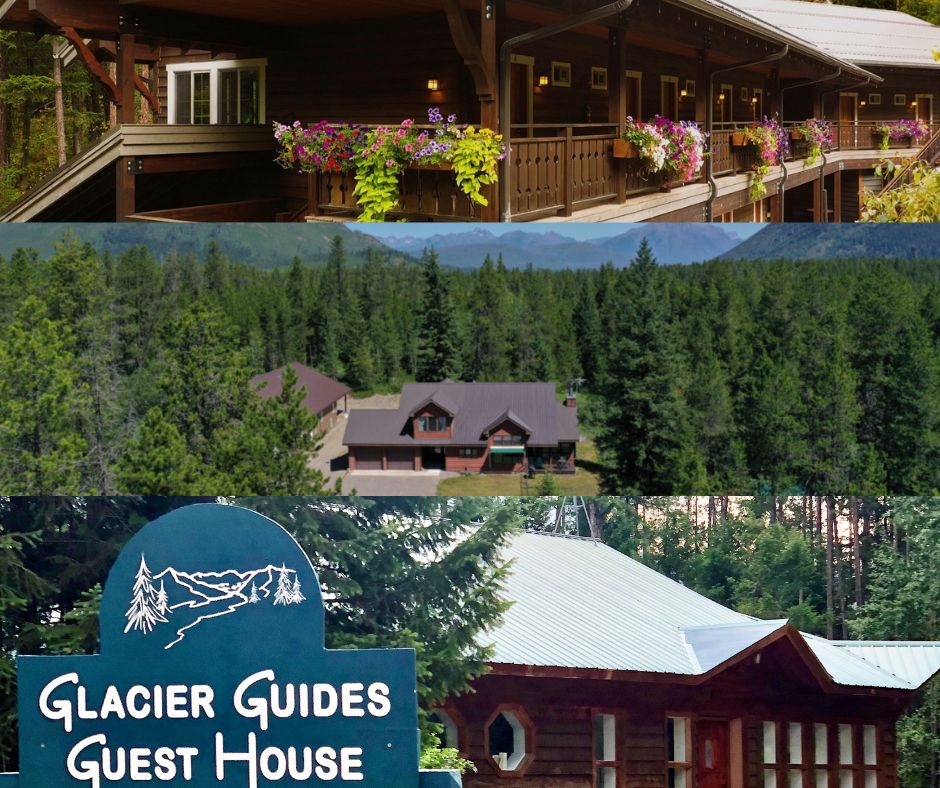 Our Glacier Guides Lodge or guest houses are the perfect places to rest your head while exploring in and around Glacier National Park. Our lodge features 12 comfy rooms, each fitted with 2 queen beds. Wake up in the morning amongst the trees and enjoy the perfect breakfast before you take off for the day.
If you're looking for your "home away from home" for the week, our guest houses are a stone's throw from the West Entrance of GNP and feature plenty of privacy for you and your friends and family. Our Aspen Guest House sits on 8 treed acres with 3 bedrooms, 3 bathrooms, a full kitchen and living area and a gorgeous sun room (perfect for a relaxing morning and cup of coffee). Our Cedar House is right up the road from Glacier Guides HQ! A private oasis, nestled in the trees, and a quick walk down the hill to hop on a bus and join a rafting trip with us!
If we are booked when you plan to stay, there are other great lodging options in the area and they can all be found on our website under Glacier Area Lodging.
DAY ONE: LET'S HIKE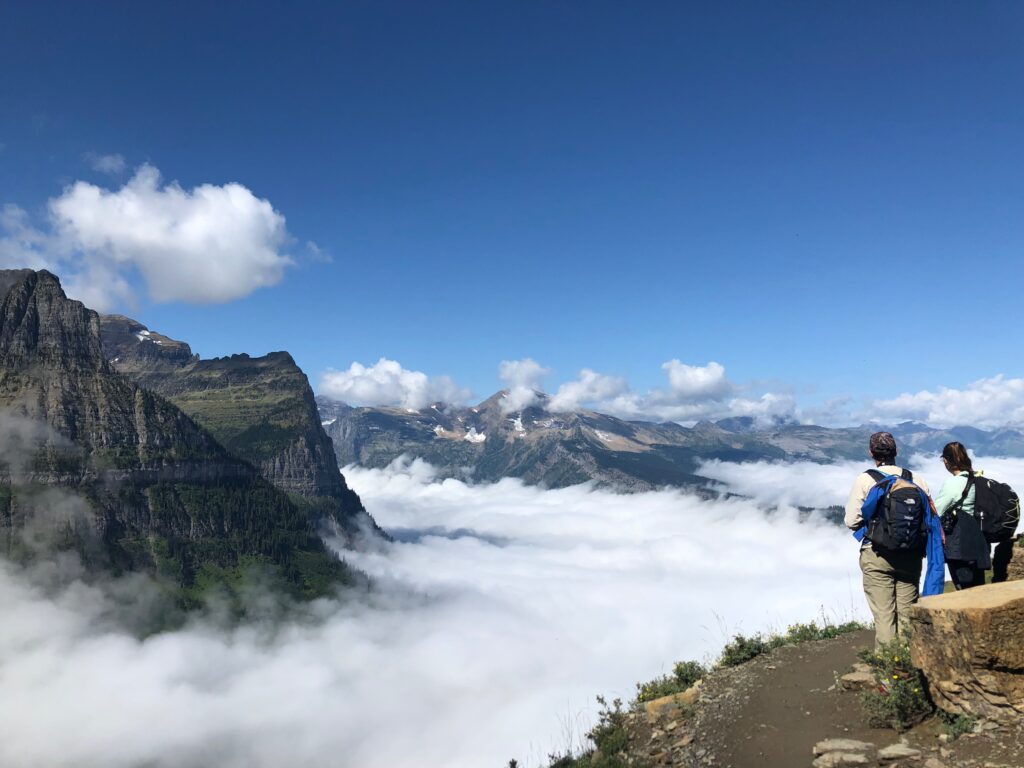 We offer a different hike every single day. From casual hikes like Virginia Falls on Wednesday or our moderate climbs like The Highline Trail on Tuesday to strenuous climbs like Piegan Pass every Thursday, there's something for everyone. If you're more interested in specific itinerary or hiking with just your friends and family, we offer private, custom day hikes as well. These hikes book up fast, so don't wait too long to book!
If you've got little ones with you and want something simple, quick and educational, our nature walks are ideal. You'll learn about Leave No Trace outdoor ethics, forest fire science, history of early settlers, and river ecology, while enjoying the views along two different, short trails.
FOR MORE TIME SPENT HIKING…
A multi-day backpacking trip is the ticket. Head out on a 3, 4, 5 or 6 day backpacking trip with us. With over 700 miles of trails, the choices for backpacking trips are extensive. We can accommodate all ability and enthusiasm levels. Glacier is huge and the choices can be overwhelming! Pick up the phone and call us to discuss which backpacking trip will bring you and yours the most joy.
Another great option for those looking to spend every day hiking is our 5-day Glacier Challenge. We know the best hikes in Glacier National Park, and we know they're on your list. Are you ready for the Highline, Piegan Pass, Iceberg Lake, and Dawson-Pitamakan all in one week? Does the idea of sleeping under the star-studded Montana skies without carrying a heavy pack appeal to you? This is one of our most popular trips and tends to book up early, so don't wait!
WHEN YOUR HIKING LEADS TO HUNGER…
West side features Josephine's Speakeasy (amazing tapas and delicious cocktails. Could there be a better combo?) Belton Chalet (for the fancy pants in you, an amazing 5 star meal — you can't go wrong here), Paul Bunyan Bar & Grill (burgers, beer and relaxed atmosphere. The perfect spot to kick up your feet and relax) Sunflower Cafe (catch them for their BBQ dinner at 5pm. I know what you're thinking, "BBQ in Montana?!" Trust us. It's worth it.)
East side features Two Sisters Cafe (on the side of the hwy just outside of Babb, MT. It's always worth a stop to get their Trout & Waffles. Think Chicken and Waffles, but better!) Serranos in East Glacier (looking for classic, mouth-watering Mexican dishes? Look no further) Johnson's of St. Mary in, you guessed it, St. Mary (homemade everything. When we say everything, we mean EVERYTHING! Food is always amazing here)
DAY TWO: BIKE GOING-TO-THE-SUN-ROAD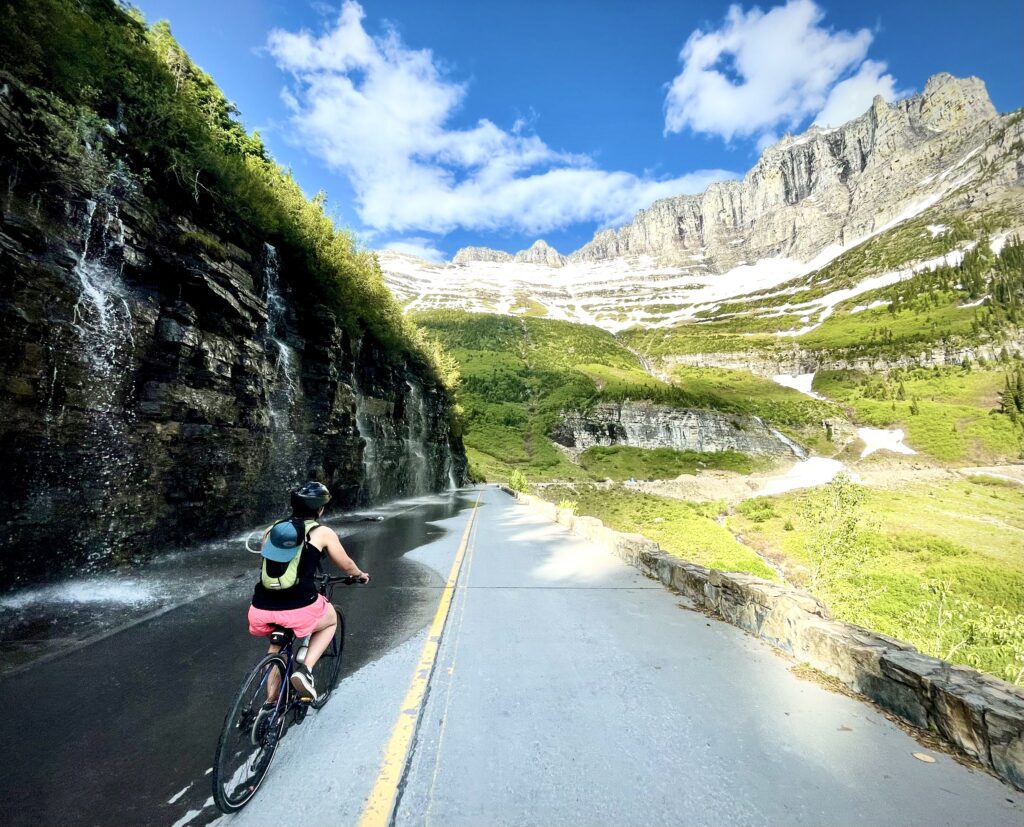 This is an experience we would wish for everyone. Biking Going-to-the-Sun Road is definitely a bucket list item. Feeling the wind on your face, being immersed in your surroundings and successfully making it to Logan Pass all on your own — there's nothing quite like it! Take a guided trip on a bike or e-bike with one of our friendly, knowlegable guides or rent a bike and take our shuttle into The Park. This activity is ideal in May and June before the road opens to vehicles. Sidenote: Keep in mind that we do rent bikes all summer long but our guided trips end when the road opens to cars. (PS, if you want to tackle the adventure all on your own, we rent bike carriers for your car, too!)
There's always a way to do multiple activities with us all in one day. Take a look at our combination trips to see which adventure fits your fancy.
DAY THREE: RAFTING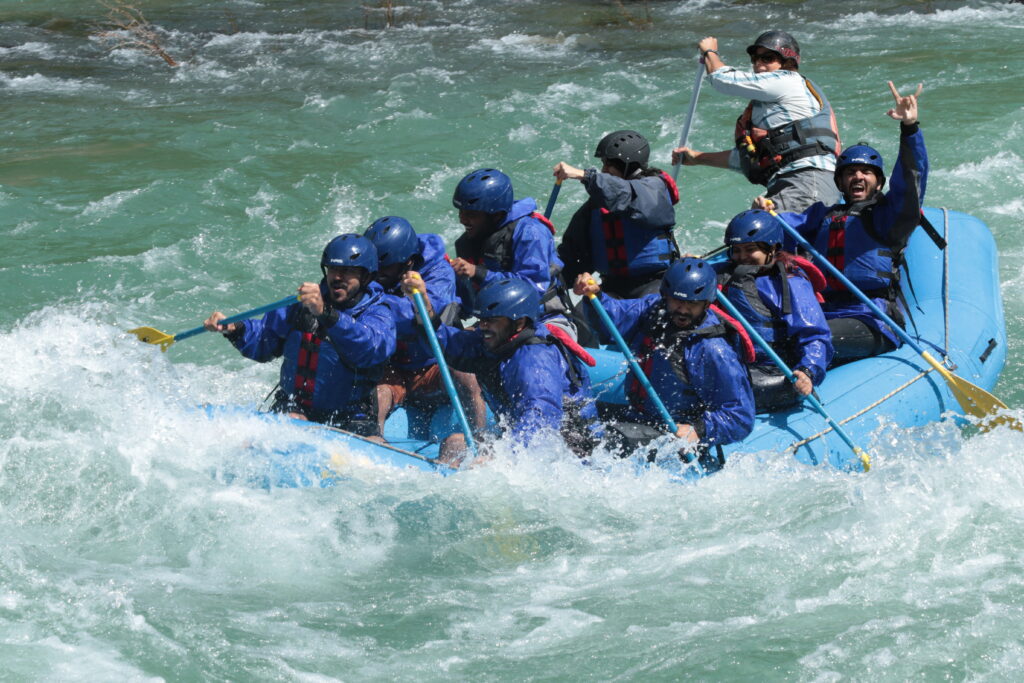 The best way to see Montana's true beauty is from the water. We offer half day whitewater and scenic float adventures. We bet you'll be hungry after rafting and our dinner float featuring a delicious dinner will surely satisfy that hunger. Want more time on the water? Then the full day rafting trip with lunch is the answer. Our full day trip gives you a little bit of everything. Some whitewater, some scenic and a delicious riverside lunch. It also is the perfect way to get around the vehicle reservations at Glacier National Park. Spend all day rafting with time to spare. We'll get you back to our office and on your way to Glacier National Park by 3pm.
If you find that you've got an extra day and you want more than 5 hours on the water, our overnight rafting trips are the perfect Montana experience. What's better than spending all day rafting with our guides and then have the best backcountry meal at a riverside campground? At the end of the day, you'll get to cozy up in your tent and sleep beneath the stars with only the sounds of the rushing river to lull you to sleep.
DAY FOUR: FISHING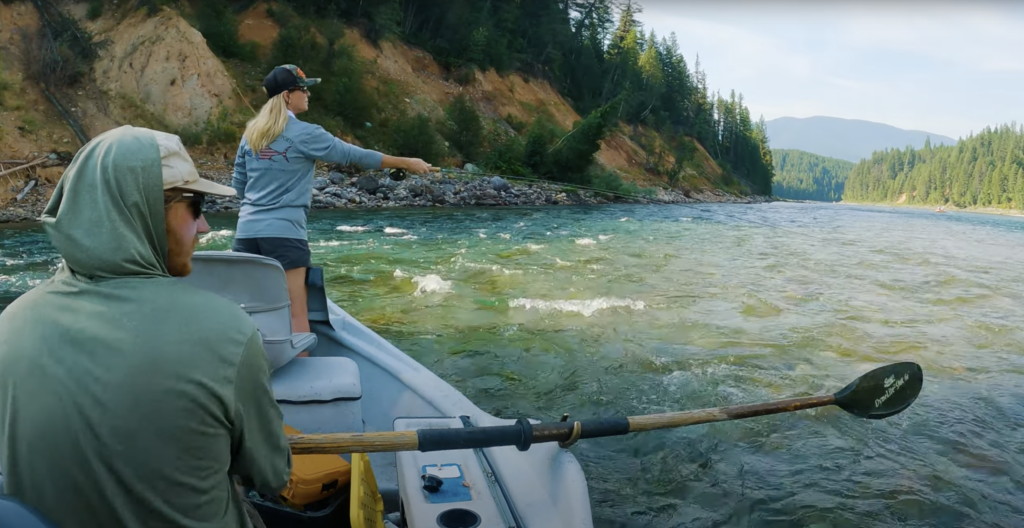 Have you ever gone fly fishing in Montana? If the answer is no, you're definitely missing out. We fish the waters of The Middle Fork & North Fork of The Flathead River. Whether you're looking for peace and solitude, an epic experience or the trophy of a lifetime, you'll find it here. Our fishing trips are perfect for experts and novices alike. Let our guides take you down the river and teach you about the fish species, the surrounding area and how to land that perfect fish for all the bragging rights.
For an experience you'll never forget, our 5-day trip Smith River trip is something we do once a year. The Smith River is Montana's only permitted river and flows through largely private lands. The only public access points are at the Camp Baker put in and the Eden Bridge take out. This combination of factors means the Smith is Montana's least crowded and least pressured river. This stretch winds 60 miles through a stunning limestone canyon in Montana's Big and Little Belt mountains. The healthy fishery supports Brown, Rainbow Trout, and the occasional Whitefish. Most fish are in the 10 – 20″ range, and most trips haul in at least one of those big, beautiful Browns. In short, the Smith is fly fishing paradise.
DAY 5: EXPLORE ON YOUR OWN
On your own adventure! Spend this day exploring other areas of Glacier National Park you weren't able to see the first few days. Head to Polebridge and explore The North Fork area of The Park. The Polebridge Mercantile features classic pastries and a gift shop for all those back home you want to surprise. Rent a bike from us and take it on any other paved roads throughout The Park. Try out Camas Road or Going-to-the-Sun Road beginning in St. Mary.
If you're still looking for more rafting, hiking, fishing or biking, we'd be thrilled to have you back for more! Head out on a hike you didn't get to experience, go on a whitewater trip if you have already floated the scenic section, spend more time perfecting your cast and catching fish or explore Glacier National Park by bike.
Have more questions about planning a trip to Glacier National Park? Want to raft, hike, fish, bike or stay with us? Fill out the form below!