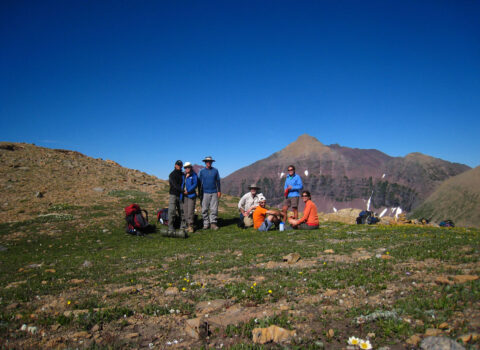 Private Guided Day Hikes in Glacier National Park
Private, Custom Glacier Hikes
If you want to hike with just your friends and family, a private, custom guided day hike is for you! Let us know when and where you want to go. Don't worry – if you don't know, we can help you choose!
Your guide can meet you at your hotel or campground if you are staying in Glacier National Park. Typically, our guided day hikes cover 8 to 12 miles, but we will personalize your trip to fit the hiking abilities and interests of your group. Sometimes, we'll put together several smaller hikes and tour a larger area of the park over the course of a day – this is an especially great option for children.
Inquire Here!
Pricing
Price: Flat fee of $925 for a group of 1 to 5 people. If a group has 6 or more people, the rate is $185 per person.
Additional Fees: Glacier National Park Entrance Fee (not included in price)
Guide Tip: Industry rate is 18-20% (not included in price)
Specials
Plan Your Trip
Trip Details
Difficulty: Easy, Family Friendly, Moderate, or Advanced – you choose!
Dates: Mid-May through mid-October. Book on line or contact us if you don't see a date that you'd like. info@glacierguides.com. Or call 406 387 5555.
Trip Duration: 1 day
What's Included, What to Bring
What should I bring? Day pack to carry water bottle, provided lunch, camera/phone, binoculars, rain coat, fleece, and your Glacier National Park Pass. Comfortable walking shoes.
Got gear? Osprey daypacks, baby backpack carriers, Black Diamond hiking poles, and other gear available for rent! You'll need a daypack to carry your lunch and water in. Don't forget your water bottles, too!
View Packing List
Itinerary & Additional Details
What's Included?
Transportation is included. Lunch is, too! Our trail lunches are largely locally and organically sourced. They generally include homemade cookies, fresh fruits and vegetables, chips, and your choice of a turkey, ham, roast beef, or veggie sandwiches. Our in-house kitchen can accommodate nearly any dietary restriction or preference – just ask in advance, please. You'll need a daypack to carry your lunch and water. Don't forget your water bottles, too!
Private, Custom Day Hike Meeting Notes
Please call our office the day before departure at 406-387-5555 to check-in. The day of the trip, arrive at our office by 7:00 AM to meet your guide, unless other arrangements have been made. We are located 1.5 miles west of West Glacier on Highway 2. Look for our Glacier Guides and Montana Raft sign on the north side of the highway, between mile marker 151 and 152. Our property is just off the highway, tucked in the trees.
Other Options For Hiking In Glacier National Park
If our custom guided day hike trips are full, don't forget that we offer regularly scheduled guided hikes in Glacier every day of the summer! Sunday's hike is Firebrand Pass, Monday is our Introduction to Glacier hike, Tuesdays we walk the Highline Trail, Wednesdays are for waterfalls, Thursdays we tackle Piegan Pass, Fridays we enjoy Iceberg Lake, and Saturdays we climb Scenic Point.
Looking for a private backpacking trip with your family? Find out more here.
Please call us and we'll be happy to help you choose the right experience for your group. 406-387-5555
Private Combination Adventure Packages
Want to hike with your nearest and dearest one day, and have a different kind of fun with them on another? Let us take you whitewater rafting, scenic floating, overnight rafting, fly fishing, overnight fly fishing, or bicycling in Glacier National Park, too! We can always arrange for private experiences – just ask. info@glacierguides.com