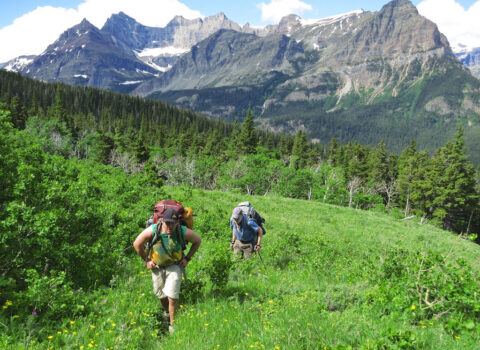 5 Day Glacier Challenge
The Glacier Challenge Adventure
We know the best hikes in Glacier National Park, and we know they're on your list. Are you ready for the Highline, Piegan Pass, Iceberg Lake, and Dawson-Pitamakan all in one week? Does the idea of sleeping under the star-studded Montana skies without carrying a heavy pack appeal to you? Read on to find out more about one of our most popular trips. Pro tip: this one always sells out early!
Book Now
Pricing
Price: $1900/person (13+ yrs)
Single Supplement for solo travelers: $50
Other: Glacier National Park entrance fee (not included in price)
Dinner on night 3 not included: Choose to have dinner at one of the quaint restaurants in Waterton before heading back to the US
Guide Tip: Industry rate is 18-20% (not included in price)
Specials
Plan Your Trip
Glacier Challenge Details
Difficulty: Moderate, Advanced
2024 Dates:
July 18th
July 25th
August 13th
August 30th
Trip Duration: 5 days
This trip is for strong hikers wanting to experience the very best hikes in Glacier. We call this trip "Glacier's Greatest Hits!"
All of these hikes are challenging and meant for advanced hikers. The mileage for each hike ranges from 12 to 19 miles, with shorter options of about 7 to 10 miles available. This trip is geared toward full days of hiking, traveling over stunning mountain passes, along the Continental Divide. You will need a passport for this trip since we spend one day in Canada.
Any gear not needed while hiking can be kept in our gear trailer. Most nights we come back to hot showers, camp-style cooking, and our comfy tents! On the last night, camping may be more primitive.  Dinner on the third night will be on your own at one of the local restaurants in Waterton.
Are you looking for backpacking trips? Learn more about those here.
Itinerary & Additional Details
Day 1 – Logan Pass to Loop, via the iconic Highline Trail
Meet at our office just outside of West Glacier at 7:30 AM. You'll meet your guide and go over your gear. Then, enjoy driving Glacier's historic Going-to-the-Sun Road to Logan Pass. Surrounded by glacially carved peaks, hike the Highline Trail to Granite Park Chalet and then down to the Loop. The full Highline Trail experience is 11.9 miles.
If you prefer a shorter day hike, you can choose to hike the Highline Trail to Haystack Butte and back. This option is about 7 miles round trip. Whether you opt for the long option or the short, we'll be hiking along the Garden Wall through meadows of wildflowers. Your guides will help you look for bighorn sheep, marmots, and mountain goats along the way. After our hike, we will drive the Going-to-the-Sun-Road to St. Mary. We'll make camp in St. Mary, Montana. Hot showers are available. Your guides will prepare dinner after your arrival.
Let's Eat!
On the subject of meals, you will be amazed by what our guides will cook for you on this trip. We like to eat, and it shows. Our in house kitchen staff, who assists our guides in trip preparations, believes in sourcing locally, purchasing organic when possible, and fueling your body with the best available, homemade food. You won't find commercially freeze dried one bag meals on this trip! We can also accommodate nearly any dietary restriction or preference – just ask in advance. Meals are prepared by your guides using fresh ingredients and exclusive Glacier Guides and Montana Raft recipes. Guides are trained each year in safe food handling practices.
Day 2 – Siyeh Bend to Many Glacier Valley, via Piegan Pass
After a cup of steaming, organic coffee or tea, and a hearty breakfast, we'll drive a short distance back along the Going to the Sun Road to the Siyeh Bend trailhead. From there, we'll hike to Piegan Pass and then down to the Many Glacier Hotel. This fabulous hike is about 14.3 miles long.
If you prefer a shorter distance today, you may choose to hike to Piegan Pass and back. That option is about 9 miles roundtrip. Expect fantastic views of glaciers, open meadows, and alpine lakes along either route! We'll also get a rare glimpse of the eastern face of the Garden Wall. At the end of the day, we'll return to our camp in St. Mary for a second night. Hot showers available!
Day 3 – Explore Waterton Lake, Canada. Rest Day!
After breakfast we'll head to Canada and spend the day exploring the quaint town of Waterton. We'll provide shuttles twice a day for drop off and pick up for various on your own activities. Explore the Prince of Wales hotel, bring a chair and relax by the lake and or go on a cruise with Waterton Shoreline Cruises. Watch for wildlife and take short walks and take lots of photos. At the end of the day, enjoy a delicious dinner at one on the local restaurants before heading back to St. Mary for a third night. Hot showers available!
Day 4 – Iceberg Lake and Ptarmigan Tunnel
Today, we'll explore the exquisite Many Glacier valley. We'll hike to Iceberg Lake, a trail known for its abundance of wildlife and wildflowers, and of course, its turquoise, iceberg studded lake, tucked into a glacial cirque. The hike to Iceberg and back is 9.8 miles round trip.
If you're looking for an even bigger Glacier challenge, add an additional 6.4 miles to your day by trekking on to Ptarmigan Tunnel. Ptarmigan Tunnel was blasted through the solid rock of the Ptarmigan Wall in 1931 and overlooks the remote backcountry of the Belly River. It offers majestic views of Elizabeth Lake with Natoas Peak rising above it.
After hiking, we drive further south to the Two Medicine area of Glacier. We'll camp in the East Glacier area. The campsite may be primitive on this final night, and showers may not be available.
Day 5 – Two Medicine Area, via Dawson-Pitamakin 
If you've read much about the best hikes in Glacier, then you've definitely heard about Pitamakin Pass and Dawson Pass, commonly called Dawson-Pitamakin. Today's hike will traverse the Continental Divide between these two incredibly beautiful alpine passes. This is a 18.9 mile loop hike and an amazing way to top off your Glacier Challenge.
Today's short option is to Scenic Point and back, for a total of 7.6 miles.
So Long, Farewell
We will return to West Glacier in the late afternoon or early evening, so be sure to inquire about late check in at your hotel. And let us know if you need a recommendation on West Glacier lodging!
Glacier Challenge Meeting Notes
Guests should call our office the day prior to departure at 406-387-5555 to check-in. The day of the Glacier Challenge departure, arrive at our office at 7:30 AM to meet your guide.  Click on directions for how to find us.
Hiking & Backpacking Gallery