Glacier National Park Vacation Rental
If you're looking for the perfect Glacier National Park vacation rental for your family or a larger group, you've found it!
The Glacier Guides Aspen View Guest House has 3 bedrooms, a loft area and 2.5 bathrooms. It is conveniently located 2.9 miles from the Glacier Park entrance in West Glacier.
About Glacier Guides Aspen View Guest House
We are fully licensed by the State of Montana as a Public Accommodation. We've equipped the Guest House with anything you might need throughout your stay. You'll enjoy air conditioning on the main level and radiant heat in the tile floors. The entire house is extremely well insulated. Verizon cell service is typically good at this location. There is also a landline available. Free wireless internet is available throughout the house – though keep in mind that Montana is known for its wide open spaces, not its WiFi.
---
2023/2024 Glacier National Park Vacation Rental Rates
Regular season rates: June 15 to September 30 – $775 a night, and $175 cleaning fee per stay. 8% Montana accommodations tax not included.
Early season rates: May 7th to June 14th – $450 a night, and $175 cleaning fee per stay. 8% Montana accommodations tax not included.
Off season rates: October 1st 2023 to May 6th, 2024 – $390 a night, and $175 cleaning fee per stay. 8% Montana accommodations tax not included.
Four night minimum stay required in July and August. In other months, a three night minimum required.
No pets.
Check in is at 4:30 pm
If you will be arriving after 6 pm, please let the office know. 406-387-5555
Check out is at 10 am.
We do not offer an airport shuttle, but you can learn about local transportation companies here.
---
Amenities
WiFi
Satellite TV
Towels and linens
Fully equipped kitchen
Washer/dryer
Outside patio area
Large parking area for RVs, campers, boat trailers, etc.
The Details
This spacious 4 bedroom, 3 bath Glacier National Park vacation rental can easily accomodate 6 people and features all the comforts of home. Enjoy the full size kitchen, living room, dining area, and entertainment area. For sleeping, there are two Master suites, a 2nd smaller bedroom and a bunk room for the kids. The loft area upstairs has 3 beds, an entertainment area and a separate bathroom.
What To Do While You're Here
Explore Glacier National Park! In the summertime, this vacation rental is a great base for rafting, biking, hiking, and fishing with Glacier Guides and Montana Raft. The Guest House provides easy access for nordic Glacier National Park adventures in winter. It is located about 45 minutes from the chairlifts at Whitefish Mountain Resort.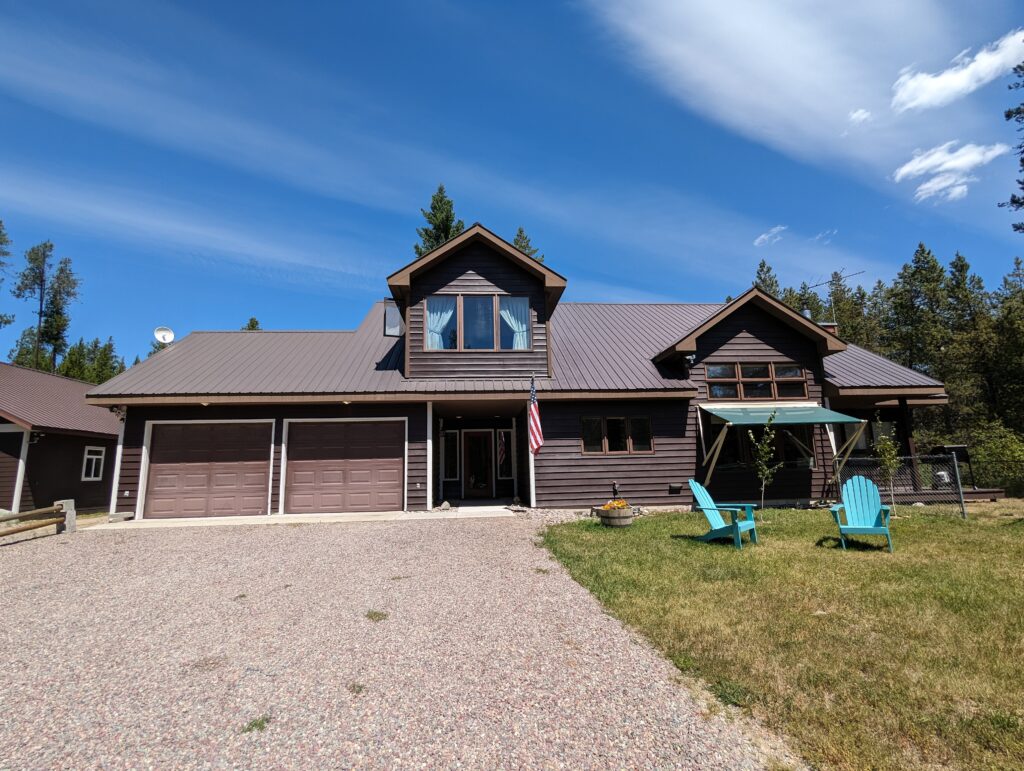 ---
More Information
Main Level
On the main level, you'll find a dining area, living room with rock fireplace, spacious kitchen and a quiant breakfast nook featuring large windows. Stare outside and take in the mountain views while you sip your morning coffee.
Also on the main level are three bedrooms. The master bedroom has one queen bed with an en suite bathroom. The second bedroom has one queen bed with a full bathroom accessed off the hall. The third bedroom is the bunk room, featuring rustic log walls, an amoire and bunk beds making it the perfect space for kids.
Washer, dryer, ironing board, and utility sink are also located on this level.
Upstairs
Upstairs features a full loft, a bunk bed and two more queen size beds, plenty of sleeping space for your entire group! There is also an entertainment area with a TV and a fold away ping pong table.
Outside
Outside, you'll find 8 spacious treed acres, a seating area and a grill. Enjoy the views of Strawberry Mountain and Desert Mountain in the Montana sunshine!
The property also features 2 historic cabins, one an original homestead and the other an old Forest Service cabin.
How Close Is The Aspen View House to Glacier National Park?
The location is very convenient to the main entrance to Glacier National Park, 2.9 miles away. You'll feel removed from the hustle and bustle of town in the house's secluded wooded setting, but you're just a 2 minute drive from the town of West Glacier. You can safely and easily bike or walk to West Glacier! The Gateway to Glacier Bike Path is nearby, making it easy to also bike into the neighboring towns of Coram, Martin City, and Hungry Horse.
Adventures From Your Glacier National Park Vacation Rental
Glacier National Park outfitter and concession partner Glacier Guides and Montana Raft is located just 2.1 miles away. We encourage you to raft, hike, fish, and bike on your Glacier National Park vacation, and we are happy to set up those experiences for you with Glacier Guides and Montana Raft! Belton Stage Community Park is just under 10 acres and less than a mile from The Aspen House. Many people use this park to rent for parties or weddings. Take a look at Flathead County Parks and Recreation page for more info, rental prices and availability.
---
Location & Directions
For Check In: We will leave instructions prior to your arrival.
While You're Staying With Us: if you are looking for directions to the Aspen View Guest House itself, here's a link to Google Maps. Physical address is 1130 Belton Stage, West Glacier MT 59936.
---
Main Level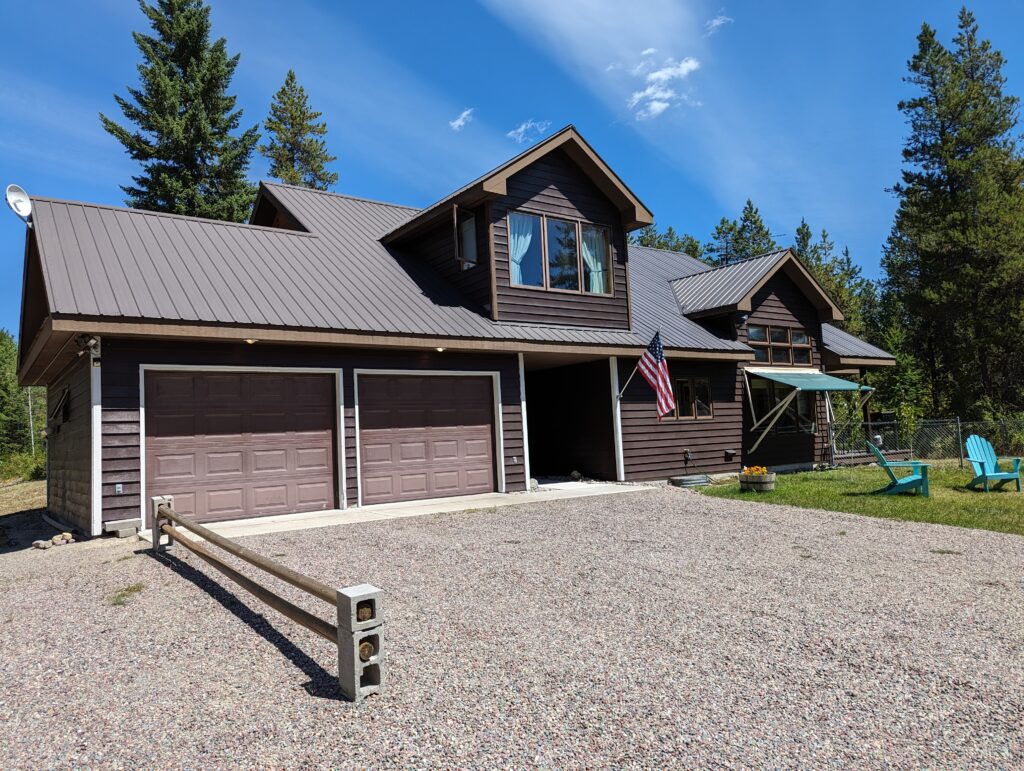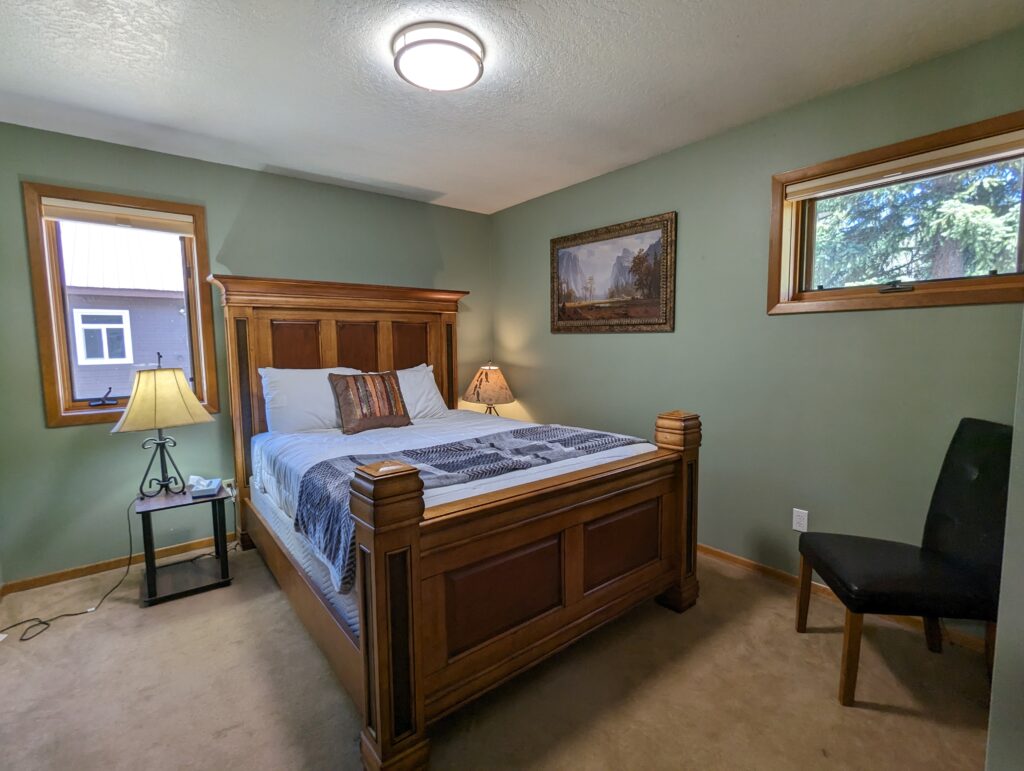 Second Level