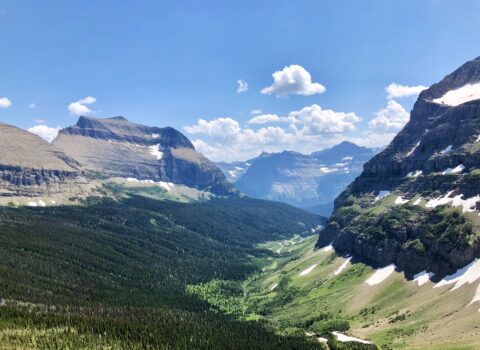 Every Thursday Hike – Piegan Pass Glacier National Park
Piegan Pass Trip
This advanced hike to Piegan Pass has fantastic views of peaks, glaciers, and wildflower filled meadows. We'll get a rare glimpse of the eastern face of the Garden Wall, too! We will hike the Siyeh Pass trail, an advanced hike of just over 9 miles, with 1,850 feet of elevation gain and loss.
Book Now
Pricing
Price: $165/person (10+ yrs)
Other: Glacier National Park Entrance Fee (not included in price)
Guide Tip: Industry rate is 18-20% (not included in price)
Specials
Plan Your Trip
Trip Details
Difficulty: Advanced, 9.2 miles, 1,850 feet elevation gain
Dates: Thursdays from July 4th through September 26th
Trip Duration: 1 Day
*Reservations required in advance.
What's Included, What to Bring
What is provided? Interpretive Guide with wilderness first aid and bear management training, van transport, lunch and Vehicle Reservation to Glacier National Park
What should I bring? Day pack to carry water bottle, lunch (provided), camera/phone, binoculars, rain coat, fleece, and your Glacier National Park Pass. Comfortable hiking shoes.
View Packing List
Itinerary & Additional Details
Times are approximate. Trips after Labor Day meet an hour later.
7:00 am – 8:45 am: Meet your guide at our West Glacier office at 7:00 am. Your guide will do a quick orientation, check over your gear for the day, and go over last minute details. We will drive the iconic Going to the Sun Road en route to the trailhead at Siyeh Bend.
8:45 – 11:45 am: This trail winds through a subalpine fir and spruce forest and into wildflower laden meadows. Soon we are hiking above treeline towards the pass. There are stunning views in every direction of the Jackson Glacier basin and the Continental Divide. Our guides are passionate and encyclopedic about Glacier National Park — no matter your level of hiking experience, we promise they'll teach you something new.
11:45am -12:45 pm: Upon arriving at Piegan Pass, we'll relax and enjoy a hearty and homemade trail lunch. Our trail lunches are largely locally and organically sourced, and generally include homemade cookies, fresh fruit and vegetables, chips, and your choice of a turkey, ham, roast beef, or veggie sandwich. Our in house kitchen can accommodate nearly any dietary restriction or preference – just ask!
We'll eat looking out over the east side of the Garden Wall and down towards the Many Glacier Valley. The views here are unforgettable!
12:45 – 5:15 pm: We return the way that we came. On the way home, your guide will answer any questions that you might have about the park. You'll end the day knowing more about Glacier National Park than you ever expected! We typically get back to the Glacier Guides and Montana Raft office around 5:15 pm.
Special Considerations for Piegan Pass
Depending on the group and the weather, not everyone in the group may make it to the pass. Our group or a portion of our group may have lunch before the pass and turn around.
Reservations required in advance. This trail can be very busy during the middle of the summer.
Meeting Notes: Guests are welcome to check in with us the day prior to departure: 406-387-5555 or info@glacierguides.com. The day of the trip please arrive at our office by 7:00 AM. Trips after Labor Day meet at 8 AM. Click on directions for how to find us.