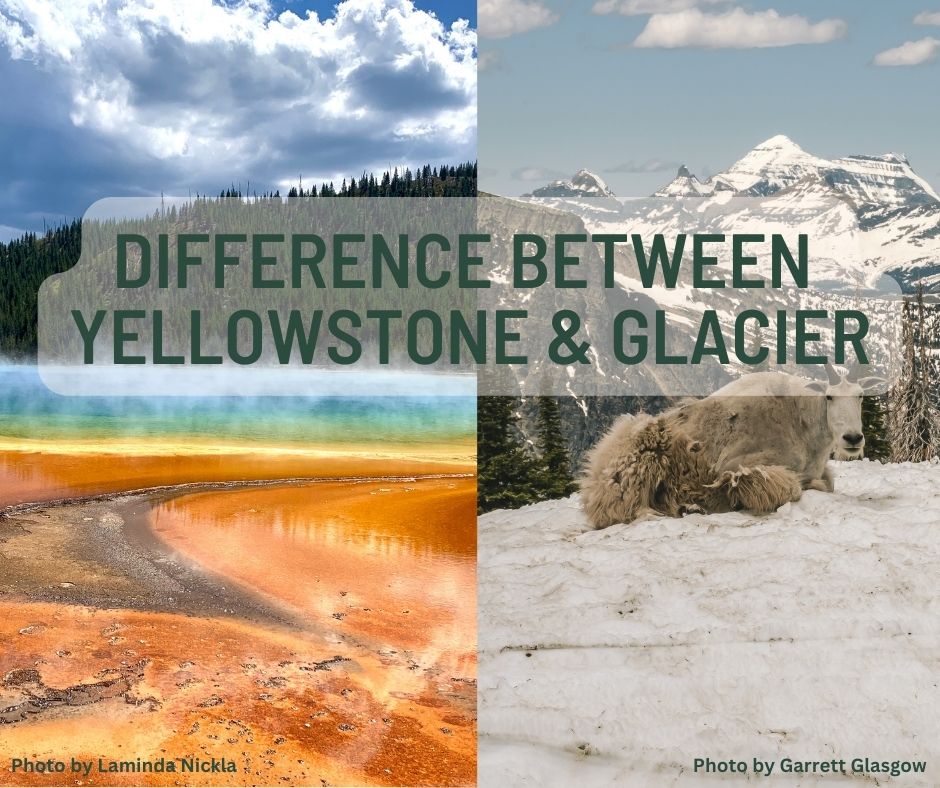 At Glacier Guides and Montana Raft, we like to say if you're lucky enough to live in Montana, you're lucky enough! Montana boasts two gorgeous National Parks, being Glacier National Park, which also dips into Canada, and Yellowstone National Park, which is also in Idaho and Wyoming. Yellowstone was founded March 1st, 1872, making it the oldest park in the United States while Glacier was founded May 11th, 1910.
Traveling to a National Park for vacation has become increasingly more popular in the last few years for many reasons — the cost of travel isn't over the top, they're fairly easy to get to by car and it allows for more outdoor recreation than what other locations might offer. Each park pulls in well over a million visitors each year, with that number increasing since the days of the pandemic. Yellowstone saw 4,860,537 visitors in 2021 and Glacier saw just over 3 million, which was substantially more for each place compared to 2019 and 2020 numbers. In the age of the internet, travel influencers and social media, planning a vacation to remote locations has never been easier.
Glacier and Yellowstone have been featured in magazines, blogs, social media accounts and even fictional television series. While there were rumors that the popularity might dwindle as the pandemic eased, these other elements have made traveling to Montana ever more popular. If Montana has been on your vacation bucket list but you're wondering which Park suites you best, we're here to help you make that decision.
*Though, selfishly, we hope you head towards Glacier to raft, hike, fish, bike or stay with us.*
WHICH PARK IS BEST FOR HIKING
Both Parks are actually great for hiking, but it depends on the type of hiking or backpacking you want. Glacier National Park offers 700 miles of trails featuring dramatic peaks and high alpine lakes. In Yellowstone, you've got 1,100 miles of hikes for all abilities and you're going to see more thermal activity like boiling hot pots and shooting geyers. While the overall elevation of Yellowstone is actually higher than that in Glacier, the trails in Yellowstone seem to be a bit less rugged and more meandering boardwalks.
If you're headed to Glacier and hoping for a few day hikes, take a look at our options, we offer a different hike every day of the week!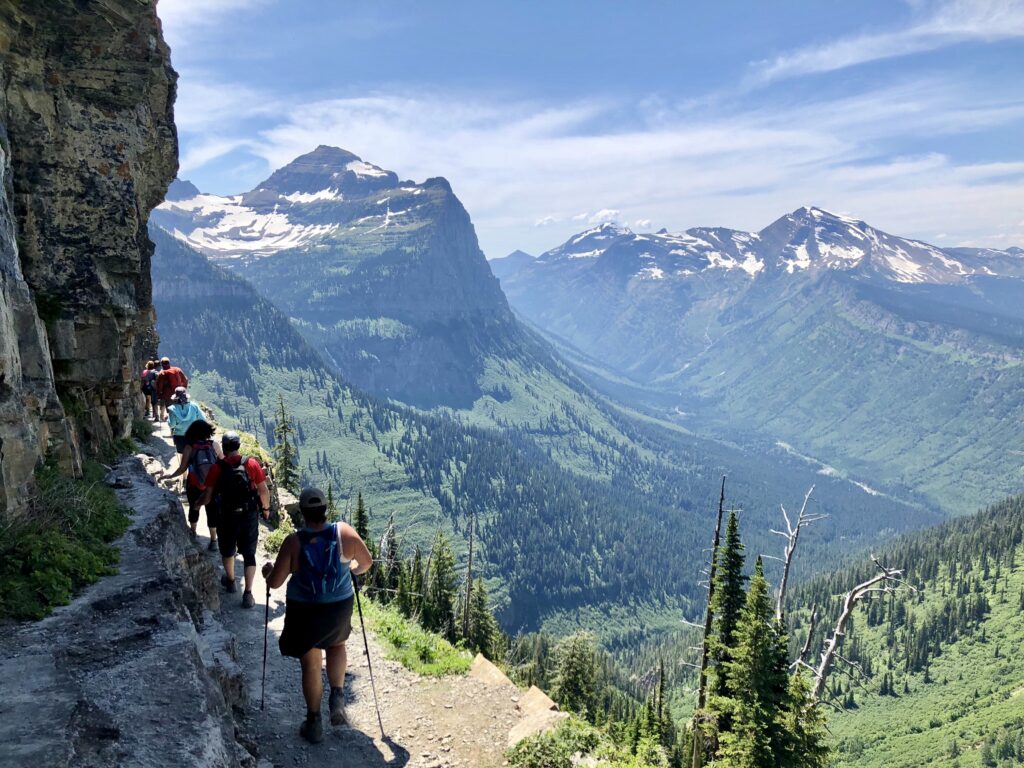 I JUST WANT TO SEE A LOT OF WILDLIFEE, WHICH PARK SHOULD I CHOOSE?
Each park offers hundreds of species of animals and a great chance for wildlife viewing. The animals in Glacier National Park are going to be a bit more elusive. However, watching bighorn sheep and mountain goats scale the side of a steep hill, cliff or mountain is always an amazing experience. Yellowstone and Glacier have many of the same animals that live in their hills, but one big difference for Yellowstone is the bison herds — it's near impossible to visit Yellowstone and not see one bison. Keep in mind, as is true with any wild animal, there is never a guarantee you'll have the chance to see one, and it's not a petting zoo. Give them their space and admire from a distance to keep both you and the animal safe.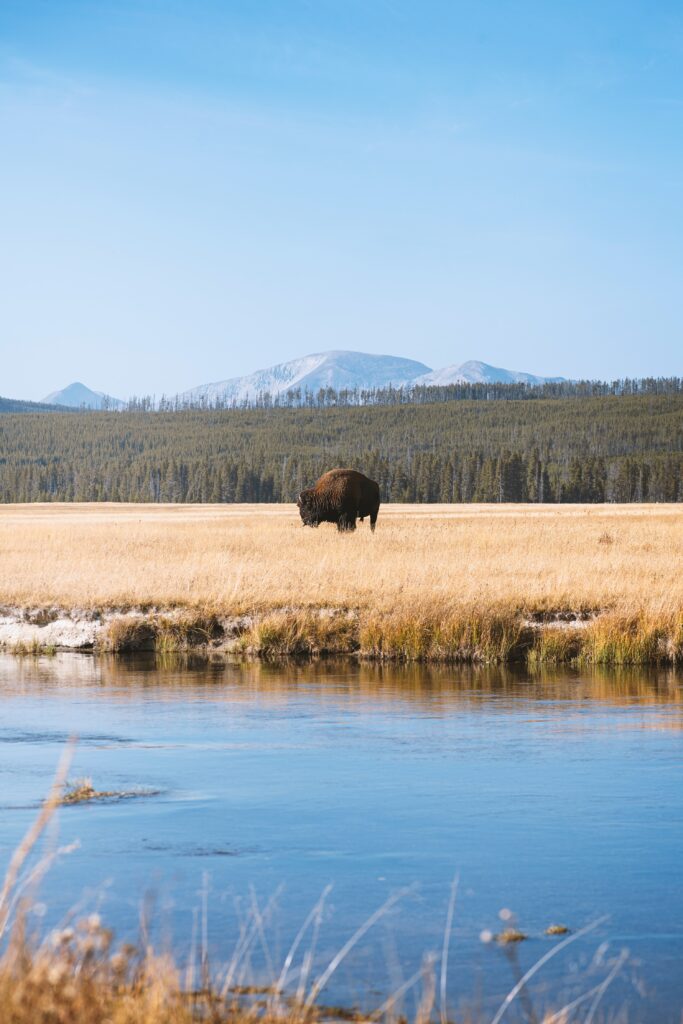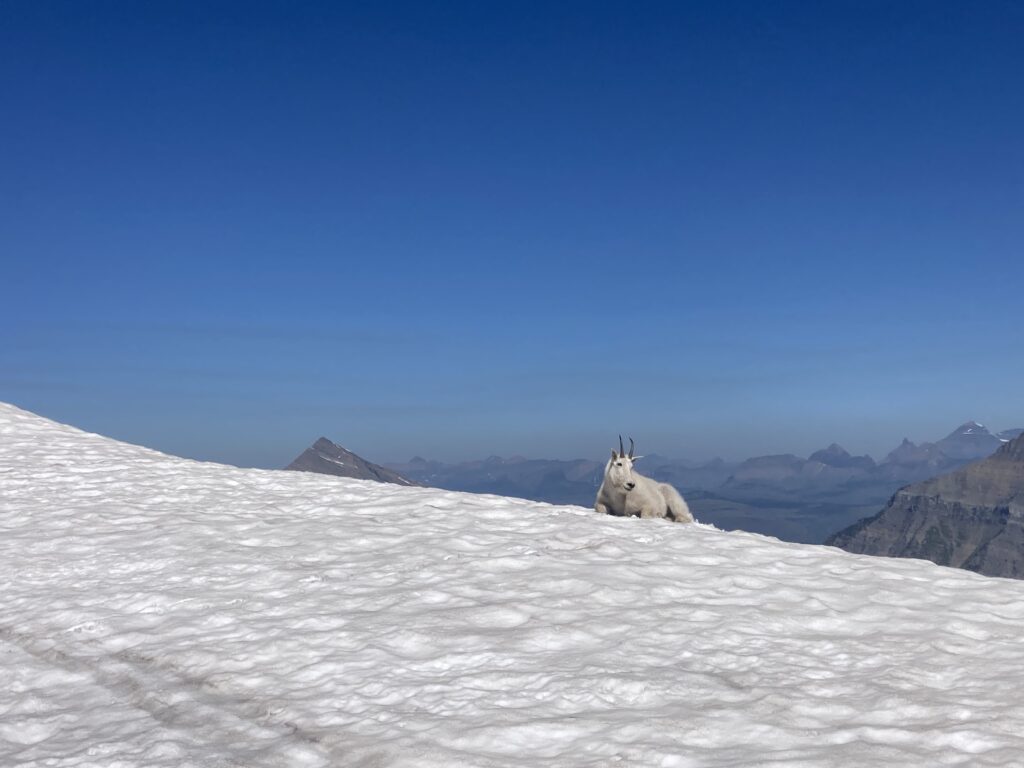 WE ARE PLANNING A VISIT IN THE WINTER, WHICH PARK IS BEST FOR THAT?
Glacier National Park's trails are not maintained in the winter and therefore, many of the big, rugged trails that visitors flock to see, are not accessible between early November and late April. While there are possibilities of cross country skiing or snowshoeing at a few spots in Glacier National Park, Yellowstone offers much more in the realm of winter recreating. There are companies that offer snowmobile tours, snowshoe tours and snowcoach transportation from any entrance of The Park to Old Faithful and Grand Canyon of Yellowstone. If the weather is too cold to spend time outside, The Old Faithful Visitor Center and Museum is open in December and The Albright Visitor Center near Mammoth Hot Springs is open year round. Adventuring in Glacier in the winter requires you to be a bit more self sufficient and the trail options are limited. A few great winter options in Glacier include cross country skiing the road that leads to Bowman Lake, snowshoeing past the closure at Avalanche Lake or simply visiting Lake McDonald in Apgar for an epic sunset over the lake.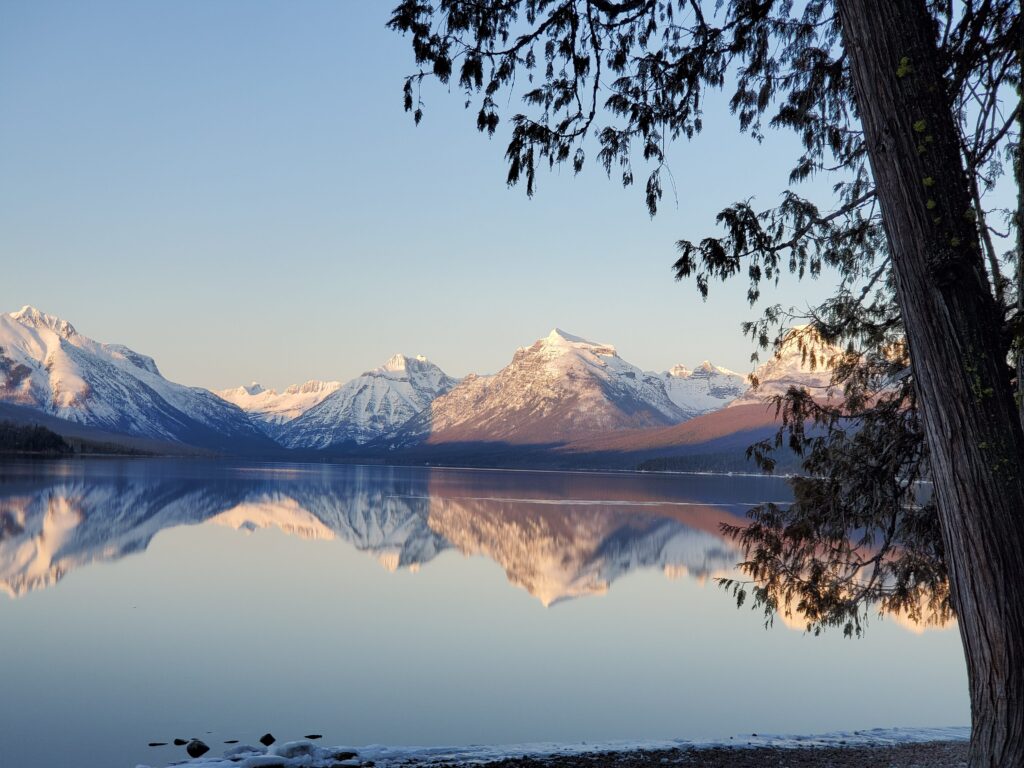 WHICH PARK IS MORE AFFORDABLE?
National Park's lend themselves to being afforable because of the several backpacking and camping options. However, if that isn't your cup of tea and you're looking to stay in a lodge or hotel, Glacier National Park is going to be a bit more afforadable than Yellowstone. Either way, it's a good idea to reserve well before you plan to vacation (5-6 months is our recommendation) as hotels and lodges book quickly once summer rolls around. As far as Glacier National Park is concerned, WE think you should check out our cozy lodge, located a stone's throw from the West Entrance. Traveling with a large group? No problem! Take a look at our Aspen View Guest House or our Cedar View Guest House, both of which are less than 3 miles to "downtown" West Glacier.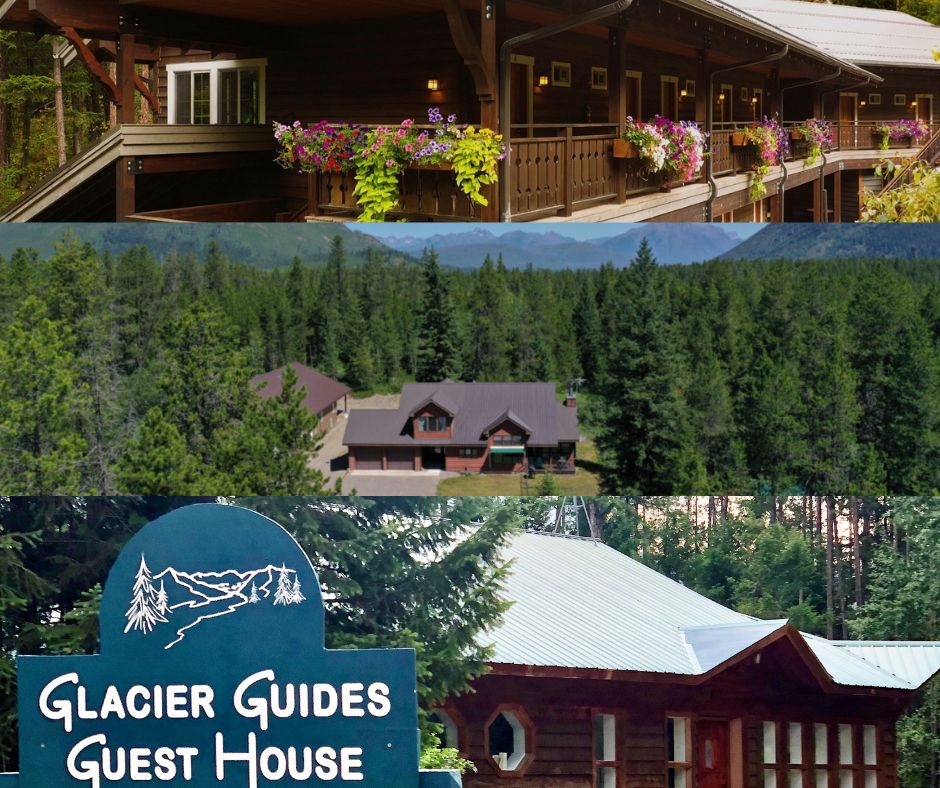 WHICH PARK OFFERS BETTER OPPORTUNITY TO TAKE A SHUTTLE?
Yellowstone National Park doesn't offer a shuttle that accesses a large portion of the park like Glacier National Park does. Glacier has a fare free shuttle that people can catch at several stops and ride the Going-to-the-Sun Road. Many of these shuttle stops include points of interest and hiking trails nearby, which makes it a great way to see The Park without your car. Here's the trick, though. The Park's fare free shuttle does NOT drive you into The Park. Instead, you need to catch this shuttle once you're already inside of GNP. Make sure you get your vehicle reservation in order to ride this shuttle. Glacier Guides and Montana Raft also offers a bike shuttle option, which is a great way to get you and your bike into the park. Or, you can rent a bike or e-bike from us and ride a bike into The Park, these are both sneaky ways of getting into The Park without a vehicle reservation. Have more questions on Glacier National Park's vehicle reservation system? We have an entire FAQ about it!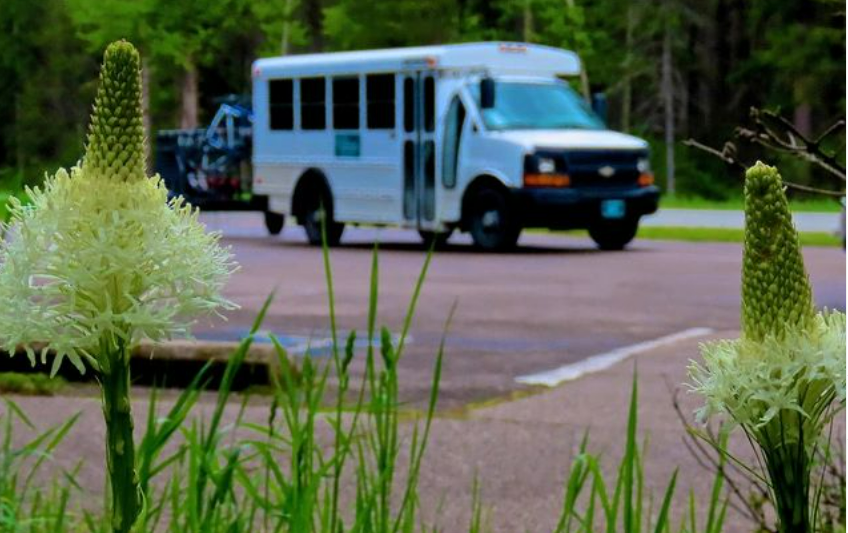 SAY I WANT TO GO ON A GUIDED BACKPACKING TRIP. WHERE SHOULD I GO?
You've come to the right place! Glacier Guides and Montana Raft offers 3, 4, 5 and 6 night backpacking trips in Glacier National Park. With over 700 miles of trails, the choices are extensive. We can accommodate all ability and enthusiasm levels. Glacier is huge and the choices can be overwhelming! Pick up the phone and call us to discuss which backpacking trip will bring you and yours the most joy.
Pro Tip: Did you get your own permit and decide you'd like a guide to help with logistics, education, and entertainment on your trip? We can still take you. See information about Custom Backpacking trips here.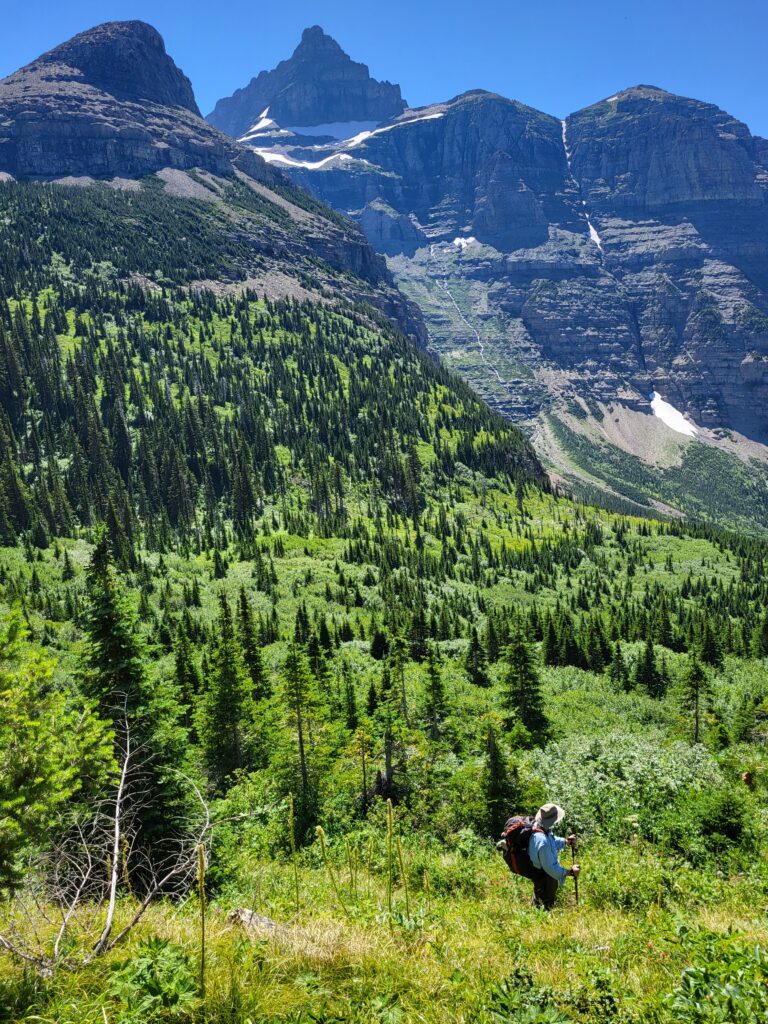 BOTTOM LINE:
While Yellowstone & Glacier may be wildly different when it comes to geographical features, they both offer visitors jaw dropping natural wonders that are perfect for whatever getaway fits your fancy.
LOVE GLACIER NATIONAL PARK, WANT TO VISIT AND NEED HELP WITH A SUMMER ITINERARY?
No problem, we've got you covered! From rafting, hiking, fishing, biking, lodging, equipment rentals, shuttles, and more – we can help. Check out our website or use the form below to ask us for help planning your adventures.
p.s. we've written lots of Glacier itineraries over the years — so many ideas for you here! You can subscribe to our blog here.