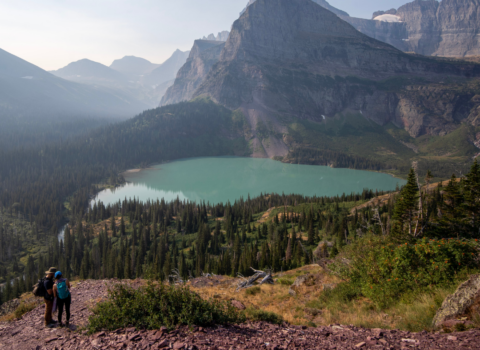 Private Guided Backpacking Glacier National Park
A Personalized Experience
**Accepting reservations for 2024. We can plan amazing permits & routes for the summer. Send us and email or give us a call for more information and to book today!**

Send us an email (info@glacierguides.com) or give us a call (406 387 5555).

A private, custom guided backpacking trip in Glacier National Park is ideal for those hikers who have special backpacking requests, such as less mileage or more layover days. Let us know when and where you want to go. Don't worry – if you don't know, we can help you choose!
Or maybe there's a specific itinerary you're interested in — we can never guarantee these, but we would love to lend our expertise to your dream trip logistics.
Some of our guests simply prefer to backpack only with family and friends — although we will say that since 1983 it has been a pleasure to watch strangers turn into close friends on plenty of our regularly scheduled backpacking trips. But we get it, sometimes you just feel like you have enough friends already.
Book Now
Pricing
Price Per Person: $320/person/day
Requirements: 4 person / $1280/day, 2 day / $2560 minimum
Other: Glacier National Park entrance fee (not included in price)
Guide Tip: Industry rate is 18-20% (not included in price)
Specials
Plan Your Trip
Trip Dates & Details
Difficulty: Easy, Family Friendly, Moderate, or Advanced – you choose!
Dates: 06/01 to 09/30, depending on guide availability. Please give us a call at 406-387-5555 or email us-(info@glacierguides.com) to explore private, custom backpacking in Glacier possibilities.
Trip Duration: 2 to 6 Days – you choose!
Gear Rental: Need to rent some gear for your adventure? No problem! Take a look at our Glacier National Park Equipment Rentals page and reserve what you need when you book!
Reserve Early
When you choose a private, custom guided backpacking trip in Glacier National Park, you choose when and where you'd like to go and who you'd like to hike with! We recommend reserving these trips as early as possible. We will need to submit for all backcountry itinerary requests in early February. You'll want to book no later than mid-January.

What Should I Bring?
What's provided? Do you need a sleeping bag? View the complete packing list for additional information.
View Packing List
Additional Trip Details
What's Included In Private, Custom Backpacking In Glacier Experiences?
Transportation is included, and we can arrange to pick you up from hotels and campgrounds in and around Glacier National Park. Also included is the Vehicle Reservation to Glacier National Park
All meals from lunch on day 1 of your trip through lunch on the last day of your trip are included, too. You will be amazed by what our guides cook for you in the backcountry! We like to eat, and it shows. Our in-house kitchen staff, who assists our guides in trip preparations, believes in sourcing locally, purchasing organic when possible, and fueling your body with the best available, homemade food. You won't find commercially freeze dried one bag meals on this trip! We can also accommodate nearly any dietary restriction or preference – just ask in advance, please.
Private, Custom Backpacking In Glacier Meeting Notes
Please call our office the day before departure at 406-387-5555 to check-in.  We are located 1.5 miles west of West Glacier on Highway 2. Look for our Glacier Guides and Montana Raft sign on the north side of the highway, between mile marker 151 and 152. Our property is just off the highway, tucked in the trees.
Private Combination Adventure Packages
Want to backpack with your nearest and dearest one day, and have a different kind of fun with them on another? Let us take you whitewater rafting, scenic floating, overnight rafting, fly fishing, overnight fly fishing, or bicycling in Glacier National Park, too! We can always arrange for private experiences – just ask. info@glacierguides.com
I Think I'd Rather Go Day Hiking
Prefer day hiking to backpacking? Don't forget that we offer regularly scheduled guided hikes in Glacier Monday through Saturday!
We can arrange for custom guided day hikes, too. Please e-mail or call us and we'll be happy to help you pick the right hike for your group. 406-387-5555
Frequently Asked Questions
Typical backpacking mileage ranges from 5 to 12 miles a day, with an average of 8 miles/day. We welcome your personalized mileage requests on a private, custom backpacking trip in Glacier, and will do our very best to accommodate them. However, we cannot guarantee them due to the nature of the permit system in Glacier National Park.
On longer trips we sometimes incorporate a layover day. This allows guests to explore the park without a heavy pack. Early season (through June and into first part of July) backpacking trips tend to base camp more, and then day hike to explore the alpine passes. This is due to winter snows lingering in the high country.
Elevation gain and loss on an average day will be about 500 to 800 feet, while a more strenuous day will be 2,000 to 3,000 feet, i.e. if you are hiking over a pass. As always, we welcome your requests, but cannot guarantee them.
Weight of your backpack will depend on the weight of what you choose to bring. Depending on the length of your trip, your guide will give you 2-8 pounds of food to add to your bag. Most people end up with a pack weight of around 40 pounds. Remember, ounces make pounds! And we offer porter services, too.
Our guides pack and prepare all meals and are great backcountry cooks. You'll enjoy delicious, largely locally sourced and organic meals. We are happy to accommodate special dietary needs upon advanced request. Please let us know what they are when you book your trip.
Group size can be no larger than 8 people per backcountry trip. 7 guests per guide.
Don't forget your passport, because some of our trips during mid July through early September either start or end in Waterton, Canada! Please let us know at the time of booking if you don't have a passport
Notice from the National Park Service re Backpacking Permits
Glacier National Park is a dynamic resource where natural events and conditions are unpredictable. There is a possibility that trail and campground closures, campground environmental conditions, natural events (such as fire, aggressive animals, etc) or other NPS management actions may render a particular itinerary impossible. In the event that this occurs, every effort will be made to provide you with an alternate itinerary. THERE IS NO GUARANTEE THAT YOUR ROUTE WILL BE PASSABLE OR ITINERARY AVAILABLE WHEN YOU ARRIVE. ADVANCE RESERVATION FEES ARE NON-REFUNDABLE.
Hiking & Backpacking Gallery