In the months of May and June (and sometimes early July!) the place is be is Going-to-the-Sun Road on a bike or an e-bike. Biking the Going-to-the-Sun Road is definitely a bucket list activity, especially in the spring before it opens to cars. We guide this incredible adventure and it's an experience we would wish for everyone. When the road opens to cars, we don't run our guided trips, but we DO rent bikes and e-bikes all summer long.
Don't be disappointed if you arrive to find out the road is open to cars. First, check the NPS bike regulations and restrictions page, there are a few snippets in there that dive in to when you can travel in each direction. But also, we've put together a self-guided bike tour in Glacier National Park around West Glacier, Apgar and Fish Creek. This tour is great for early season, late season and families all summer long. We went on this bike tour, took some photos, and had the best time.
Rent Your Bike or E-Bike From Glacier Guides & Montana Raft!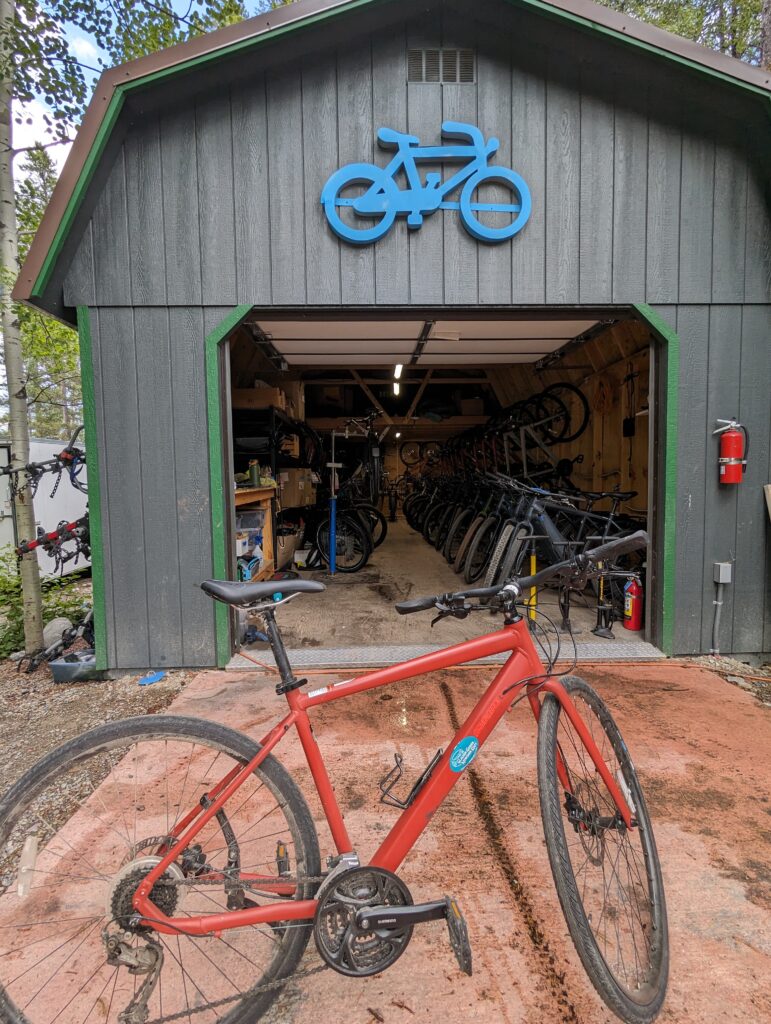 First things first. Bike or e-bike rental? Check! Self-guided map? Check! We're ready to go.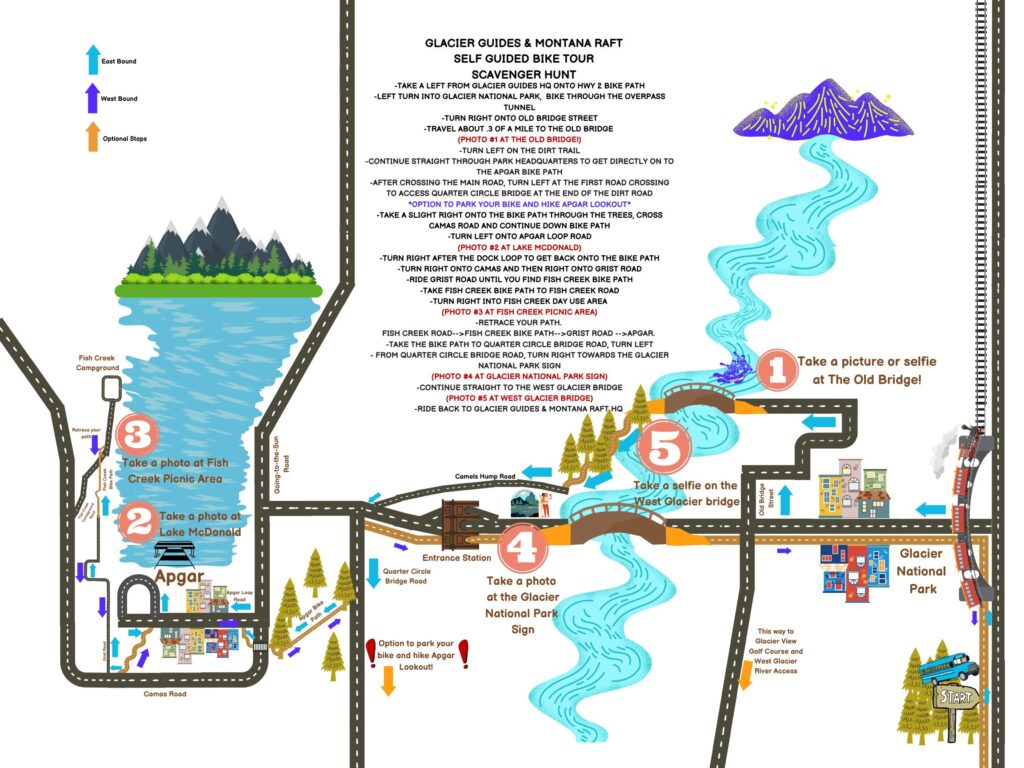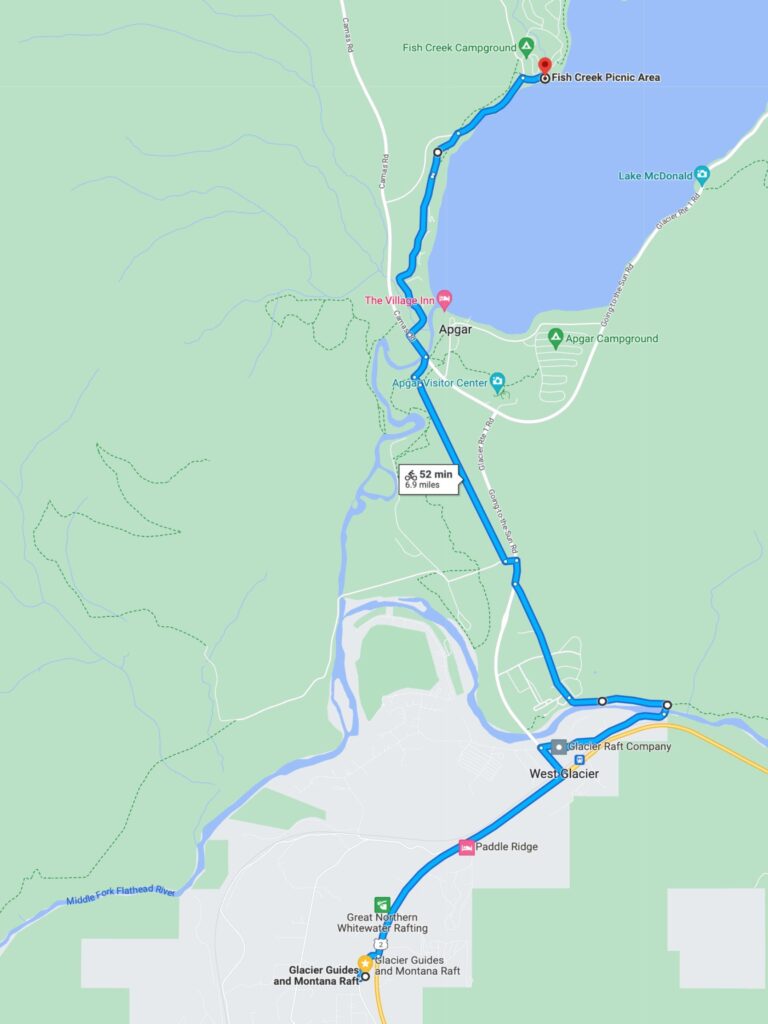 You can park in our shaded lot and ride your rental right from our office into the park. When you ride your bike into the park, you don't need to worry about a vehicle reservation! You'll still need a park pass, this isn't the same as the vehicle reservation. More on that here!
Hit The Road!
From Glacier Guides, head out to Highway 2 where you'll meet up with the bike path that takes you all the way into West Glacier. You'll get into town, cross the road and head down "Old Bridge Street," which winds around the backstreets of West Glacier. Once you reach the bridge, you've made it to your first photo opportunity. If you've timed it right, you'll see some friendly Montana Raft guides floating by who will greet you as you take in the scenery.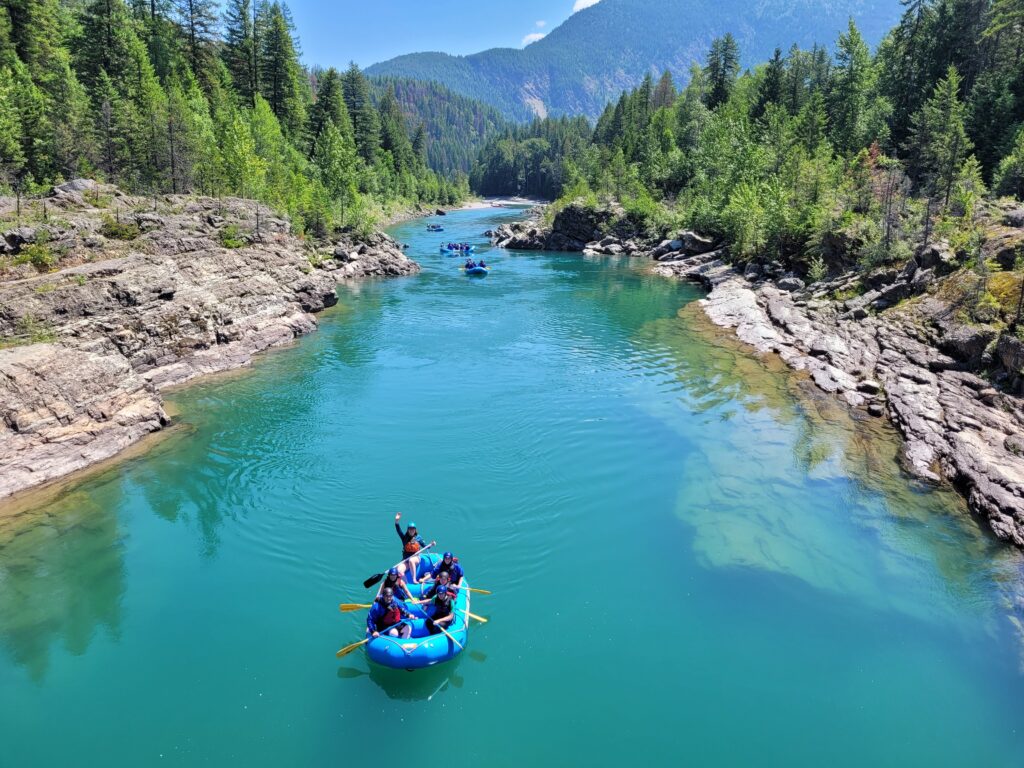 Next, you'll ride a dirt path that follows the Middle Fork of The Flathead River. Continue up and through the trees to Camel's Hump Road which winds through a quiet West Glacier neighborhood. Once you cross the main road, you'll come to Apgar Bike Path. Sit back and relax, this is where you coast for 1.6 miles toward Apgar Village.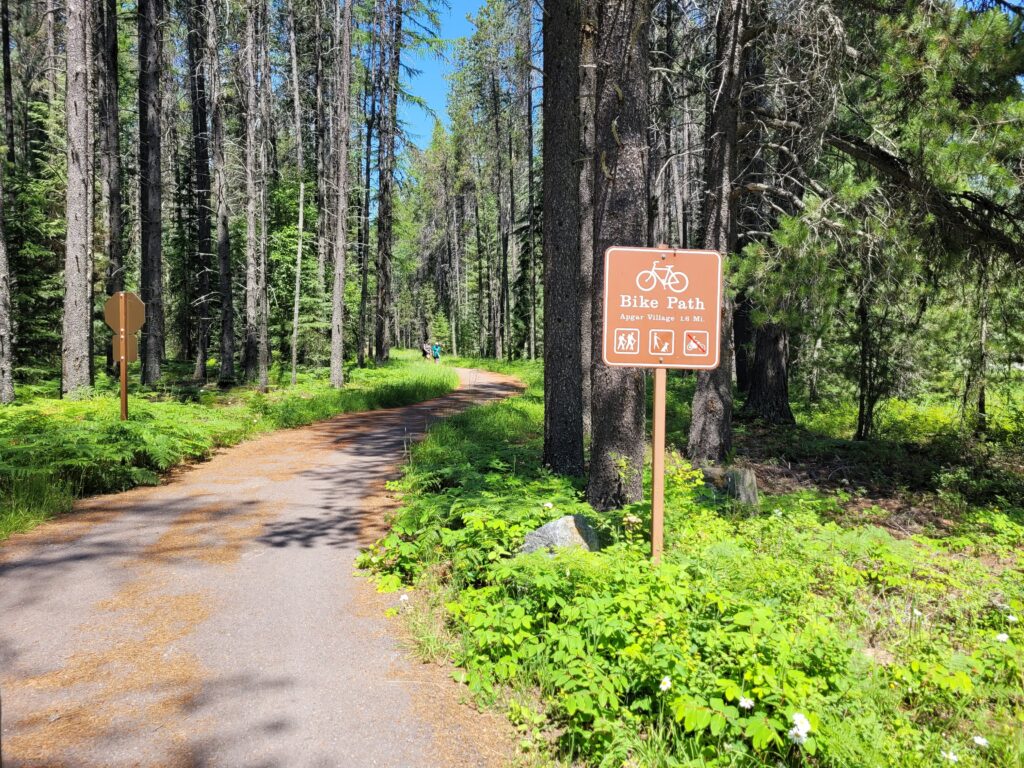 When you make it to Apgar Village, be sure to wonder around a bit. Ride your bike past Eddie's Cafe for a quick ice cream cone and head to one of the many scenic amphitheaters to see if there's a ranger or educational talk happening. Next, it's time to see that notorious, jaw-dropping view of Lake McDonald from Apgar. If it's a hot Montana day, you'll have no other choice but to jump into the water for a quick cool down. What do you have to lose? The best part of this self-guided bike & e-bike Tour in Glacier National Park – your schedule, your time! You can also rent a paddle board or kayak from Glacier Outfitters.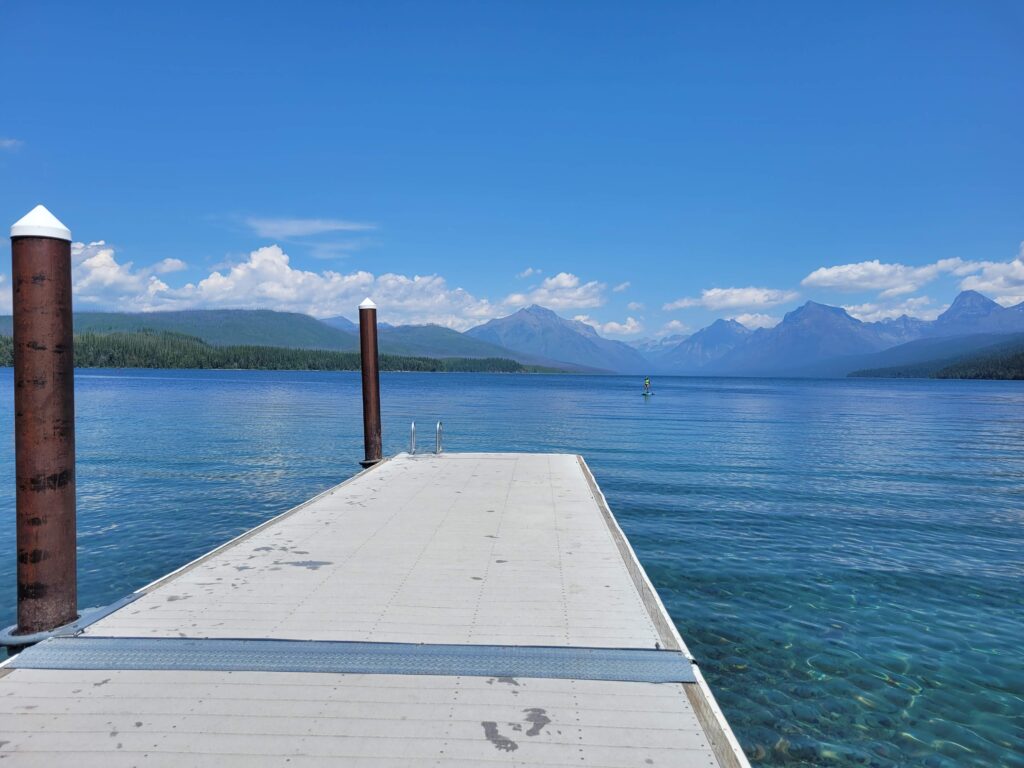 After your relaxing lake time, it's time to continue the journey and onward to Fish Creek. Head back into Apgar and hop on the bike path towards Camas Road. Your time on Camas will be short and is used as your transition to Fish Creek Bike Path. You'll ride through a nice, quiet neighborhood before dipping off to the bike path. This part is a quick .8 mile ride to the campground, an easy challenge for any skill level. If you've got kiddos with you, just take it nice and slow – they'll love the slight dips and climbs. It's the perfect change of pace after a nice, relaxing meander down Apgar's paved bike path.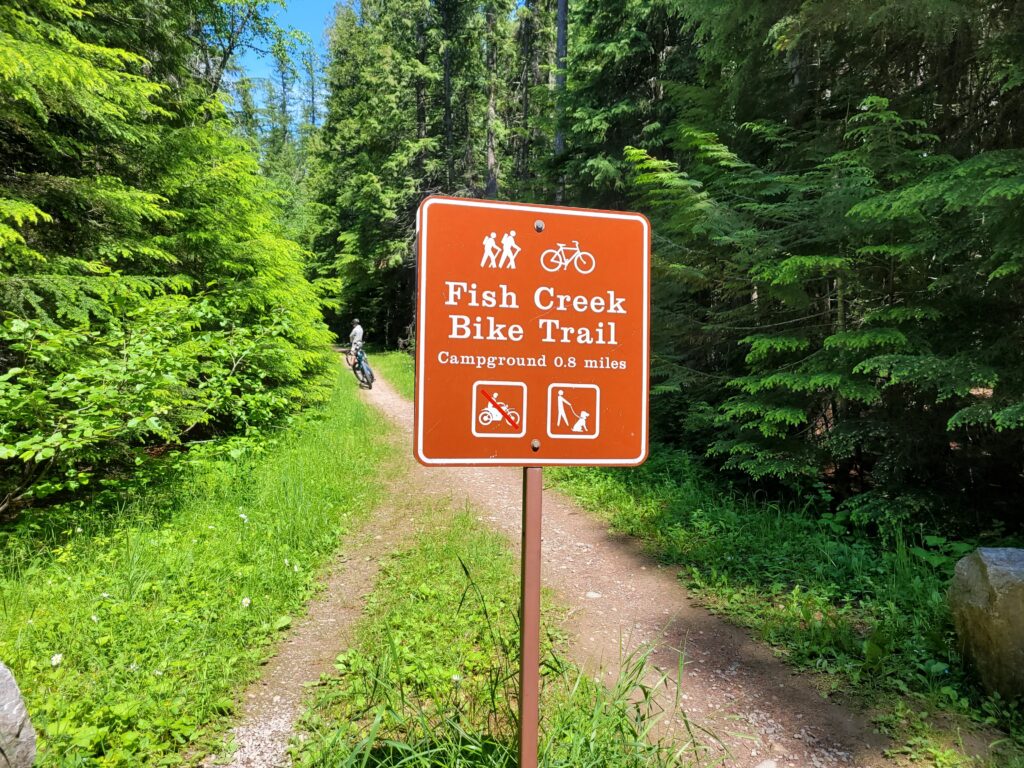 Did we forget to mention that you get more lake time?! If you hopped on your bike wishing for more water, you're in luck. Once you finish the Fish Creek Bike Path, you'll pop out on a paved road, leading to Fish Creek Day Use Area. Park your bike, find a spot and enjoy a different angle, but just as beautiful, view of that Lake McDonald skyline.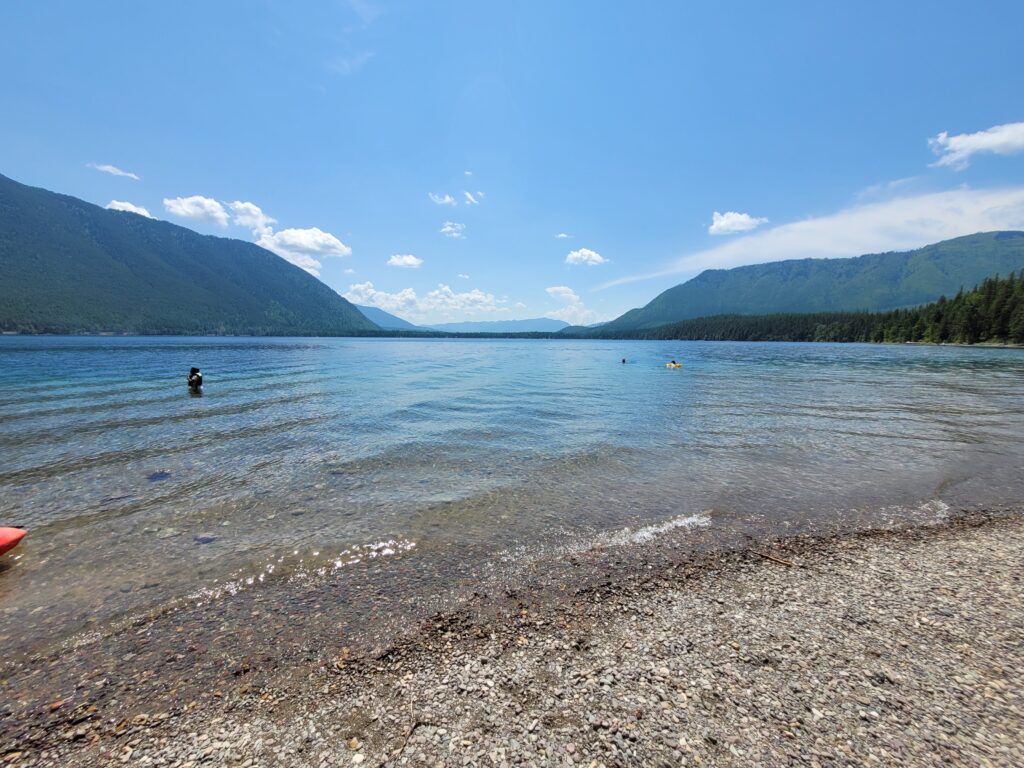 When you're ready to return your bike to Glacier Guides, retrace your steps to make it back to the Apgar Bike Path until you hit the main road and West Glacier Park Entrance. Here you'll come across everyone's favorite photo opportunity – the Glacier National Park sign. Snap some selfies and don't forget to admire the bright blue Middle Fork once again as you cross the West Glacier bridge.
That's it! You've completed our Self-Guided Bike & E-Bike Tour in Glacier National Park. For guided tours with us, check back in the spring and see what we have available. We also offer hiking, backpacking, fishing and rafting throughout the summer, see what fits your fancy on our website!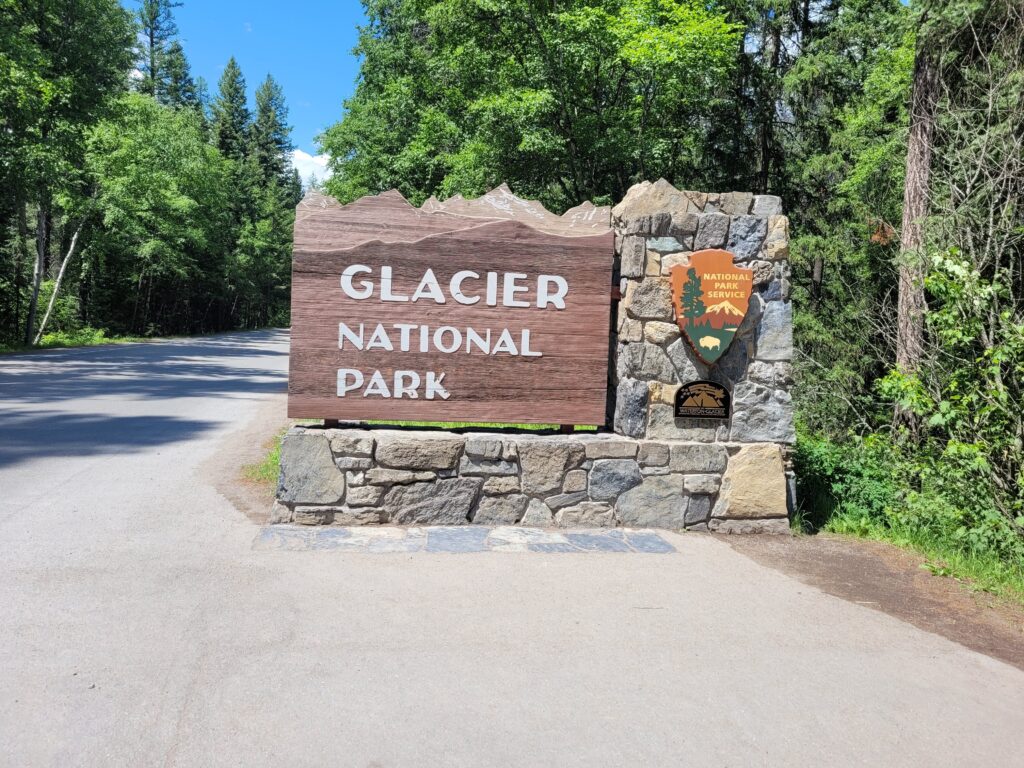 Want To Add Even More Adventure?
Once you enter West Glacier, take a left right before you hit West Glacier Bridge and head down to the West Glacier river access and dip your toes in The Wild & Scenic Middle Fork of The Flathead River.
After Camel's Hump Road towards Quarter Circle Bridge Road, continue straight to check out Quarter Circle Bridge. Continue even further to Apgar Lookout to conquer a hike for some epic views.
Before heading back to our office after stopping at West Glacier Bridge, wonder around the town of West Glacier a bit! Grab an ice cream, hang out in the sun, head to the golf course. The self-guided bike & e-bike tour in Glacier National Park gives you the flexibility to decide how the day will turn out. Either way, it's bound to be an amazing adventure.
SEE YOU NEXT TIME!
Don't be sad the trip is over, be happy knowing that you can always come back!
Have more questions about planning a trip to Glacier National Park? Want to raft, hike, fish, bike or stay with us? Fill out the form below!