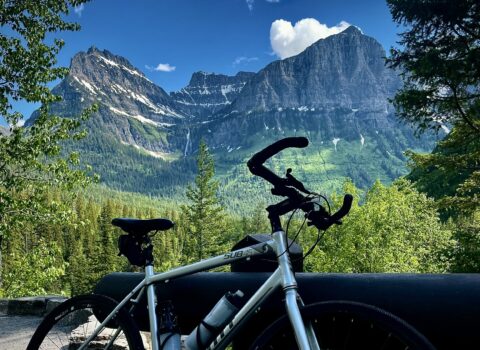 6-Day Glacier Bike Adventure
The Glacier Bike Adventure
We know the best bike routes in Glacier National Park, and we know they're on your list. From Canada to Looking Glass Pass to Going-to-the-Sun Road, this tour is full of gorgeous views and epic climbs. You'll spend 6 amazing days exploring Glacier's roads by bike. Ride as much or as little as you like, this trip is suitable for intermediate and advanced levels of experience. Once the biking is complete, you'll finish the week off with a whitewater rafting adventure in West Glacier. Read below for more details on this once in a lifetime trip.
Book Now
Pricing
Price (includes regular bike rental): $2,400/person (14 yrs+)
E-Bike Rental: $450 extra. Call to inquire
Other: Glacier National Park entrance fee (not included in price)
Dinner on night 4 not included: Choose to have dinner at one of the quaint restaurants in Waterton before heading back to the US
Guide Tip: Industry rate is 18-20% (not included in price)
Specials
Plan Your Trip
Glacier Bike Adventure Details
Difficulty: Moderate, Advanced
2024 Dates:
June 19-24
June 27- July 2nd
Trip Duration: 6 days
Any gear not needed while hiking can be kept in our gear trailer. Most nights you'll come back to hot showers, camp-style cooking, and our comfy tents! On the first night, camping may be more primitive. Dinner on the fourth night will be on your own at one of the local restaurants in Waterton.
How the Shuttle Works: Tour Support A 15-passenger van and trailer that carries luggage, food and equipment supports this trip. Cyclists keep a day bag that is accessible within the support vehicle. 
The vehicle will sag and then pass riders to set up aid stations every 15 to 25 miles. This allows cyclists to linger at the back and then take a ten-mile, fifteen-mile or whatever mile "bump" forward to catch-up or get ahead of the group. 
Here is a guideline for fitness levels:
Intermediate (2/3) Rides and/or takes spin classes 1 to 3 times a week for a total of 50 or more miles.
Upper Intermediate (3) Rides and/or takes spin classes 2 to 4 times a week for a total of 75 or more miles.
Advanced (3/4) Rides and/or takes spin classes 3 to 5 times a week for a total of 100 or more miles. Has ridden multi-day tours and done a century ride.
How Fit do I Have to Be? If one month prior to the tour, you can ride 2 to 3 times a week equaling a total of 75 or more miles a week, you'll do just fine. 
This trip is intended for intermediate to advanced bikers. On many of these routes, you will be sharing narrow roads with vehicles. It's important to know, this is a guide-supported trip from Glacier Guides, but it is not guide-led. Please be sure you're comfortable on a bike before committing. Curious about what this means? Take a look at our FAQ here!
Are you looking for hiking or backpacking trips? Learn more about those here.
Itinerary & Additional Details
DAY ONE
Bike 22 Miles
Meet at our office just outside of West Glacier at 10AM. You'll meet your guide, get fitted for a bike and helmet, hop in the rig and enjoy a beautiful drive to Glacier's East side. The first will begin near the original East Glacier Lodge and go into Two Medicine. Here you'll have a chance to dip your feet in the first of many beautiful lakes. You'll then camp near the shores of Lower Two Medicine Lake.
Let's Eat
You will be amazed by what our guides will cook for you on this trip. We like to eat, and it shows. Our in house kitchen staff, who assists our guides in trip preparations, believes in sourcing locally, purchasing organic when possible, and fueling your body with the best available, homemade food. You won't find commercially freeze dried one bag meals on this trip! We can also accommodate nearly any dietary restriction or preference – just ask in advance. Meals are prepared by your guides using fresh ingredients and exclusive Glacier Guides and Montana Raft recipes. Guides are trained each year in safe food handling practices.
DAY TWO
Bike 26 or 67 Miles
Today begins with an early morning climb up the scenic Looking Glass Pass – considered the 'sister road' of Going-to-the-Sun Road – and then continue north along the Rocky Mountain Front. You'll have an option to add 20 miles to your cycling route and pedal into Many Glacier for a view of Grinnell Point and the historic Many Glacier Hotel. 
DAY THREE
Bike 48 Miles
Start in St. Mary with a final destination of Waterton Lakes National Park. You'll follow the road along St. Mary Lake to Babb, Montana, continue biking up to Chief Mountain Overlook and onward to the U.S.– Canadian Border at the Belly River. From there it's another stunning bike ride to the next camp – a beautiful spot right next to Waterton Lake.
DAY FOUR
Hike, Bike or Rest Options
Hike, bike or take a boat ride at another one of Glacier's gorgeous alpine lakes surrounded by towering peaks. Today is your day to explore Waterton and rest up before the big bike ride back to the U.S. At the end of the day, enjoy a delicious dinner at one of the local restaurants and then stay in beautiful Waterton for a 2nd night.
*Fun Fact* In 1932, as war overtook Europe, the U.S. and Canada formed the World's first International Peace Park joining Glacier and Waterton in an agreement of goodwill. Glacier and Waterton now play a prominent role in global conservation.These parks are poised to play a greater role in bringing nations together while providing important research about climate change.
DAY FIVE
A La Carte Day: Pick between 56 or 105 Miles
Today begins one of two ways. You can choose to take a shuttle to St. Mary and begin your ride on the East side of Going-to-the-Sun Road, traveling West, up and over Logan Pass. Or, to achieve a supported century ride, you can begin your ride in Waterton. Once we've reached the west side, you'll get to cool off with a swim in the crystal clear waters of Lake McDonald. Then, settle into your camp for the night.
DAY SIX
Whitewater Rafting
You'll complete the loop of Glacier National Park by river as you head back to your starting point at Glacier Guides HQ in West Glacier. Park your bike and put on your sandals, because now it's time for whitewater rafting through class II and III rapids along the Middle Fork of the Flathead River. The Middle Fork is an important and dynamic river system that forms the Southern boundary of Glacier National Park. Once you're back from rafting, you'll say your goodbyes to your fellow adventure pals, high-five and celebrate the 6-days spent together, biking across Glacier National Park. 
Meeting Notes
Guests should call our office the day prior to departure at 406-387-5555 to check-in. The day of the Glacier Bike Challenge departure, arrive at our office at 10AM to meet your guide. Click on directions for how to find us.