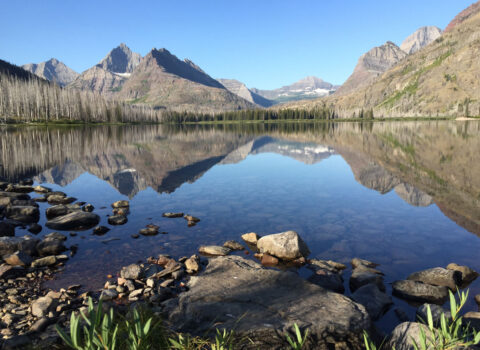 Every Monday Hike Glacier National Park
Introduction to Glacier Trip Details
This easy hike in Glacier's Two Medicine valley is a great introduction to both "sides" of the park and the perfect place to learn about cultural considerations, glaciation, and more.
Book Now
Pricing
Adult Price: $165
Child Price: $165 (10+ yrs)
Additional Fees: Glacier Park entrance (not included in price)
Guide Tip: Industry rate is 18-20% (not included in price)
Specials
Plan Your Trip
Trip Details
Difficulty: Our Monday trip is the best easy hike in Glacier!
Easy – Moderate, 4 miles, 800 feet elevation gain
Dates: Mondays from May 27th through September 23rd.
Trip Duration: Approximately 8 hours
*reservations required in advance
What's Included, What to Bring
What is provided?
Interpretive Guide with wilderness first aid and bear management training, van transport, lunch, and Vehicle Reservation to Glacier National Park
What should I bring?
Day pack to carry water bottle, lunch (provided), camera/phone, binoculars, rain coat, fleece, and your Glacier National Park Pass. Comfortable hiking shoes.
View Packing List
Itinerary & Additional Details
Let's Go For an Easy Hike in Glacier National Park
We will take an easy hike in the Two Medicine Valley, with views of lakes, waterfalls and mountain peaks. Generally, we will walk about 4 miles total.
Times are approximate. Trips after Labor Day start an hour later.
7:00 am – 7:30 am
Meet your guide at our West Glacier office at 7:00 am. Your guide will do a quick orientation, check over your gear for the day, and go over last minute details. We will drive around Glacier's southern border, passing through the southernmost tip of the park.
Along the way, we will have views of the Nyack Wilderness Area, the Wild and Scenic Middle Fork Flathead River, and the northern edge of the Bob Marshall Wilderness Complex. We'll also cross the Continental Divide at Marias Pass, before driving through historic East Glacier Park.
8:30 am – 9:00 am
Arrive in the Two Medicine valley around 8:30am. One of Glacier's last standing chalets is located here, and now operates as the historic Two Medicine Camp Store, which makes a great final stop for a bathroom break and to top off water bottles. Before we even start hiking, you'll be blown away by the views of Two Medicine Lake reflecting the park's glacially carved arrets, horns and peaks.
9:00 am – 11:00 am
Next, we'll hike in the Two Medicine valley, exploring multiple natural features. This easy hike in Glacier meanders through meadows, beaver ponds, and a lodgepole pine, spruce, and Douglas fir forest. Depending on varying conditions, such as weather, trail status, and group dynamics, we might head to destinations like viewpoints, lakes, and waterfalls.
Along the way, you'll learn an incredible amount about Glacier National Park generally, and the Two Medicine valley, specifically. This Introduction to Glacier hike also covers best bear management practices, Leave No Trace ethics, and responsible recreation skills. Our guides are passionate and encyclopedic about Glacier National Park — no matter your level of hiking experience, we promise they'll teach you something new.
Then, we'll relax and enjoy a hearty, homemade trail lunch. Our trail lunches are largely locally and organically sourced, and generally include homemade cookies, fresh fruit and vegetables, chips, and your choice of a turkey, ham, roast beef, or veggie sandwich. Our in-house kitchen can accommodate nearly any dietary restriction or preference – just ask ahead of time! While we eat, we'll look for moose or bear along the shore of Two Medicine Lake.
11:00 am – 1:00 pm
We return along the same route, while your guide answers any questions that you might have about the park. You'll end the day knowing more about Glacier National Park than you ever expected. Feel free to explore the Two Medicine Camp Store and grab a cold drink or an ice cream cone for the ride home!
1:30 pm — 3:00 pm
We'll return to West Glacier via the same route on U.S. Highway 2. Typically, we arrive at the Glacier Guides and Montana Raft office no later than 3:00 pm.
More Introduction to Glacier Info
Reservations required in advance. This trail can be busy during the middle of the summer, but it is much more off the beaten path than most of Glacier's iconic "easy to moderate" trails.
Meeting Notes: Guests are welcome to check in with us the day prior to departure: 406-387-5555 or info@glacierguides.com. The day of the trip please arrive at our office by 7:00 AM. Trips after Labor day meet at 8 AM.  Click on directions for how to find us.