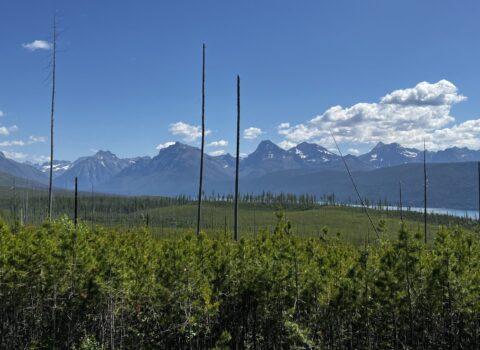 Nature Walks in Glacier National Park
Morning Nature Walk in Glacier National Park
This easy half day trip in Glacier is the perfect introduction to the park. You'll learn about Leave No Trace outdoor ethics, forest fire science, history of early settlers, and river ecology, while enjoying the views along two different, short trails.
Book Now
Pricing
Adult Price: $65 (13+ yrs)
Child Price: $55 (4-12yrs)
Additional Fees: Glacier National Park entrance fee. Purchase your pass in advance here
Guide Tip: Industry rate is 18-20% (not included in price)
Specials
Plan Your Trip
Dates, Times & Details
Difficulty: 2 short, easy walks in Glacier National Park
Each walk is about 1.1 to 1.2 miles, minimal to 180 feet elevation gain and loss
Time:
9:30 a.m. Mondays, Tuesdays, Thursdays, Saturdays, in May and June.
9:30 a.m. Mondays, Thursdays and Saturdays from July 1st through October 14th
Minimum Age: 3
Trip Duration: Approximately 4 hours
What's Included, What to Bring
What is provided?
Interpretive Guide with wilderness first aid and bear management training, van transport, snacks, hiking poles and Vehicle Reservation to Glacier National Park
What should I bring?
Comfortable walking shoes, a day pack to carry a water bottle, camera/phone, binoculars, rain coat, fleece, and your Glacier National Park Pass.
View Packing List
Itinerary & Additional Details
Nature Walk in Glacier National Park Itinerary
Times are approximate!
9:30 a.m. Meet your guide at our West Glacier office at 9:30 am. Your guide will do a quick orientation, check your gear, and go over last minute details. We drive into Glacier National Park via the West Glacier entrance, 1 mile from our office. Don't forget your park pass!
Lake McDonald Valley
Once in Glacier, you will walk about 1 mile round trip through the Lake McDonald Valley. This is a glaciated valley, and you will walk on the terminal glacial moraine that dams Lake McDonald. This area is characterized by lodgepole pine forest left from the 1929 Half Moon fire. You'll delight in seeing the aquamarine waters that flow from Lake McDonald. Don't forget to keep your eyes peeled for this valley's resident beaver and moose!
The North Fork
Next, load up in the van and continue the adventure by driving the short distance to Glacier's North Fork Valley. Along the way, stop at several scenic viewpoints, such as McGee Meadows and McDonald Creek. Don't forget your camera! Finally, arrive at the Wild and Scenic North Fork of the Flathead River. Here, you'll take another short, easy walk, also about 1 mile round trip. This loop weaves in and out of new growth lodgepole pine and aspen forest.
This area burned in 1967 and again in the 2001 Moose Creek Fire. There are beautiful views and fantastic opportunities for interpretation along this loop. You will learn about a variety of tree and plant species, fire impacts, and wildlife inhabitants along the river corridor. Views include Glacier National Park, the North Fork of the Flathead River, and Flathead National Forest.
This nature walk in Glacier is easy but not completely flat.
Early Afternoon
After we're done walking, we'll return along the same route by van to the Glacier Guides and Montana Raft office. As we drive, be sure to ask your guide any remaining questions that you might have. Our guides are passionate and have encyclopedic knowledge about Glacier National Park — no matter your level of hiking experience, we promise they'll teach you something new. You'll end the day knowing more about Glacier National Park than you ever expected!
1:30 p.m. Typically, we return to the Glacier Guides and Montana Raft office no later than 1:30 PM.
Looking For More?
If you'd like to make this an all day adventure, with lunch and afternoon whitewater rafting trip, check out this combination trip! Rather go on a peaceful scenic float? The Nature Walk and Float trip is the most relaxing day in Glacier National Park ever.
Nature Walk in Glacier Meeting Notes
Please arrive at our office by 9:30 AM. Click on directions for how to find us.