This blog post was written in November 2018. During Fall 2020, there will be not be access into the St. Mary or Many Glacier valleys as described in this post, due to the pandemic. Click here to check out this post on October 2020, instead!
Late fall in Glacier National Park tends to mean unpredictable weather and predictably empty parking lots and trailheads. After all, Glacier begins its preparations for winter hibernation in mid-September, as many hotels and services within the park begin to close at that time of year. At Glacier Guides and Montana Raft, we usually stay open through mid-October. Because we're like that. And because we love all seasons and all weathers and have all the gear to prove it, right?
But by October 15, even we have called it a season. Which means we have suddenly have more free time to explore late fall in Glacier. Over the weekend, we ventured over to Glacier's east side to check in on the St. Mary, Many Glacier, and Chief Mountain areas of the park. Here's what we saw.
Late Fall in Glacier: St. Mary Valley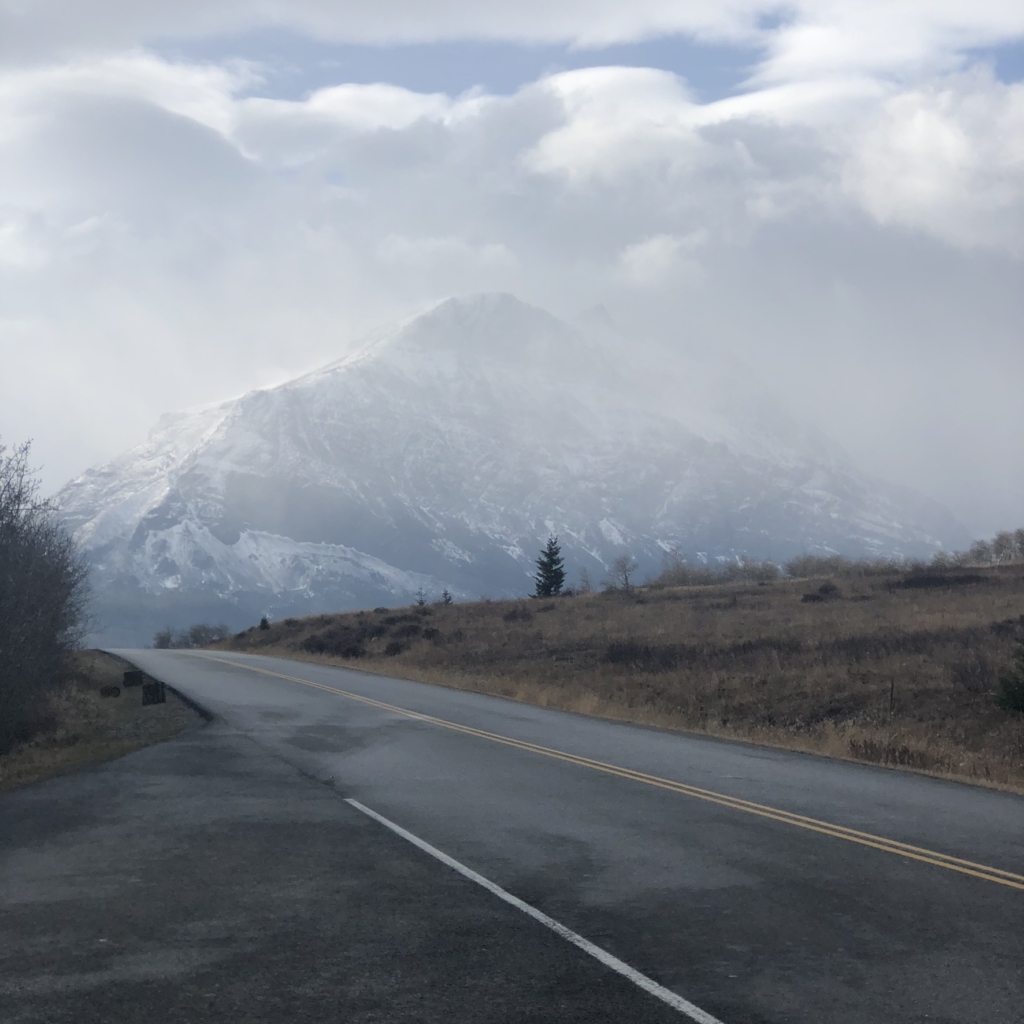 On November 3-4, 2018, the St. Mary valley was just about empty. The Going-to-the-Sun Road was open to Jackson Glacier Overlook for a little while, but later closed at Rising Sun. You can keep up with changing road conditions here.  Don't despair, though, because currently, there are no hiker/biker restrictions in place past the road closures. We can't recommend walking and biking on the road enough! It's definitely one of the highlights of the shoulder seasons, and particularly late fall in Glacier.
Get Your Star Party On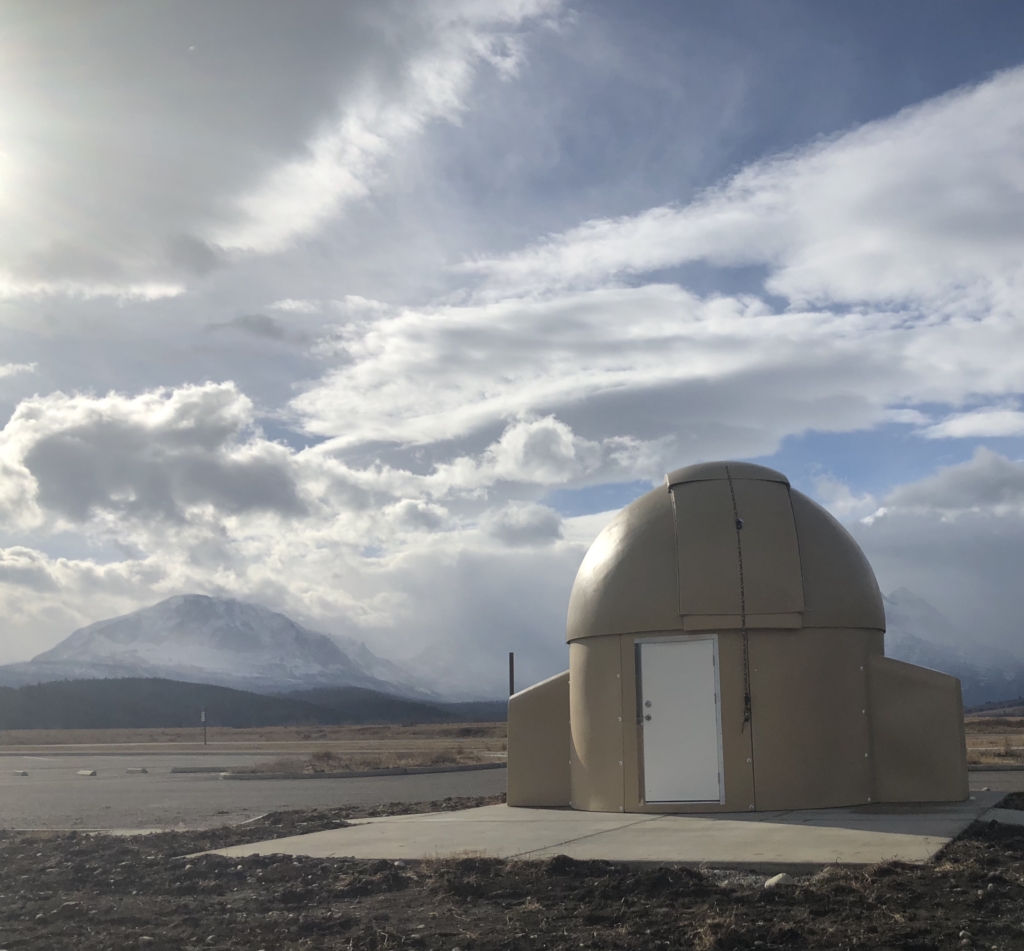 After we explored the eastern Going to the Sun Road, we stopped at the St. Mary Visitor Center. What's that thing, you ask? The new Star Dome!
As the first Dark Sky Peace Park, Waterton-Glacier International Peace Park has some of the darkest night skies in the world, and next summer, visitors will be able to enjoy those dark skies through this new observation dome. Next year, NPS will install and calibrate the new telescope, which will connect to screens on the outside of the building. This will make it possible for visitors to view deep space objects and constellations. How cool is that? If you're in Glacier next summer, be sure to check out the Star Dome and the 
Half The Park Happens After Dark program
. And if you're interested in helping to fund the program, the
Glacier National Park Conservancy
is raising money for it. Check it out: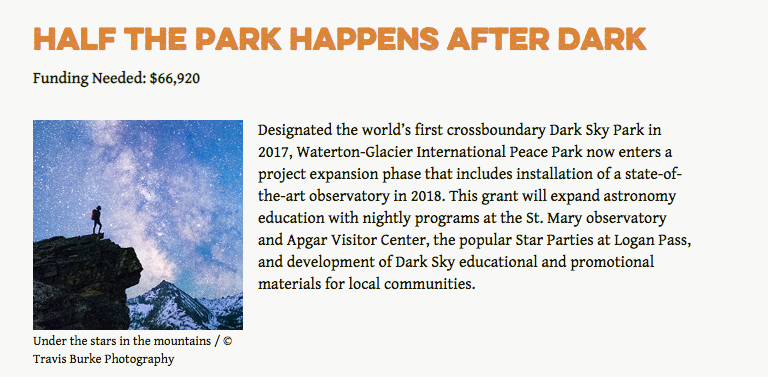 Late Fall in Glacier National Park: Many Glacier Valley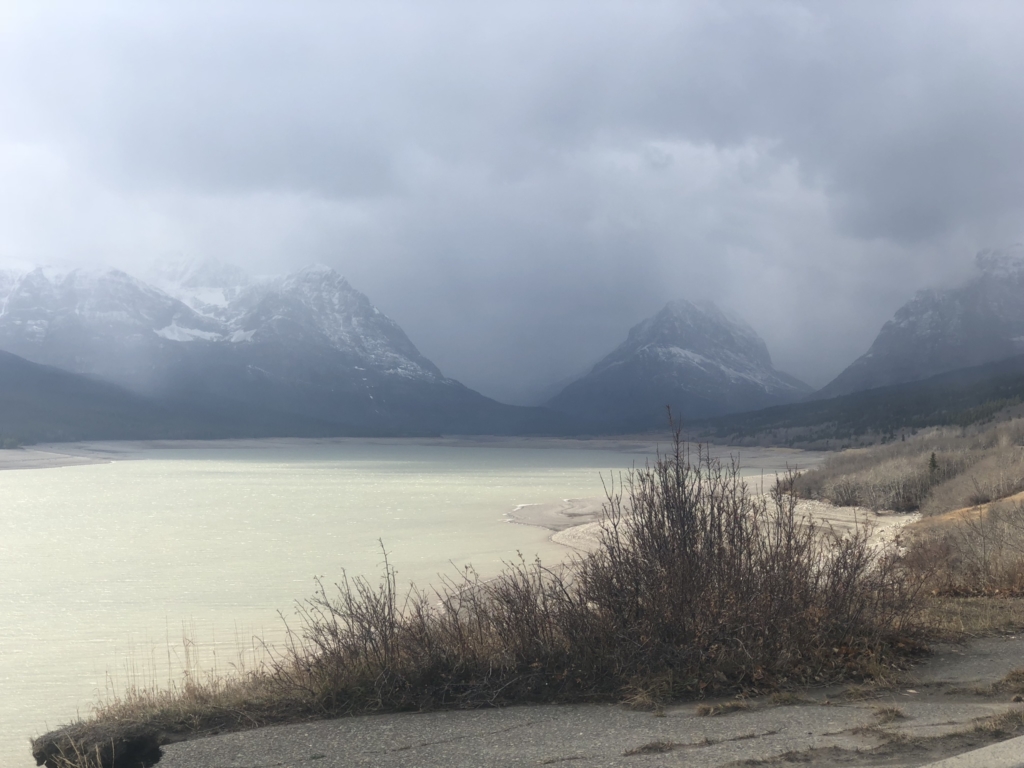 The water in Sherburne was pretty muddy on Saturday, but it always gives us a thrill to see that blue-green glacial flour peeking through the murk.  It was spitting snow while we were there, and there was definitely snow in the high country, but not yet on the valley floor. This week's forecast should change that.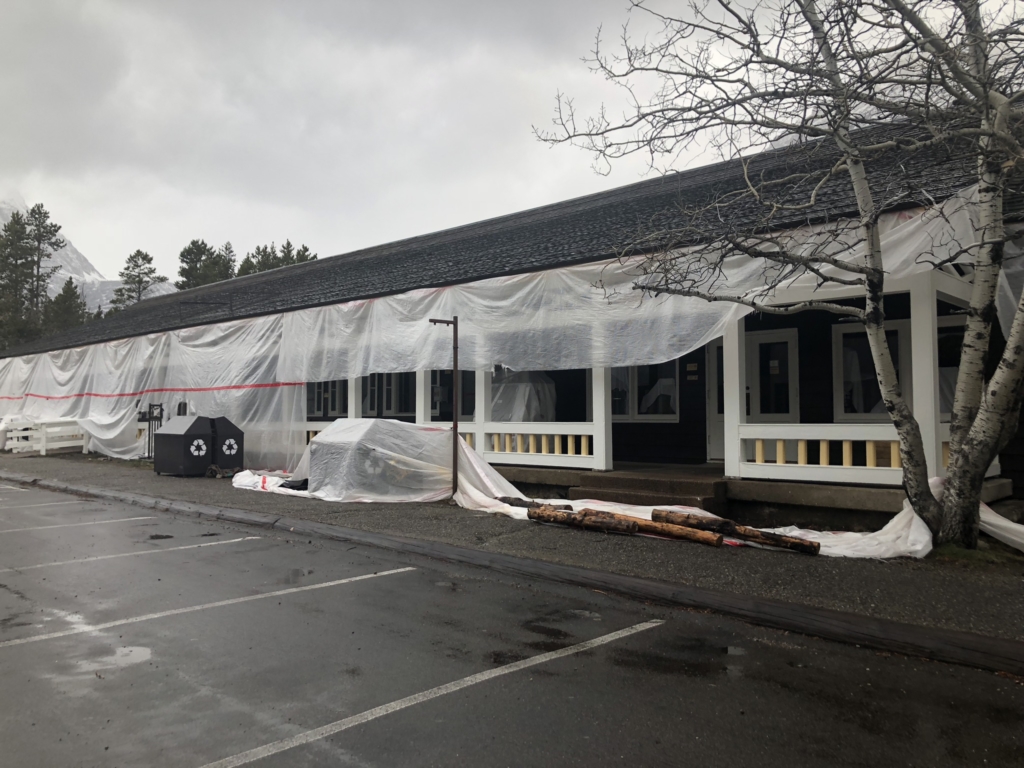 Fall is a great time of year for maintenance! Here, the Swiftcurrent Motor Inn looks to be getting a fresh coat of paint. It's cold outside, so the sheeting helps keep it warm enough to paint.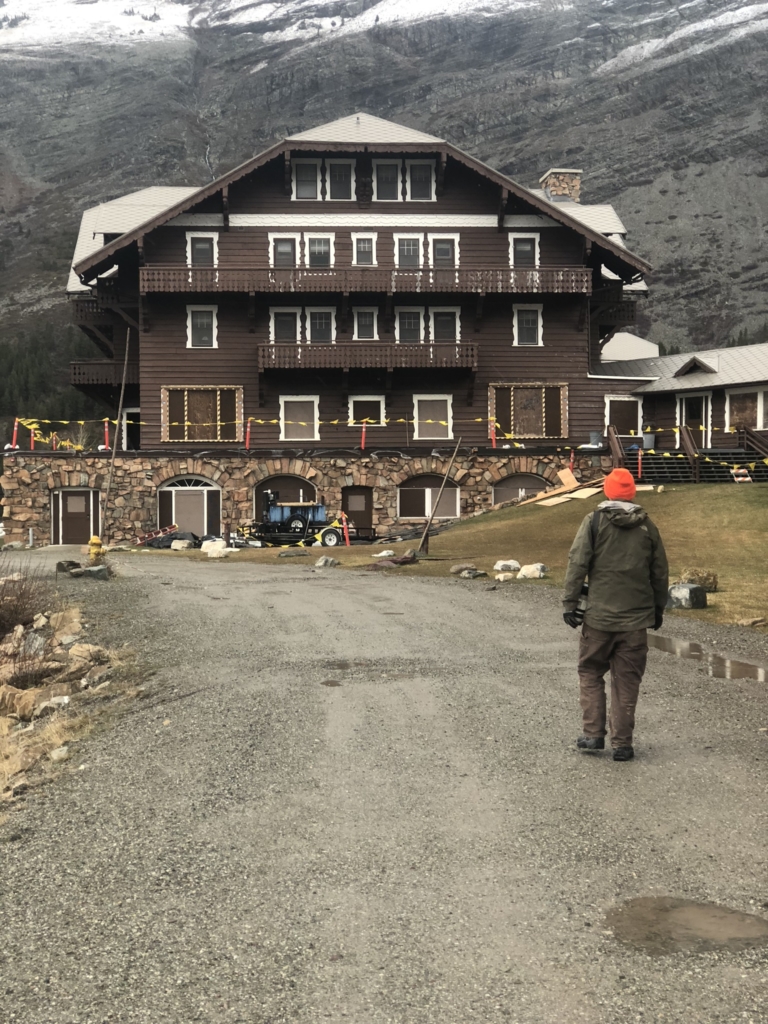 Our favorite porch in the world, at the Many Glacier Hotel, is getting a little love this fall, too. We're not completely sure what's going on, but it looks like a pretty big project. Cheers to our fellow concession partner, Xanterra, for its continuous efforts to maintain and improve this grand old lady.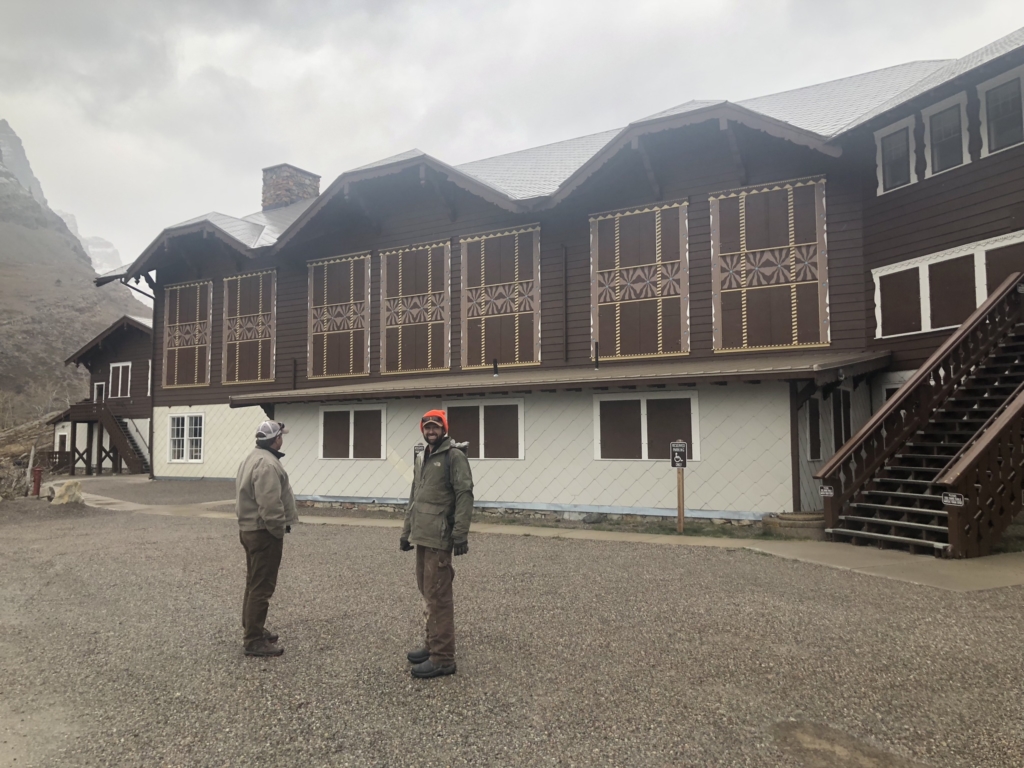 The windows at the Many Glacier Hotel dining room are snugged up tight for the season.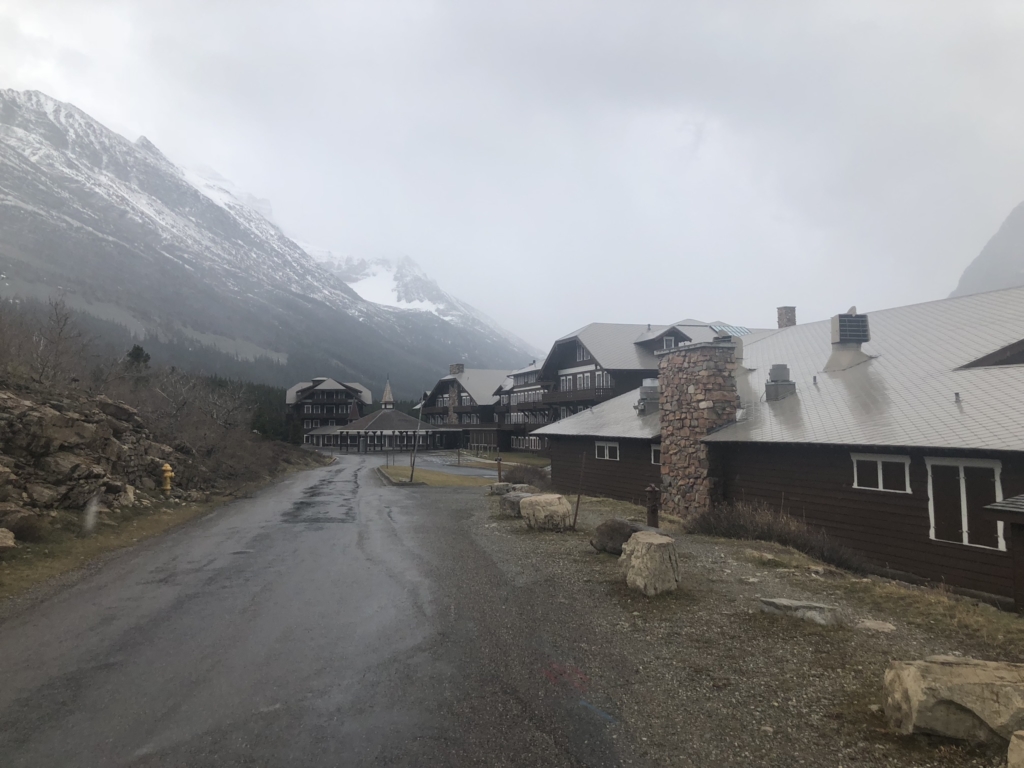 Poles are also installed to help guide the plow crew next spring. They'll help keep them from hitting rocks, fire hydrants, curbs, and other hazards that will soon be covered by snow.

Oh, Many Glacier. You stun us in every season, but perhaps especially in late fall in Glacier.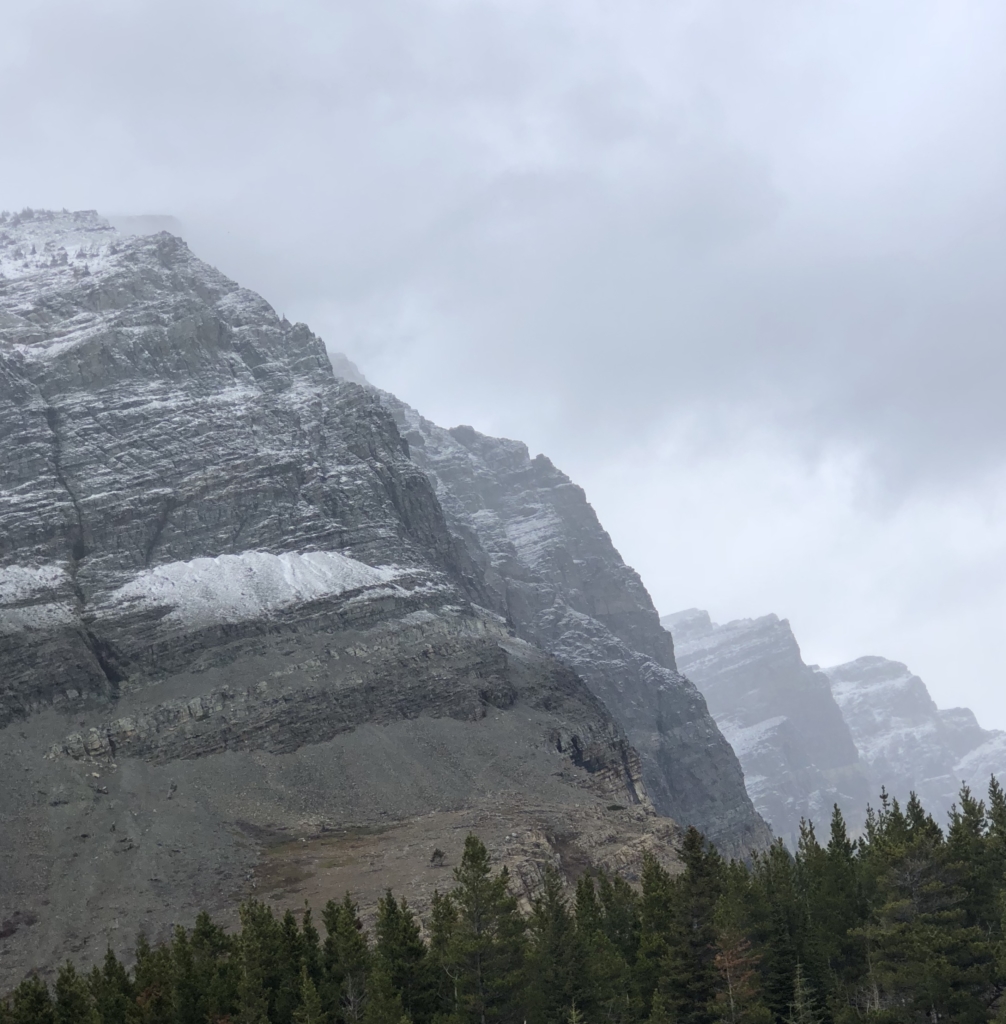 There's just something about the way the mountains stack up in this perspective that we find very satisfying.
Late Fall in Glacier: Chief Mountain Highway
Before we called our late fall in Glacier exploration a day, we headed up the Chief Mountain Highway, which is currently open to the Alberta – United States border. Keep in mind that it is not open all winter. The border crossing itself is already closed for winter and will reopen May 15.  (Here's a handy link to border crossing information.)
The views from the Chief Mountain overlook never disappoint. Do you see the Chief's profile, in repose? This area is sacred to the Blackfeet Nation, and the border between the Blackfeet Nation and Glacier National Park goes right through the center of Chief.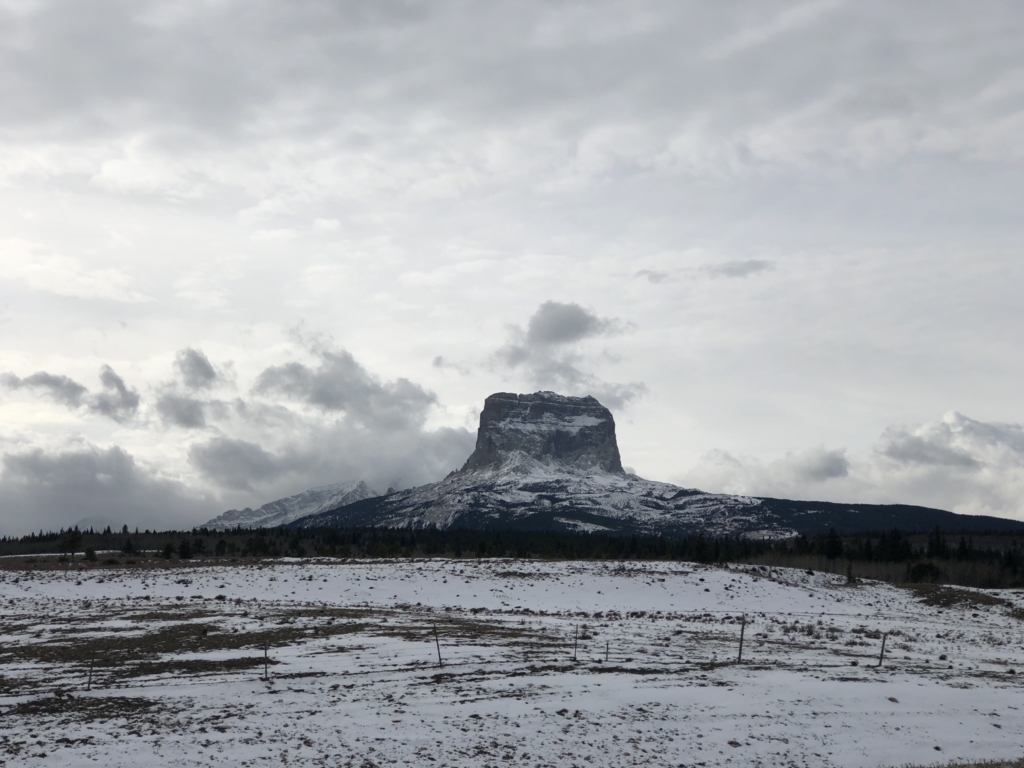 What's Next?
If we had to guess, we'd say Late Fall in Glacier is officially over with. This week, on both sides of the park, we're expecting below average cold and accumulating snow down to the valleys. Check back soon for a Winter update, and be sure to sign up for our monthly Glacier National Park newsletter on our home page!