Glacier Guides & Montana Raft has a wide variety of backpacking trips that can suit any skill level. Our trips are also designed to be accessible and affordable, so when you book with us, you don't need to worry about breaking the bank. If you're new to the backpacking scene but are looking to take your first leap, we've got a great beginner's guide to backpacking in Glacier National Park.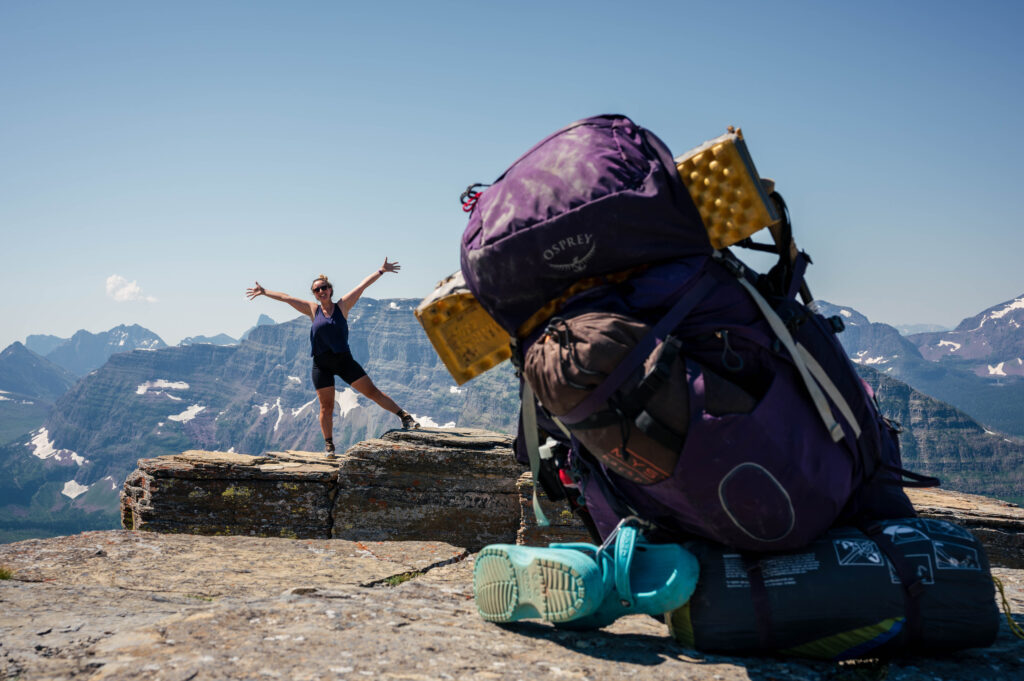 Dawson/Pitamakan Loop. Photo from and featuring guide Jordan Smith
Pricing
Let's dive right in and break down what's included in each trip. Keep in mind, only 25% of the total is due at time of booking. Book now and pay for the rest later. We make it easy and affordable for you to join us on a guided trip!
We take care of the wilderness/backpacking permits and vehicle reservations
While this doesn't normally cost much money, it does take up a lot of time and requires extensive knowledge of Glacier National Park, it's trails, and it's layout. Additionally, you don't need to worry about the vehicle reservation system because we take care of that for you, too! Any time you book a hiking, biking or backpacking trip with us, we've got the vehicle reservations covered.
Side Note: This does NOT include bike rentals, only bike trips where you're riding into The Park WITH us. If you take our shuttle, you're covered. But let's not get side-tracked – more on that here
Friendly, knowledgable, interpretive guides
Our guides are next to none and are the best in and around Glacier National Park. We've been guiding in Glacier National Park since 1983 and it shows. Our guides can tell you about everything you'd want to know about The Park from it's history, it's people, it's wildlife, flowers, peaks, lakes and meadows. You'll return home with all the fun Glacier National Park facts for your family and friends.
Backcountry meals
Say goodbye to pre-packaged backpacking meals and hello to delicious, mostly local and organic ingredients in your homemade backcountry meals. Our kitchen staff and guides work together to plan an entire breakfast, lunch and dinner menu for you for each day you're out there. You're not limited to powdered kits, granola and questionnable ingredients. The thought and time that goes into these meals is amazing and you'll be blown away by just how good a meal in Glacier's beautiful backcountry can be on one of our trips.
Transportation
Glacier National Park covers about one million acres of land with about 700 miles of trails. Driving to and from trailheads can be time consuming and expensive, but we take care of all of that for you. For each trip, you'll meet us at our office in West Glacier and we will make the journey to the trailhead or campground together. When we come out of the backcountry, no need to worry about hitch-hiking back to your car, planning a drop off spot for a 2nd vehicle or waiting for the 2nd driver. We plan out all these logistics so that you can have a relaxing vacation without worrying about a thing.
Safety & Security
This point ties in with our guide knowledge. Each of our guides that are on these backpacking trips with you are trained in Wildnerness First Aid. Each backpacking group carries 2 cans of bear spray and you will watch an NPS video about bears before your trip. Over the course of your trip, your guide will teach you all about best backcountry practices in bear country. Additionally, should you come across a snow field, a water crossing or wildlife in The Park, our guides will be able to help with their extensive knowledge. Each guide also takes a list of emergency contacts and a satillite phone with them into the backcountry should more assistance be needed.
First: take a deep breath and try not to worry about the bears. Although we don't see them often, when we do it is usually an incredible experience. Glacier has grizzlies and black bears, and their presence as apex predators in this nearly intact ecosystem is part of what makes Glacier so special.
Next: keep on breathing. Bear attacks are very rare, and there have not been any reported attacks on groups of 4 or more in Glacier. Our backpacking groups are typically 7 guests and 1 guide. Bears are part of our world, and you'll find they're good at sharing that world.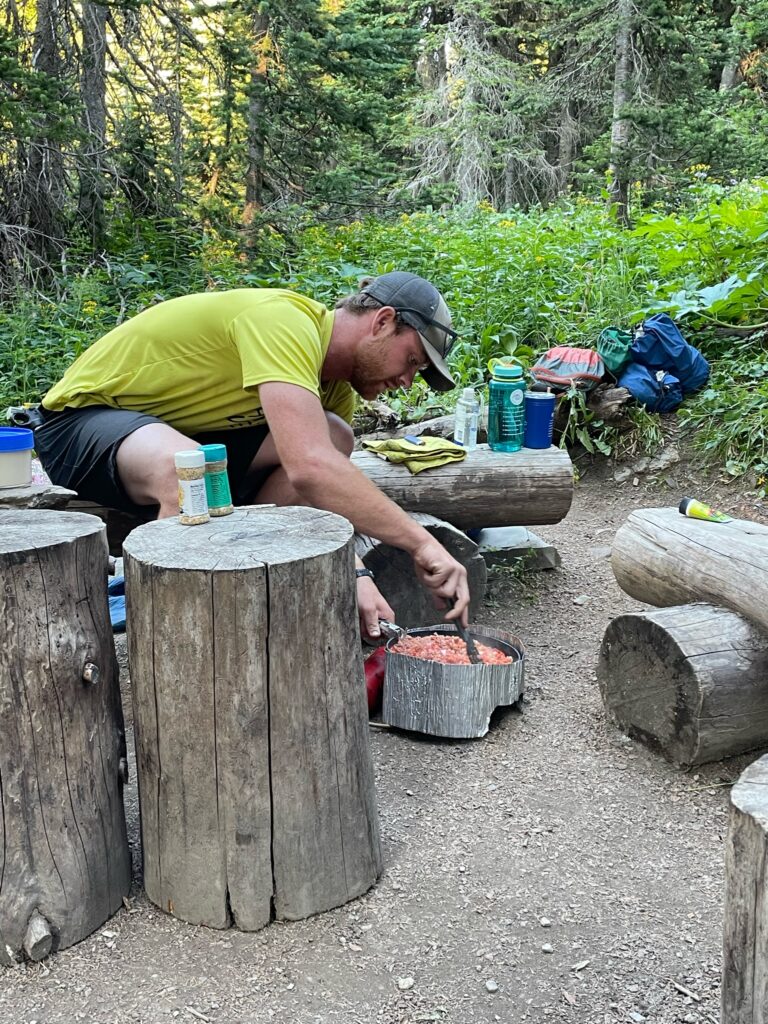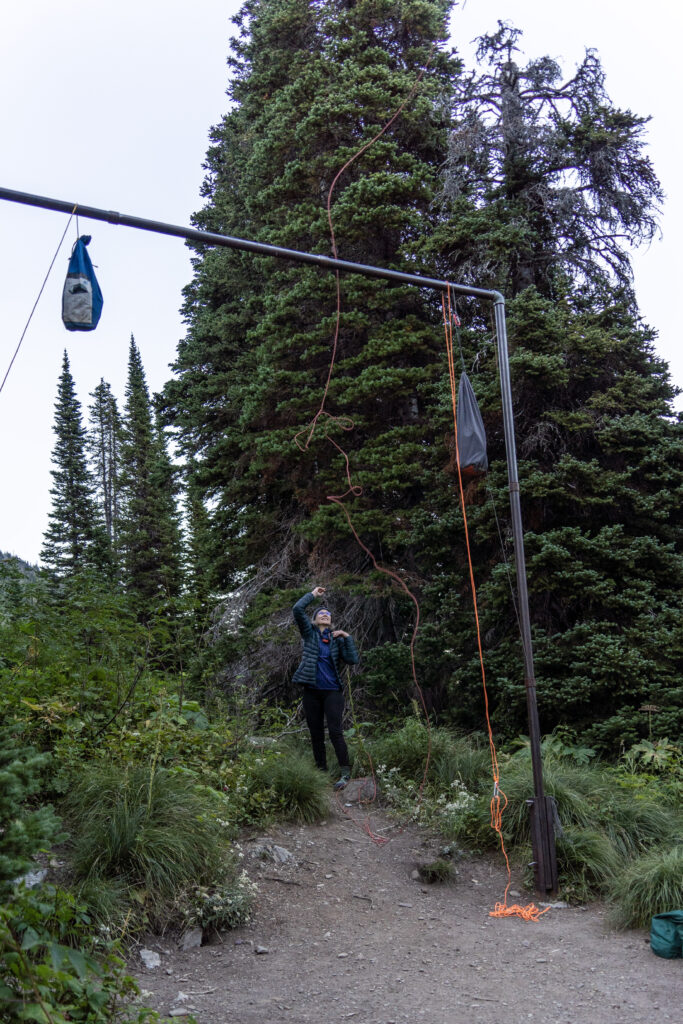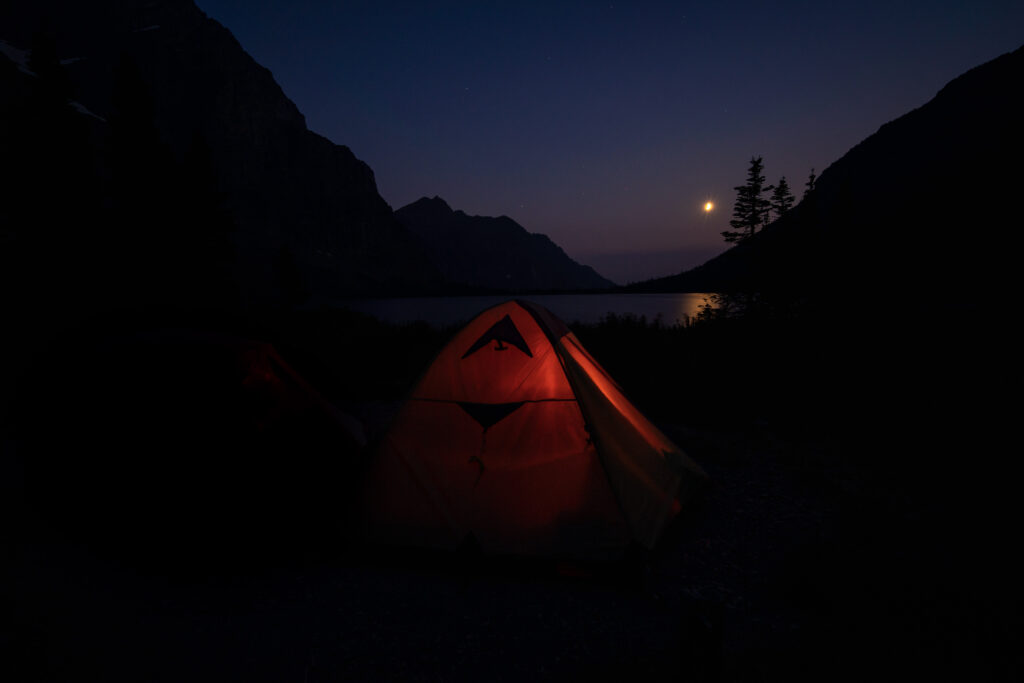 Planning
If you find yourself intimidated by an overnight backpacking trip in Glacier National Park, don't stress! We can accomodate many different skills and abilities. For the most part, we say that you should be reasonably fit to embark on one of these trips. For reference, on our 3 day backpacking trips, you can expect 4-10 miles a day and around 500 feet in elevation change. If the itinerary involves hiking over a pass, a more strenuous day may involve 2,000-3,000 feet of elevation change. Take it from us, crossing those passes will give you some of the most beautiful views in Glacier National Park. It may be a climb to start out, but once you reach the top, you'll agree it was worth it.
Packing
We have a very detailed packing list here that you can reference. We also offer gear rentals for backpacking trips, meaning you don't have to travel with a tent, backpack, trekking poles, sleeping bag — you get the idea. Take a look at our rental prices and easily add them on when you book your trip.
Protip: Pack socks and hiking boots that you've worn before and that you know don't give you blisters! A backpacking trip isn't the time to try out new footwear or socks. There a million kinds of feet and almost that many brands of socks and footwear out there. We recommend getting fitted at your favorite, locally owned outdoor store, purchasing footwear and socks from that small business owner, and wearing them faithfully for many, many hours before you take them backpacking for the first time. Synthetic socks are definitely preferred. Some people wear liners, some people don't. Footwear could be anything from sturdy trail runners to all leather hiking boots. You do you! Happy feet, happy hiker.
Time of Year
In Montana, our trails and mountain passes have snow typically through early July in a normal summer. We think the best time to backpack in Glacier is any time between mid-July to the end of September. You'll get amazing weather, great views and clear nights to see a gorgeous starry sky. When you book with us, our 3-day trips start in late May, 4 days start in early June and the 6 day trips start in mid-June. If you're looking for something specific, ask us about a custom trip – the possibilities are endless!
If you decide to go in July or August, keep in mind it's the most popular time for other people as well. There will likely be more people in the area, more traffic on the roads, more people on the trails, and so on and so forth.
Our favorite thing about backpacking is that no matter the crowds in Glacier's front country, by the time you get a few miles down the trail, you see very few people, relatively speaking. And the further into Glacier's backcountry you go, the less you see. That's the beauty of Glacier's permitting system – because only so many people can be at a campsite on any given night, you can only see so many people in the backcountry. We're people people, but our love for solitude and silence are two reasons we started our backpacking guiding service in the first place – way back in 1983.
Bathrooms
Curious about backcountry bathrooms? Take a look at this helpful FAQ and scroll down to the pit toilet information. The pit toilets in Glacier National park are an experience all on their own, most of which feature jaw dropping views of prominent peaks and alpine lakes.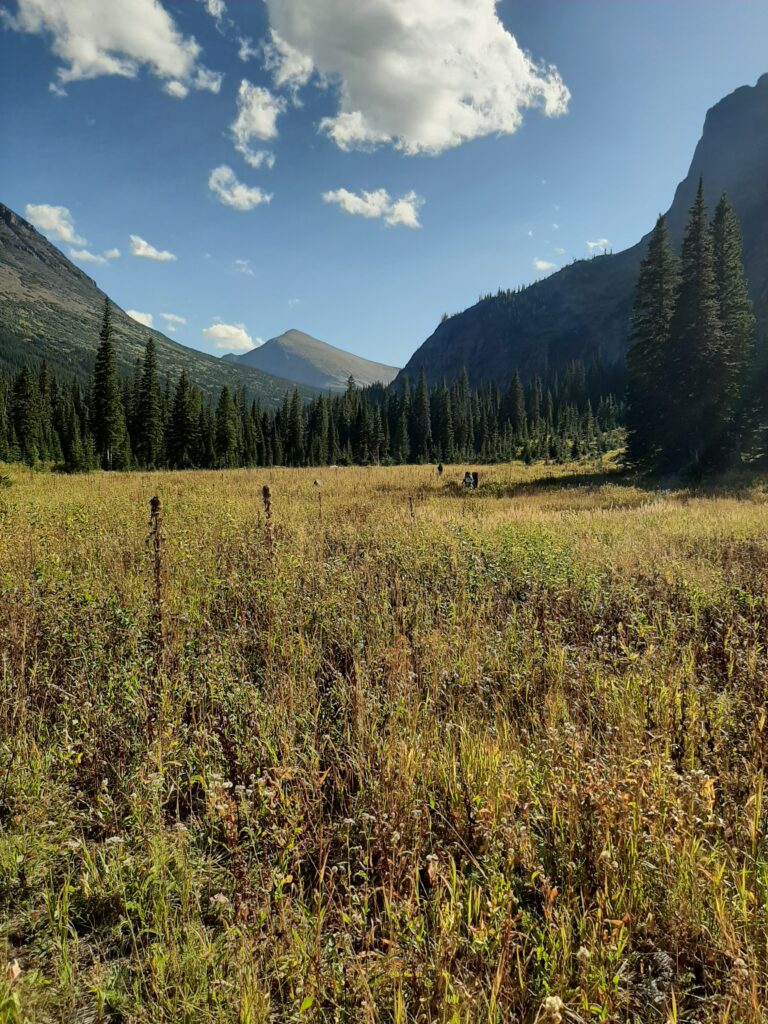 3-day Backpacking trip in Cutbank on the way to Morningstar Lake, taken in mid-September. Photo by Tom Matelich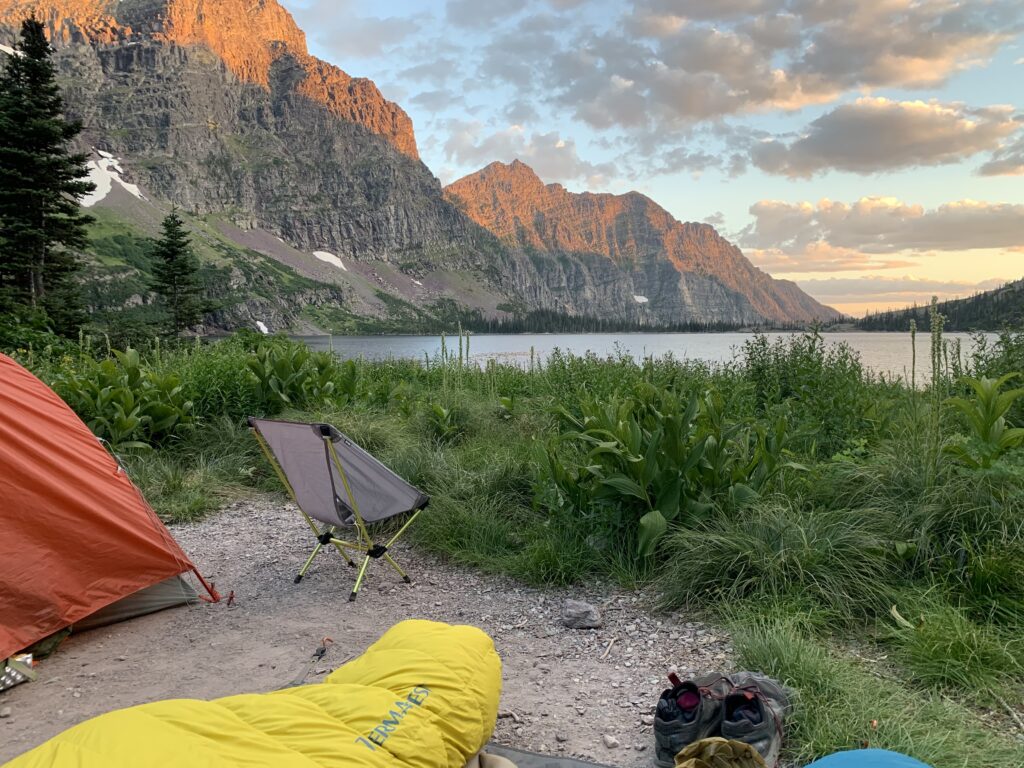 Camp set up at Lake Ellen Wilson on a 4-day Backpacking Trip. Photo by Todd Bauer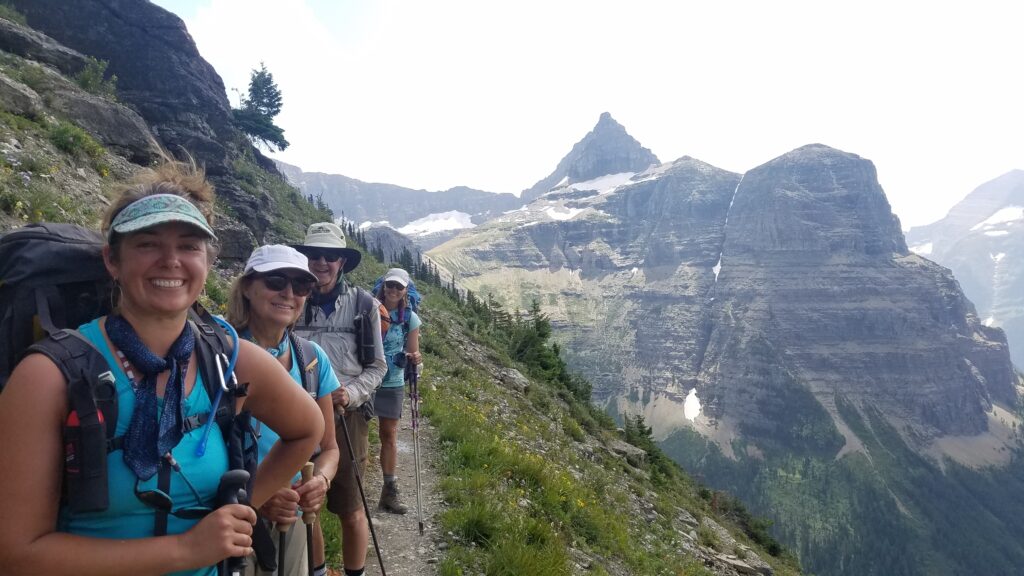 6-day backpacking trip, just below Hole In The Wall. Photo by Tom Matelich
Things To Keep In Mind…
Know Your Limits!
As mentioned before, those looking to do any of these trips need to be reasonably fit. A short day is 3.5 miles and a long day is 12 miles with weight of an average pack is 35 to 40 pounds. If you worry about the weight or have youngsters who need help, ask about our Porter Service. No need to be intimidated, here at Glacier Guides & Montana Raft we don't require previous backpacking experience to join a trip, but we also don't want anyone to push themselves past the point of no return. We design our backpacking trips in Glacier to be an enjoyable, bucket list experience.
Additionally, if you have questions, please ask! We love adventuring through Glacier's backcountry, but we understand it isn't everyone's cup of tea. We have plenty of other adventures to choose from if you decide backpacking is too far out of your comfort zone.
Remember Leave No Trace
-Plan Ahead and Prepare
-Travel and Camp on Durable Surfaces
-Dispose of Waste Properly
-Leave What You Find
-Minimize Campfire Impacts
-Respect Wildlife
-Be Considerate of Others
Prepare for All Types of Weather!
Weather can be unpredictable on the Continental Divide and we suggest packing extra layers. always bring a rain coat and an extra pair of socks (or two!), hat and gloves, and moisture wicking materials to keep you warm. Be sure to go over our packing list when you plan the trip and double, triple check your bag before heading into the backcountry to make sure you have everything you need.
Inform Family & Friends
Tell people where you're headed before you take off, especially if you're going out on your own. Being in the backcountry means being okay without creature comforts like cell phone reception. If you have one, a Garmin is a great thing to bring with you into the backcountry so that you can let people know where you are and how things are going. We highly suggest traveling in a group when you go out on your epic adventure.
SEE YOU NEXT TIME!
Don't be sad the trip is over, be happy knowing that you can always come back!
Have more questions about planning a trip to Glacier National Park? Want to raft, hike, fish, bike or stay with us? Fill out the form below!