Top 5 FAQ About Backpacking in Glacier National Park
#1: What's up with the backcountry permit system for 2023?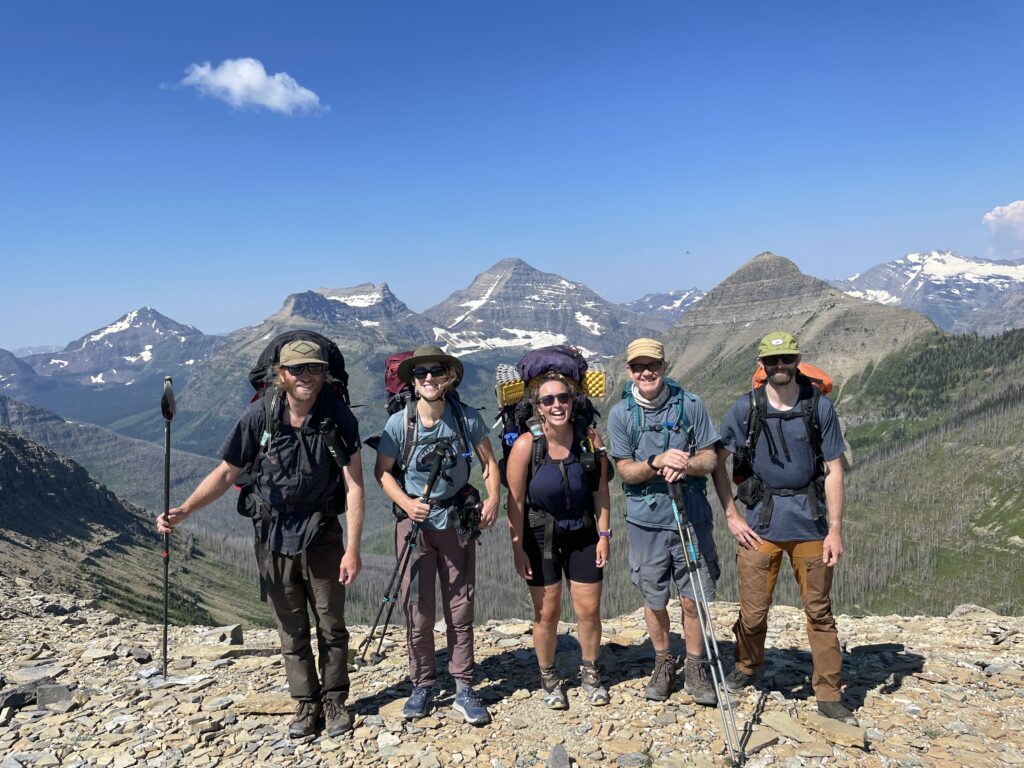 Before you take off on your epic adventure, make sure you head to Recreation.gov or the permitting office the day your trip begins to snag a backpacking permit. Glacier National Park is transitioning to Recreation.gov for online advanced reservations. If you miss the window to get them early, they will still be available at the permit office on a first come, first served basis. Take a look at our post for all things Glacier National Park Advanced and Vehicle Reservations for more information.
If you want to backpack through Glacier with a guide, we have the best permits and have been a Glacier National Park Authorized Concessioner since 1983! Our friendly and knowledgeable guides will take you on the trip of a lifetime and can't wait to share their love of Glacier!
We offer trips of all sizes (3 days, 4 days and 6 days) and if you're looking for something else, take a look at our private trips! These are perfect for those with travel or hiking requests, those looking to travel with just friends and family or those with a specific itinerary in mind. Of course, there's no guarantee that we can do any particular itinerary, but we can certainly lend a hand and expert advice. Give us a call to see what permits we snagged and pick the one that fits your fancy!
PRO TIP: When you book with us, not only do you get a friendly and knowledgeable guide, delicious backcountry meals provided and transportation to and from the trailhead, but you also don't need to worry about getting a vehicle reservation or a backpacking permit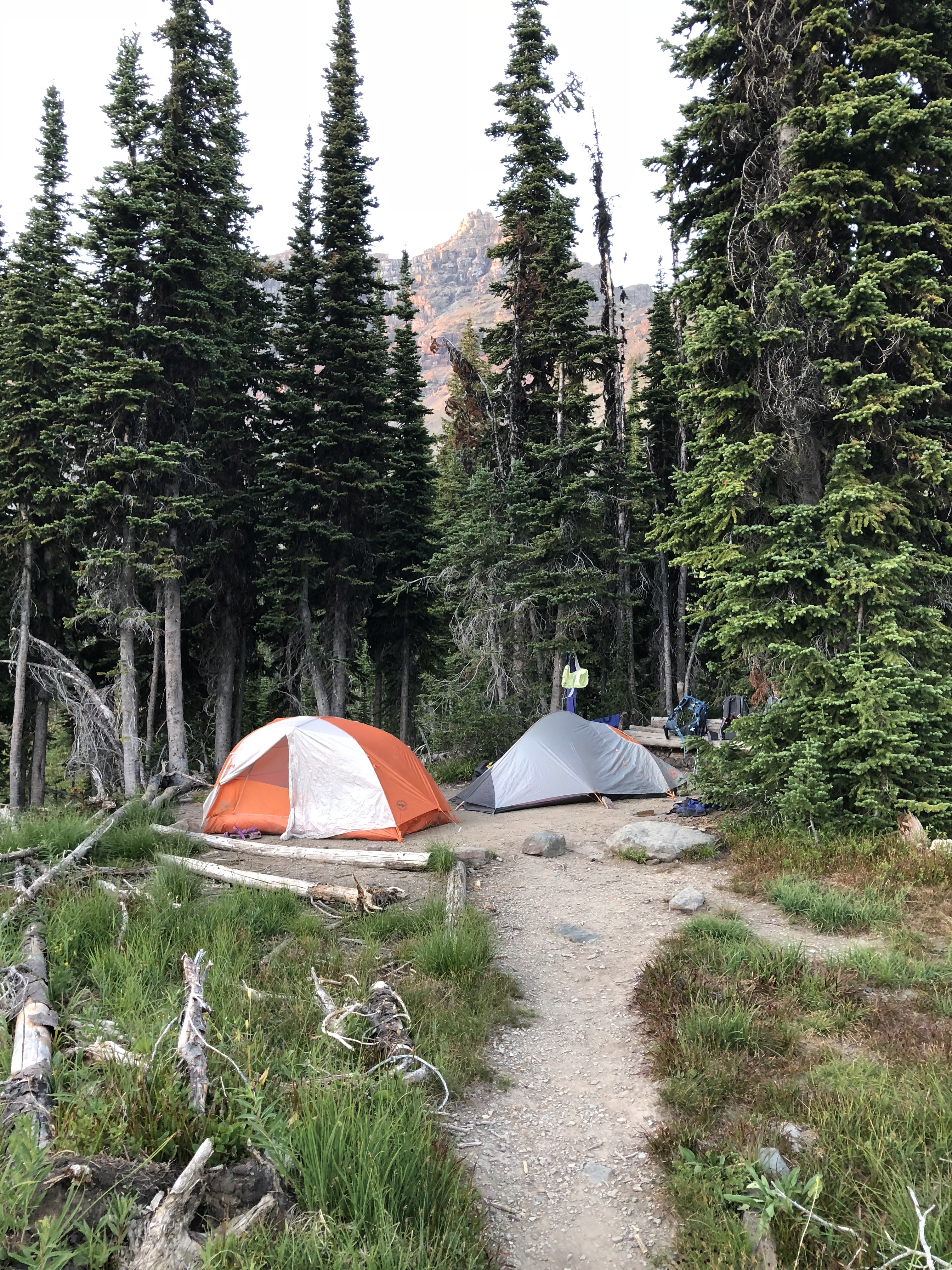 #2: What's the best time of year to go backpacking in Glacier?
The best time of year is the time you have available – next summer, you'll be another year older. And we're all aware of life's uncertainties. Our advice: make time to make backpacking trips happen! Good backpacking trips do take planning and preparation. They are not as spontaneous as hopping on a boat for a whitewater rafting trip, or booking a fly fishing experience, or driving over the Going to the Sun Road. Luckily for you, we love logistics and we've always got the gear, the food, and the know-how available. You just have to have the time.
The Most Popular Time of the Year
That being said, the most popular time of the year to go backpacking (and to do just about everything in Glacier) is mid-July through August. In a typical year, most – though not all – of the trails and campsites are finally snow free and open by mid-July. So, that's what makes this window of time popular. It also makes it harder to get permits, especially for specific routes and campsites. And of course, there are more people in the park, which means more people on the roads on the way to the trailhead, and more people on the trails themselves.
Of course, our favorite thing about backpacking is that no matter the crowds in Glacier's front country, by the time you get a few miles down the trail, you see very few people, relatively speaking. And the further into Glacier's backcountry you go, the less you see. That's the beauty of Glacier's permitting system – because only so many people can be at a campsite on any given night, you can only see so many people in the backcountry. We're people people, but our love for solitude and silence are two reasons we started our backpacking guiding service in the first place – way back in 1983.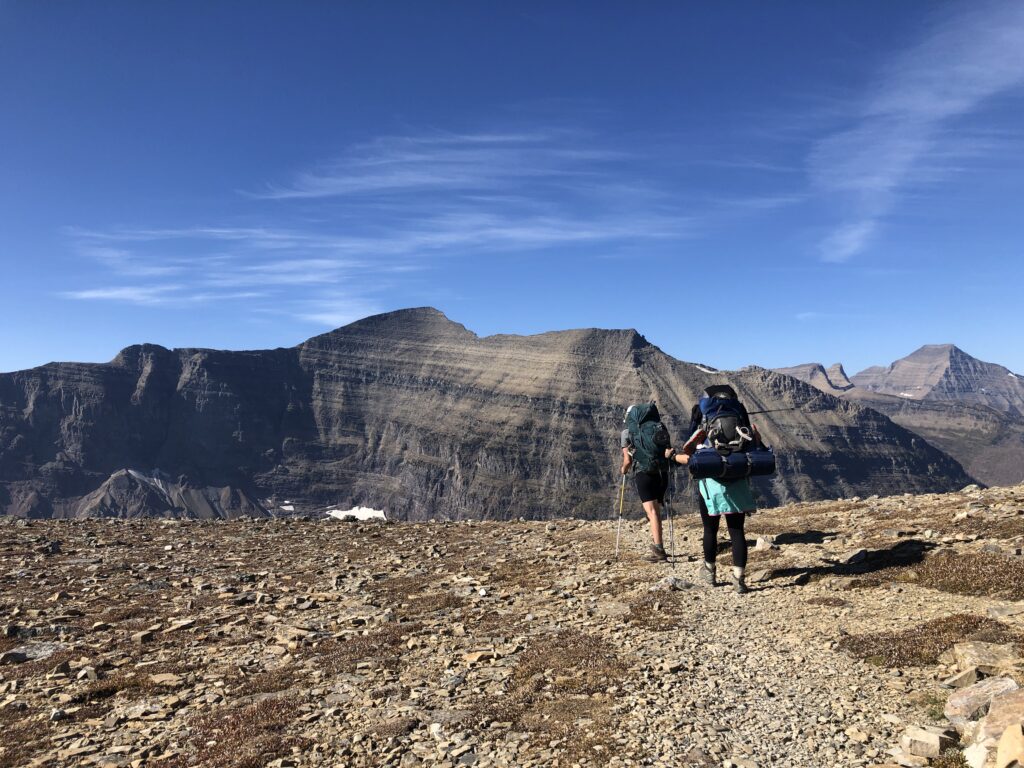 The Less Popular Time of the Year
Which brings us to why Glacier's shoulder seasons offer amazing backpacking opportunities. You'll see even less people on the trails in the spring and the fall. You may see more wildlife, as they experience less pressure. But most importantly, you'll be backpacking. In Glacier National Park. Dream realized!
After 40+ years of guiding in Glacier's backcountry, we can tell you that it really doesn't matter if you spend a few shoulder season days intimately exploring one of Glacier's gorgeous valleys, or if you criss-cross the Continental Divide for 10 days in late summer: the joy intrinsic to backpacking is in the backpacking, not in the specific area. So, make the time, and book the trip.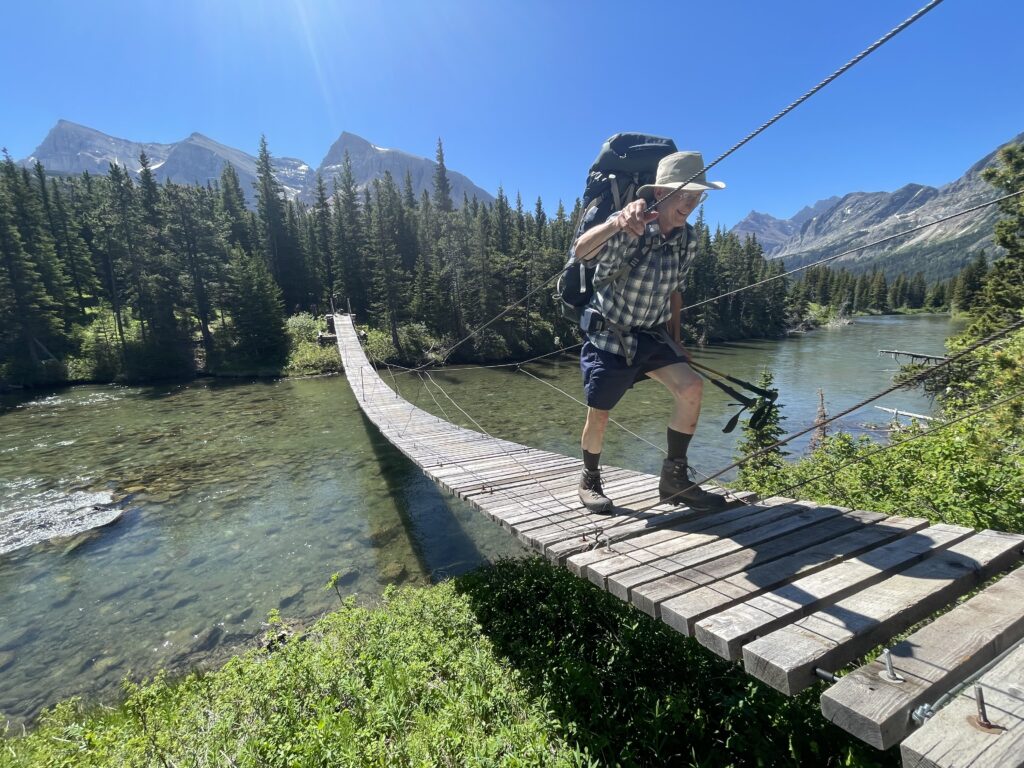 #3: What do I need to go backpacking in Glacier?
If you're going with us, you won't need to bring much – just your personal gear and basic equipment like a backpack, tent, sleeping bag, and sleeping pad. You can rent that equipment from us if you like. Before the trip, you'll go over all of your gear with your guide to make sure you're ready. Then, you'll split up food and other necessities among the group. Typically, your pack will weigh about 35 pounds, if you've packed wisely. Remember: ounces make pounds! Check out our backpacking packing list here. Less is always more in the backcountry – that's part of backpacking's magic. Realizing or remembering how little you really need in life – food, water, shelter – will reconnect you to yourself.
#4: Where do I go to the bathroom?
On the trail, toilet paper and hand sanitizer are always available for a visit to the "Green Latrine." Your guide will go over details about best Leave No Trace practices for such visits. Everybody has to pee. And to poop. No big deal. For women, your guide will go over best feminine hygiene practices, too.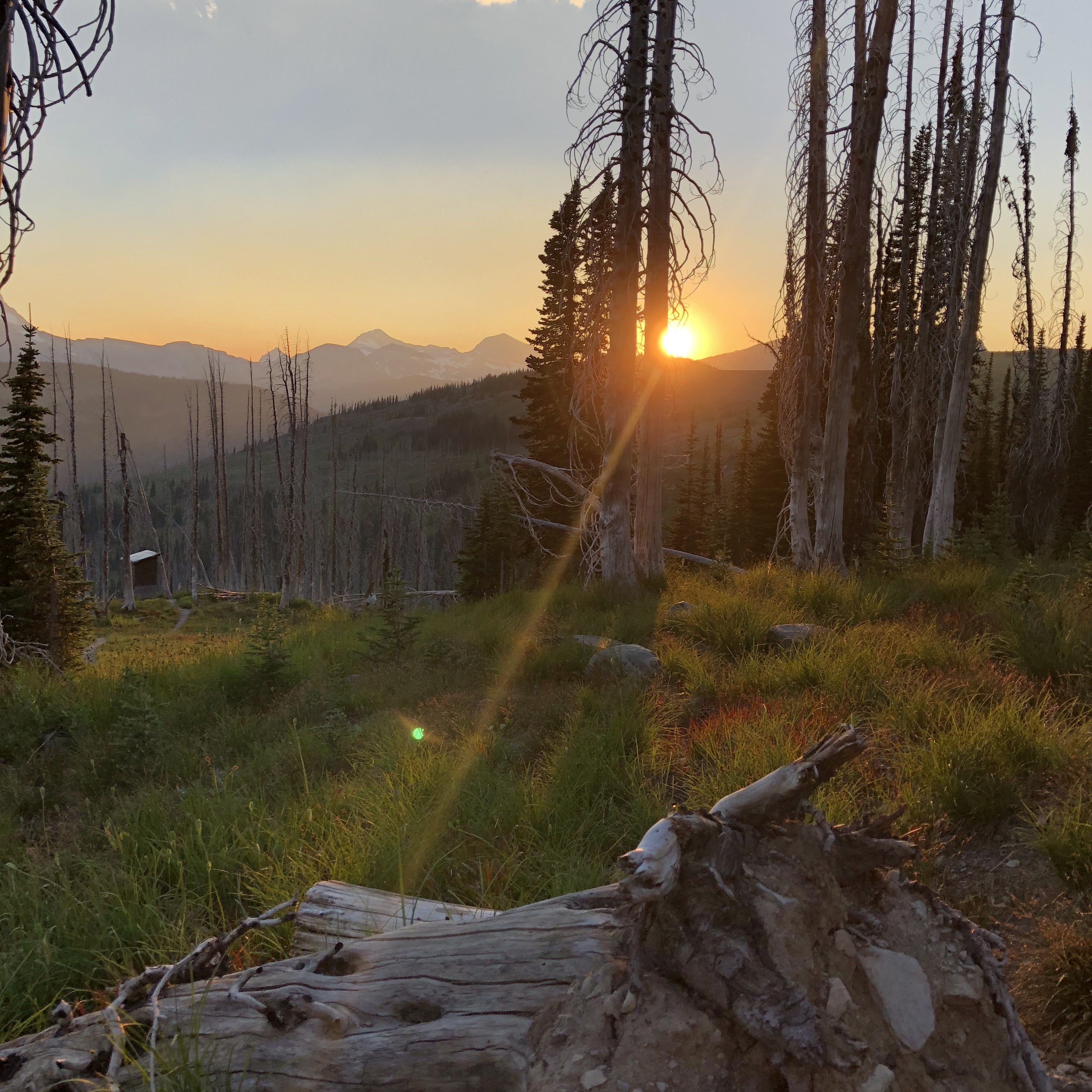 In the backcountry, pit toilets are available in each campsite. Some of them offer absolutely amazing views, like the one from Boulder Pass. Others are enclosed. Each one is part of your adventure.
#5: What about the bears?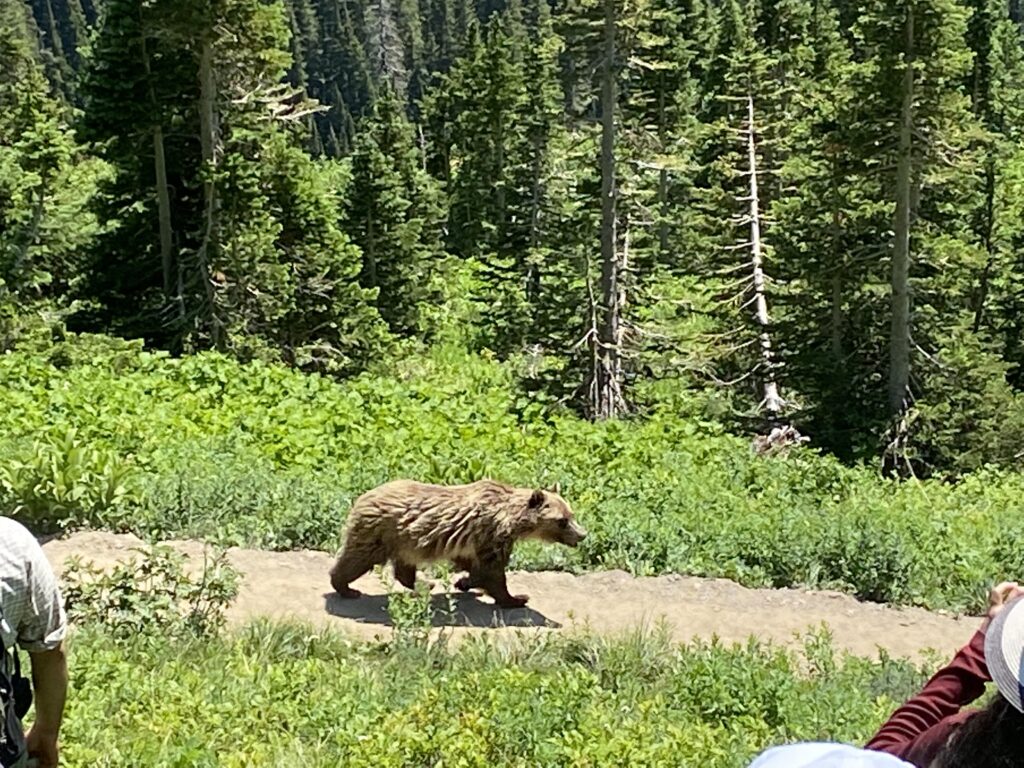 First: take a deep breath and try not to worry about the bears. Although we don't see them often, when we do it is usually an incredible experience. Glacier has grizzlies and black bears, and their presence as apex predators in this nearly intact ecosystem is part of what makes Glacier so special.
Second: take another deep breath. Keeping you safe is our job as your guides, and we love our job. Our guides are trained in National Park Service bear management. Each backpacking group carries 2 cans of bear spray. You will watch a NPS video about bears before your trip. And over the course of your trip, your guide will teach you all about best backcountry practices in bear country.
Third: keep on breathing. Bear attacks are very rare, and there have not been any reported attacks on groups of 4 or more in Glacier. Our backpacking groups are typically 7 guests and 1 guide. Bears are part of our world, and you'll find they're good at sharing that world.
Bonus FAQ – What are the best socks and footwear for backpacking in Glacier National Park?
Answer: socks and footwear you've already tried out, and that you know don't give you blisters! A backpacking trip isn't the time to try out new footwear or socks. There a million kinds of feet and almost that many brands of socks and footwear out there. We recommend getting fitted at your favorite, locally owned outdoor store, purchasing footwear and socks from that small business owner, and wearing them faithfully for many, many hours before you take them backpacking for the first time. Synthetic socks are definitely preferred. Some people wear liners, some people don't. Footwear could be anything from sturdy trail runners to all leather hiking boots. You do you! Happy feet, happy hiker.
More Questions on Backpacking in Glacier National Park?
That's what we're here for. Give us a call at 406-387-5555 or send us an email to learn more about backpacking trips we're taking this summer. See you on the trails!