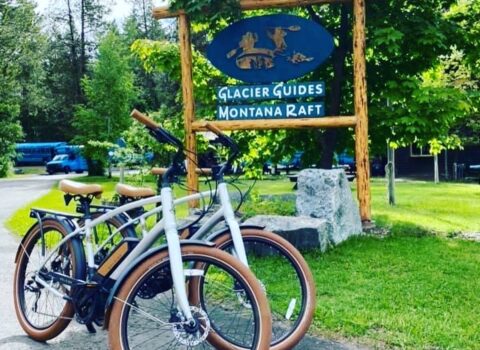 E-Bike
Looking to explore the roads of Glacier on your own? Rent one of our e-bikes designed for the Going-to-the-Sun Road!
What to Know
When Glacier is still largely under snow, the best way to explore her beauty is by bicycle. Per Glacier National Park regulations, electric bicycles (e-bikes) are allowed if the motor is less than 750 watts (1 hp) and engaged only while pedaling.
E-biker riders/renters must be 18 and up.
Our e-bikes are suited for paved roads in Glacier. They are not suited for dirt roads, gravel roads, or trails.
Please keep our bikes on Glacier's paved roads — some of these are pretty rough, and that's okay, but we do recommend you opt in for our damage insurance.
Damage insurance is $17/day/e-bike.
Occasionally, due to global supply chain issues stemming from the COVID-19 pandemic, we may have to substitute one type of rental bike for another. If you are unhappy with that substitution, we will happily refund you. We do not expect this scenario to occur often.
Details
OUR GLACIER NATIONAL PARK BIKE RENTAL PERIOD IS:
SPRING AND SUMMER – 7:30AM TO 6PM.
FALL – 8:30AM TO 6PM.
What's Included
Bike
Helmet
Repair kits available to rent for $10
Rent Bike Carriers
We rent bike carriers, too! $30 for 1 to 2 days, several options to fit a variety of cars. We only rent bike carriers to carry our bikes, FYI. Only 2 e-bikes will fit on each carrier.  If renting the low riding Radrunner E-bike, be aware that those e-bikes do not fit on the bike carriers without a hitch.  And while we are happy to help you install bike carriers, you assume responsibility for any damage incurred to the bike carrier, bikes, and your vehicle, in said installation/uninstallation and while they are in your possession.
What to bring:
Pack your bear spray, lunch, and layers and have fun!
View Packing List
More About Biking Glacier Park