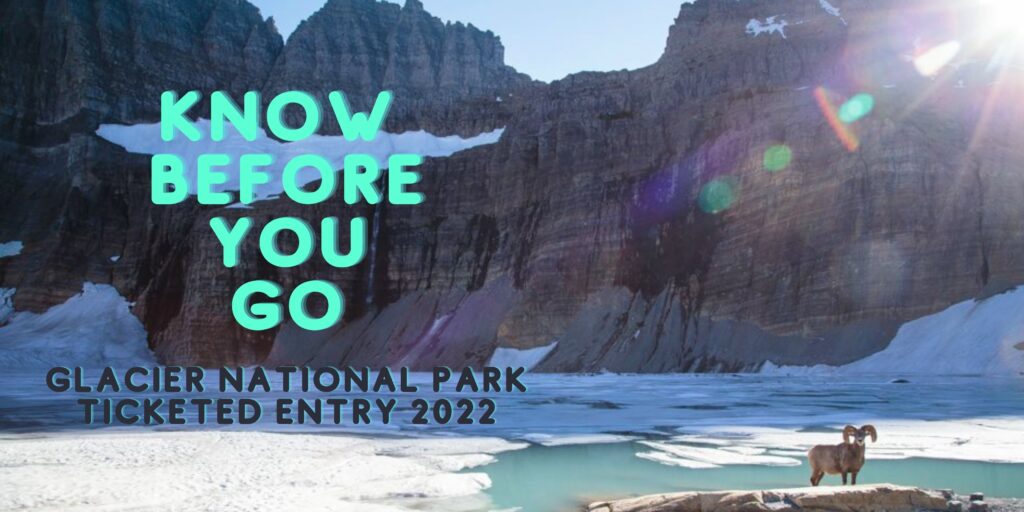 If you're anything like us, you can't wait for your summer vacation in Glacier National Park.
What you need to know! Summer 2022 at GNP will be the 2nd consecutive year where ticketed entry is required. We chatted with the National Park Service and got all the ins and outs about what to expect and have outlined it here. You, lucky dog, you!
Let's get to it!
WHEN DO TICKETS GO ON SALE?
Reservations are currently available on Recreation.gov website 120 days in advance. (If you plan to visit late July, hop on Recreation.gov in late March to snag your vehicle reservation.) You can also get a reservation 24 hours before you plan to visit. 
WHAT PARK ENTRANCES WILL REQUIRE A RESERVATION?
Tickets will be one per vehicle. You will need it for Going-To-The-Sun Road Corridor, St. Mary beginning at Rising Sun Campground, Camas Road and for the North Fork area of Glacier starting at Polebridge Ranger Station. Here is a super helpful map showing where you'll need a vehicle reservation and how long your ticket is good for.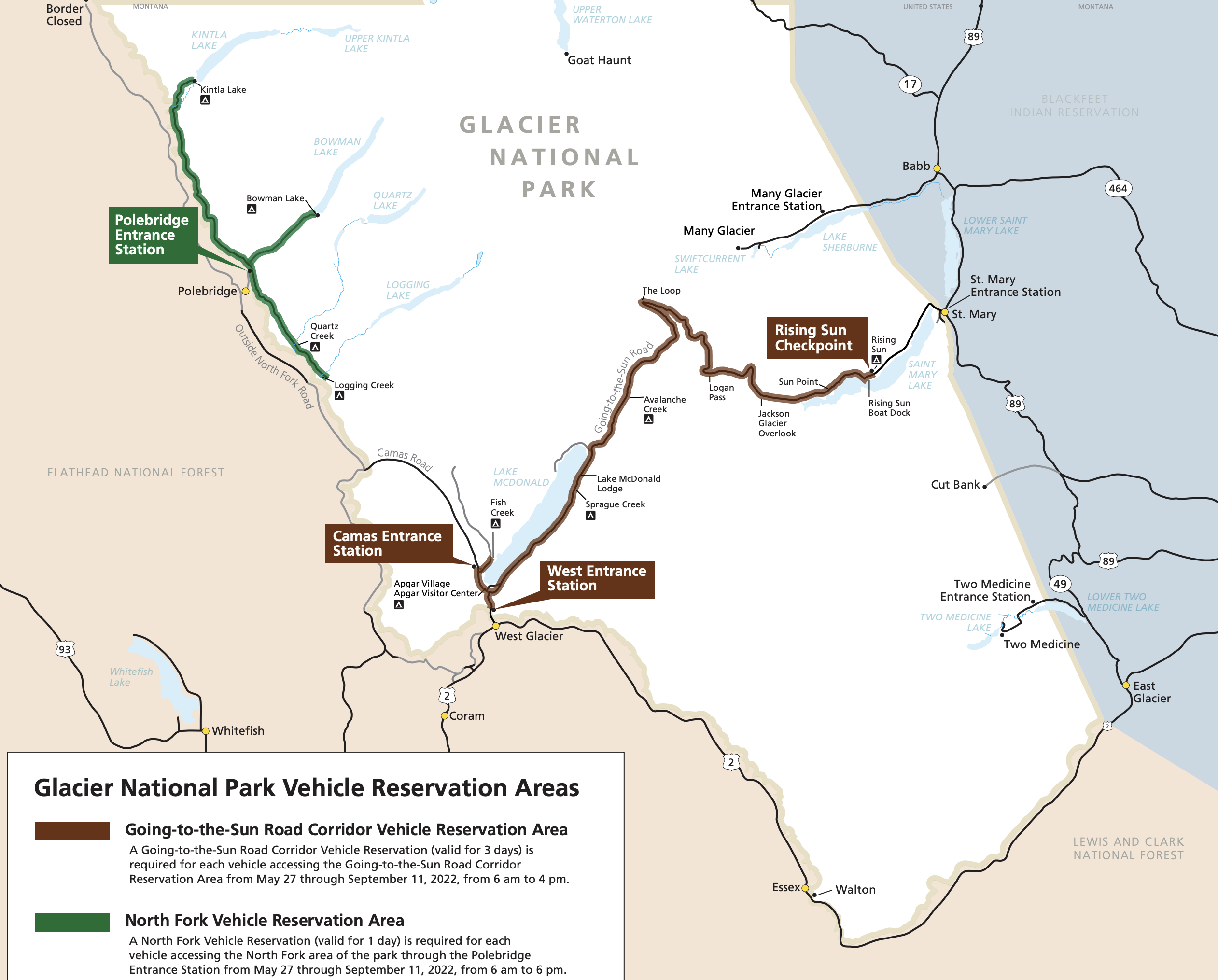 HOW MANY DAYS WILL MY TICKET BE GOOD FOR?
This has changed since last year. Your Going-To-The-Sun Road ticket will be good for 3 days this year. The North Fork ticket will be good for one day. These will also be two separate tickets!
WHAT DATE RANGE AND TIME OF DAY REQUIRES TICKETED ENTRY?
You will need a ticket from May 27th- September 11, 2022 from 6am-4pm (these hours are new this year and may still change) A ticket for St. Mary is NOT required until Going-To-The-Sun Road is fully open for vehicles. Going-To-The-Sun Road will not open to vehicles sooner than June 26th, 2022. 
WHAT CAMPGROUNDS WILL REQUIRE ADVANCED RESERVATION?
You'll need advanced reservations to camp in Apgar, Sprague Creek, Fish Creek and St. Mary.
WHAT'S THE DEAL WITH ROAD CONSTRUCTION?
I am glad you asked! A utility project will be underway in Glacier National Park this summer from Apgar to Lake McDonald. The road will be closed at night, except for emergency vehicles. Roads will open to emergency vehicles 100% of the time. Serious emergencies that require an emergency vehicle must go through NPS Dispatch, the road will not open for personal emergencies. The road will be closed from 10pm-6am. The exact dates for how long this project will last are not known, but we will update our website and social channels as soon as we find out!
For those that love to get into the park before 6am or want to drive through after 4pm, be mindful of this project! If the road closes before you leave, you'll either have to drive all the way around to exit or plan on watching the stars from The Lake McDonald Lodge parking lot all night. There will be an opportunity for guests to leave and enter the park through the Apgar–>Lake Mcdonald route at 12am.
WHAT IF I HAVE AN EXISTING RESERVATION WITH A LODGE, CAMPING, TRANSPORTATION OR COMMERCIAL SERVICE?
Then you're all set, no need to worry. However, you will still need to pay for a park pass, which is $20/car and lasts for 7 days. These do not require reservations. Please make sure to show your reservation (lodging, camping, transpo or commercial) upon arrival to avoid confusion.
These service reservations must be for lodging/activities offered between the West and St. Mary entrances of the park, i.e. the Going-to-the-Sun Road corridor. For example, if you're going on a boat ride in Many Glacier, that service reservation ticket will NOT provide you an Entry Reservation Ticket to the Sun Road, as Many Glacier is not located in the Sun Road corridor. Another example: service reservation tickets for activities outside of the park, such as rafting, will NOT provide you an Entry Reservation Ticket to the Sun Road, as rafting is located outside of the park.
What's the deal with the hiker/biker shuttle this year?
A fare-free shuttle service is available at shuttle stops along Going-to-the-Sun Road between Apgar and St. Mary Visitor Centers. Shuttle service is provided on a first-come, first-served basis.
Shuttles are wheelchair-accessible.
Smoking, pets, and open alcohol containers are prohibited.
Bear spray must be safely secured to prevent accidental discharge.
Most shuttles have bike racks.
There are also several companies (including Glacier Guides) that will be operating hiker/biker shuttles. Other information we are waiting on is if a ticketed entry will be required for those using shuttles to get into the park. More on that as we find out…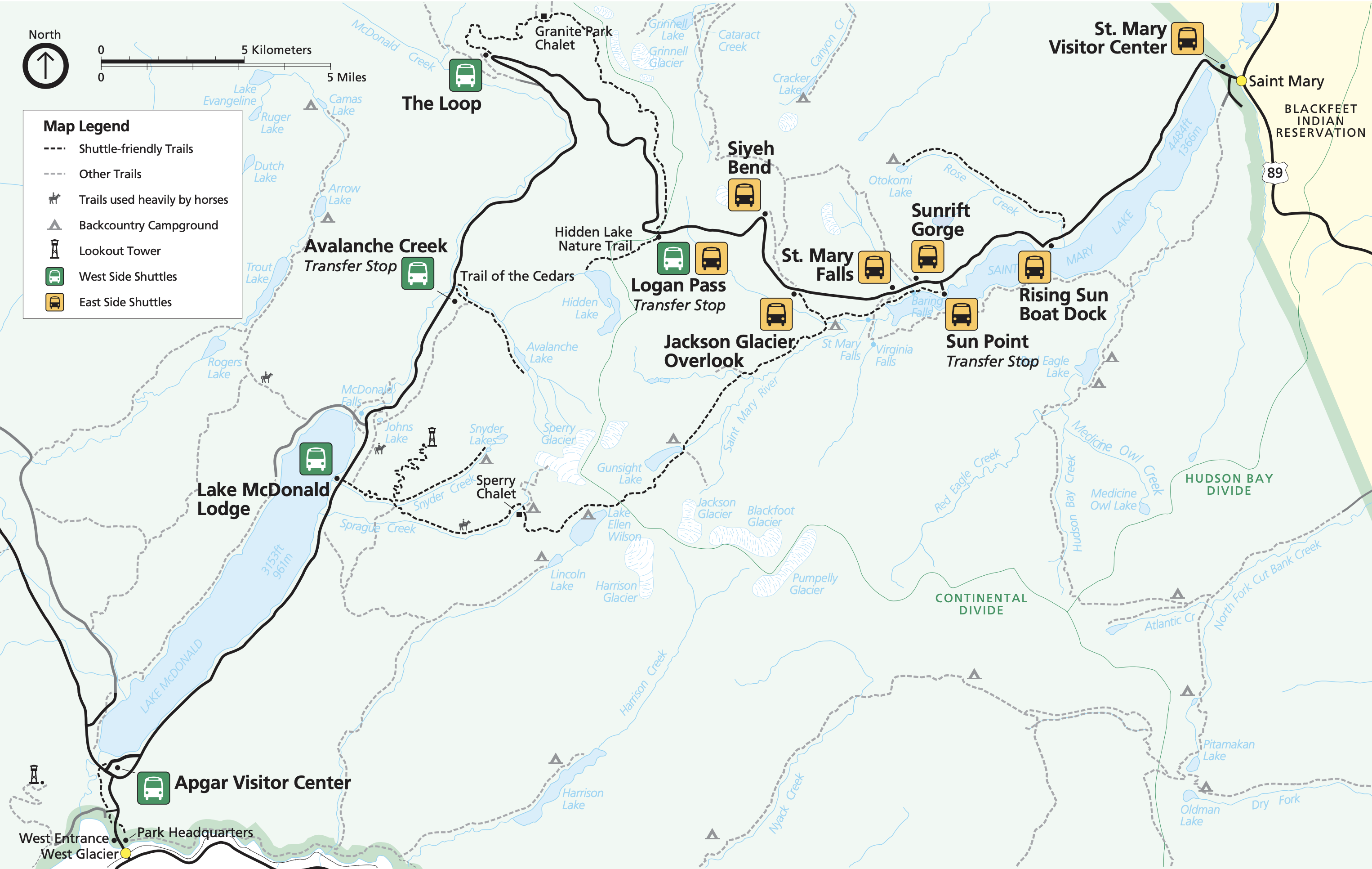 HOW DO I GET A TICKET?
First, go ahead and set up an account on recreation.gov. There is an app for recreation.gov, too. And you can call, too –Call centers are open every day of the week from 8am MDT to 10pm MDT. The following lines are available for callers:

Reservation line (Toll-Free) – (877) 444-6777;
Reservation line (International) – (606) 515-6777;
Reservation line (TDD) – (877) 833-6777.

Next, figure out which day you'd like to drive the Sun Road or the North Fork area of the park, and determine when to put in for your Entry Reservation Ticket, i.e. 120 days prior. Count carefully. Make yourself a reminder!
Entry reservation tickets are available beginning at 8 am MST on the day of release.
Then, 120 days prior to the first day you'd like to drive on the Sun Road or visit the North Fork, go to recreation.gov to put in for your Entry Reservation Ticket. And while you're at it, might as well go ahead and get your GNP Entrance Pass. More on that below.
If you receive an Entry Reservation Ticket, it will be in your email account. Download/print it so it will be available to you even without Wi-Fi/cell service.
If you do not receive a ticket, then 48 hours prior to the day you would like to drive the Sun Road, same process — go to recreation.gov to put in for your Entry Reservation Ticket.
ANYTHING ELSE?
Some other things to note from park officials.
-They intend to open St. Mary Lake this year
-For boating purposes, all lakes are expected to operate for a normal season EXCEPT Goat Haunt at the Canadian Border. Goat Haunt will see limited services and no boat tour landings.
-There is an intention to open the St. Mary Observatory, but that is still TBD and we plan to update our website and social channels as soon as we find out.
Now that you have all of that information, time to get ahold of us to plan your Glacier National Park getaway for Summer 2022. We can't wait to see you!
As always, don't hesitate to check out our website, or send us an email at Info@glacierguides.com with any additional questions or to find out more about the Summer 2022 Ticketed Entry system and what makes it different from last year. And, if you have more questions that weren't answered in this blog post, visit the Glacier National Park website or our FAQ for all things concerning Ticketed Entry at GNP.
The Glacier Guides and Montana Raft Team