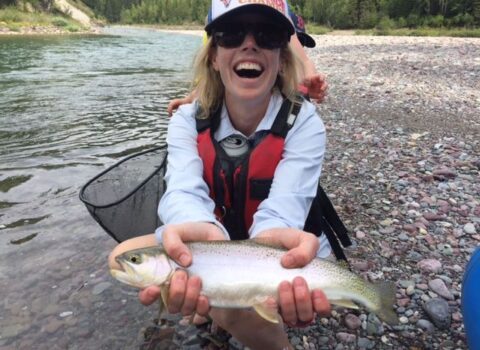 Custom Overnight Fly Fishing Trip
Private Fly Fishing Trip Details
Planning for 2024? Email or call us to get started!
Our Glacier National Park overnight fly fishing trips are mostly on the Wild and Scenic North Fork of the Flathead River. This remote, gorgeous river forms Glacier's western border. Its fishery supports native Westslope Cutthroat, as well as Rainbow and Brook trout.
Trip Details
Difficulty: Easy
Dates: Our rivers become fishable around the beginning of July. Book this trip from July 1st until early September, depending on guide availability. Please call 406-387-5555 or email info@glacierguides.com to book.
Trip Duration: 2 – 3 days
Additional Trip Details
Montana Fishing License
All trips require the purchase of a Montana fishing license prior to your arrival at our office. We recommend printing one online — you can click HERE to access the Montana Fish Wildlife and Parks website. Most fly shops and sporting goods stores in Montana sell them as well.
Glacier National Overnight Fly Fishing Meeting Notes
Guests should call our office the day prior to departure at 406-387-5555 to check in. On the day of the trip you should arrive at our office by 9:00 AM to meet your guide. Click on directions for how to find us.
Montana Outfitter Information
Glacier Guides Inc.
Durand Beougher, Licensed Outfitter (#28096) (beginning June 16, 2021)
PO Box 330, West Glacier, MT 59936
406-387-5555
How To Book Your Private Glacier National Park Overnight Fly Fishing Adventure
Call us at 406-387-5555 or email info@glacierguides.com!