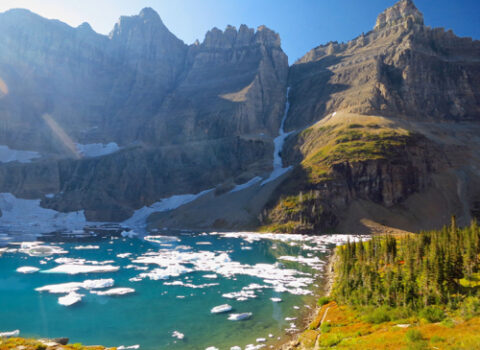 Every Friday Hike – Iceberg Lake
Iceberg Lake Trip Details
The hike to Iceberg Lake is definitely one of the most scenic day hikes in Glacier. This trail is known for its abundance of wildlife and wildflowers, and of course, its turquoise, iceberg studded lake, tucked into a glacial cirque.
The hike to Iceberg Lake is moderate, and many locals call it the easiest 10 miles, round trip, in the park.
Book Now
Pricing
Price: $165/person (10+ years)
Other: Glacier National Park Entrance Fee (not included in price)
Guide Tip: Industry rate is 18-20% (not included in price)
Specials
Plan Your Trip
Trip Details
Difficulty: Moderate – 9.7 miles, 1,275 feet in elevation gain.
Dates: Fridays from July 5th to September 27th.  (Reservations for 2024 will be available soon.  Still working out some details regarding access to the trailhead due to road construction around Swiftcurrent Motor Inn. )
Trip Duration: 1 Day
Minimum Age: 10
*Reservations required in advance.
What's Included, What to Bring
What is provided? Interpretive Guide with wilderness first aid and bear management training, van transport, lunch.
What should I bring? Day pack to carry water bottle, lunch (provided), camera/phone, binoculars, rain coat, fleece, and your Glacier National Park Pass. Comfortable hiking shoes.
View Packing List
Itinerary & Additional Details
Times are approximate. Trips after Labor Day meet an hour later.
6:00am – Meet us at our West Glacier office. From here, you'll load up in a vehicle with your guide and start the beautiful journey to the Swiftcurrent Motor Inn.
9:00 – 12 pm: The Iceberg Lake trail winds through amazing mountain scenery and sub-alpine fir forests. It crosses Ptarmigan Falls, a popular rest stop on hot summer days. Wildflowers are abundant in the meadows along the trail. We often see wildlife such as bighorn sheep, mountain goats, and grizzly bears along the way to Iceberg Lake. Our guides are passionate and encyclopedic about Glacier National Park — no matter your level of hiking experience, we promise they'll teach you something new.
12:00 pm – 1:00 pm: Iceberg Lake itself is a striking aquamarine tarn surrounded on three sides by majestic cliffs. We'll relax here and enjoy a hearty and homemade trail lunch. Our trail lunches are largely locally and organically sourced, and generally include homemade cookies, fresh fruit and vegetables, chips, and your choice of a turkey, ham, roast beef, or veggie sandwich. Our in house kitchen can accommodate nearly any dietary restriction or preference – just ask! While we eat, we'll look for sheep and goats high in the cliffs above the lake.
1:00 – 3:45 pm: We return along the same route, while your guide answers any questions that you might have about the park. You'll end the day knowing more about Glacier National Park than you ever expected. Typically, we'll return to the Swiftcurrent Motor Inn around 3:30 pm and our office around 530-6pm.
More Info About Iceberg Lake
Reservations required in advance. This trail can be very busy during the middle of the summer.
Meeting Notes
Guests are welcome to check in with us the day prior to departure: 406-387-5555 or info@glacierguides.com. Please arrive at our office by 6:00 AM. Trips after Labor Day meet an hour later.  Click on directions for how to find us.
Trail Closure: Trails in Glacier National Park occasionally close for reasons like weather and wildlife. In the event that the Iceberg Lake trail is inaccessible on the day in question, we will substitute a similar hike, such as the delightful one to Bullhead Lake.